In his iconic book Animal Farm, George Orwell wrote: "All animals are equal, but some are more equal than others." – Kia Sorento Sport.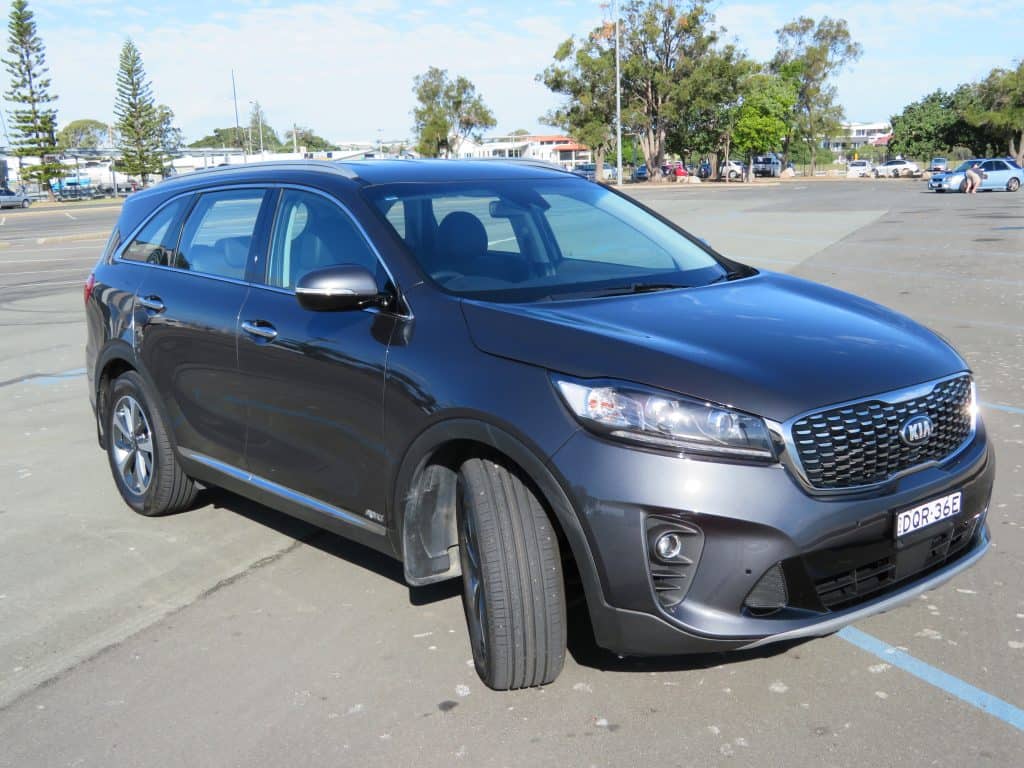 So too SUV's. This Kia Sorento Sport is more than equal to other SUV's because of one unique feature – a 7-year unlimited kilometre warranty, with 7 years roadside assistance and 7 years capped price service – but that's not all. I'll go into further detail later in this review.
Welcome to The Car Guy and my review of the Kia Sorento Sport Diesel Wagon. Frankly, I love Kia – they've come a long way from the time they launched in Australia. Their share of the Australian car business has been on an upward trajectory for years and years and I don't think they'll stall in the near future. Whilst I've driven a Sorento previously, this new model is so much better and it's a diesel rather than the petrol I tested. So let's have a look at the 2018 Kia Sorento Sport Diesel.
What is It: The Kia Sorento Sport is a 7 Seater SUV.  The Sorento Sport has an RRP price of $49085 including metallic paint which translates to around $54,000 on road driveway in Queensland. Different states have different government charges, so the drive away price may vary a little.
Key Competitors: Hyundai Sante Fe, Mitsubishi Pajero Sport, Toyota Kluger and Fortuner, Skoda Kodiak, Holden Trailblazer, Isuzu MU-X, Jeep Cherokee, Nissan Pathfinder, Mazda CX-9 and Subaru Outback, LDV D90, Haval H8.
At the front
Like most other Kia's, the Schreyer grille dominates with dusk-sensing front headlights, LED daytime running lights, projector front fog lights and rear fog lights. It's what you'd expect from Kia's range – a good look. Under the bonnet is a 2.2-litre diesel engine with the new 8-speed sports-matic transmission. For the technically minded, the engine produces 147kW of power and 441Nm of torque. In simple English, it's a powerful engine with plenty of get up and go. More than sufficient to carry a full load of passengers whilst still providing great fuel economy. Compare the 147 kW in the Kia to 130kW in the Isuzu MU-X, 147kW in the Holden Trailblazer, 133kW in the Mitsubishi Pajero Sports, 130kW in the Toyota Fortuner and you'll see that it tops the power specification.
Down the Side
I generally use the manufacturer's specification sheet to list the extensive safety technology for your information. So here it is below. I've also decided to link to the online brochure for more information that you'll want to consider.
Driver & front passenger SRS airbags, Front side SRS airbags, Curtain SRS airbags (1st & 2nd Rows)
Front seatbelt pre-tensioners with load limiters, Side door impact beams (front & rear), Child-proof rear door locks, Impact sensing auto door unlocking
ABS (Anti-lock Braking System) with Electronic Brakeforce Distribution and Brake Assist. ESC (Electronic Stability Control) VSM (Vehicle Stability Management). HAC (Hill-start Assist Control). ESS (Emergency Stop Signal)
Front & reverse parking sensors with dash display. Rear view camera with in-audio screen display & dynamic parking guidelines
LED daytime running light (DRL). LED front headlamps with washer & auto-levelling. Dynamic Bending Light (DBL). Dusk-sensing automatic headlights. Rear fog lights. Projector front fog lights. LED front fog lights
BSD (Blind Spot Detection). RCTA (Rear Cross Traffic Alert). LKA (Lane Keeping Assist). AEB (Autonomous Emergency Brake) with FCWS (Forward Collision Warning System). DAA (Driver Attention Alert). 360° camera view. Door open warning. Speed sensing auto door lock. Child restraint anchorage points (3 x top tether / 2 x ISOFIX)
Whilst I cover the generally required formation that you may require, my review is simply a brief consideration from my own viewpoint. So here's the link to Kia's website  – KIA SORENTO.
As I've said on more than one occasion most SUVs on the market have a usual SUV design. Generally, a wedge shape from the larger and higher rear end to the smaller or more pointed front. Why? Manufacturers want to create as slippery a shape as possible. Hence why most designs are wind tunnel tested before a design is confirmed
Out the back
One thing that the Kia Sorento Sport has is space. Although with passengers in all 7 seats you have only 142 litres of luggage room – sufficient for a couple of soft overnight bags – when you choose to lower the rear row of seats that space increases markedly. In fact, it increases by 463 litres or over 400%. And if you're only using the front two seats, it's as cavernous as most small vans – 1662 litres.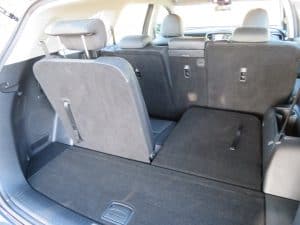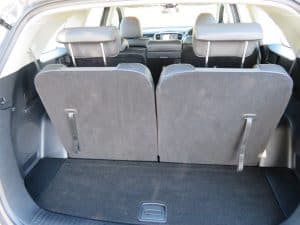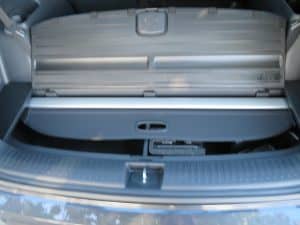 Split fold flat 2nd row seats (40:20:40), Sliding & reclining 2nd-row seats (60:40), 2nd-row sliding walk-in device (left side), Remote folding 2nd-row seats (60:40), 2nd-row centre armrest
Split fold flat 3rd-row seats (50:50), Height adjustable headrests (all seats),
So flexibility is the cornerstone of the Kia Sorento Sport – ability to flex seats up and down, but if you're using the 7 seats, you'll either need a trailer or a travel box on the roof rails.
Towing
Kia Sorento Sport can tow up to 2000kg with electric brakes fitted and 750kg without. The biggest issue with towing is that the Kia Sorento Sport Diesel only has a towball download capacity of 100kg. If you're thinking of towing something larger with the Sorento, think again. If you'd like to discuss towing with the Sorento and aren't sure what to do, send me an email to [email protected]  Happy to do some research for you and provide some advice.
Insurance
I generally use RACQ Insurance to give you a guide as to what you'll pay for your annual comprehensive car insurance. Conditions precedent for this cover are:
I'm a Male driver over 60 years of age, having held a license for over 10 years
Bronze member of RACQ with 2 other insurance policies
I've paid cash for the car for private use with the car parked in a garage overnight
The driver resides in postcode 4019
The car is fitted with an engine immobilizer
1 at fault claim in the last 3 years, with no license suspensions
Rating 1 currently having held that rating 1 for 10 years or more
No driver under 25 will use the vehicle.
The premium quoted online by RACQ Insurance is:          $476.44 with a $750 Excess
Drivers Side
The doors on the Kia Sorento Sport open pretty wide – getting in and out is quite simple. For those times when you have to use the third-row seats, and provided the passengers are nimble enough, entry is via the rear doors through the second-row seats.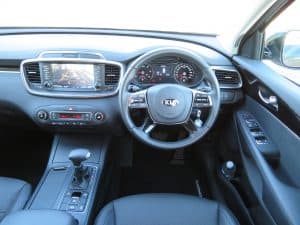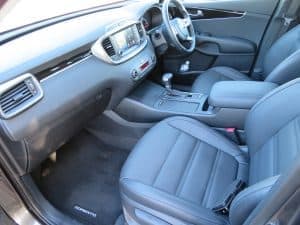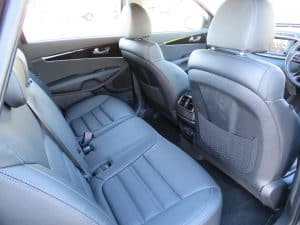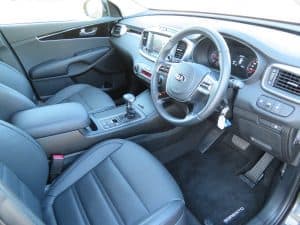 Isofix child seat anchorages are standard as well as the traditional tethers. Whilst the second-row passengers have curtain airbags, the third-row passengers are typically left to their own devices as far as safety is concerned. That's not a Kia thing, in fact, all the larger SUV's are missing this important feature. I'm sure it won't be long before third-row passengers will demand and get rear curtain airbags.
Driving Position
Advanced Smart Cruise Control (ASCC) with steering wheel mounted controls
Premium steering wheel & shift knob, Perforated steering wheel with paddle shifters, Heated steering wheel
3.5″ monochrome LCD instrument cluster, 7″ colour TFT Supervision instrument cluster, Digital speedometer & Multi-function trip computer
User selectable options (Auto door lock/unlock, headlight escort, etc.) Power windows with auto up/down & safety function (front & rear)
8-way power driver's seat (with 4-way lumbar support & thigh extender), IMS10 driver's seat with 2 seating position memory, 8-way power front passenger's seat (with walk-in switch)
Height adjustable front seatbelts
As I've said on more than one occasion most SUVs on the market have a usual SUV design. Generally, a wedge shape from the larger and higher rear end to the smaller or more pointed front. Why? Manufacturers want to create as slippery a shape as possible. Hence why most designs are wind tunnel tested before a design is confirmed. The driver's seat is comfortable and if you can't find just the right driving position, you haven't tried very hard at all.
On the Road
In the higher spec Sorento a 'lady' talks to you about speed cameras, school zones, red light cameras and the like. She just won't shut up! Talk about back seat drivers?
I really do prefer the warning sounds in this model. A chime warns you of an approaching hazard and a symbol comes up on the middle screen. And it also tells you that you've passed it. Great source of information that will save you points and dollars
Over the week I spent in the Sorento, I came to like it more and more. It's capable on the highway, excellent around the suburbs and even with its overall size, was easy to drive. If it's the family car, doing school runs, you won't be disappointed. Weekend 4WD? It will certainly do the job off road, but I'm not sure that it will do the really rough stuff that a serious dual range 4WD can do. But the reality, short of climbing mountains like a Landcruiser or Wrangler, it will get you and the family there and back again.
Ok, so the Kia Sorento Sport doesn't handle like a Kia Stinger. But it does cruise the highways and byways very well for a big 7-seat AWD vehicle. The audio system works beautifully and this vehicle the audio is supplied by Harmon/Kardon with a 10 speaker premium system.  Standard with a satellite navigation multimedia system with traffic information (SUNA™), the Sorento also sports an 8″ colour LCD touchscreen coupled with Apple CarPlay or Android Auto both with voice recognition.
Colours Available
Clear White (UD)   Silky Silver (4SS)    Platinum Graphite (ABT)    Aurora Black (ABP)    Gravity Blue (B4U)    Snow White Pearl (SWP)
Warranty and Service Costs
Kia is the market leader in Australia with the best warranty program. 7 years manufacturer warranty, 7 years roadside assistance and 7 years capped price service. Service intervals are every 15,000 kilometres or 12 months. You can expect to pay $3,156 for the 7 services during the warranty period or an average of just over $450. And that's really excellent value.
If you'd like to check the service program for yourself, visit KIA SERVICE

On the Green Vehicle Guide Website, they use terminology such as Urban and Extra Urban. My simple English translation of this politically correct wording is:
Urban =  City     Extra Urban =  Highway   Combined =  Combination of both City and Highway
City                             9.2 litres per 100 kilometres
Highway                    6.1 litres per 100 kilometres
Combined                 7.2 litres per 100 kilometres
Tailpipe CO2 is the amount of carbon dioxide that comes out of the tailpipe after fuel has been used in the engine. The lower the number of grams the better for our environment.
Tailpipe CO2                                    190 Grams per 100 kilometres
Air Pollution Standard                  Euro 5
As to Air Pollution, here's a quote directly from the Green Vehicle Guide Website.
"There are two types of emissions that impact on the environment:
Greenhouse gas emissions, such as carbon dioxide (CO2), which can trap additional heat from the sun in the earth's atmosphere, causing the 'greenhouse effect' and climate change. CO2 is the main greenhouse gas produced by motor vehicles. In 2014, the average combined CO2 emissions for a new light vehicle sold in Australia was 188 grams per kilometre (g/km).
The National Transport Commission estimates that if Australian consumers purchased vehicles with best in class emissions, national average CO2emissions for new light vehicles would be up to 50 percent lower."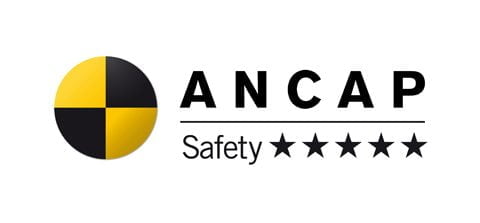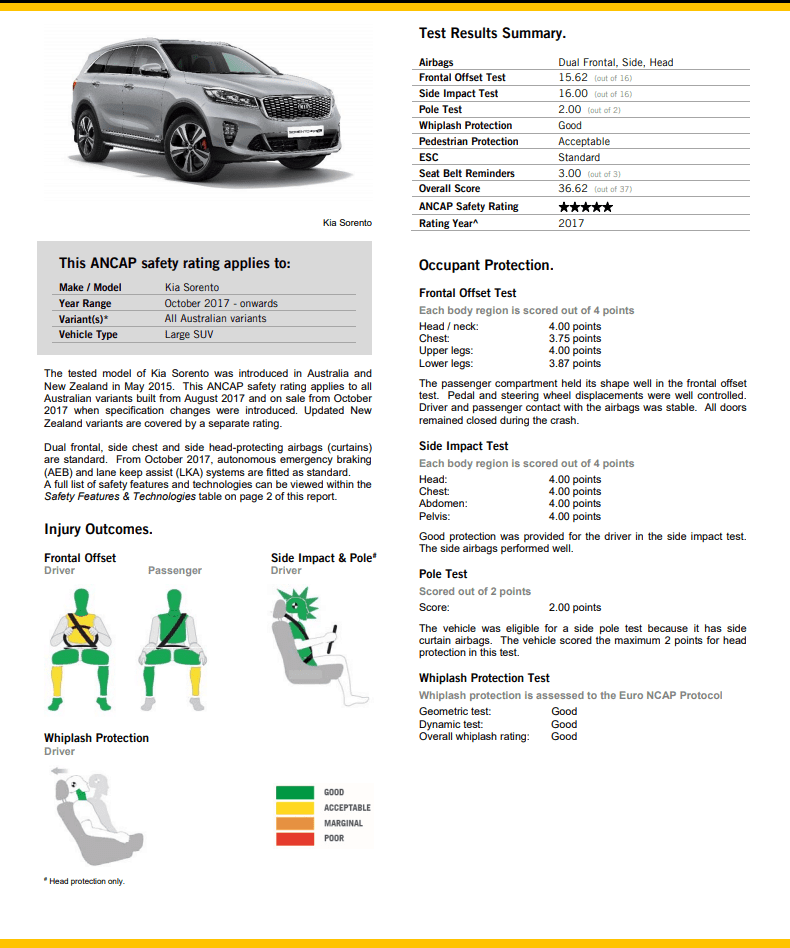 The Five-Star rating enjoyed by the Kia Sorento Sport was determined by ANCAP in October 2017. Kia Sorento Sport has Lane Departure Warning, Adaptive Cruise Control as well as lots of airbags.  I'd guess that if tested under the new 2018 criteria, it would achieve 5 stars again. Read the full report by clicking – KIA ANCAP
Where to Buy – Dealers
Vehicle provided by Kia Australia. If you're in the market to buy a Kia Sorento Sport Diesel or any other Kia for that matter, pick your dealer carefully. When I want to check out the 'worthiness' of a dealer, I Google 'Kia Dealers Brisbane" where the city is the one that you live in or around and the brand is that particular one you're interested in.
I only list dealers who have achieved a minimum of 5 reviews with Google and then only those with 4 stars or higher.
From a South East Queensland perspective here's the dealers I'd visit:
Northside            Brendale Kia                                      4.8 Stars
Southside            Motorama Kia                                    4.7 Stars
Eastside               Keema Bayside Kia                           4.8 Stars
Westside              Toowong Kia                                      4.5 Stars
Gold Coast           Von Bibra Kia                                    4.7 Stars
Sunshine Coast   Cricks Noosa Kia                              4.4 Stars
Summary
Whilst I'm no longer into SUV's, my time with the Kia Sorento Sport was great. I write my review from a customers perspective rather than an automotive journalist. I try to speak 'customer' language. My daughter and her family are due to arrive from Switzerland shortly and they've arranged to hire a Kia Sorento based on my advice. Kia builds very good cars and they're improving all the time.
Price is still an important factor for people looking to purchase, but heavy discounts seem to be a thing of the past. There's a number of vehicles in the Kia range – Sorento, Cerato, Rio and Stinger are just a few of them.  If you buy a Kia Sorento Sport – you won't be disappointed.
What I Like
New eight-speed auto is smooth and overall quick
Good fuel consumption
Comfort, ride and handling excellent
Adaptive Cruise Control and autonomous braking gets the tick
Excellent Lane Departure Warning System.
What I Don't
Restricted towing capacity
Tiny driver display isn't that good
Lack of keyless entry and push-button start but that's available in the higher spec model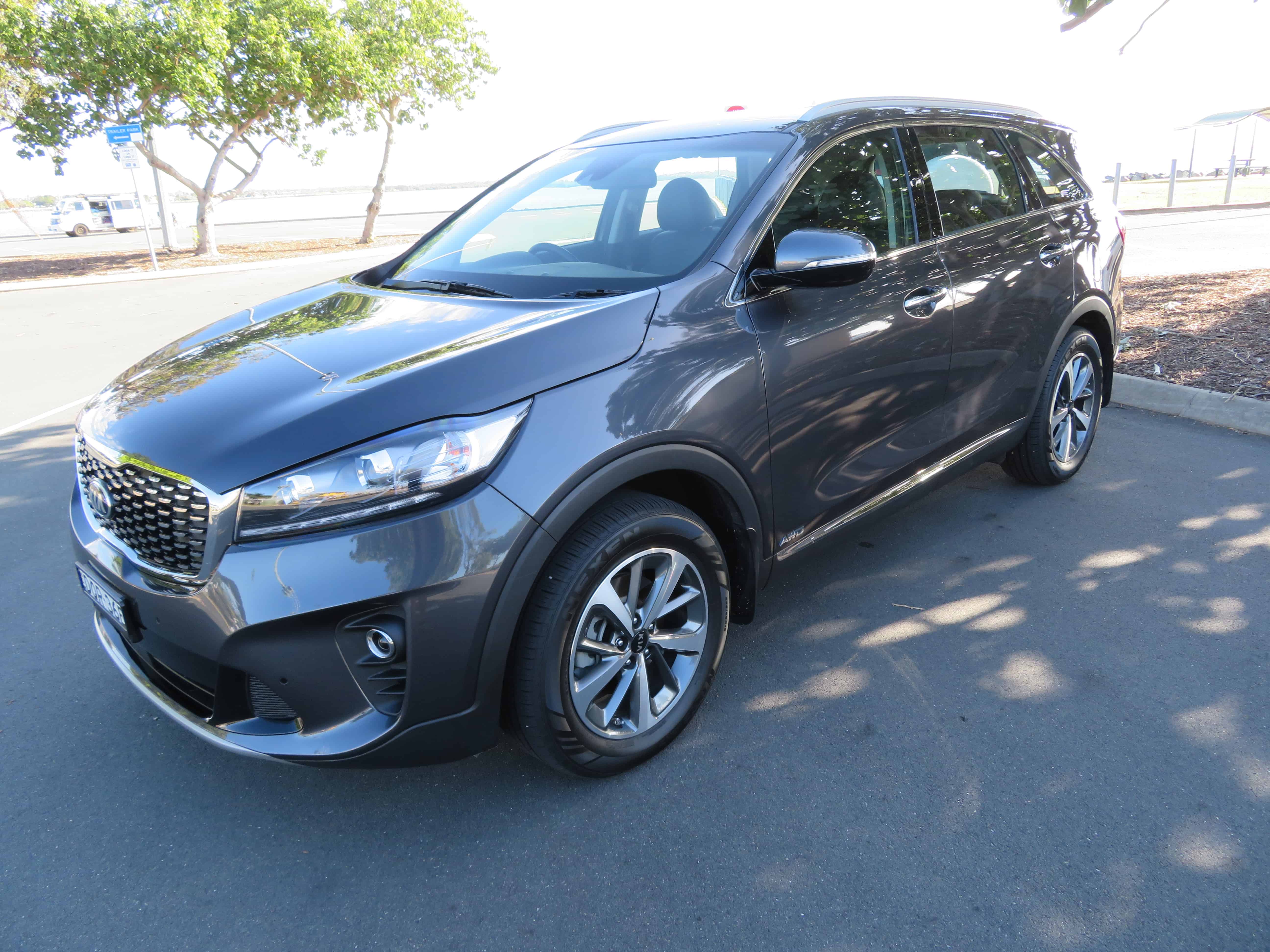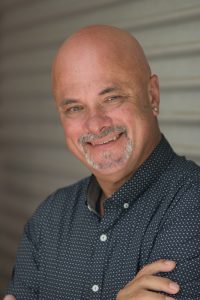 Bob Aldons is the owner and founder of The Car Guy, reviewing cars, reporting on Car Industry Matters, Car Tech and the world at large. He's spent the last forty years immersed in the automotive industry from salesman to the owner of a 7 brand multi-franchise dealership. Bob knows cars.
Find One
If you're hunting around for a great price on your next new car, you should call the auto expert, Bob Aldons from Car Business. My company, a car Broker, Car Buyers Agent or Car Buyers Advocate based on the north side of Brisbane, will return your inquiry within 24 hours and make the process of buying a new car easy and stress-free.
Are you tired of salesperson tricks? I protect you from the pressure exerted by car dealer's salespeople. There isn't any obligation – just a pretty significant saving.
You're where? Seriously, my services are available for you in any Australian state and territory: from Darwin to Hobart, Cairns to Perth.  Car Broker Brisbane, Sydney, Melbourne, Adelaide, Perth, Hobart, and Darwin – I'm available when you need me to be.
Here's an example
Matt wanted to purchase a Mazda 3 SP25 GT Manual Hatch. The retail value, drive away on that car is around $35,000. Car Business managed to purchase the same car for $28, 123.90 and with our fee Matt paid $25, 588, a saving of over $6000. And how do we know? Another customer, (looking for a new Holden HSV) just paid $35,000 for the same car – but he did it himself, without our assistance
If you've got a vehicle to trade, we have some clever ways to maximize the value – from used car dealers keen for your car to assist you to sell it privately. Finance and Insurance? We can handle that too, and we promise you will not be paying exorbitant dealer markups there either.
Trade In Value Example
2014 Jeep Cherokee Limited. Average dealer trade value – $16500. We achieved $22,000
2014 Volkswagen Tiguan 118TSI. Average dealer trade value – $14000. We achieved $16000
So, to get the best new car price, talk to others and then talk me. I've got the experience to handle the dealers and achieve the lowest new car prices. If you think you're entitled to fleet pricing, I can often get better than that too.
Whether you're a small fleet or a large national fleet, Car Business will go to work and get that price down. Lower new car prices are my goal. So you'll get the best prices from us rather than hoping you can help yourself.
If I can't get you the best new car price, better than you can get yourself from a car dealer, we won't charge you any fee. No Saving, No Fee. – that's what you should expect from a car buying expert. 

Car Business WILL save you money on your next new car purchase – guaranteed

The Australian Road Safety Foundation is a not-for-profit organization whose charter is to reduce serious accidents on our roads through training and education. Car Business donates to the ARSF for every car we sell. If you'd like to support this worthwhile foundation, donate to the cause, become a member today or just buy your next new car from Car Business
In Closing
My reviews aren't based on power performance or high-speed handling capacity. They're not based on 0-100 Kim/hr of 4.0 seconds. And they're certainly not super luxury vehicles that many other "old timers" are feted on by the likes of Ferrari, Lamborghini, and Aston Martin
Back when I started in the motor industry salespeople were schooled and skilled in a process called the road to the sale. Part of that process was a presentation of the car that the customer was ultimately considering,
The six position sell showed the features, advantages, and benefits as it related to that specific car in the eyes and thought process of that particular customer
Those days of a true car sales professional seem to have gone.
Nowadays it seems that all salespeople want to do is accept that the customer knows everything about the car they're interested in, want to crunch the customer as quickly as possible and get the next sale
In my opinion, this is one of the reasons that there's such a high turnover in salespeople in this industry of ours.
Now I think that I'm a car industry expert, not because I sell lots of cars, but, as I was taught over 40yeras ago, time sells motor cars.
The more time you spend with a customer, the more information you provide them and the more you're there for them Even AFTER they take delivery of their new car, the more repeat and referral business you'll get.
Typically second and subsequent sales only provide 10% of a car salespersons business. Referral business, where an existing customer refers a friend, relation or work colleague back tot eh selling salesperson as someone to trust and buy a car from is even less – probably 5%
So, if you're a young salesperson reading this article, let me tell you that you should be getting 40-50% of your business from repeat and referral business.
And how do you get that much? Well, that's a story for another article or an opportunity to join me in a training course.
Disclaimer
For your interest, my motoring reviews are my opinion of the vehicle I'm testing. The manufacturer or distributor, in this case, Kia Australia, doesn't tell me what to write or ask for a 'nice' review. Nor am I paid for these reviews – I simply call it as I see it.
I often wonder about the 'truth' that I see from other motoring journalists. And I'm particularly referring to newspapers, online forums, and magazines where the company that owns the publication receives substantial advertising support from the various manufacturers.
Do the owners or editors tell their journalists to go easy on the review? I'm not sure, never having been in that position. Would I turn to softer reviews if my company was being paid for good reviews? Not likely. My independence as a writer is not for sale. I'd rather say no than be bought.
In any case, If that ever happens, rest assured that I'll be telling that story with interest.