Hi, Bob Aldons, The Car Guy, with an updated report and my review of the Kia Cerato Sport Hatch.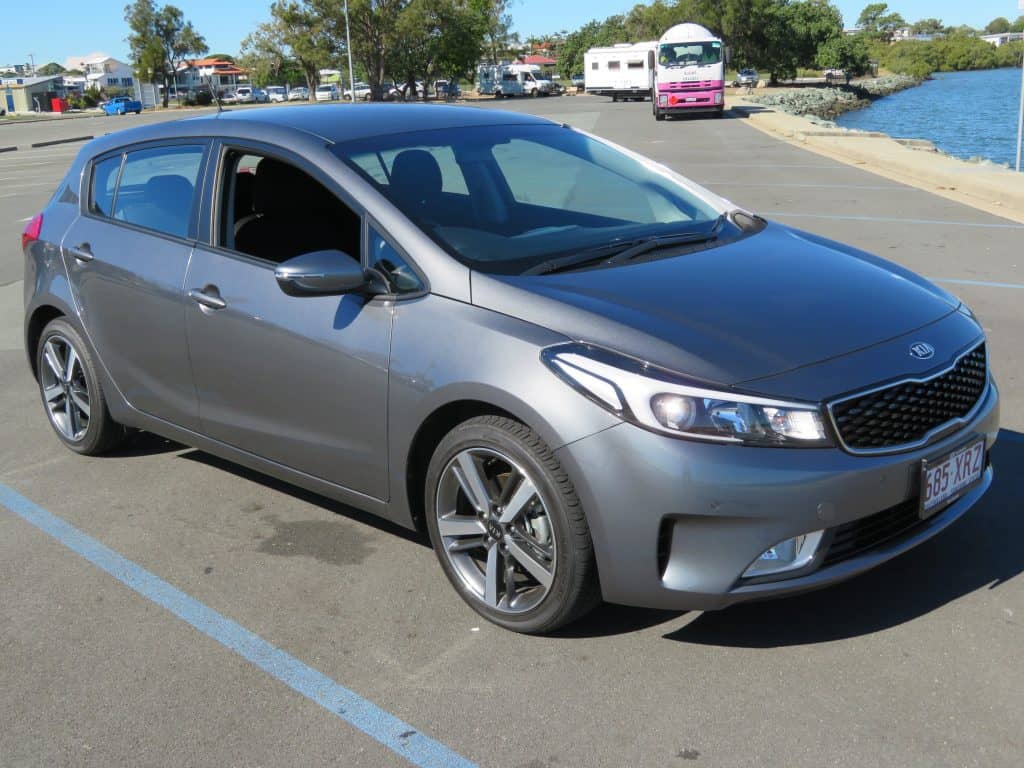 When I review a vehicle for The Car Guy website, I do so from a buyers perspective rather than just concentrate on speed, steering ability and things like that. After over 40 years in the car business, since 1978 in fact, my review is based on a sales process called the 'road to the sale'.
Professional and experienced salespeople will present a car in terms of its features and then those that are beneficial to the customer. No point in an in-depth discussion about the torque for a particular car if it isn't relevant to the consumer. So with that said, here's my presentation on the Kia Cerato Sport Hatch.
Kia Cerato is due to be updated in a few months, so it's appropriate to provide my comments on this run-out version. On runout, pricing of the Cerato S model with automatic transmission starts at $19990 drive away whilst the model tested, the Sport, is $22490 drive away, again with automatic included.
What is it: The Kia Cerato Sport is a small passenger vehicle. Available currently in 4 versions – Cerato S, Cerato S with AV, Sport and Sport plus.
Competition: Ford Focus, Holden Astra, Honda Civic, Hyundai i30, Mazda 3, Mitsubishi Lancer, Renault Megane, Skoda Rapid, Subaru Impreza, Toyota Corolla, and Volkswagen Golf.
Base Price: The published retail price on the Kia Cerato Sport Hatch is $24,790. With dealer delivery and on-road costs, I'd expect that number to be around $29,344. So this runout model is exceptionally priced at $22,490 drive away.  Kia operates in, along with other brands, a very competitive market with the Cerato and like vehicles.
Someone's always on sale – you can buy a Toyota Corolla Ascent hatch in automatic for about $23900 drive away, Hyundai i30 is priced at about Kia Cerato pricing and of course there is Mitsubishi Lancer, Holden Astra, with some of the other European's all at about the same price.
If you want to buy cheaper than $20k you'll be looking at some of the Chinese offerings. But, in my opinion, I'd stay away from them. As far as quality and reliability is concerned, they're just not on the mark yet.
One of Kia's substantial differences to all competitors is their 7-year warranty with unlimited kilometres, 7-year roadside assistance and 7-year capped price service plan.
Honda, Mitsubishi, Renault and now Ford give a 5 -year warranty but the others, Holden, Nissan, Toyota and Volkswagen are still at 3-years.
The competition is falling in the small sedan and hatch market. Where, once upon a time, manufacturers poured huge resources into this segment, the rise of the light and small SUV has put paid to early development.
Kia and it's sister company have bucked this trend, paying good regard to their products. Ford in the USA have even suggested that they won't build sedans in the near future.
Is this a case of a manufacturer dictating to the customer? So good on you Kia – keep building cars like the Cerato and the buying public will support you.
At the Front
The chief designer from Kia, Peter Schreyer has been afforded the naming rights to the Kia grille design, hence the Schreyer grille. Throughout the Kia range, there's really nothing to dislike about the front end design. HID headlights with LED daytime running lights are standard in this model. The front end design doesn't seem to date and that's very important not only for look and feel but resale value as well
The Kia Cerato Sport comes with a standard 6-speed sports automatic transmission as tested.  If you'd prefer a 6-speed manual, it's back to the base S for you.
Down the Side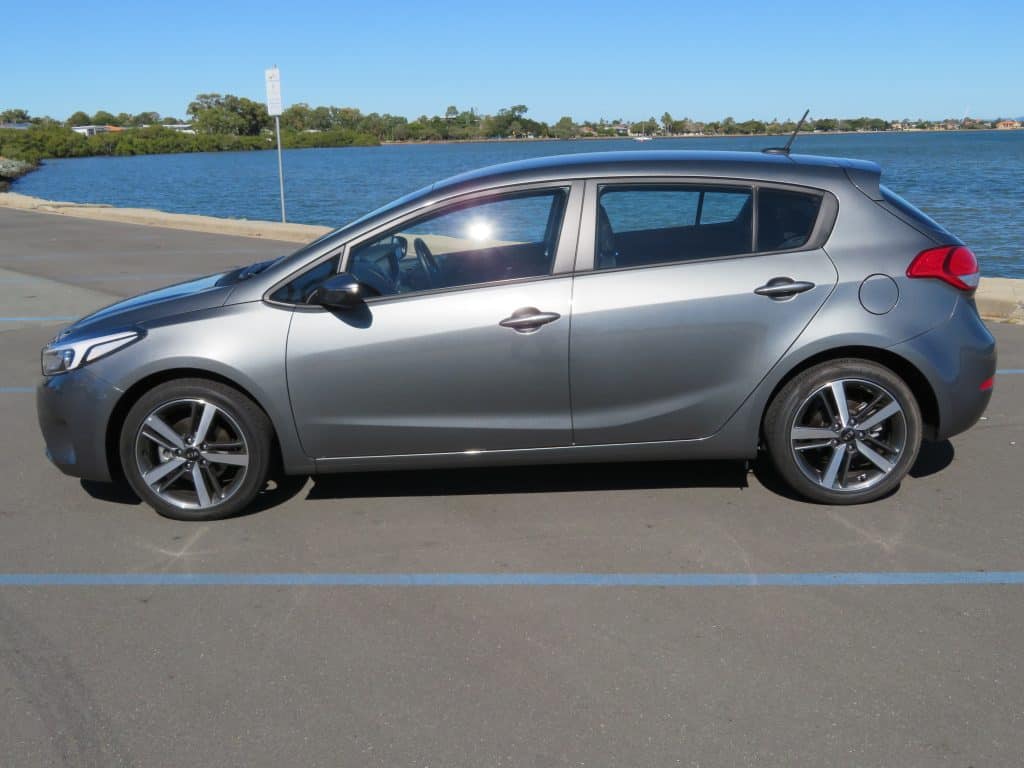 In this part of my review, I always provide the safety and convenience features of the car. These items are comprehensive, but if you want to know everything including weights, capacities and lot's more here's a link to the specification page of the Kia Cerato Sport Kia's website – Kia Cerato Hatch.
ABS Brakes
Electronic Stability Control
Hill Start Assist
Front Parking Sensors
Reverse Park Sensors
Rear View Camera
Dusk Sensing Headlights
Front & Rear Fog Lights
7 SRS Air Bags
Anti Theft Immobilizer
Remote Central Locking
Heated Exterior Door Mirrors
Cruise Control
7″ Colour Infotainment Display
The Rear End
The Kia Cerato is blessed with a low load height which means it's easy to pop in the groceries, golf clubs and prams without much trouble. Of course, the rear seat can fold or you can choose to drop just one side for the awkward DIY goods or a mad day at the nursery or market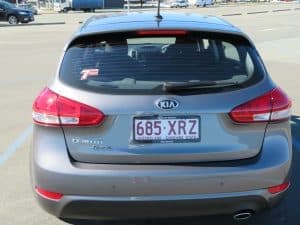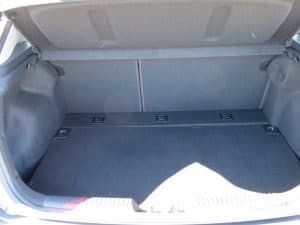 Cargo capacity with 2nd row upright, 385 litres
Cargo capacity with 2nd row folded, 657 litres
Fuel tank capacity is 50 litres so you can expect to not have to fill the tank weekly, but probably every 10 days or so.
And another good aspect of the Kia Cerato Sport is that it sips 91 Octane (unleaded) fuel
Drivers Side and Driver's Seat
If you're looking for a large small car with enough comfort for the rear seat passengers, and a great driving position, Kia Cerato Sport is a good choice. Apart from the 'lots of grey' interior, the technology is probably more than you'd expect from a car priced at this level. Standard navigation which works very well also has speed zone warnings. Chimes or Chirps instead of the spoken word works well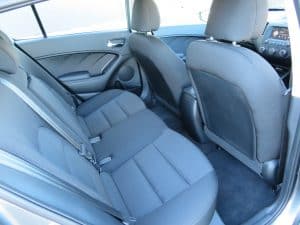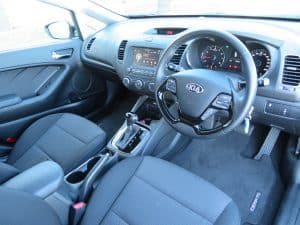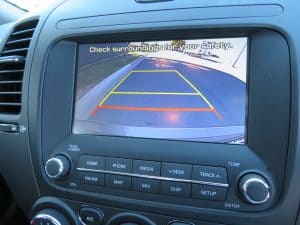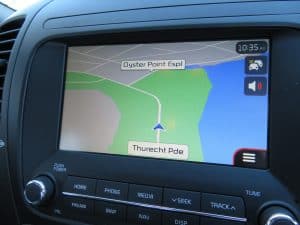 On the Road
Frankly, I think that the Kia Cerato Sport is a well accomplished small hatch.  And I'm not surprised that it continues to rate so well in the annual awards. I typically travel from Redcliffe to Peachester when I'm road testing cars, and the Cerato did the job easily. Highway driving is quiet and comfortable but it also handles the climb up the range behind Beerway with no fuss at all.
The Kia Cerato's suspension absorbs any minor blemishes on the highway and does even better than I expected on my B Grade road from Peachester to Maleny. For this particular trip, I had my self and 3 other adults along for the ride. No complaints about rear seat legroom or headroom, no suggestions that the suspension made life uncomfortable either.
If I was in the market for a small hatchback, the Kia Cerato Sport would find a spot in my garage. Over the last 2 weeks, a couple of customers have bought Kia Cerato Sports based on my recommendations and have been thoroughly satisfied with their ownership experience to date.

Green Vehicle Guide
The Federal Government's Green Vehicle Guide website uses politically correct terminology to determine fuel economy. Urban, extra urban and combined. I'll call it the way it is – City and suburbs, Highway and still use their definition of combined.
You might recall that these tests are conducted in a laboratory to Australian Standards so don't expect to achieve City and Suburb results the same as these. In my experience, I've found that the highway test is closest to the actual economy you'll get, but the city results can be undercooked by as much as 20%. Hopefully, real-world tests and results will be provided this year.
City Cycle                              10.0 litres per 100klm
Highway Cycle                     5.6 litres per 100klm
Combined                             7.2 litres per 100klm
Air Pollution Standard      Euro 5
Tailpipe CO2                        168 grams per kilometre
The Kia Cerato has a fuel tank capacity of 50 litres so should be able to handle a 7 day week on 1 fill. And as importantly, it uses 91 octane fuel (unleaded) but can also handle E10.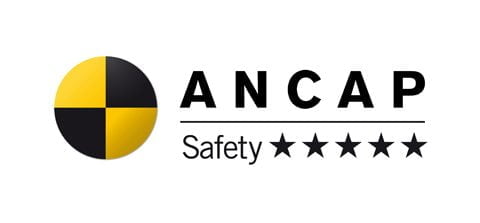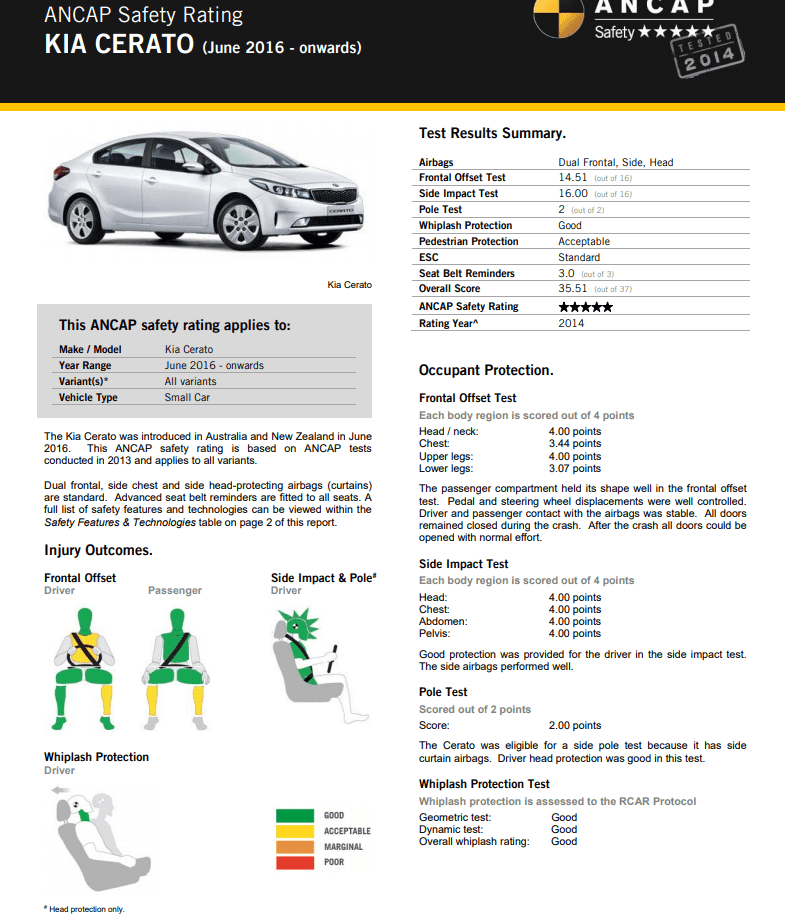 These ANCAP safety tests were conducted in 2014, years before the new standards were introduced in 2018. I'm not comfortable in saying that if tested under the new regime, this current model Cerato would still achieve 5 stars.
However, I'm very confident in saying that the new model, due for release soon will achieve that 5-star rating.I've stated before in these articles, that there really isn't a bad car being sold in Australia.
That being said, if the vehicle you're looking at doesn't have a 5-star ANCAP rating, move on to something else.
If you'd like to download the complete technical report, click on this link ANCAP – Kia Cerato  and then burrow further into the report by clicking on the "Technical Report" on the bottom LHS of the first page
Warranty and Service
I've spoken highly of Kia's commitment to their customers previously, so this time I've taken direct quotes from the Kia website. It really does tell the story well.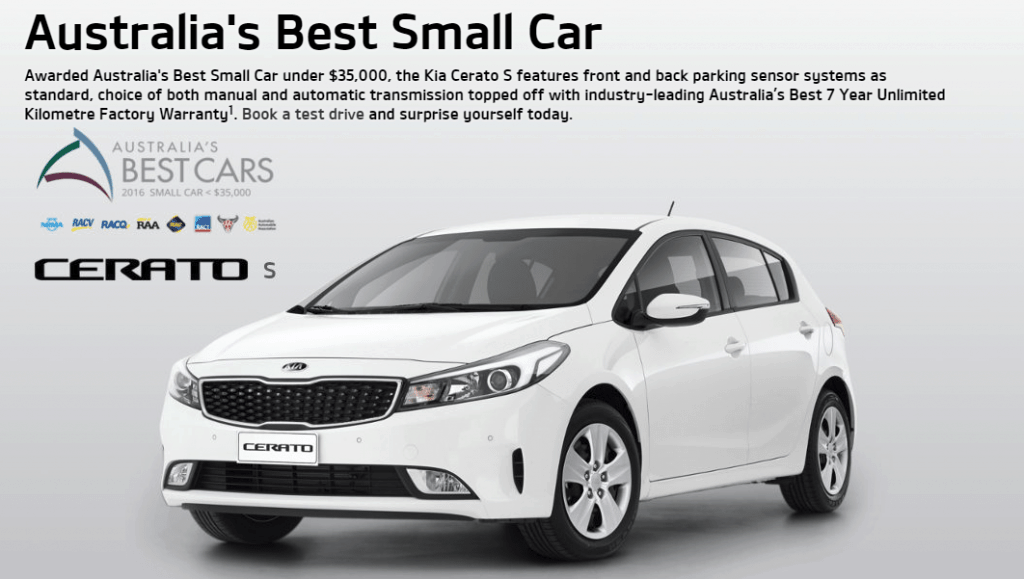 "Your brand-new Kia comes with the assurance of Australia's First 7 Year Unlimited Kilometre Warranty*, unlike offerings from other car brands which cease to operate after you hit a certain mileage.
We knew we had to go the extra mile because a longer warranty is a better warranty. It's easy for us to back up our vehicles with the best warranty in the industry. After all, they are built not only to perform but to last.
At Kia, we're always looking for ways to give you even more assurance. So not only do you know the maximum cost of your vehicle's next scheduled service upfront, but we've also extended our capped-price offering to 7 years.
It means no unexpected surprises once the work has been done on your Kia. It also means you can take your car to any Authorised Kia Dealer in Australia and get the same deal."
Under the Kia Capped Price Service regime, you can expect to pay a total of $2479 for 7 services at an average of $354 per service. All the more reason to keep your new Kia service history all Kia. You will certainly enjoy a better resale value if your car has been serviced by a Kia dealer than an aftermarket service workshop.
Towing
You're buying a small car so don't expect to tow anything substantial with the Cerato. It has a braked towing capacity of 1100 kilograms and 610kg unbraked. Towball download weight of 75kg restricts loads to a small trailer for the rubbish tip or a light tinnie for local fishing.
Insurance
I generally use RACQ Insurance to give you a guide as to what you'll pay for your annual comprehensive car insurance. Conditions precedent for this cover are:
I'm a male driver over 60 years of age, having held a license for over 10 years
Bronze member of RACQ with 2 other insurance policies
Has paid cash for the car for private use with the car parked in a garage overnight.
The driver resides in postcode 4019
The car is fitted with an engine immobilizer
1 at fault claim in the last 3 years, with no license suspensions
Rating 1 currently having held that rating 1 for 10 years
No driver under 25 will use the vehicle.
The premium quoted online by RACQ Insurance is:        Private Use – No Finance:  $384.86 with a $750 excess      
Variations from the information above may result in different outcomes. Check online with RACQ Insurance for your own particular quote.
My Opinion
What I Like        
Good sized hatch.
Handles well
Easy to park
What I Don't Like
Lack of Emergency braking, adaptive cruise control, but I expect that to be solved in the new model update
Where to Buy – Dealers
Vehicle provided by Kia Australia. If you're in the market to buy a Kia Cerato or any other Kia model for that matter, pick your dealer carefully. When I want to check out the 'worthiness' of a dealer, I Google 'Kia Dealer Brisbane " where the city is the one that you live in or around and the brand is that particular one you're interested in.
I only list dealers who have achieved a minimum of 5 reviews with Google and then only those with 4 stars or higher.
From a South East Queensland perspective here's the dealers I'd visit:
Northside                         Brendale Kia                                4.8 Stars
Eastside                            Keema Bayside Kia                     4.7 Stars
Southside                         Motorama hillcrest Kia              4.6 Stars
Westside                          Motorama Kia Moorooka           4.7 Stars
Sunshine Coast              Cricks Noosa Kia                          4.8 Stars
Gold Coast                      von Bibra Robina Kia                   4.7 Stars
And another comment I'd like to make in this section is that Kia and it's dealers have done a stellar job in looking after their customers. No other brand that I write about has such a high Google Star rating with a commensurate volume of reviews. Congratulations!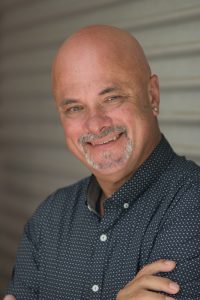 Bob Aldons is the owner and founder of The Car Guy, reviewing cars, reporting on Car Industry Matters, Car Tech and the world at large. He's spent the last forty years immersed in the automotive industry from salesman to the owner of a 7 brand multi-franchise dealership. Bob knows cars.
Find One
If you're hunting around for a great price on your next new car, you should call the auto expert, Bob Aldons from Car Business. My company, a car Broker, Car Buyers Agent or Car Buyers Advocate based on the north side of Brisbane, will return your inquiry within 24 hours and make the process of buying a new car easy and stress-free. Are you tired of salesperson tricks? I protect you from the pressure exerted by car dealer's salespeople. There isn't any obligation – just a pretty significant saving.
You're where? Seriously, my services are available for you in any Australian state and territory: from Darwin to Hobart, Cairns to Perth.  Car Broker Brisbane, Sydney, Melbourne, Adelaide, Perth, Hobart, and Darwin – I'm available when you need me to be.
Here's an example
Matt wanted to purchase a Mazda 3 SP25 GT Manual Hatch. The retail value, drive away on that car is around $35,000. Car Business managed to purchase the same car for $28, 123.90 and with our fee Matt paid $25, 588, a saving of over $6000. And how do we know? Another customer, (looking for a new Holden HSV) just paid $35,000 for the same car – but he did it himself, without our assistance
If you've got a vehicle to trade, we have some clever ways to maximize the value – from used car dealers keen for your car to assist you to sell it privately. Finance and Insurance? We can handle that too, and we promise you will not be paying exorbitant dealer markups there either.
Trade In Value Example
2014 Jeep Cherokee Limited. Average dealer trade value – $16500. We achieved $22,000
2014 Volkswagen Tiguan 118TSI. Average dealer trade value – $14000. We achieved $16000
So, to get the best new car price, talk to others and then talk me. I've got the experience to handle the dealers and achieve the lowest new car prices. If you think you're entitled to fleet pricing, I can often get better than that too. Whether you're a small fleet or a large national fleet, Car Business will go to work and get that price down. Lower new car prices are my goal. So you'll get the best prices from us rather than hoping you can help yourself.
If I can't get you the best new car price, better than you can get yourself from a car dealer, we won't charge you any fee. No Saving, No Fee. – that's what you should expect from a car buying expert. 

Car Business WILL save you money on your next new car purchase – guaranteed

The Australian Road Safety Foundation is a not-for-profit organization whose charter is to reduce serious accidents on our roads through training and education. Car Business donates to the ARSF for every car we sell. If you'd like to support this worthwhile foundation, donate to the cause, become a member today or just buy your next new car from Car Business
In Closing
My reviews aren't based on power performance or high-speed handling capacity. They're not based on 0-100 Kim/hr of 4.0 seconds. And they're certainly not super luxury vehicles that many other "old timers" are feted on by the likes of Ferrari, Lamborghini, and Aston Martin
Back when I started in the motor industry salespeople were schooled and skilled in a process called the road to the sale. Part of that process was a presentation of the car that the customer was ultimately considering,
The six position sell showed the features, advantages, and benefits as it related to that specific car in the eyes and thought process of that particular customer
Those days of a true car sales professional seem to have gone.
Nowadays it seems that all salespeople want to do is accept that the customer knows everything about the car they're interested in, want to crunch the customer as quickly as possible and get the next sale
In my opinion, this is one of the reasons that there's such a high turnover in salespeople in this industry of ours.
Now I think that I'm a car industry expert, not because I sell lots of cars, but, as I was taught over 40yeras ago, time sells motor cars.
The more time you spend with a customer, the more information you provide them and the more you're there for them Even AFTER they take delivery of their new car, the more repeat and referral business you'll get.
Typically second and subsequent sales only provide 10% of a car salespersons business. Referral business, where an existing customer refers a friend, relation or work colleague back tot eh selling salesperson as someone to trust and buy a car from is even less – probably 5%
So, if you're a young salesperson reading this article, let me tell you that you should be getting 40-50% of your business from repeat and referral business.
And how do you get that much? Well, that's a story for another article or an opportunity to join me in a training course.
Disclaimer
For your interest, my motoring reviews are my opinion of the vehicle I'm testing. The manufacturer or distributor, in this case, Kia Australia, doesn't tell me what to write or ask for a 'nice' review. Nor am I paid for these reviews – I simply call it as I see it.
I often wonder about the 'truth' that I see from other motoring journalists. And I'm particularly referring to newspapers, online forums, and magazines where the company that owns the publication receives substantial advertising support from the various manufacturers.
Do the owners or editors tell their journalists to go easy on the review? I'm not sure, never having been in that position. Would I turn to softer reviews if my company was being paid for good reviews? Not likely. My independence as a writer is not for sale. I'd rather say no than be bought.
In any case, If that ever happens, rest assured that I'll be telling that story with interest.