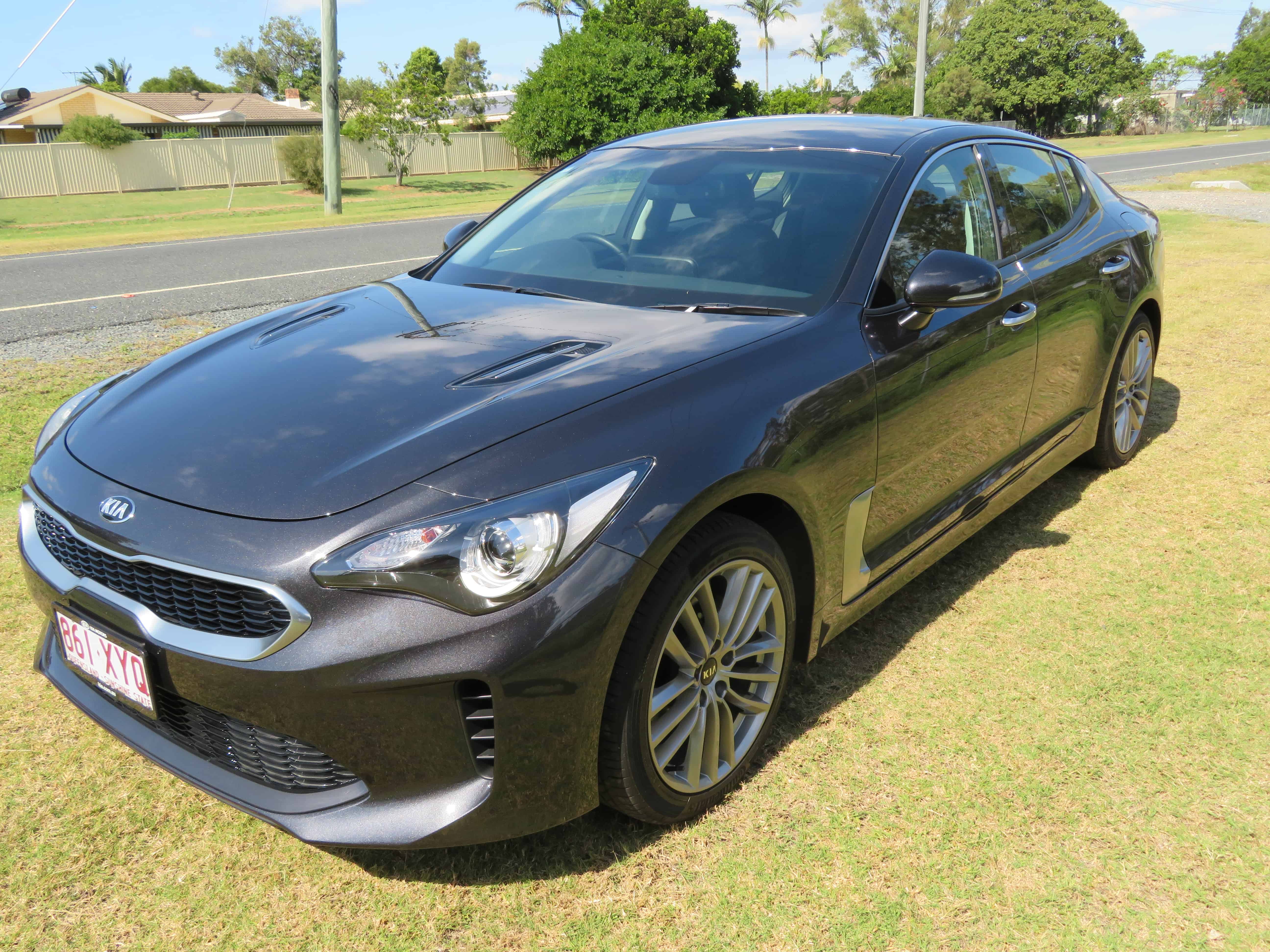 Hi, Bob Aldons, The Car Guy, exploring the possibility of time travel. And yes, most of you have seen the movie with Michael J Fox – Back to the Future – where the highly modified De Lorean does just that, and where Stephen Hawking suggested it was theoretically possible to travel back in time and even move to a parallel universe. And now you're asking yourself – what the heck is this man talking about. Well I'm referring to the Kia Stinger 200S
You see, back in late March, I published a story on the Kia Stinger 330S.  fast forward to now and the nice people at Kia Motors Australia have just loaned me a KIA Stinger 200S. What they should have done of course is to throw me into the 200S first and the 330S after that. Because if you set out to test the Kia Stinger 200S BEFORE you'd driven the 330S I'd be waxing lyrical about how clever the KIA people are. So rather than comment on matters injurious to Kia, I'm travelling back in time – pre 330S. So PLEASE don't tell the PR people at KIA what I've done and you should probably not tell Kim Jong Un, because he'll denuclearise the Korean peninsula and take up time travel instead. And travel back pre-Trump and get Hilary elected instead…….
What is It: The Kia Stinger 200s is a 'large car' as defined by the motoring industry in Australia. In the Kia Stinger line-up its the entry model with an RRP of $45990 plus government charges and dealer delivery. In Queensland, it retails for around $50,000. You'll recall that the 330S is around $54200 drive away. There is a RAFA Signature edition on sale for $45,750 but that's a 2017 build car.
Key Competitors: Holden Commodore, Peugeot 508, Skoda Superb as well as Audi, BMW, Mercedes-Benz and Lexus
At the front
The Kia family of cars has a similar look with badge positioning and grille design. Kia calls the grille design 'Schreyer' after their chief designer.  Projection headlights (auto levelling is standard on the GT Line models) are standard. Under the bonnet is Kia's 2.0-litre engine producing a surprising 182 kW of power and 353 Nm of torque. The English translation of these specifications is that the Kia Stinger has plenty of oomph and grunt – sufficient for smooth around town and highway driving. It's a pity that Kia doesn't offer a diesel engine in Australia as they do in Europe.
The offering would undoubtedly provide further sales volume and competition for the European brands offering diesel options.
Down the Side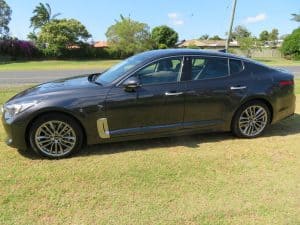 I generally use the manufacturer's specification sheet to list the extensive safety technology for your information. So here it is below. I've also decided to link to the online brochure for ant more information that you'll want to consider. Whilst I cover the generally required formation that you may require, my review is simply a brief consideration from my own viewpoint. So here's the link to Kia's website on the Kia Stinger.
The design of the Stinger is very European – I'm seeing family resemblance of Maserati and Porsche. As I suggested in my review of the 330Si a lot of people didn't really know what the Kia Singer was without looking at the badges. They and I were very impressed at what was on offer.
The Kia Stinger 200S has the following features:
ACTIVE SAFETY
ABS (Anti-lock Braking System) with Electronic Brake Distribution & Brake Assist
ESC (Electronic Stability Control) with Traction Control System
VSM (Vehicle Stability Management)
HAC (Hill-start Assist Control)
ESS (Emergency Stop Signal)
Seatbelt warning chime & light on all positions
Rear parking sensors with dash display
Rear view camera with in-audio screen display & dynamic parking guidelines
Electrochromic rearview mirror (auto dimming)
High-mount rear stop light (LED)
LED Daytime Running Lights (DRL)
LED Position Lamp
Dusk-sensing automatic headlights
Speed sensing auto door lock
Child restraint anchorage points (3 x anchors / 2 x ISOFIX positions)
3-point ELR seatbelts on all positions
PASSIVE SAFETY
Driver & front passenger SRS airbags
Front side SRS airbags
Curtain SRS airbags
Driver side knee airbag
Front seatbelt pre-tensioners with load limiters
Active Hood Lift System (AHLS)
Side door impact beams
Impact sensing auto door unlocking
The Kia Stinger has 2 Isofix points and 3 child seat position for the rear seat. There's plenty of room in the rear luggage area and the load height is good. Easy enough to load groceries, prams or golf clubs into the 'boot'. The design of the Kia Stinger is fantastic.
Albert Biermann, (Former BMW M Division) Peter Schreyer (Audi TT designer) and Gregory Guillaume (Kia Head of Design) were involved in bringing this car to market. I think they did a stellar job.
Outback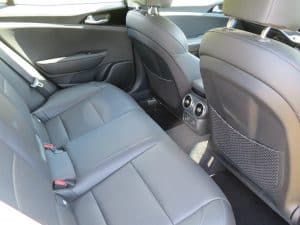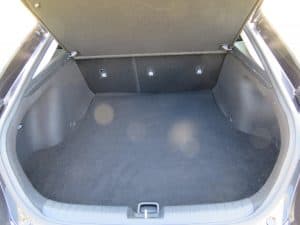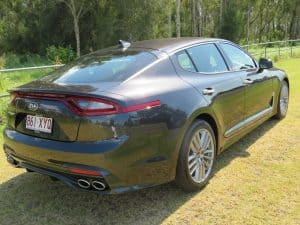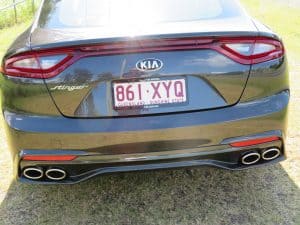 The Kia Stinger comes standard with rear parking sensors, a reversing camera and a very sexy rear end with the Stinger quad exhaust. Capacity with the second row in use is 406 litres whilst this increases to 1104 litres with the rear seats down. The rear seats split 60/40 so that standard luggage space can be improved while still carrying one or two rear seat passengers.
Towing
The Kia Stinger range can tow loads up to 1500kg with electric brakes fitted and 750kg without. Towball download is set at 75kg. So you're certainly not going to tow your 3-tonne caravan or 8- metre powerboat – I can't do that in my BMW either – but if you want to tow a small trailer, campervan or small boat, Kia Stinger can do that capably. If you'd like to determine what you can tow and how you can work that out, send me an email to [email protected]  Happy to provide some advice.
Insurance
I generally use RACQ Insurance to give you a guide as to what you'll pay for your annual comprehensive car insurance. Conditions precedent for this cover are:
I'm a Male driver over 60 years of age, having held a license for over 10 years
Blue member of RACQ with 2 other insurance policies
I've paid cash for the car for private use with the car parked in a garage overnight
The driver resides in postcode 4019
The car is fitted with an engine immobilizer
1 at fault claim in the last 3 years, with no license suspensions
Rating 1 currently having held that rating 1 between 5 and 9 years
No driver under 25 will use the vehicle.
The premium quoted online by RACQ Insurance is:          $469.09 with a $750 excess
Drivers Side
Body colour door handles with chrome highlights add to the luxury look and feel. Privacy glass for the rear seat passengers is standard. Electric folding outside door mirrors (heated) with automatic folding function is standard in all models in the Kia Stinger range. Entry and exit to the rear seats is excellent – wide opening doors make it easy. Driver and passenger entry is similar.
Available colours in the Kia Stinger 200 are Panthera Metallic, Silky Silver, Ceramic Grey, Sunset Yellow, Hichroma Red, Micro Blue and Deep Chroma Blue. Aurora Black and Snow White Pearl are only available in the GT-Line models
Driving Position
Comfortable – that's how I found the Kia Stinger. Good support for my legs, hips and my headroom was excellent. With a height and telescopic steering wheel, you'll certainly be able to find that 'just right' seating position.
With the amount of technology in the Stinger, when you're taking delivery, be sure to insist that the delivery person gives you a thorough presentation. The delivery day can be exciting but it's important to understand your car.  If you forget some of the features or how to do things, you'll then have to refer to your owners manual and that's a very long read.
The pairing of your mobile phone is easy, but if you typically struggle with technology, ask your dealer to help.
Warranty and Service Costs
One of the great features of this Kia Stinger and every other Kia in the range is the 7-year unlimited kilometre warranty and roadside assistance. I continue to rave about this offering and even more so when the Kia CEO suggested that if 7-year warranty became the norm with other manufacturers, that Kia would consider lifting their coverage to 10 years. That's confidence in engineering and build quality when it's needed.
Kia's Capped Price Service program runs out to $3156 for 7 services over 7 years – that's $450 per 10,000 km – and that's a sensational offering. In my opinion, if you can afford to buy a new Kia Stinger, then $450 per 10,000 kilometres for servicing costs is great value. There's no need to take your Kia to an aftermarket service centre, where they just don't have the knowledge and expertise on your specific car.
If you'd like to check the service program for yourself, visit KIA SERVICE

On the Green Vehicle Guide Website, they use terminology such as Urban and Extra Urban. My Simple English translation of this politically correct wording is:
Urban =                     City
Extra Urban =          Highway
Combined =             Combination of both
City                             12.7 litres per 100 kilometres
Highway                    6.5 litres per 100 kilometres
Combined                 7.0 litres per 100 kilometres
Tailpipe CO2 is the amount of carbon dioxide that comes out of the tailpipe after fuel has been used in the engine. The lower the number of grams the better for our environment.
Tailpipe CO2                                    201 Grams per 100 kilometres
Air Pollution Standard                  Euro 5
Here's a quote directly from the Green Vehicle Guide Website.
"There are two types of emissions that impact on the environment:
Greenhouse gas emissions, such as carbon dioxide (CO2), which can trap additional heat from the sun in the earth's atmosphere, causing the 'greenhouse effect' and climate change. CO2 is the main greenhouse gas produced by motor vehicles. In 2014, the average combined CO2 emissions for a new light vehicle sold in Australia was 188 grams per kilometre (g/km).
The National Transport Commission estimates that if Australian consumers purchased vehicles with best in class emissions, national average CO2emissions for new light vehicles would be up to 50 percent lower."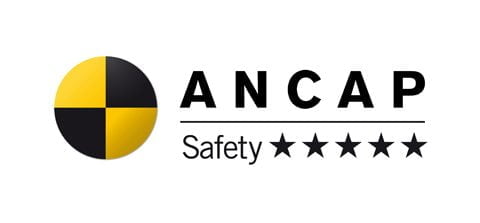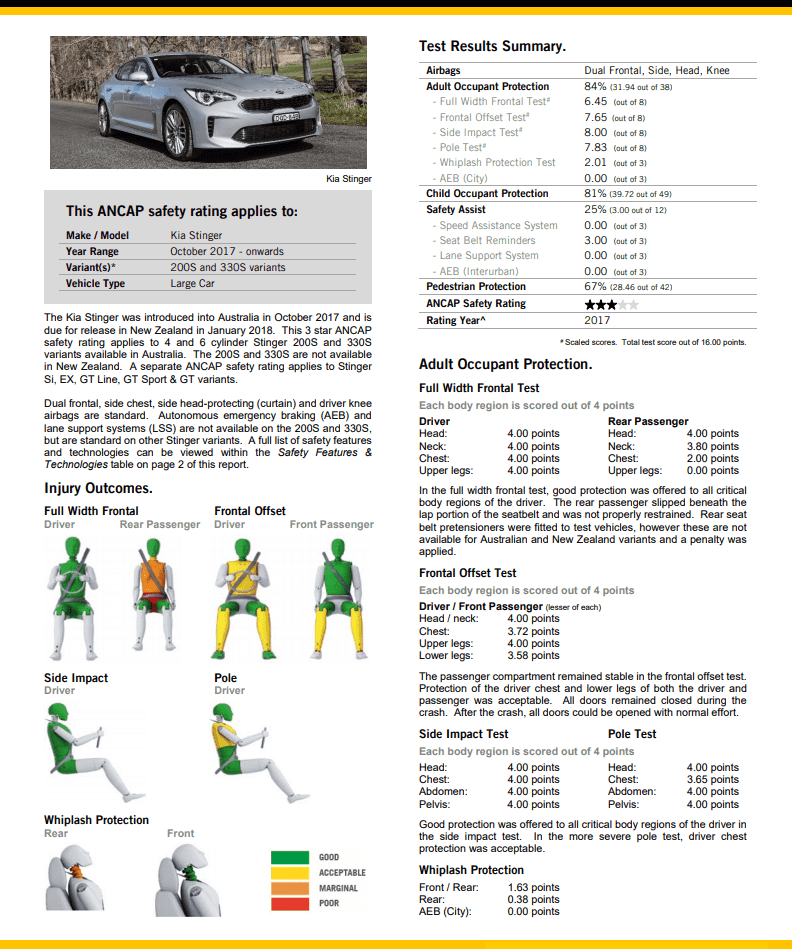 The Five-Star rating enjoyed by the Kia Stinger 330S doesn't flow back down the model lineup.
The Kia Stinger 200 was rated 3 stars by ANCAP in October 2017. ANCAP's explanation was that the Kia Stinger 200 lacked current safety technology such as Autonomous Emergency Braking and Lane Departure Warning, and it doesn't have Adaptive Cruise Control either.
I'm confident that these features will be added to the Kia in 2018 and when retested it will achieve the magic 5 stars. Funny thing though, if the vehicle had been tested in June 2017, it may well have received 5 stars.  if you'd like to read more about Kia's safety features just click on the link  – KIA ANCAP
Late Press – courtesy of Go Auto
Kia Motors Australia chief operating officer Damien Meredith said the car-maker acted immediately to improve the Stinger 200S and 330S's safety offering after it was made aware of the low safety rating.
"As soon as we were made aware of the unusual situation regarding the original ANCAP rating of the Stinger, Kia Motors Australia took steps to rectify and ensure consistency across the model range," he said.
"At no stage was there any suggestion that the physical crash safety of any Stinger model was less than any other grade, however, the absence of some technology on the entry-level cars led to a split rating. With the inclusion of AEB on both S-grade models that situation no longer exists."
The Stinger has been a critical and sales success for Kia since its launch in September last year, with 504 finding homes in its four months on sale in 2017, while 681 have been sold to the end of April this year.
On The Road
In recent times, I've owned an Alfa Romeo Giulia QV and currently in my garage is a 2017 BMW M3, so I feel well equipped to compare this car with the others. Ok, so the 200S doesn't get the brawny 3.3 litre Twin Turbo V6 powerplant, but neither do the lower models in the Alfa Romeo and BMW range.
My typical test route is around my city of Redcliffe from pick up, but Saturday and Sunday see my press cars do a near 200klm trip through Peachester, to Maleny through some pretty twisty range roads and B grade roads from Peachester to Maleny and back to Redcliffe
I love this car – it handles superbly, eliminates most of the bumps on Bald Knob Road and just makes driving a pleasure. Remember those days when you took the family for a long drive, way before computer consoles and streamed entertainment? I certainly do and it's one thing I look forward to when I get the opportunity to test cars, particularly one as good as this Kia Stinger.
Where to Buy – Dealers
Vehicle provided by Kia Australia. If you're in the market to buy a Kia Stinger or any other Kia model for that matter, pick your dealer carefully. When I want to check out the 'worthiness' of a dealer, I Google 'Kia Dealer Brisbane " where the city is the one that you live in or around and the brand is that particular one you're interested in.
I only list dealers who have achieved a minimum of 5 reviews with Google and then only those with 4 stars or higher.
From a South East Queensland perspective here's the dealers I'd visit:
Northside                         Brendale Kia                                4.8 Stars
Eastside                            Keema Bayside Kia                     4.7 Stars
Southside                         Motorama hillcrest Kia              4.6 Stars
Westside                          Motorama Kia Moorooka           4.7 Stars
Sunshine Coast              Cricks Noosa Kia                          4.8 Stars
Gold Coast                      von Bibra Robina Kia                   4.7 Stars
And another comment I'd like to make in this section is that Kia and it's dealers have done a stellar job in looking after their customers. No other brand that I write about has such a high Google Star rating with a commensurate volume of reviews. Congratulations!
Summary
I've been very impressed with every Kia model that I've reviewed so far. I've been in a Sorento, Sportage, Picanto, Rio and Cerato and of course the Stinger. I'm looking forward to testing the updated Kia Carnival in a month or so and at that point, I've nearly covered their range. I'm sure that you'll be happy with the purchase of a Kia Stinger or any other Kia as your next new car.
I know that a Kia Stinger (V6) is on the list for my next car in 2019. No doubt that the Stinger gets the tick from me.
Kia Stinger 330Si Sedan – Clarkson Update – Why Should You Buy?