The Volkswagen Golf has always been fun to drive — now the interior's fun, too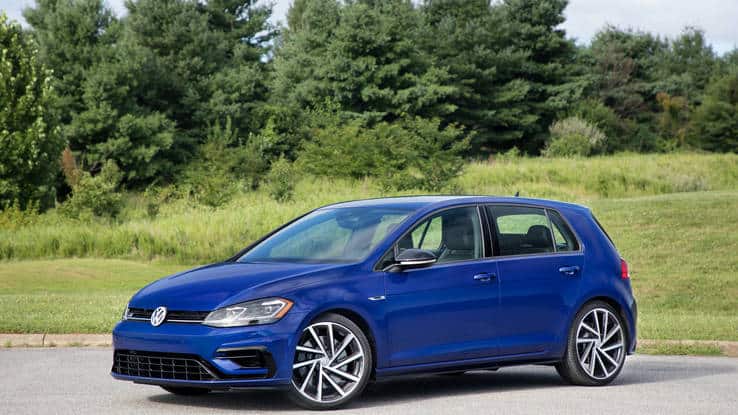 Before I comment on this report, I want to get something off my chest. I read a report on GoAuto News Premium last night about comments that Volkswagen Australia CEO Michael Bartsch had to say about his Australian dealers. Bartsch advised that 20% of the Volkswagen dealers in the country had yet to step up to the Volkswagen standards. These must be the same standards that Volkswagen put in place over the 'dieselgate' problems and which they're yet to admit to in Australia. IMHO, both Volkswagen and the ACCC are dragging their heals over this and arguably should have been resolved and settled a long time ago.
The second issue with Volkswagen is their attitude towards dealers in general. Back in 2010, as the owner of Northstar Volkswagen, I built a new showroom for Volkswagen. It's a beautiful structure and one of the better-looking buildings in North Brisbane. Before the building was finished, whilst in Germany, my business partner and I were advised along with the other dealers on the trip that Volkswagen was introducing a new design standard for dealerships worldwide. Our dealership would immediately not meet VW standards going forward. We were also advised at the time, that the existing design would be acceptable, but no time was given. So we spent $1.5 million dollars and our building was 'old' within a month of completion.
In a recent discussion with the new owner of Northstar Volkswagen, now Keystar Volkswagen, I was told that they had to upgrade the 'old' design to the current model. Cost? Who really knows but I'd guess around $1,000,000. So how do small businesses continue to deal with the likes of Volkswagen? Because the franchise agreement only lasts three years, if you don't step up to their standards you'll lose the franchise. And with an attitude like Micahel Bartsch, the stick he wields his uncompromising. Do what I say or lose your franchise and accordingly any equity you've built up in the business. So while he says that 60% of dealers were early adopters of Volkswagens 'new' plan and another 20% followed subsequently, I'd want to know what's been said to those dealers. "If you don't get in line with what we want, you'll not be offered a franchise renewal"? No small business can afford to take that stand.
And one more thing – here in Australia, Volkswagen are still offering a 3-year unlimited kilometer warranty and all of the passenger car range. In this Autoweek article, you'll see that VW USA is providing a 6 year/120,000 kilometer warranty. Obviously, this has been introduced to reinstill confidence in Volkswagen buyers in America that they do build a great car and are comfortable with that warranty period.
So, with that off my chest, let's take a read of the article from Jake Lingeman from Autoweek
NOVEMBER 15, 2017
"The Volkswagen Golf has always been fun to hustle around back roads, from the first hatch that came out in 1974 to the current Mk. 7 that debuted in 2012. For 2018, the latest gen gets a hearty refresh, and we got to drive all the good stuff on a chilly day in the one part of southeast Michigan that features some rolling, rising and running European-style back roads.
The problem with the Golf lineup is that it skated on its fun-to-hustle reputation for too long. When all other manufacturers were using USB ports and touchscreens, VWs were still rocking auxiliary inputs and plastic buttons. But with the 2018 model, all of that has been remedied.
Big, high-resolution screens! Digital cockpits! VW can't call its new gauge cluster setup that shows navigation, radio and tech functions a "Virtual Cockpit" because that's Audi's thing. It also can't call its DDC with adaptive damping "dynamic chassis control" because that's also Audi's thing. They share platforms, but not names.
What else is new? Lots of stuff. The 292-hp, 280-lb-ft Golf R gets a new seven-speed DSG transmission; there are new LED headlights unique to the Golf family, a revised front and rear end, a stop-start system with the DSG, pedestrian monitoring, and all Golfs get VW's sorry-for-the-diesel-thing warranty, which is six years/72,000 miles, bumper-to-bumper.
The GTI gets 10 more hp across the board on premium fuel, for a total of 220 hp and 258 lb-ft from its turbocharged 2.0-liter. Those new LED lights are standard on SE and Autobahn trims; all get larger screens, SE models get a standard sunroof, forward collision warning and emergency braking with pedestrian monitoring. Autobahn versions add park distance control, parking steering assist, lane departure warning and high beam control, as well as the warranty.
The Execution
I hate to repeat myself, but the Golf GTI is so good, it's just not as exciting as a decade or two ago when it was the sneaky, screaming, unrefined deal of the century. The Autobahn trim, the one we drove, gets all of the good stuff from the all-wheel-drive R including the electronically controlled, torque-sensing limited-slip VAQ differential and the brakes.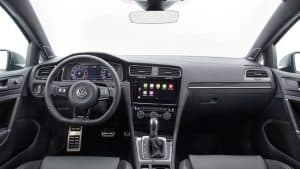 On the road, bashing the near-perfect, chunky, six-speed 'box through the gears I was struck by just how fun this car continues to be, even with all the refinements. The adage of slow-car-fast is as true today as it ever was. There's a bit of torque steer when at max power, but I didn't sense much on takeoff. The front differential makes the car bite and turn-in even harder than expected, with the front-driver tightening around sweepers on the gas as opposed to pushing out.
The clutch weight is light but OK. It does catch high in the stroke, which is wrong for this type of car. It needs to catch low in the stroke for faster shifts; as is, it just takes some getting used to. Heel-toe downshifts are the same way — the pedal setup isn't perfect for it, but it's passable. The brakes felt a little softer than I would have liked, though they had no problem bringing this car to a halt. The GTIAutobahn has the same brake setup as the R, according to VW, but I thought the R clampers felt much more solid under my foot.
The chassis is perfectly on the edge of too stiff. All body motions are tight and controlled, and I only winced a few times when crossing the harsh pavement. Normal bumps are muted in the cabin, which is surprisingly quiet all the way around. There's a teeny bit of wind noise, but that can only be heard with the radio turned off.
Upgraded 2018 Volkswagen Golf GTIs and all Golf Rs get VW's new digital cockpit.
The power seats in the Autobahn put me in the perfect driving position with adjustments for both the front and back of the bottom cushion. I can't tell you how many of us get angry when you can only adjust the height of the back part of the bottom cushion. You either get dead flat or falling forward out of the seat. We're looking at you, Honda Fit. There were a good 8 inches of room between the front and back seats with my 5-foot-10-inch frame in front. The cargo area looks small, but you really don't get the benefit of the hatchback without the seat down anyway.
Moving from GTI to Golf R, buyers get 72 more hp but just 22 lb-ft more torque. The R is, even more, fun to hustle around than the GTI, but is it $13,000 worth of extra hustle? I don't think so.
As opposed to the golf-ball-inspired shift knob in the GTI, the R gets an unfinished carbon-fiber knob. Since the rest is the same, it has the same robust, solid feeling that the GTI's shifter does. That means true, straight medium-length throws with just the right amount of notchiness in between.
The Golf R exhibits a little turbo whoosh on hard acceleration and a tad bit more lag than the GTI. The thing is, it doesn't feel a lot faster. Maybe a touch. The brakes feel better, stiffer, even though VW says they're the same. Maybe they were just less worn in. However, with the brake pedal that caught higher, it made it even harder to get a clean heel-toe downshift.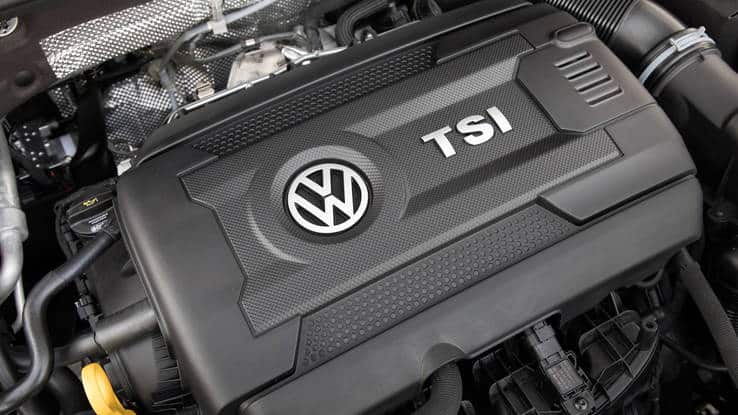 The 2018 Volkswagen Golf R exhibits a little turbo whoosh on hard acceleration and a tad bit more lag than the GTI.
The new seven-speed DSG is smoother than the outgoing version at slow speeds, but when I first clicked the paddle it was a little slow to react. I was off the gas, but it still made me a little wary. Thankfully when the throttle is pushed to the floor, it swaps cogs nearly instantaneously.
Steering, suspension feel and ride feel about the same as the GTI. There's no brake dive, no body roll and no lift on acceleration. Both the R and GTI feel as solid as a tar-soaked block of oak over ruts in the road. There are no squeaks, rattles or other sounds coming from the rear.
The new infotainment setup looks slick with a big central screen, hard buttons along the side and quick reactions to touch. It has a little sensor that knows when your hand is approaching, which pops up more on-screen controls. The digital cockpit (don't call it virtual), works well too, with clean, easy-to-read info and cool graphics around the tach. Whatever model you get, we'd say spring for the new stuff. It makes this car feel damn near-futuristic, years ahead of the last one.
Volkswagen puts this 220-hp 2.0-liter four in everything, and with good reason.
The Takeaway
So, here's where the plot thickens. The GTI starts at $26,415; the Golf R with the manual starts at $39,785. That's, like we said, about 13 extra grand. You do get the new-generation 4Motion all-wheel drive, but it's not like the front-drive GTI is bad in the winter or hard to handle on dirt roads, at least with the right tires. And all of them, including the Sportwagen, which we took a quick side drive in, are fun to hustle along winding, tree-lined two-laners.
In U.S. sales, the Golf family is well down the list of compact cars, getting beat handily by VW's own Jetta, the Honda Civic, and Toyota Corolla obviously, and the Nissan Sentra and Chevy Cruze. For chrissakes, the Kia Forte sold almost double what the Golf family sold in the first three-quarters of 2017. That's just wrong. Sure, buyers are probably a little snakebit by the last few years' diesel crisis, but that doesn't mean VW still doesn't make a ton of great cars for the money. And that turbocharged 2.0-liter the company puts in everything? It might be the perfect machine.
Find One
If you're hunting around for a great price on your next new car, perhaps you should call the auto expert, Car Business. My company, based on the north side of Brisbane, will return your inquiry within 24 hours and make the process of buying your new car easy and stress-free. I protect you from the pressure exerted by car dealer's salespeople. There isn't any obligation – just a pretty significant saving.
You're where? Seriously, my services are available for you in any Australian state and territory: from Darwin to Hobart, Cairns to Perth.
If you've got a vehicle to trade, we have some clever ways to maximize the value – from used car dealers keen for your car to assist you to sell it privately. Finance and Insurance? We can handle that too, and we promise you will not be paying exorbitant dealer markups there either.
So, to get the best new car price, talk to others and then talk me. I've got the experience to handle the dealers and achieve the lowest new car prices. If you think you're entitled to fleet pricing, I can often get better than that too. Whether you're a small fleet or a large national fleet, Car Business will go to work and get that price down. Lower new car prices are my goal. So you'll get the best prices from us rather than hoping you can help yourself.
If I can't get you the best new car price, better than you can get yourself from a car dealer, we won't charge you any fee. No Saving, No Fee. – that's what you should expect from a car buying expert. 
Car Business WILL save you money on your next new car purchase – guaranteed

Bob Aldons is the owner and founder of The Car Guy, reviewing cars, reporting on Car Industry Matters, Car Tech and the world at large.
See more stories about Volkswagen by Bob below.