Hi, Bob Aldons, The Car Guy, re-posting a story from Jeremey Clarkson. From The Australian last Saturday, Clarkson wails about the Ferrari 812 Superfast. I like the way Clarkson writes. He's humorous, factual and a lucky bastard for getting the chance to drive the worlds most exclusive cars. Here's what he has to say about the Ferrari 812 Superfast.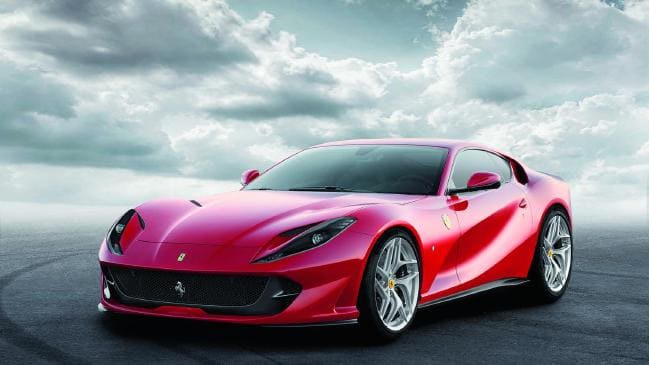 A few years ago I drove the then new Ferrari F12 in Scotland and emerged with a white face and what looked like the onset of Parkinson's. Ooh, it was a scary thing. Yes, the weather was being all Scottish and, yes, the road surface was not ideally suited to a car with a simply enormous amount of power.
But it was the size of the thing that worried me most of all.
It felt as though I was trying to steer an aircraft carrier with an out-of-control nuclear reactor up the Kennet and Avon canal. You didn't drive this car. On roads like that, in the rain, you hung on for dear life and whimpered like a dog on bonfire night.
Some questioned my petrolhead credentials when I returned and, after medication, said the F12 was a car with too much power. "Too much power?" they wailed. "That's like saying your penis is too big. It's impossible."
I still feel, however, that I was correct.
And I reckoned that what Ferrari needed to do next was go back to basics and make a small, 2-litre car. I drew it in my head and it was very pretty. It would have about 225kW, a fast gearbox, the lightness of touch for which Ferrari was famous and a price tag of about $175,000.
But instead, what Ferrari has done is replace the F12 with a car that's even bigger and even more powerful. It's so powerful, in fact, that it's called the Superfast. And it's so big that when you merge, you need to stick 2m of bonnet into the road before you can see if it's safe to pull out.
Let's start with the little things that are wrong with it. In the night it's as paranoid as a cokehead because every morning it flashed up a message on the dash saying a break-in had been attempted, even though CCTV said no such thing.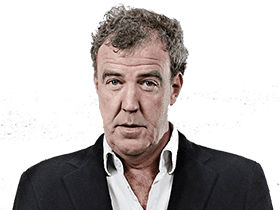 Then there are its seatbelts. My car was fitted with $3500 worth of optional racing harnesses that were nearly impossible to do up properly. What's more, there were many sharp edges, which my girlfriend said, as she sat there like the star of an S&M movie, would play havoc if you were wearing a chiffon dress. I'm not sure that'd bother most customers, but you never know…
Of rather more concern is the turning circle, which is stupidly large, and the reflection of the yellow trim in the windscreen. Then there's an astonishingly cheap wiper switch, the usual Ferrari problem of indicator controls on the steering wheel – which means they're never where you left them – and a curious piece of string hanging in the passenger footwell. I pulled it, but nothing happened. Maybe it had something to do with the imaginary burglar.
There's much to annoy, then, but there's much when you put your foot down, to make your eyes go wide and your girlfriend says: "As soon as I get this bondage gear off, I'm going to f..king kill you." This is a car that can get from 0 to 100km/h in 2.9 seconds. And onwards to a top speed of 340km/h. It's really, really fast and really, really noisy.
Suppliers were told to shed as much weight as possible from every component but this car still weighs more than 1.6 tonnes. You sense it. You also sense the size; the fact that I didn't end up in a hedge is testimony to brilliant engineering. The lightness of the controls, the four-wheel steering system, the dazzling speed of the double-clutch gearchanges… Ferrari employed every trick in the book to make its oil tanker feel like a speedboat.
I did not drive the car in the rain, or Scotland, but I can tell you that somehow Ferrari's managed it. It's managed to get 588kW from the massive, gravelly 6.5-litre naturally aspirated V12, through the gearbox and normal Pirelli P Zero tyres and onto the road in such a way that an ordinary driver with no astronaut training can keep it pointing in vaguely the right direction.
That cannot have been easy. And it will be even harder when the time comes to design a replacement because that will have to be bigger and more powerful still. Which takes me back to my point that at some stage Ferrari will have to start all over again with a car that's small and light.
Or will it? The fan base wants a pure-bred Italian sports car. But the fan base only reads about cars in magazines. The customers? The people who write the cheques? Hmmm. I'm not sure.
The Superfast is as brilliant as an Astute-class attack sub. But it is too big, too powerful and too flashily expensive for those who simply want a very nice grand tourer.
Fast facts
Ferrari 812 Superfast
Engine: 6.5-litre V12 petrol (588kW/718Nm)
Transmission: Seven-speed dual-clutch automatic, rear-wheel drive.
Average fuel 14.9 litres per 100km
Price: From $610,000
Rating: 3 out of 5 stars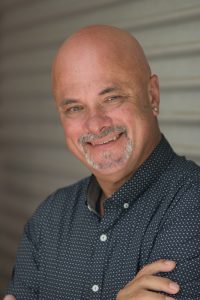 Bob Aldons is the owner and founder of The Car Guy, reviewing cars, reporting on Car Industry Matters, Car Tech and the world at large. He's spent the last forty years immersed in the automotive industry from salesman to the owner of a 7 brand multi-franchise dealership. Bob knows cars.
Find One
If you're hunting around for a great price on your next new car, you should call the auto expert, Bob Aldons from Car Business. My company, a car Broker, Car Buyers Agent or Car Buyers Advocate based on the north side of Brisbane, will return your inquiry within 24 hours and make the process of buying a new car easy and stress-free.
Are you tired of salesperson tricks? I protect you from the pressure exerted by car dealer's salespeople. There isn't any obligation – just a pretty significant saving.
You're where? Seriously, my services are available for you in any Australian state and territory: from Darwin to Hobart, Cairns to Perth.  Car Broker Brisbane, Sydney, Melbourne, Adelaide, Perth, Hobart, and Darwin – I'm available when you need me to be.
Here's an example
Matt wanted to purchase a Mazda 3 SP25 GT Manual Hatch. The retail value, drive away on that car is around $35,000. Car Business managed to purchase the same car for $28, 123.90 and with our fee Matt paid $25, 588, a saving of over $6000. And how do we know? Another customer, (looking for a new Holden HSV) just paid $35,000 for the same car – but he did it himself, without our assistance
If you've got a vehicle to trade, we have some clever ways to maximize the value – from used car dealers keen for your car to assist you to sell it privately. Finance and Insurance? We can handle that too, and we promise you will not be paying exorbitant dealer markups there either.
Trade In Value Example
2014 Jeep Cherokee Limited. Average dealer trade value – $16500. We achieved $22,000
2014 Volkswagen Tiguan 118TSI. Average dealer trade value – $14000. We achieved $16000
So, to get the best new car price, talk to others and then talk me. I've got the experience to handle the dealers and achieve the lowest new car prices. If you think you're entitled to fleet pricing, I can often get better than that too. Whether you're a small fleet or a large national fleet, Car Business will go to work and get that price down. Lower new car prices are my goal. So you'll get the best prices from us rather than hoping you can help yourself.
If I can't get you the best new car price, better than you can get yourself from a car dealer, we won't charge you any fee. No Saving, No Fee. – that's what you should expect from a car buying expert. 

Car Business WILL save you money on your next new car purchase – guaranteed

The Australian Road Safety Foundation is a not-for-profit organization whose charter is to reduce serious accidents on our roads through training and education. Car Business donates to the ARSF for every car we sell. If you'd like to support this worthwhile foundation, donate to the cause, become a member today or just buy your next new car from Car Business
In Closing
My reviews aren't based on power performance or high-speed handling capacity. They're not based on 0-100 Kim/hr of 4.0 seconds. And they're certainly not super luxury vehicles that many other "old timers" are feted on by the likes of Ferrari, Lamborghini, and Aston Martin
Back when I started in the motor industry salespeople were schooled and skilled in a process called the road to the sale. Part of that process was a presentation of the car that the customer was ultimately considering,
The six position sell showed the features, advantages, and benefits as it related to that specific car in the eyes and thought process of that particular customer
Those days of a true car sales professional seem to have gone.
Nowadays it seems that all salespeople want to do is accept that the customer knows everything about the car they're interested in, want to crunch the customer as quickly as possible and get the next sale
In my opinion, this is one of the reasons that there's such a high turnover in salespeople in this industry of ours.
Now I think that I'm a car industry expert, not because I sell lots of cars, but, as I was taught over 40yeras ago, time sells motor cars.
The more time you spend with a customer, the more information you provide them and the more you're there for them Even AFTER they take delivery of their new car, the more repeat and referral business you'll get.
Typically second and subsequent sales only provide 10% of a car salespersons business. Referral business, where an existing customer refers a friend, relation or work colleague back tot eh selling salesperson as someone to trust and buy a car from is even less – probably 5%
So, if you're a young salesperson reading this article, let me tell you that you should be getting 40-50% of your business from repeat and referral business.
And how do you get that much? Well, that's a story for another article or an opportunity to join me in a training course.
Disclaimer
For your interest, my motoring reviews are my opinion of the vehicle I'm testing. The manufacturer or distributor, in this case, Kia Australia, doesn't tell me what to write or ask for a 'nice' review. Nor am I paid for these reviews – I simply call it as I see it.
I often wonder about the 'truth' that I see from other motoring journalists. And I'm particularly referring to newspapers, online forums, and magazines where the company that owns the publication receives substantial advertising support from the various manufacturers.
Do the owners or editors tell their journalists to go easy on the review? I'm not sure, never having been in that position. Would I turn to softer reviews if my company was being paid for good reviews? Not likely. My independence as a writer is not for sale. I'd rather say no than be bought.
In any case, If that ever happens, rest assured that I'll be telling that story with interest.