Get off road and dirty in the Nissan Navara Pro-4X Warrior
Nissan came late to the party that is the hot ute market. But that lateness provided Nissan and partner Premcar with the opportunity to get the Navara just right, at least from a performance standing. The Nissan Navara Pro 4X Warrior (mouthful isn't it) is a vehicle with three different personalities.
It's very capable as a 'tradesperson' daily drive, does the job on the school run, but throws off the high-vis and mum's taxi shackles to get down and dirty on the weekends. So using it as a work vehicle and off-road weapon has rarely been so much fun.
It does have its detractors though – while the exterior and underneath has been jazzed up by Premcar, the interior is still dated Nissan. Hard plastic everywhere, and short of safety equipment like adaptive cruise control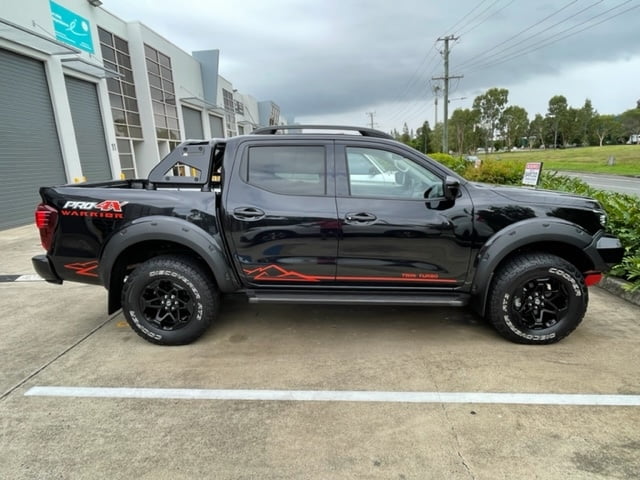 Competitors
When you're considering a 'serious' Four Wheel Drive ute, there aren't that many to choose from. The elite off-roaders include Ford Ranger Raptor, Toyota Hilux Rugged X, Volkswagen Walkinshaw Edition and of course this Nissan Navara Pro-4X Warrior. For the rest, you'll b spending serious money in aftermarket shops and those upgrades will arguably not be covered under the factory warranty. More realistically, your upgrades may well cancel out your 5 year warranty completely.
What Nissan Says
BUILDING THE WORLD'S TOUGHEST WARRIOR
A true warrior is forged in formidable conditions – and the new Navara PRO-4X WARRIOR by Premcar is no exception. It has been designed, engineered and tested in Australia by the highly skilled product development and engineering team at Premcar. The Navara PRO-4X WARRIOR takes off-road capability to the next level with specialised modifications, tailor-made for harsh Australian conditions.
The Navara PRO-4X WARRIOR by Premcar is a true warrior in every sense of the word, with improved capability from tow bar to bullbar that ensures you can go anywhere, cross everything and climb anything.
The Navara PRO-4X WARRIOR by Premcar writes a new chapter as the world's toughest WARRIOR, created for the world's most uncompromising drivers.
Price The drive away price in Queensland for the Nissan Navara Pro-4X Warrior is $74,750. Most buyers add either a canopy ($4500) and lose the sports bars or an electronic roller lid for about $3800. So with either accessory there's isn't a lot of change out of $80k. In comparison the Ford Raptor is circa $86,000 (and is sold out until the new model arrives), Volkswagen Amarok Walkinshaw is around $98,000 (WOW) while the venerable Toyota Hilux Rugged X retails for about $76,300 drive away. Nissan have the option of manual transmission which saves about $2000
Exterior In every sense of the word 'looks' is a big determing factor as to which vehicle you'll purchase. The work that Nissan and Premcar have done to the Navara make it a popular choice. It's aggressive style is 'fit and proper' for those 'look at me' type of purchasers. In your face striping, a front end look straight out of 'Mad MAx' and a tub body that really looks the part
Interior
I found the front seat supportive enough for daily driving, but I'm not so sure that they're what i need for rought tough off road work. I'd prefer raised sides to limit any sideways movement on hard terrain. But the trim does look the part with contrast stitching
And I'd like to see a larger footrest – my size 12's in sports shoes are ok, but hiking boots, being wider wasn't so comfortable.
If you're wanting plenty of storage for coffee, bottles and everything in between, The Nissan Warrior fits the bill. And if you and a significant other are the only peopl ein the car, the rear seat base flicks up 90 degrees giving you a lot more internal storage. And Nissan are the only manufacturer who give you a sliding window in the cab. Not sure what I'd use it for, but I reckon it would be handy for some longer loads
On The Road
So let's consider it as a tradesperson vehicle. The Nissan Warrior handles well, looks great and I think it's a superior trades vehicle than the Ford Raptor. And its much cheaper too. It runs Cooper Discovers All Terrain AT3 Tyres as standard (275/70 R17), 17″ AlloY Wheels and a full size alliy spare that all off road vehicle should have. Premcar has added a wider track and greta uprated suspension too.
The other Premcar treatment provide an intergrated, wihc capable bull bar incorproating an LED Light bar at at the other end a tow bar which provides better ground clearance than any aftermarket bar. I like the red frotn bash plate, underbody armour and wheel arch flares. Whether you like the graphics down the side or not, it certianly brands the vehicle as a Warrior.
Premcar fiited revised springs and shocks. This provides improved isolation from impacts, less body roll and reduced float when towing. Premcar also added revised jounce rubbers to give better control of wheel movement at maximum suspension travel. NB Thats why they'v stuck with the 17″ wheels – provides much better suspension travel in really rough environments. The larger the wheel, the more reduction in wheel travel you get and thats not what this vehicle is about.
According to Nissan, the PRO-4X Warrior's rigorous pre-sale program included lenghty on-road development drives on a variety of local sealed and unsealed roads, while off-road tests were performed primarily at the Australian Automotive Research Centre (AARC).
PREMCAR: THE REAL DEAL – NAVARA PRO-4X WARRIOR BY PREMCAR REVEALED Click here WARRIOR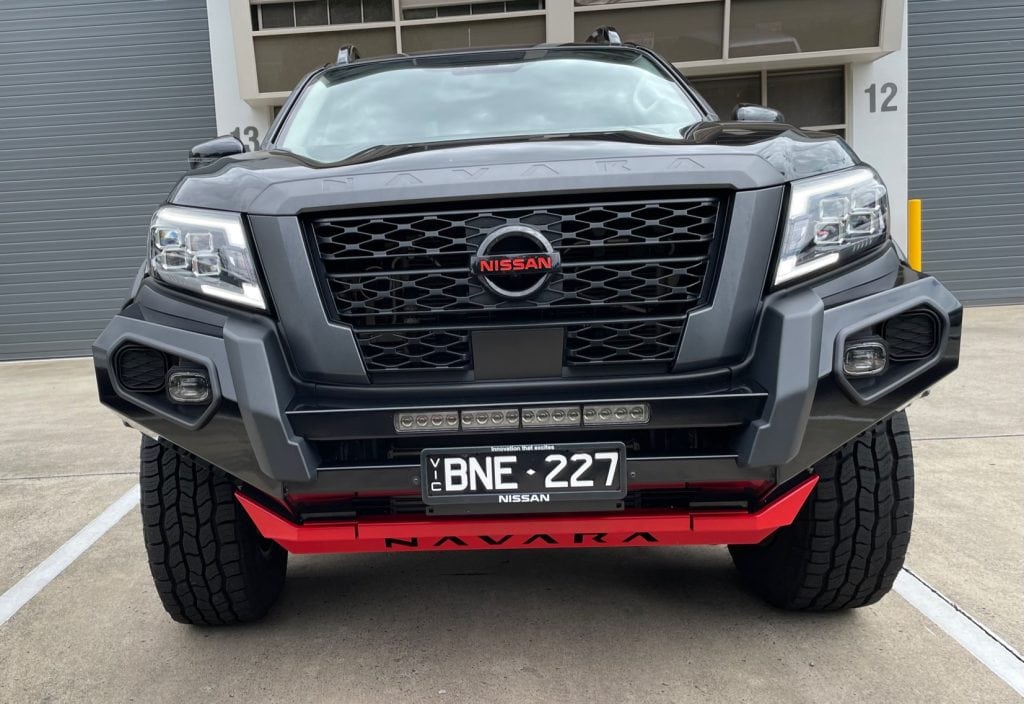 Towing
Trailer without brakes (kg) – 750, Trailer with electric brakes, – 3,500kg, Ball downlaod capacity (kg) – 350. But please be careful trying to tow anything around 3-3.5 tonnes. From a safety viewpoint, I'd suggest that 2.5 tonnes is the safest maximum you should consider in most conditions. Sur, If you're taking you big boat from home to the ramp, you may consider. But towing a very large van around Australia is fraught with inconsistencies given road variables. Better to be safe
Comprehensive Car Insurance
To assist you in the decisions you need to make before purchasing a new car, I use RACQ Online to provide an estimate of the cost of insurance. I always use my own personal information for this estimate, but you should use your own to determine the price you'll pay.
For this 2022 Nissan Navara Pro-4X Warrior, I was quoted $825.27 with a $750 excess. If you're comparing prices, perhaps look at Budget Direct, Suncorp and NRMA. I currently have car policies with RACQ and NRMA for the cars I own.
Nissan Navara Pro-4X Warrior Active & Passive Safety Features
SAFETY & SECURITY
Reversing camera
Around View® Monitor with Moving Object Detection (MOD)
Reverse parking sensors
Anti-lock Braking System (ABS) and Electronic Brakeforce Distribution
Vehicle Dynamic Control (VDC) with Brake Limited Slip Differential (BLSD)
Traction Control System (TCS)
Active Brake Limited Slip (ABLS)
Brake Assist (BA)
Hill Start Assist (HSA)
Hill Descent Control (HDC)
Drive Mode Selector (Sport/Off-Road/Tow/Normal)
Off Road Monitor
Rear Differential Lock
Driver & front passenger front-impact SRS airbags
Driver & front passenger side-impact SRS airbags
Driver knee airbag
Front to rear SRS curtain airbags
3-point Emergency Locking Retractor (ELR) seatbelts (all seats)
Second row child anchorage points (3)
ISOFIX (second row RH/LH)
LED signature daytime running lights
Automatic on/off headlights – twilight detection
LED High Mounted Stop Light
Child Safety Rear Door Locks
Predictive Forward Collision Warning (PFCW)
Forward Emergency Braking (FEB)
Driver Attention Alert (DAA)
Lane Departure Warning (LDW)
Lane Departure Prevention (LDP)
Blind Spot Warning (BSW)
Blind Spot Intervention (BSI)
Rear Cross Traffic Alert (RCTA)
Tyre Pressure Monitoring System (TPMS)
Speed sensing central locking with anti-lock out
Nissan Anti-Theft System (NATS) vehicle immobiliser
Vehicle Security System (VSS) alarm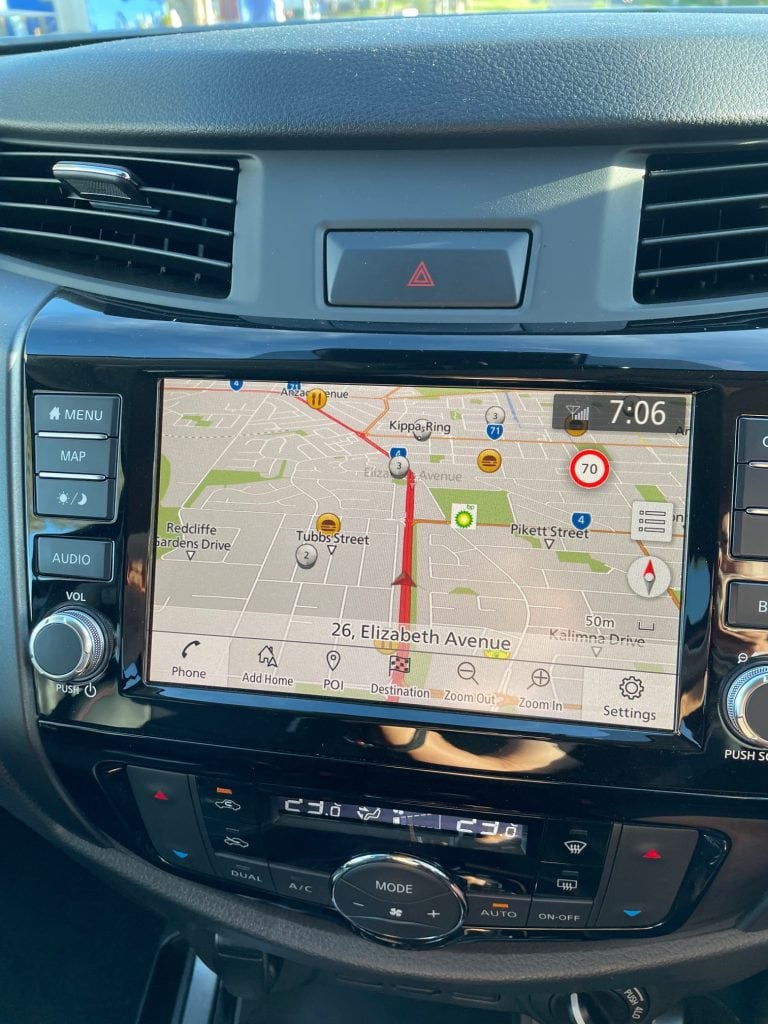 MY VERDICT

At A Glance     Would I buy this Nissan? After driving a Ford Raptor and a Volkswagen Amarok Walkinshaw, I'm not so sure. I wouldnt buy an Amarok – poorest of the Ancap safety rating vehicles. so the choice would be a Ford. However, if Nissan invests in a better cabin fitout, it would make the decision all the harder. Let's look forward to the V6 Ford Ranger Raptor later this year and compare again
Engine/Transmission  The Nissan Warrior is fitted with a 2.3 Litre Twin Turbo 4 Cylinder engine. At 150kW you'd expect a better drive experience. Pity that PremCar wasn't commissioned to give the engine a tickle. I'm told fitting an iDrive to the Nissan changes the power perspective a lot.
Fuel Economy                    8.1 Litres per 100 kilometres using combined cycle ADR 81/02 
Warranty/Service   All Nissan vehicles come standard with a 5-year unlimited kilometre warranty. Capped Price Service on this ute is pretty reasonable but importantly service intervals are 12 months or 20,000 kilometres. 6 services over 6 years will run out at $3,642
Which Dealer?
If I'm looking for a dealer to speak to about a new car, I only choose dealers who have a minimum four star rating with Google. I'd search for Nissan Dealers (and then my own city – Brisbane, Gold Coast, Sunshine Coast etc). From there you'll see a list offered. Choose as many as you'd like to discuss your needs with but my firmest advice is to only speak to dealers who have a minimum 4 star Google rating.
| | | |
| --- | --- | --- |
| Northside | Eagers Nissan Newstead | 4.2 Stars |
| Southside | Motorama Nissan Hillcrest | 4.7 Stars |
| Eastside | Bartons Wynnum Nissan | 4.7 Stars |
| Westside | Ipswich Nissan Bundamba | 4.3 Stars |
| Gold Coast | Von Bibra Ashmore Nissan | 4.5 Stars |
| Sunshine Coast | Cricks Nambour Nissan | 4.6 Stars |
If you'd like to discuss the virtues and attributes of the Nissan Navara Pro-4X Warrior, please call me on 0418 748 498.
So perhaps you're thinking that I'm some sort of car expert?
Well, after 44 years in the auto industry as a salesman, manager and owner of dealerships, I think I am. The Car Guy and associated companies Car Business and Genuine Spares are the sites to find all sorts of information about the motor industry. Including but not limited to the best way to buy a new car, selling your existing car, car finance, car insurance, accessories, spare parts, repairs and just about anything else.
And if you can't find what you're looking for on these sites, send an email to [email protected]. I'll try to provide an answer for you.
I've been in this car business for a long time (since 16/2/1978) and the industry has come a LONG way in that time.


-Advertisement-
Hello. I'm Bob Aldons, the owner and editor of The Car Guy. The Car Guy is an independently owned car review website. I'm currently reviewing cars for Mazda, Nissan, Kia, Suzuki, Mitsubishi, Renault, Haval, Hyundai, Genesis and GWM.
Through Mercedes AMG Petronas Motorsport I'll also be writing about the 2022 Formula 1 season. Keep an eye out.
I'm not paid by any car company for my opinion and my companies don't receive advertising revenue to say nice things about them. I call it as I see it.
However, I also own a new car broker company – Car Business. Being able to review new cars gives me an opportunity to provide accurate information on these brands. If you're in the market for Any New Car Cheaper, contact me at Car Business and see how I go about saving you some serious money.
Perhaps you think that you can do the job of buying a new car yourself? If you're after any advice at all, give me a call and ask me any question that you need to be answered.
If you're an Aussie Veteran or serving in the military, I take particular pride in taking care of you. For every car that I source and deliver, I donate part of my fee to Mates4Mates.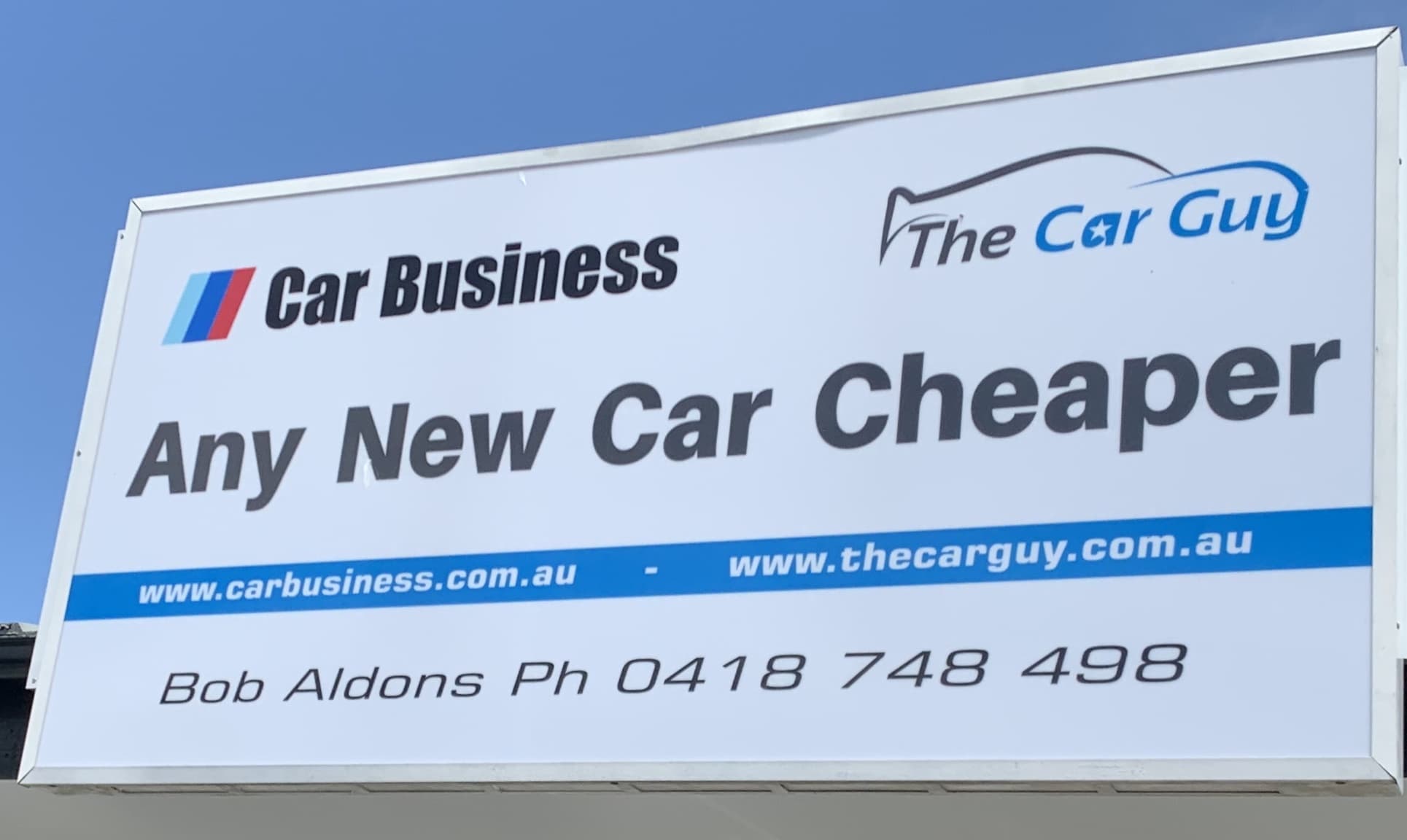 Recent Car Reviews –