The all new Kia Sportage is creating waves
I've been in this car business for 44 years this year (16/2/1978) and the industry has come a LONG way in that time.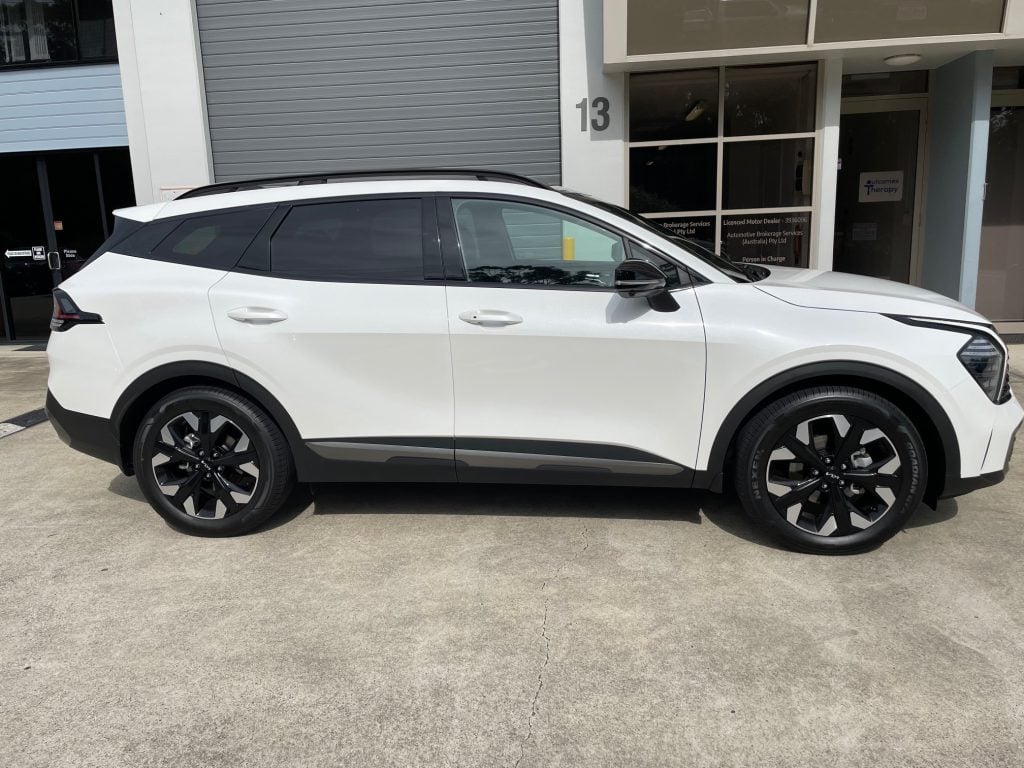 Coincidentally I parked the vehicle the subject of this review (new Kia Sportage Gt-Line) next to a 12 year old Hyundai IX35, the forerunner to the current Hyundai Tucson. Discussing the similarity with a mate at the time we both commented on the generality change between the cars and how advanced the Kia Sportage was compared to 2010
Competitors
I don't really think that there's enough space to list the entrants in the medium SUV Category, so here's the top five to consider.
Toyota RAV4, Mazda CX-5, Mitsubishi Outlander and Hyundai Tucson besides the Kia Sportage are all excellent vehicles and worthy of your consideration if you're in the market. Kia Sportage is argubaly the newest model to the market and comes packed with luxury and safety features that some of their competitors don't have as yet.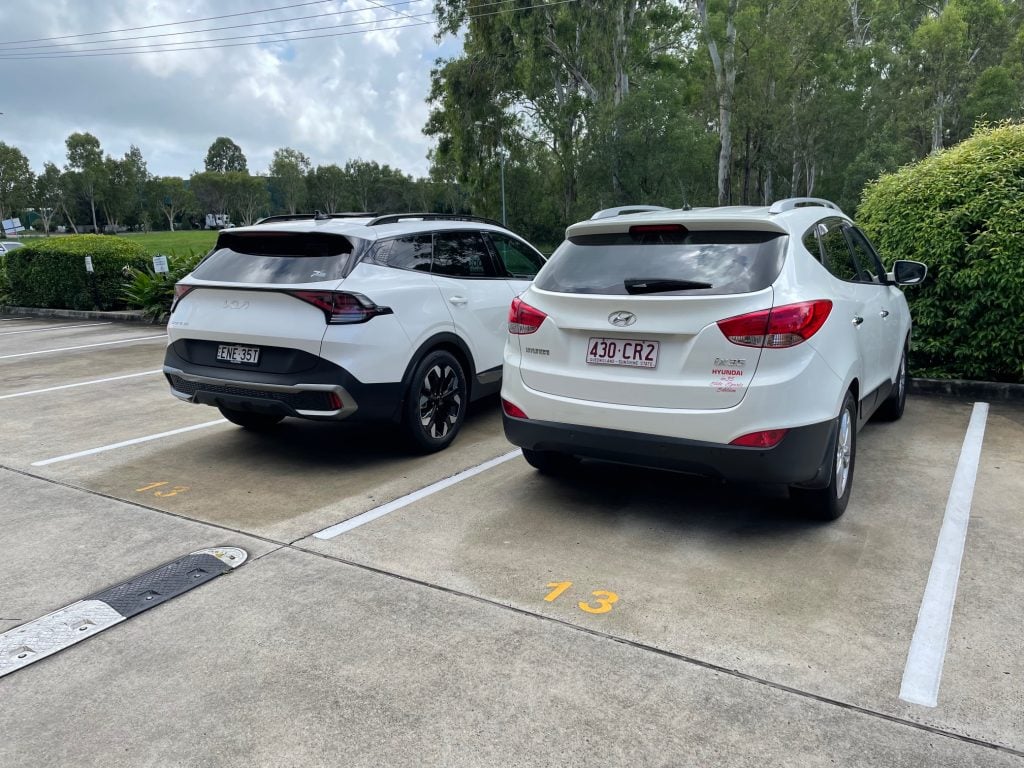 What Kia Says
SUVs, meet your master.
With a muscular aesthetic, modern design, and features that outperform, the all-new Sportage looks and feels like a true athlete.
Fusing a long, extremely athletic body with an unstoppable attitude, the redesigned Sportage is the new benchmark medium SUV – visionary technology, distinctive design language, avant-garde space, and a powerful driving experience in one.
Price The Kia Sportage GT-Line is priced from $49,370 drive away in Queensland. This particular example is finished in Snow White Pearl which attracts a premium of $520. Sportage starts at $36,249 for the S manual and tops off at $56,771 for the GT-Line Diesel
Interior.
So when you get into an all new model you'd expect that you should be delighted and I was. The Sportage is bigger than the old model. It's a feeling of spaciousness, it's airy too. Great glasshouse
And the front seats have wonderful leg room, shoulder room, and head room Seats are electronically adjustable through almost infinite variations – frankly if you can't get comfortable you're not really trying. Perforated leather trim allows cooling for summer and warming for colder days in the Kia Sportage GT-Line.
And our little dog Marley just loves that feature. She almost seems to know that she's in a premium car and is very happy lying on the passenger seat (safely buckled up).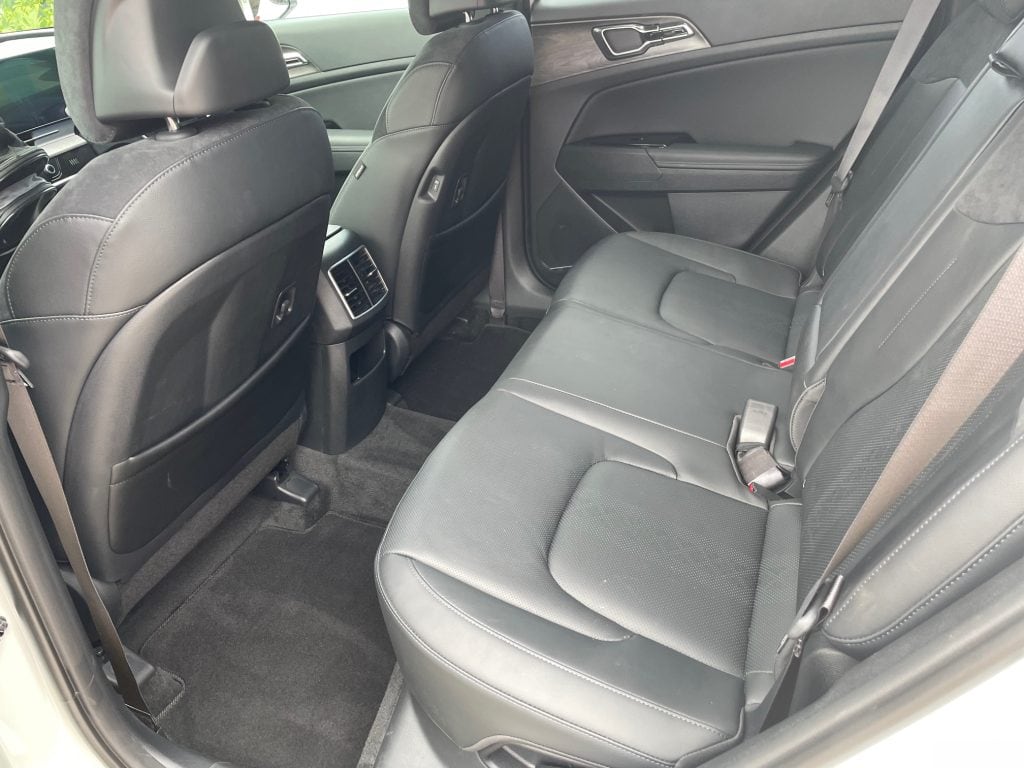 On The Road
Ok, so it's not a Ferrari or Porsche but the 132kW of power and 265Nm of torque make it a pretty pleasant car to drive.
Up and down the backblocks of Maleny the Kia Sportage handles the winding roads beautifully. No so much body roll as some other SUV's its a fun car to throw around tight bends and switchbacks. On Bald Knob Road, arguably a B grade route at best, the suspensions irons out the uneven surfaces well.
And when you want to put your foot down on the accelerator, the powertrain responds immediately – lot to be said for the DCT transmission. It cruises well on the highway – 110kph is quiet and smooth and you know there's a lot more on tap should you ever need it
Kia Sportage Active & Passive Safety Features
Because safety is one of the more important factors in deciding which car to buy, I try to list the active and passive safety features in the cars that I test. Below is the information for the new Kia Sportage which shows features for the GT-Line as tested. If you'd prefer to review the Kia Brochure and take some time to digest everything that's available, just click on this link. KIA SPORTAGE
Active Safety
ABS (Anti-lock Braking System) with EBD & BA
ESC (Electronic Stability Control) with TCS
DBC (Downhill Brake Control)
HAC (Hill-start Assist Control)
TSA (Trailer Stability Assist) (A/T Only)
MCB (Multi-Collision Braking)
AEB (Autonomous Emergency Braking) – car, pedestrian, cyclist & junction
LKA (Lane Keeping Assist) with line/road edge detection
LFA (Lane Following Assist)
BCW (Blind Spot Collision Warning) with RCCW (Rear Cross Traffic Collision Warning)
BCA (Blind Spot Collision Avoidance Assist) with RCCA (Rear Cross Traffic Collision Avoidance)
DAA+ (Driver Attention Alert with Lead Vehicle Departure Alert)
SEW (Safe Exit Warning)
ISLA (Intelligent Speed Limit Assist)
Parking sensors with dash display (Rear Only) (Front & Rear) (Front & Rear)
Haptic steering wheel feedback
Rear view camera with dynamic parking guidelines
ROA (Rear Occupant Alert)
HBA (High Beam Assist) (A/T Only)
Dusk-sensing automatic headlights
Rain sensing wipers
Electrochromic rear view mirror (auto dimming)
SVM (Surround View Monitor) with 3D mode
BVM (Blind Spot View Monitor)
PCA (Parking Collision Avoidance Assist – Reverse)
Passive Safety
Driver & front passenger SRS airbags
Centre side airbag (front), Front side SRS airbags, Curtain SRS airbags
Front seatbelt pre-tensioners with load limiters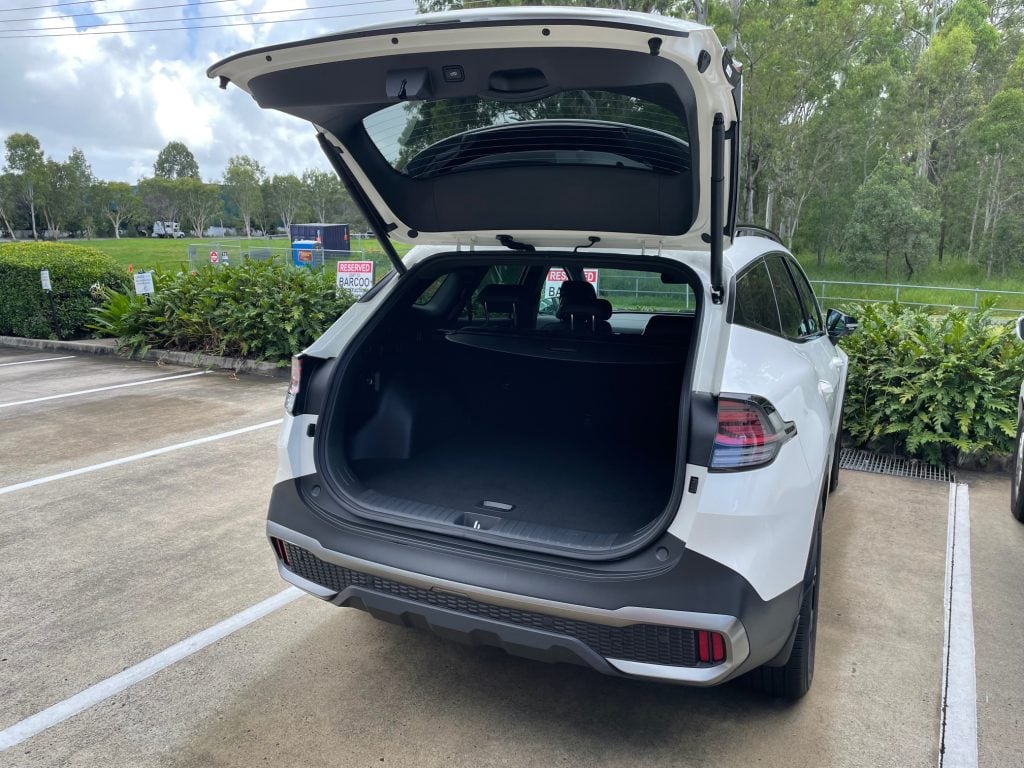 MY VERDICT
At A Glance In my opinion, the Kia Sportage is the best medium SUV on the market today. And yes that includes the more expensive European cars such as BMW, Audi and Mercedes Benz. And throw Lexus into that comparison and you're up against all the heavy hitters
Engine/Transmission The Kia Sportage GT-Line is fitted with a 1.6 Turbo engine and 7-speed dual clutch transmission. Lower spec vehicles sport a 2.0 Litre engine with a 6-speed auto transmission, and the diesel variant has a 2.0 Litre Turbo Diesel engine with ab 8-speed auto transmission
Fuel Economy The Kia Sportage 1.6 Turbo with DCT Transmission achieves the following economy
Urban 8.8 Litres per 100 klometres. Combined 7.2 Litres per 100 kilometre and 6.3 Litres per 100 kilometres on the highway. For such a large vehicle, no doubt that's pretty good. Remember that these figures are determined on the bench rather than in real world testing. Personally with nearly 500 kilometres on the odometer, I've achieve around 8.8 litres per 100 kilometres in a combined test (Urban and Exra Urban)
One other importnant factor to consider versus other entrants in this category is that the Kia can run adequately on 91 RON fuel
Warranty/Service All Kia vehicles come standard with Kia's 7-year unlimited kilometre warranty. And if you service it under Kia's Capped Price Service Program ($3,988 for 7 years) you're also entitled to a 7-year roadside assistance program
Towing While not a 'serious' towing vehicle the Kia Sportage has a standard towing capacity of 750kg and 1900kg with an electric brake system fitted. The one downside is that the ball weight is only 100kg, which limits what you can actually tow. Think a small trailer, light boat or small pop-top camper or caravan. Always check with your trailer/boat/camper dealer for limitations
Insurance When I'm quoting an insurance premium, I use RACQ Online to give you the information. I use my own particulars to quote, but oyu must be careful that your own information will provide a different outcome. For this vehicle RACQ Online have quoted me $669.98 with a $750 access.
Which Dealer?
If I'm looking for a dealer to speak to about a new car, I only choose dealers who have a minimum four star rating with Google. I'd search for Kia Dealers (and then my own city – Brisbane, Gold Coast, Sunshine Coast etc). From there you'll see a list offered. Choose as many as you'd like to discuss your needs with but my firmest advice is to only speak to dealers who have a minimum 4 star Google rating.
| | | |
| --- | --- | --- |
| Northside | Toowong Kia | 4.6 Stars |
| Southside | Motorama Kia Moorooka | 4.8 Stars |
| Eastside | Keema Bayside Kia | 4.2 Stars |
| Westside | Ipswich Kia | 4.3 Stars |
| Gold Coast | Sunshine Kia | 4.5 Stars |
| Sunshine Coast | Pacific Kia | 4.4 Stars |

However, if you'd like an independent offer for your new Kia Sportage, then reach out to me at Car Business. As an independent new car broker, I'll get you an offer that you'll be very satisfied with. And if I can't save you on the price you've been quoted somewhere else, I won't charge you any fee.
So perhaps you're thinking that I'm some sort of car expert?
Well, after 43 years in the auto industry as a salesman, manager and owner of dealerships, I think I am. The Car Guy and associated companies Car Business and Genuine Spares are the sites to find all sorts of information about the motor industry. Including but not limited to the best way to buy a new car, selling your existing car, car finance, car insurance, accessories, spare parts, repairs and just about anything else.
And if you can't find what you're looking for on these sites, send an email to [email protected]. I'll try to provide an answer for you.


-Advertisement-
Hello. I'm Bob Aldons, the owner and editor of The Car Guy. The Car Guy is an independently owned car review website. I'm currently reviewing cars for Mazda, Nissan, Kia, Suzuki, Mitsubishi, Renault, Haval, Hyundai, Genesis and GWM.
Through Mercedes AMG Petronas Motorsport I've also writen about the 2021 Formula 1 season and look forward doing the same in 2022.
I'm not paid by any car company for my opinion and my companies don't receive advertising revenue to say nice things about them. I call it as I see it.
However, I also own a new car broker company – Car Business. Being able to review new cars gives me an opportunity to provide accurate information on these brands. If you're in the market for Any New Car Cheaper, contact me at Car Business and see how I go about saving you some serious money.
Perhaps you think that you can do the job of buying a new car yourself? If you're after any advice at all, give me a call and ask me any question that you need to be answered.
If you're an Aussie Veteran or serving in the military, I take particular pride in taking care of you. For every car that I source and deliver, I donate part of my fee to Mates4Mates.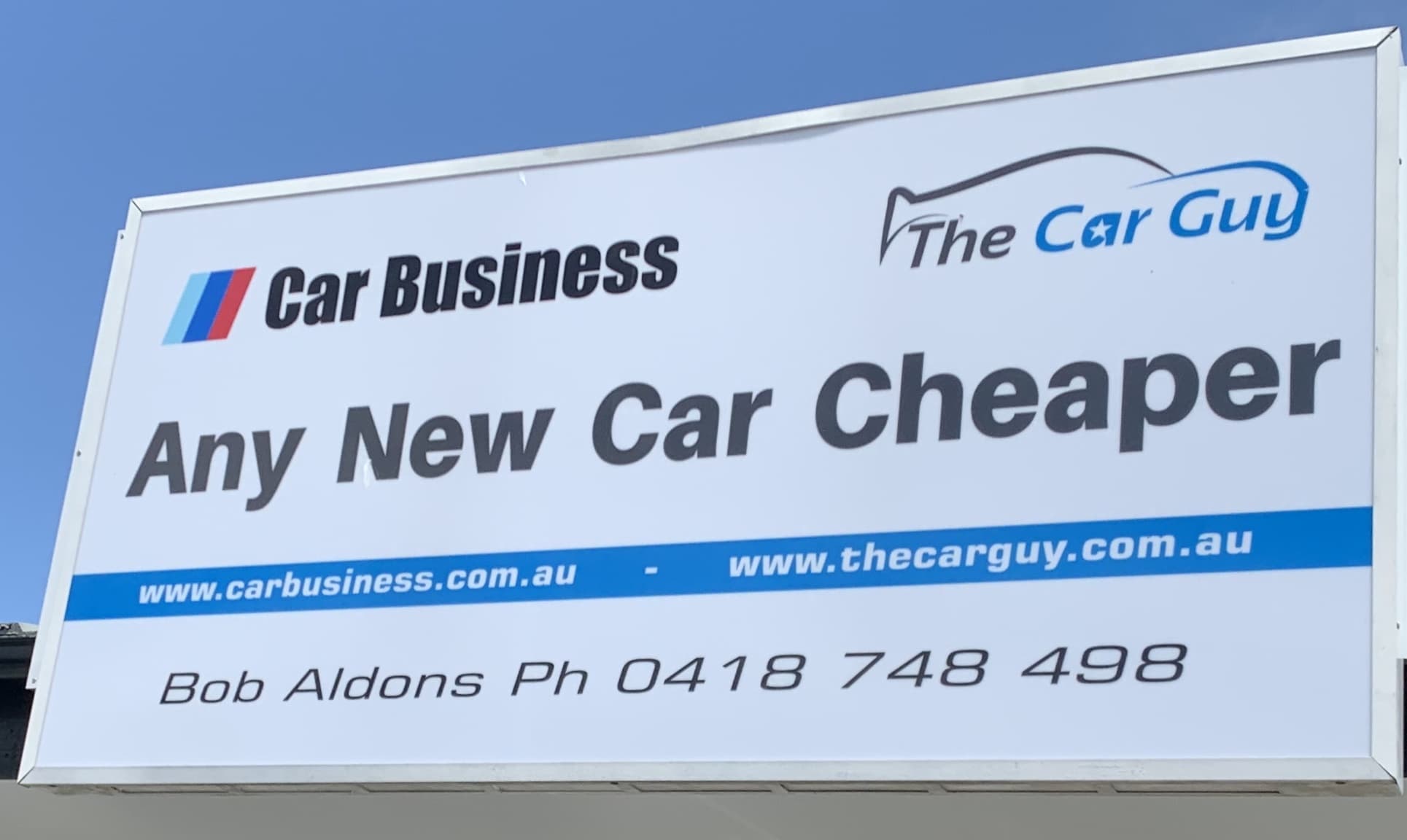 Recent Car Reviews – GWM Cannon L