A small crossover that fights on price
Similar to US 5th Amendment, in Australia you have the right to silence when you're asked a question by the police. So when I was posed with the question: What do you think of this Suzuki Ignis? I used my right to silence.
Seriously though, the style of the Suzuki Ignis is a bit polarizing. You either like it or not. A customer who looked a the Ignis suggested that she likes it enough to buy one. Another suggested that it looked awkward.
And that's a bit what the Japanese compact market is all about. Their small cars are very different to what the rest of the world buys, but they do sell in numbers in their home country.
What does Suzuki say? Everywhere you look, every detail you see, everything stimulates your senses. From design to concept, down to usability, an iconic being like no other. Introducing the all-new Suzuki IGNIS, the urban SUV-styled escape hatch that stirs your senses.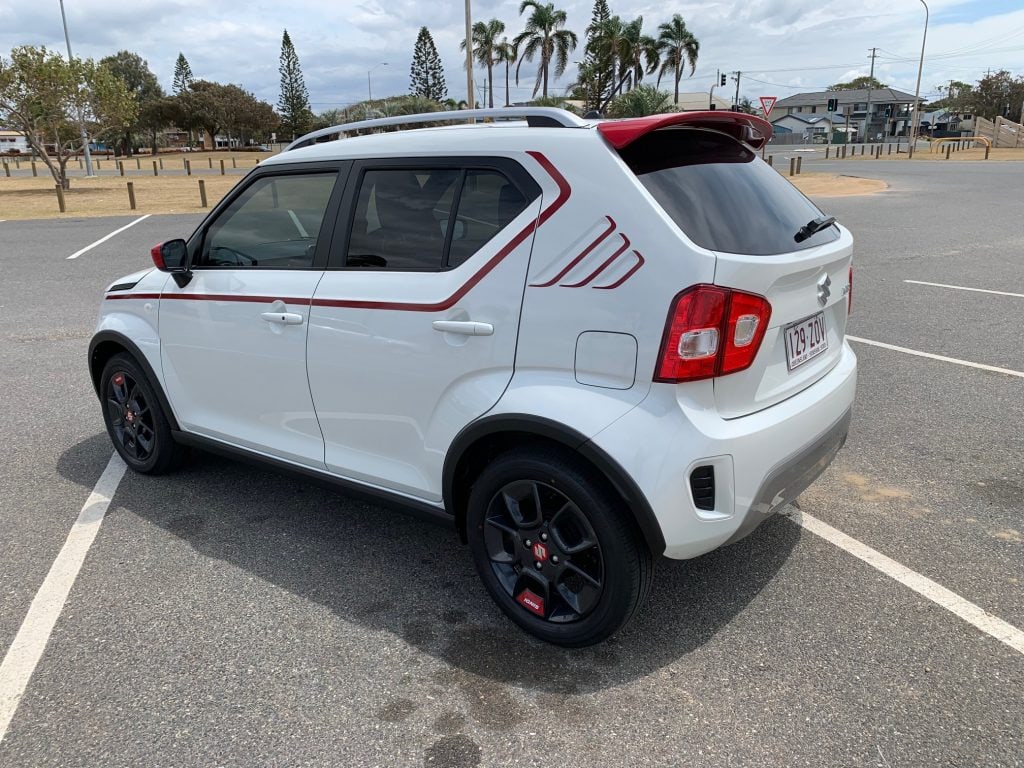 What is it? In its home country of Japan, it's considered to be a subcompact SUV. In India, it trades under the name of Maruti Ignis and is available with a diesel engine too. From my perspective its a crossover. It's not a largish SUV nor is it a small hatch. One important aspect, at least from an older person's viewpoint, is that you slide into the cabin rather than climbing or falling down.
So it's a perfect combination at least for those of us who have dodgy hips
Competitors? While it's fairly unique, if you had to compare it to something else, you'd consider the Kia Picanto or Mitsubishi Mirage, but they're small hatchbacks, so as a sub-compact SUV there aren't really any competitors to compare at all.
How Much? The Suzuki Ignis starts out at $18,990 drive away for the manual version and tops out at $20.990 for the GLX Auto model. Metallic paint costs around $500. (The red accent package on this car is $3,200 (plus fitting) extra). So it's a cheap and cheerful car in anyone's language.
SAFETY and SECURITY
ABS with EBD function
ESP®
Hill hold control S (CVT)
Brake assist function
SRS front dual airbags
SRS side airbags Front
SRS curtain airbags
Pedal release system Brake and clutch
Side-impact door beams
Immobiliser
CVT shift lock S (CVT)
DRL (daytime running lights) LED (integrated into headlamps)
High-mount stop lamp LED
On the Road
If I ignore the style of the Suzuki Ignis and just drive it for usability's sake, I quite liked the little car. Mrs Aldons found it to be nice to drive, albeit a bit sluggish on the open road, but you don't consider the Ignis for highway driving. It really is a round town commuter vehicle – something to take shopping, drop the kids at school or at a pinch pick up gardening supplies from your local Bunnings warehouse.
Inside
I'm 182cm tall, but even then, there was enough rear-seat room for 2 adults to stretch out. And with the rear seat only taking 2, there's plenty of shoulder and headroom as well. Thankfully the rear seats can fold down if you plan to carry bigger loads than your weekly shopping.
At no stage in my drive did I find the front cabin too cramped. The only thing that did annoy me was the centre armrest. I drove with it up as it didn't suit the height of my left wing with it folded down.
What would I do to improve the Ignis? If ordering from the factory? I'd include blind spot monitoring and thats about it. Sure it doesnt have a lot of the modern safety tech that seems to be included in todays cars, but nor do I want the price to scale up for these items either. I'm happy paying under $20k for a suburban runabout and don't need the likes of lane departure, adapative cruise control and similar
MY VERDICT

The Suzuki Ignis is a good alternative for city car buyers who want a car that's a bit different. Well equipped interior with sufficient space for 4 people. Great starter car for first-time drivers. Increased ride height allows for easy entry and exit for seniors. 
At A Glance
Price:                                     From $18,990 in GL manual form – $20,490 for the GLX Auto. 
Engine/Transmission           1.2 Litre 
Warranty/Service                5-years, unlimited kilometres. Suzuki Scheduled Maintenance is due every 15,000km or 12 months – whichever occurs first. Over the 5 years, you'd invest $1,465 for five services. That averages out at $293 per service and I'd strongly recommend taking it back to the Suzuki dealer. Nobody can look after your Suzuki like a dealer can – NOBODY!
Safety                                   Not tested by ANCAP. Given the safety equipment included, I'd suggest 3 or 3.5 stars. 
Economy                              4.9 Litres per 100 kilometres combined
Boot Space                           Rear seatback folded (VDA method) litres 516. Rear seatback raised (VDA method) litres 264
Which Dealer?
Whenever I'm looking for a new car dealer, I always search on Google.
In this case, I'd search for "Suzuki Dealers" and then the city (Brisbane) or even the suburb I live in. For Suzuki, here are the 4 dealers I'd consider visiting. Google provides a star rating and I suggest that you look for dealers who score more than 4 stars in the Google rankings.
| | | |
| --- | --- | --- |
| Brisbane Northside | No-one to recommend | Less than 4-stars |
| Brisbane Southside | Zupps Mt Gravatt | 4.4 Stars |
| Brisbane Eastside | No-one to recommend | Less than 4-stars |
| Brisbane Westside | Westpoint Suzuki | 4.7 Stars |
| Gold Coast | von Bibra Ferry Road Suzuki | 4.7 Stars |
| Sunshine Coast | Cricks Maroochydore Suzuki | 4.0 Stars |
Hello. I'm Bob Aldons, the owner and editor of The Car Guy.
The Car Guy is an independently owned car review website. I'm currently testing cars for Mazda, Nissan, Kia, Suzuki, Mitsubishi, Renault, Subaru, and Hyundai. Through Mercedes AMG Petronas Motorsport I'm also writing about the 2020 Formula 1 season
I'm not paid by any car company for my opinion and my companies don't receive advertising revenue to say nice things about them. I call it as I see it.
However, I also own a new car brokerage company – Car Business. Being able to review new cars gives me an opportunity to provide accurate information on these brands. If you're in the market for Any New Car Cheaper, contact me at Car Business and see how I go about saving you some serious money.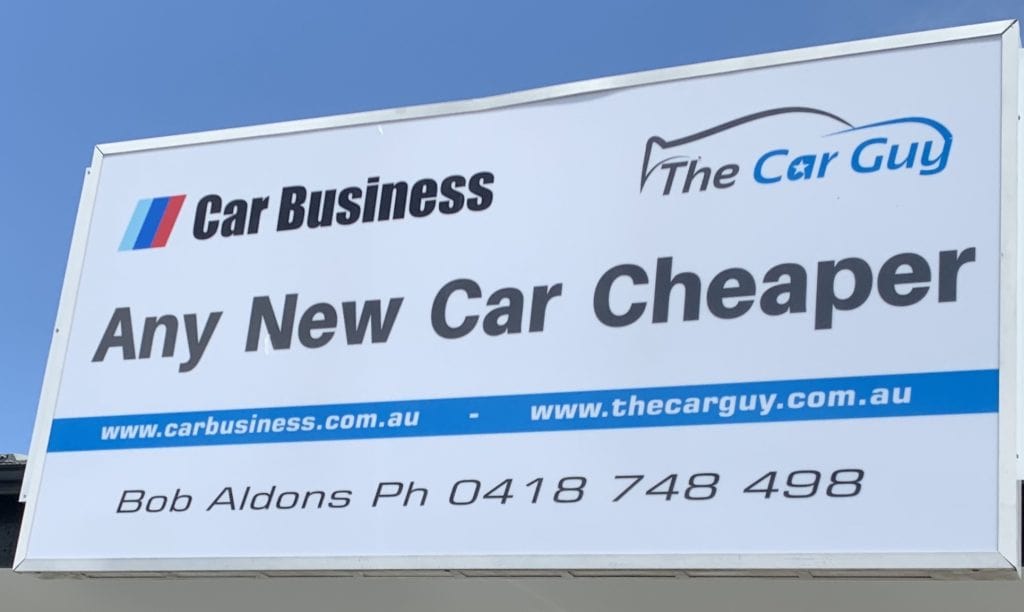 Perhaps you think that you can do the job of buying a new car yourself? If you're after any advice at all, give me a call and ask me any question that you need to be answered.
If you're an Aussie Veteran, I take particular pride in taking care of you. For every car that I source and deliver, I donate part of my fee to Mates4Mates or Brisbane Legacy.
Other Links:  MY20 Mitsubishi Eclipse Cross LS Review