2020 Mitsubishi Eclipse Cross
When the Mitsubishi Eclipse Cross first launched in 2018, I wasn't a fan. I thought the shape was extraordinary, but not in a good way. Since then other manufacturers have released similar-looking vehicles – BMW's X6, Audi's Q4, and Mercedes-Benz GLA to name a few all have a similar appearance. So the 2020 Mitsubishi Eclipse Cross LS is the subject of this review and hot on the heels of the 2020 Mitsubishi Outlander Exceed that I was driving last week.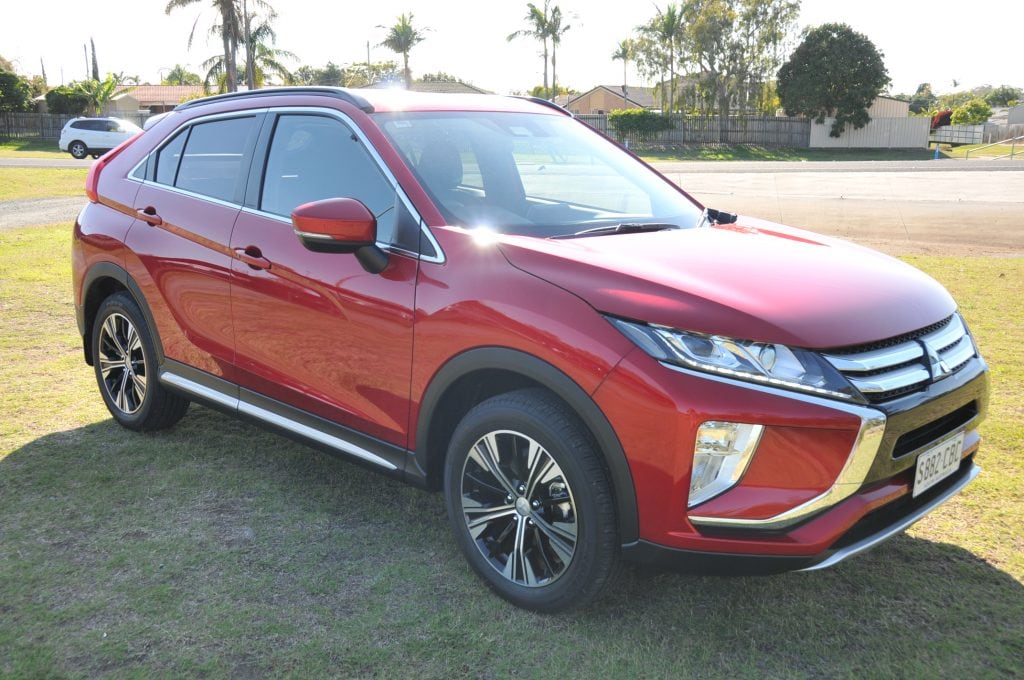 At The Front
Ok, so this section generalises about the vehicle's looks but also goes into more detail about the technical specifications. If you're not so interested in this type of palaver, skip to the next section.
The Eclipse Cross is a Front Wheel Drive vehicle fitted with Mitsubishi's 1.5-litre MIVEC Direct injection turbo engine. It generates 110kW of power and 250Nm of torque. It runs on 91 RON unleaded fuel and has an 8-Speed CVT auto transmission. NB – Important Note. Do NOT under any circumstances scrimp on the servicing of the transmission. A customer recently used a mobile service mechanic to service his transmission and it failed not long after. Cost? Around $8,500.
Headlights are Halogen type with LED daytime running lights and front halogen fog lamps.
Mitsubishi's dynamic grille front end dominates their range and the Eclipse Cross is no exception. As I said in my review of the Outlander, there's enough chrome to keep the style queens satisfied and that jet fighter look is similar to what you get in more expensive cars.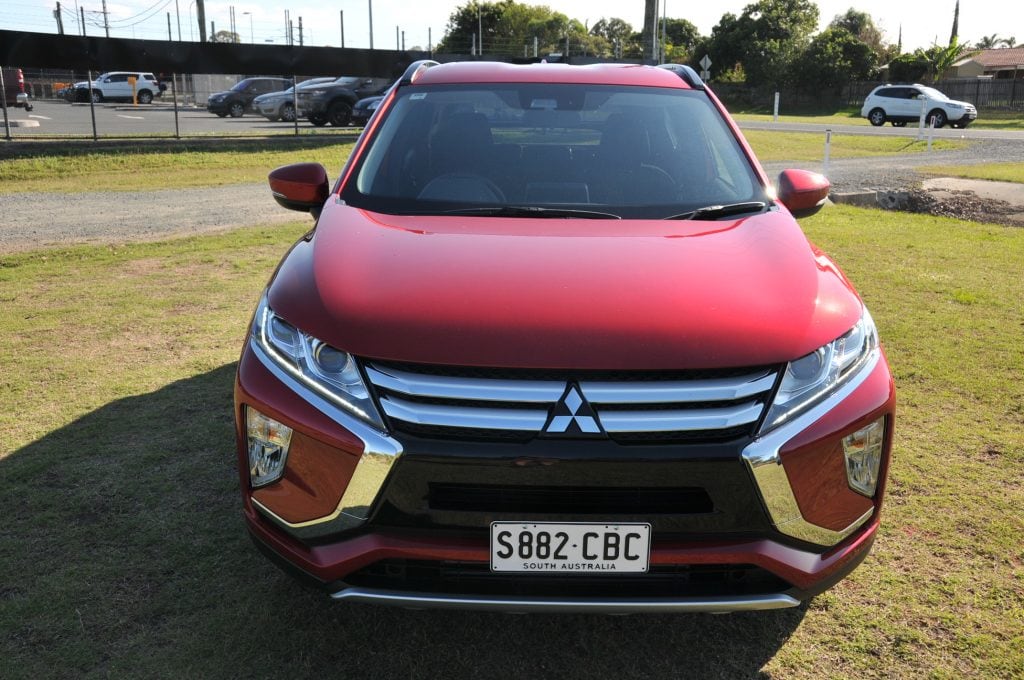 Increased capability
From Mitsubishi – "The addition of the latest generation of Mitsubishi's Super All Wheel Control (S-AWC) capability to the Eclipse Cross LS, offers even more choices for drivers when planning their drives. 
Mitsubishi's S-AWC technology with Active Yaw Control (AYC) offers drivers predictable handling. AYC controls the brakes and power steering to regulate torque split between the left and right. This improves the car's accuracy when tracing the chosen line through corners, in straight-line driving, and lane change manoeuvres.
The LS also gains optional AWD capabilities, and for convenience, the instrument panel displays an indicator when the vehicle is in AWD mode. This further reinforces the Eclipse Cross as the SUV that delivers for both city driving and beyond".
Down The Side – Safety, Security and Driver Assistance.
I've taken the liberty of listing the safety, security and driver assistance features in the Mitsubishi Eclipse Cross here.  So along with a fairly lavish side profile, if you're interested in safety here's the drum.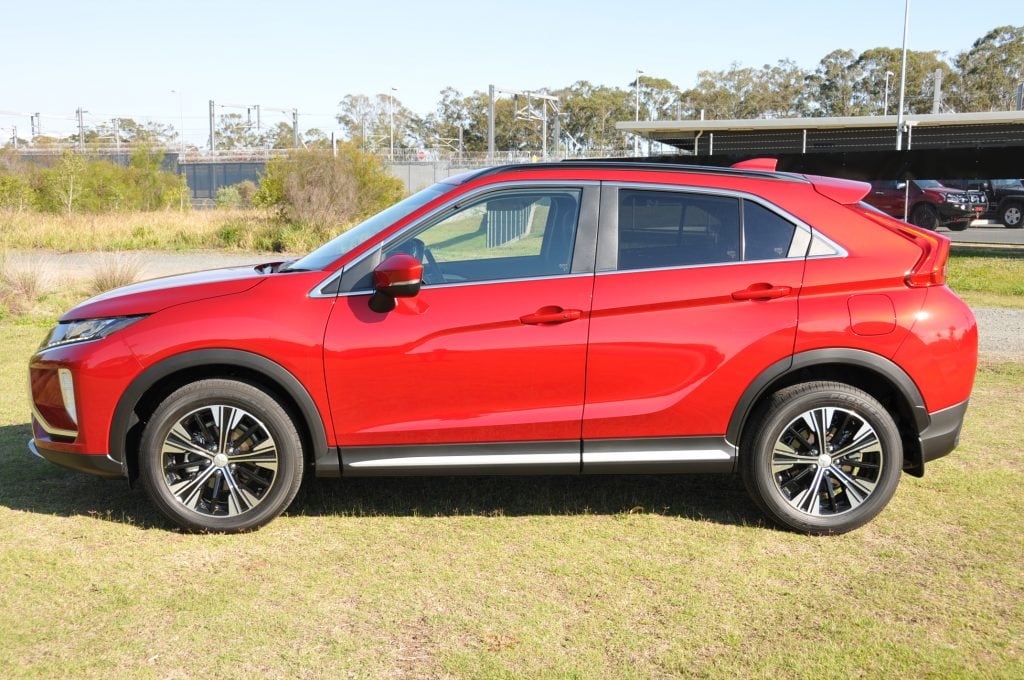 ACTIVE SAFETY
Forward Collision Mitigation system (FCM)
Lane Departure Warning (LDW)
Automatic High Beam (AHB)
Emergency Stop Signal Function (ESS)
Emergency Brake Assist system (EBA)
Active Stability Control (ASC)
Active Traction Control (ATC)
Anti-lock Braking System (ABS)
Electronic Brakeforce Distribution (EBD)
AIRBAGS
Driver & front passenger SRS airbags
Driver & front passenger side SRS airbags
Front seat belt pretensioners
Auto Locking Retractor (ALR) seatbelts on outboard 2nd-row seats
CHILD SAFETY
ISO-Fix child seat anchorage – 
2
Child restraint top tether – 3
Childproof rear door locks
Power window lock driver control – passenger windows
DRIVER ASSISTANCE
Colour digital instrument display
Automatic dusk sensing headlights
Speed-sensitive intermittent windscreen wipers
Automatic rain-sensing wipers
Intermittent rear wiper and washer
SECURITY
Encrypted engine immobiliser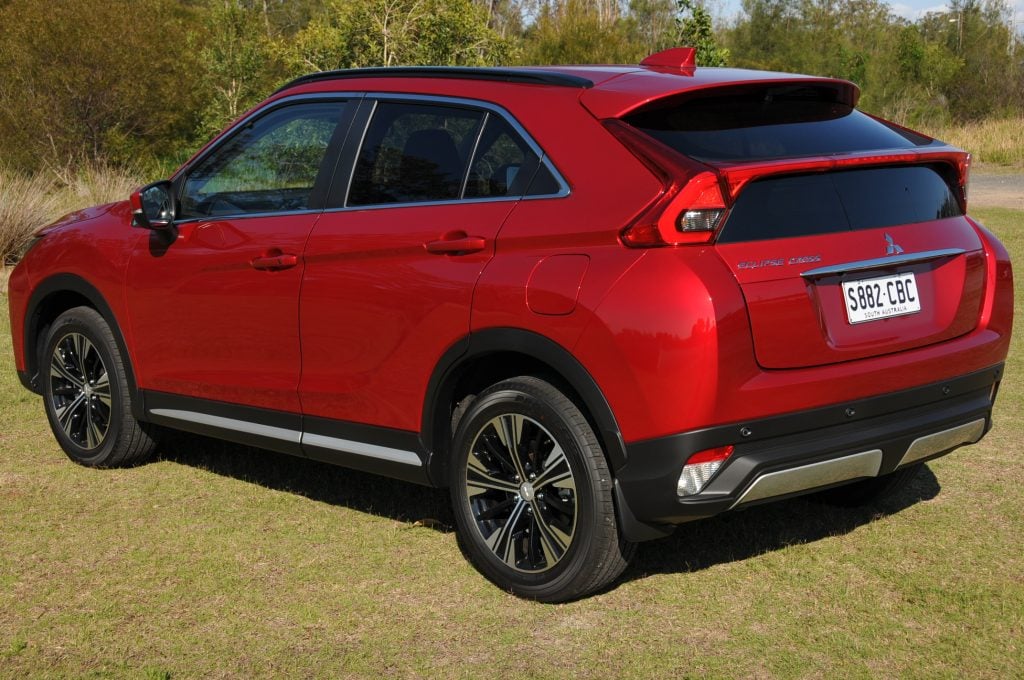 2020 Mitsubishi Eclipse Cross LS and Range Pricing
"We are listening to our customers, and they wanted a more affordable all-wheel drive which is why we added S-AWC to the LS. This year we're pleased to be able to deliver this increased capability." said Derek McIlroy, Mitsubishi Motors Deputy Director for Marketing and Operations.
Model
Transmission
Interior seat
trim/ headlining
Interior base
material
RRP
ES 2WD
CVT
Black/ grey
Cloth
$29,990
LS 2WD
CVT
Black/ grey
Cloth
$31,990
LS 4WD
CVT
Black/ grey
Cloth
$34,490
Exceed 2WD
CVT
Black/ black
Leather
$36,690
Exceed 4WD
CVT
Black/ black
Leather
$39,190
Black Edition 2WD
CVT
Black/ grey
Cloth
$31,690
Drivers Seat  The Eclipse Cross is comfortable from a drivers perspective. If you can't find the right driving position you're just not trying. Soft-touch dashboard, nice looking seat trim and a thoroughly usable infotainments system.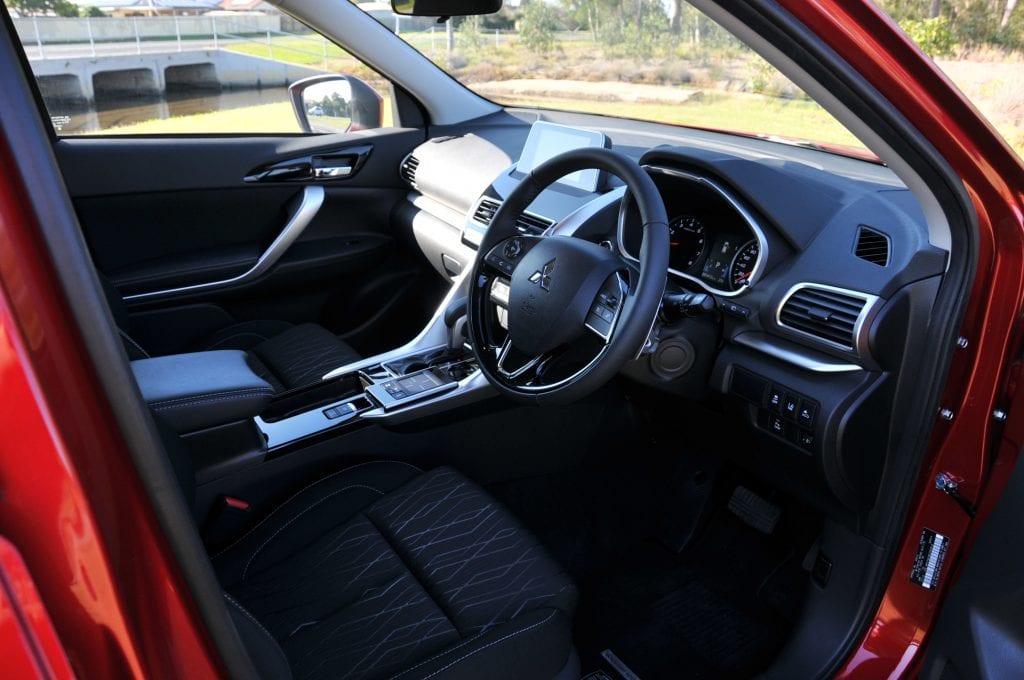 At The Back
If you can avoid looking too much at the rear spoiler type thing across the rear hatch, the Eclipse Cross has a fair bit of load space. Rear seats fold to provide a cavernous area. Fuel tank capacity is 63 litres.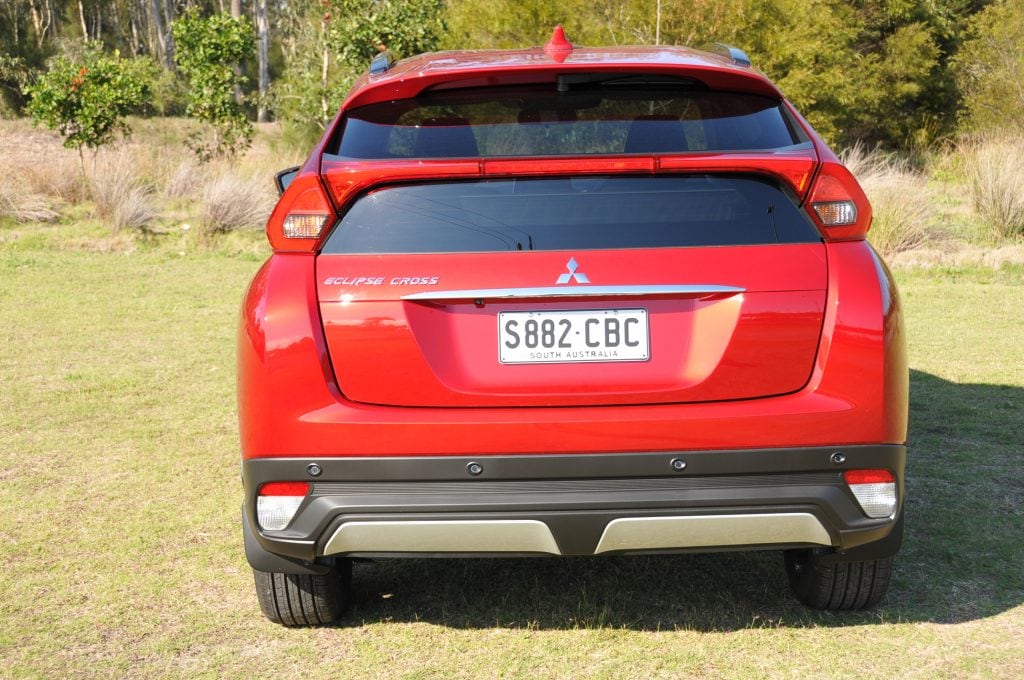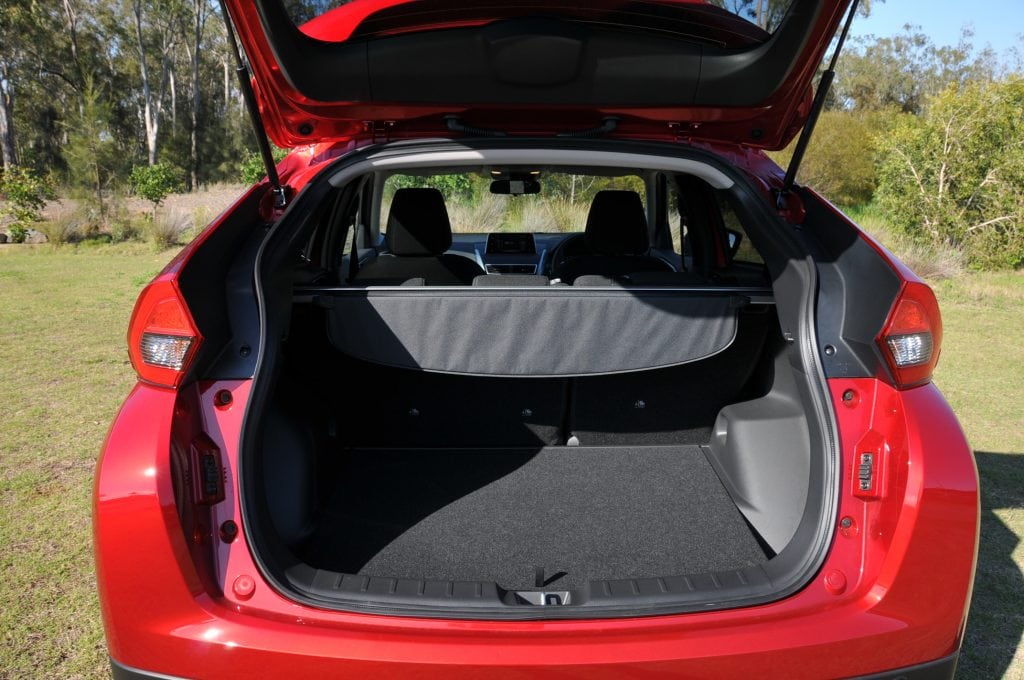 Towing
Towing capacity with electric brakes fitted ( I recommend and fit RedArc Tow Pro 3) is 1600kg and unbraked runs to just 750kgs. It's good enough to tow a small boat or a larger trailer. Importantly the maximum towball load is 160kg.
Safety Rating from ANCAP
ANCAP first tested the Eclipse Cross when it launched in 2017, just two years ago. While it scored a 5-star rating then, not all models will achieve that benchmark today. Safety specifications changed for 2018 and will upgrade again in 2020. I'd suggest that the Eclipse Cross LS is a comfortable 4 stars in 2019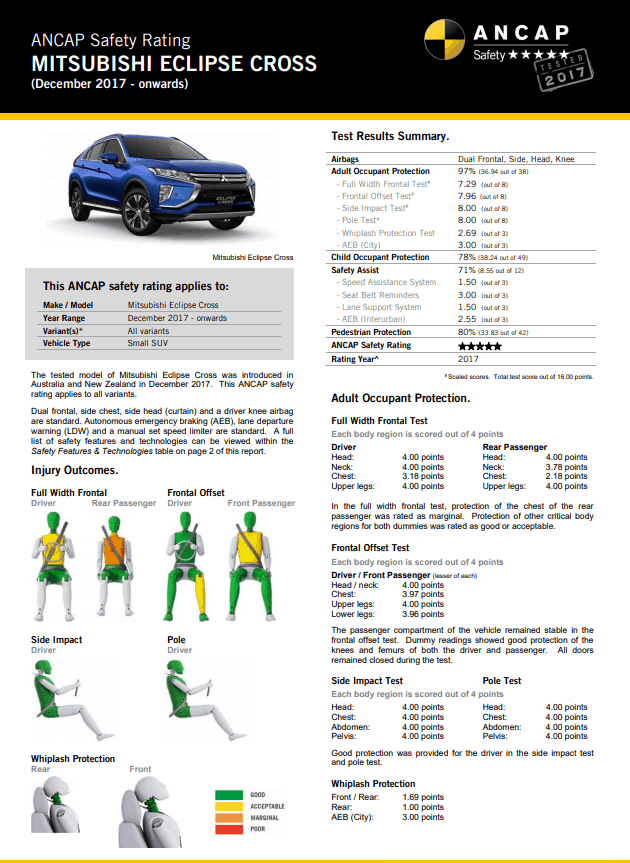 Fuel Economy – Green Vehicle Guide

Comprehensive Insurance – Mitsubishi Eclipse Cross LS
I use RACQ Insurance to give you a guide as to what you'll pay for your annual comprehensive car insurance. Conditions for this cover are:
A male driver over 60 years of age, having held a license for over 10 years
Bronze member of RACQ with 1 other insurance policies
Has paid cash for the car. The car is parked in a driveway overnight.
The driver resides in postcode 4017
The car is fitted with an engine immobilizer
No at-fault claim in the last 3 years, with no license suspensions
Rating 1 currently, having held that rating 1 for 10 years or more
No driver under 25 will use the vehicle.
The premium quoted online by RACQ Insurance for Private Use – $512.17 with a $750 excess. Variations from the information above may result in different outcomes. Check online with RACQ Insurance for your own particular quote. (Effective November 10th 2019)
Finance  – Mitsubishi Eclipse Cross LS
I've included some indicative repayment figures for this car. It's RRP drive away is $32,990, but I know you can buy it better than that (Contact Car Business for a price).
So if you finance this Mitsubishi Eclipse Cross LS over 60 months, your repayments work out this way, with no balloon at the end of the term. Adding a ballon will reduce the payments significantly
Monthly          $673.28
Fortnightly     $309.55
Weekly            $155.37
Interest rate   6%
Repayments are indicative only and will depend on your application. Some people will get a lower rate and some a higher rate. Some fees and charges are excluded for this example.
Warranty & Service – Mitsubishi Eclipse Cross LS
Mitsubishi currently has a 7-year/150,000klm warranty on offer for their range effective until 31st December 2019
In addition, they're offering 2-years free servicing, which drops the 3-year capped-price service cost from $796 down to $398.
Many other brands are covering their vehicles with capped price service for the term of their warranty, so Mitsubishi is lagging behind here.
Be careful when you take your vehicle in for service. Some new car dealers will try to upsell items such as Power Steering, Air Conditioning and Fuel Injector service. To avoid unnecessary spend, simply ask the dealer to advise whether this is a Mitsubishi recommended service. If they so no, then you should say no too.
As far as roadside assistance is concerned, Mitsubishi provides Roadside Assistance on all new vehicles for the first 12 months and then extend it for every year that you have your car serviced at one of their dealers. So if you stick to the capped price program, then you have roadside assistance for 4 years in total
Where to Buy – Dealers
My test vehicle was supplied by Mitsubishi Motors Australia. I'm not paid for my reviews, so I can guarantee that my thoughts are completely unbiased.
If you're in the market to buy any new Mitsubishi, pick your dealer carefully. When I want to check out the 'worthiness' of a dealer, I Google 'Mitsubishi Dealers Brisbane where the city is the one that you live in or around and the brand is that particular one you're interested in. I only list dealers who have achieved a minimum of 15 reviews with Google and then only those with 4 stars or higher.
From a South East Queensland perspective here are the dealers I'd visit:
Northside                Nundah Mitsubishi                             4.3 Stars from 321 Reviews
Southside                Motorama Mitsubishi                         4.6 Stars from 363 Reviews
Eastside                   Bartons Bayside                                   4.8 Stars from 131 Reviews
Westside                  Blue Ribbon Mitsubishi                     4.2 Stars from 90 Reviews
Gold Coast               Von Bibra Helensvale                         4.9 Stars from 220 Reviews
Sunshine Coast       Cricks Nambour Mitsubishi             4.4 Stars from 108Reviews
(Google Stars and review numbers effective 22nd November 2019)
Pro's and Cons
Pro's
The exterior is pretty – enough chrome-look features without going overboard
It does have Apple Car Play and Android Auto, so a tick here
Con's
I still don't really like the rear spoiler treatment
No Adaptive Cruise Control
My Opinion 
I like the Mitsubishi Eclipse Cross LS. It's grown on me over the last two years and I'd consider it should I want to buy a vehicle of this size.
There's plenty of room, it's smooth on the highway and around town. It's versatile from a space perspective and fits a family of 5 easily.
Buying a New Car?
Get in Touch with Car Business – Skip the Dealerships
As a licensed motor dealer for over 40 years, I'm legally able to buy and sell all new and used motor cars. So if you've got a trade-in, I can help with that too.
It's easy to get in touch.
Address:          2/265 Oxley Avenue, Cnr Duffield Rd, Margate QLD 4019
Mobile:            International   +61 418 748 498
Australia          0418 748 498
Websites:      https://www.carbusiness.com.au
                         https://www.genuinespares.com.au
Email:            [email protected]
Facebook:     www.facebook.com/carbusinessqld
LinkedIn:     https://www.linkedin.com/in/bobaldons/
Twitter:        https://twitter.com/mycarbusiness
Instagram:  https://www.instagram.com/carbusinessbrisbane/
Pinterest:    https://www.pinterest.com.au/carbusinessbrisbane/
Finance Disclaimer:
The provided quote should be used as an indication only and does not represent either approval or pre-qualifications for a loan.
The quoted payments apply for the example given and in this instance do not include fees and charges, as different terms, fees or other loan amounts may result in different outcomes between financiers.
The specific details of your loan will be provided to you in your loan contract.
It is advised that you consult your financial adviser before taking out any loan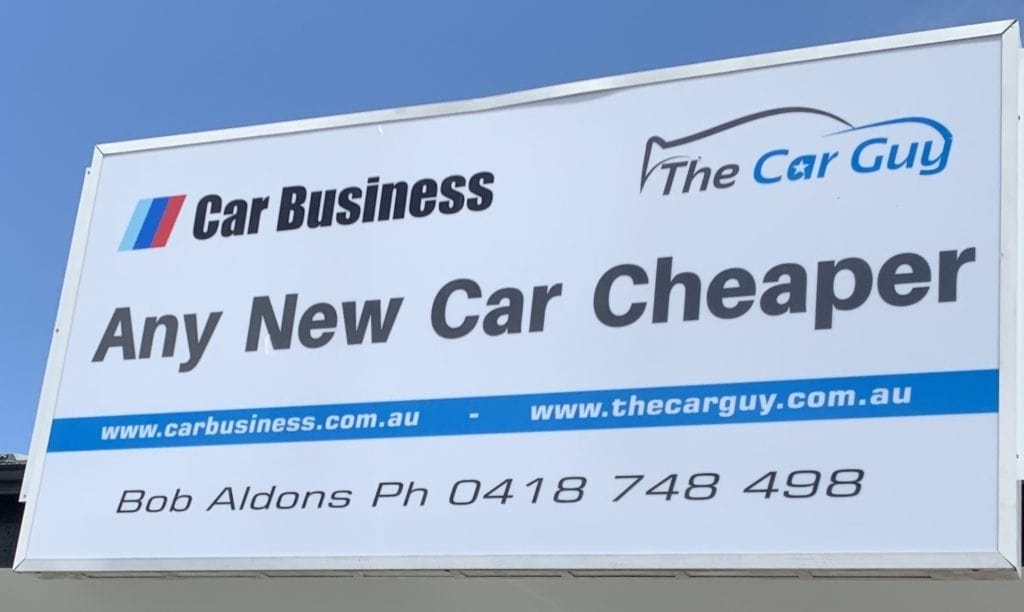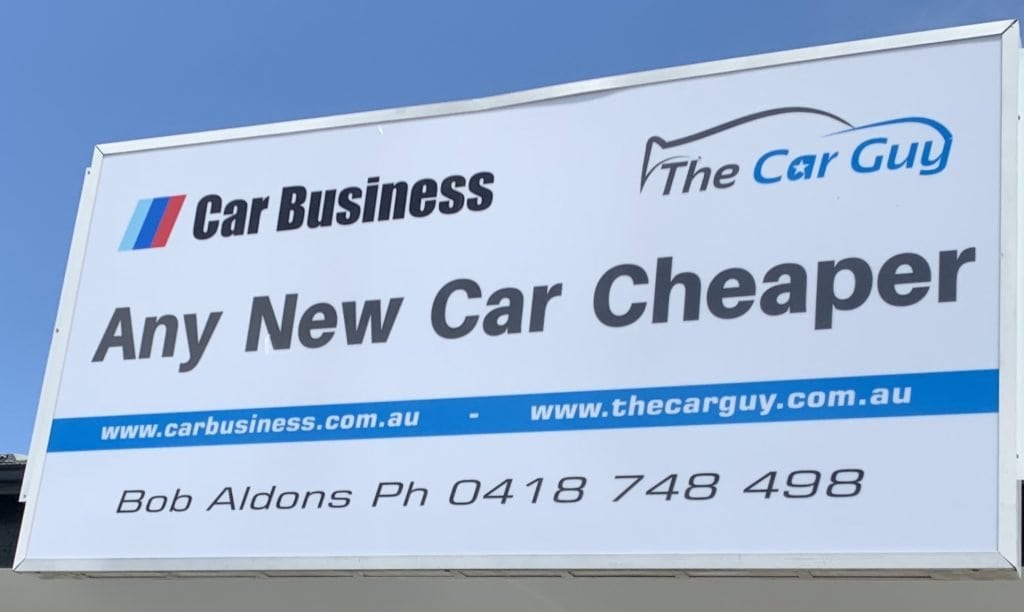 Related Articles