As a Mitsubishi dealer from 2000 to 2012, Mitsubishi Triton was one of the strongest selling models in the line-up.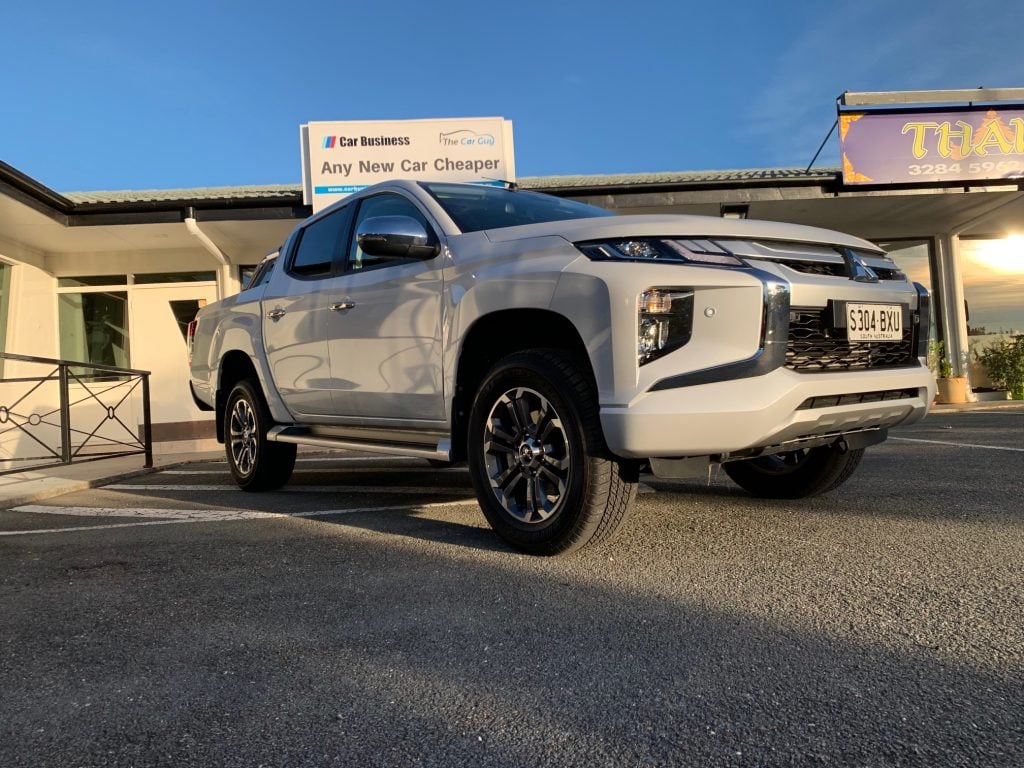 Fast forward to 2019 and the new MR Triton is arguably the best selling model Mitsubishi has in Australia.
Most of my readers will know, but for the new visitors, I have a New Car Brokerage Company, Car Business. And Car Business has been very busy of late delivering all sorts of new MR Tritons to customers. Tray body utes, double cabs in GLX, GLX+ and especially GLS Premium. Feedback from these clients is that they're thrilled with the features as well as engine and transmission performance.
And interestingly, they've traded a variety of vehicles on the new Mitsubishi Triton. Mazda BT-50, Nissan Navara ST, Isuzu D-Max as well as a variety of Toyota Hilux models. And to a person, they've been super satisfied with the price I've been able to obtain for them.
So, let's have a look around this MY19 MR Mitsubishi Triton GLS Dual Cab that Mitsubishi Motors Australia has kindly provided for review.
What Is It?
MR Triton is the latest iteration in a long line of single, extended cab and double cab utes for this company. Using MMAL's own words
"It's not afraid of a hard day's work.
For almost 40 years, the Mitsubishi Triton has helped Australians get the hard jobs done. Engineered to deliver power, performance, 5-star safety towing and the latest technology this is one tough ute that nothing can frighten."
Competition?
How long is a piece of string? Apart from Mitsubishi, my price guide for 4WD utes' lists the following brands.
Ford, Great Wall, Holden, Isuzu Ute, JMC, LDV, Mahindra, Mazda, Mercedes, Nissan, RAM, Ssangyong, Toyota, and Volkswagen.
That's 15 brands in total, with a plethora of variations within each brand. We're sure spoilt for choice. 3 of these are Chinese, 1 from India, another from South Korea, 1 from Argentina, 1 from the USA (and converted from LH to RH drive here in Melbourne) 1 from Spain, with the other 7 brands manufactured in Thailand. So it's what you'd call a real international portfolio.
How Much?
While it's still only relatively new to the market, Mitsubishi has ongoing special offers available for this model. MY19 MR GLS Triton Dual Cab with the diesel engine and auto transmission is advertised for $46,990 drive away including a 7-year/150,000klm warranty and 3-years capped price service program, whilst the GLS Premium tops the range out at $50,990. At present Mitsubishi are offering 2-years free servicing and $1000 of genuine accessories (till 30/9/2109)
Introduction
When I first started selling cars, my manager taught me what's called in the industry, the 6-position walk around. This process asks the salesperson to show a potential buyer everything important about the subject vehicle in terms of features and benefits.
This is how I review cars for you. I relate what I consider to be the most pertinent aspects and leave the high-speed cornering and 0-100km per hour to the 'experts.'
I'm presenting the vehicle on how you'll use it on a day to day basis. So off we go.
4WD Mitsubishi Triton GLS Dual Cab – Front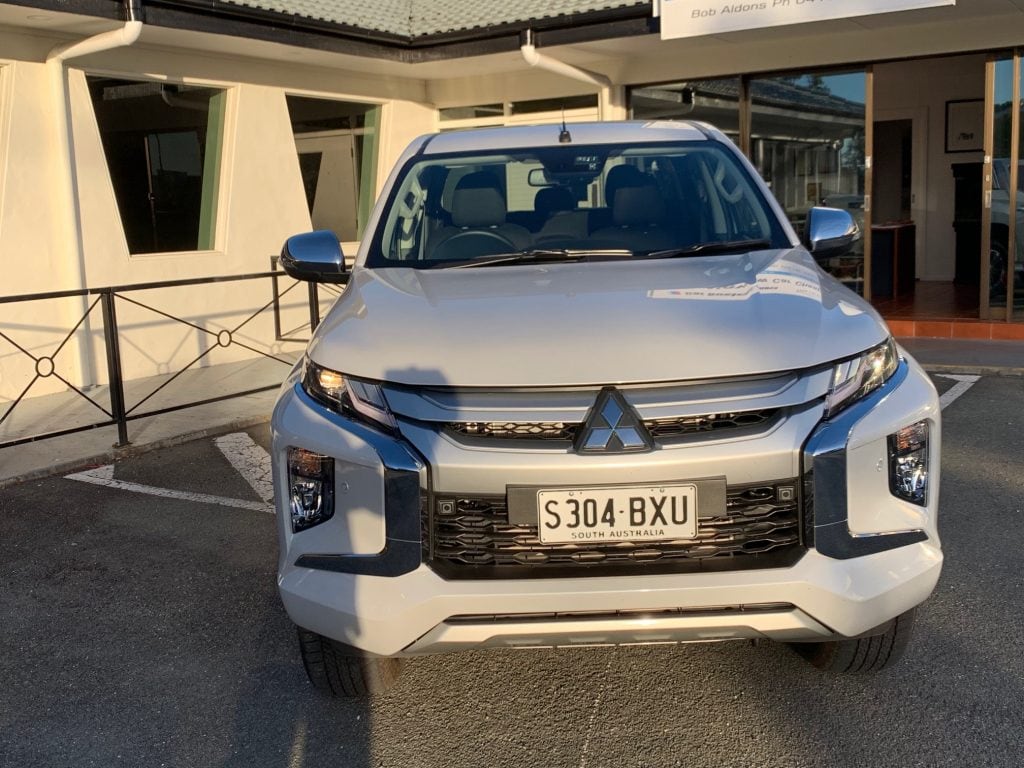 The Mitsubishi Triton GLS Dual Cab comes with a 2.4-litre inter-cooled turbo diesel engine pushing out 133kw of power and 430Nm of torque. Plenty enough power and grunt to get you almost anywhere you need to go whether it's work or play. It has ventilated front discs and rear drum brakes.
The suspension is double wishbone with coil springs and stabilizer bar in the front with heavy-duty leaf springs in the rear.
With its standard 18" wheels, it's got plenty of articulation for rough and rugged off-road work. The bigger the wheels, the less movement in the suspension so if you're planning to go off-road, best stick with the smaller wheels and tyres.
A lot of 4WD owners keep a set of standard wheels for going off-road and fit larger alloy wheels and wide tyres for round the suburbs.
Headlights and brake lights are LED with front Halogen fog lights. The GLS model has the advantage of self-levelling lights, particularly useful when you're loaded up to its maximum capacity or towing.
Mitsubishi Triton GLS Dual Cab – Down the Side.
Most manufacturers are focussed on the safety of their vehicles. Mitsubishi are no exception and have stepped up the package on this new model.
 In this section, I'm highlighting features that will be beneficial to everyday driving as well as highway use. Not so many years ago, the active safety system featured in the Mitsubishi Triton would have been at home in luxury European vehicles, not a ute.
Mitsubishi is one of the first manufacturers worldwide to step up to excellent active and passive safety systems. If you'd like to review the full list of features, visit MMAL
ACTIVE SAFETY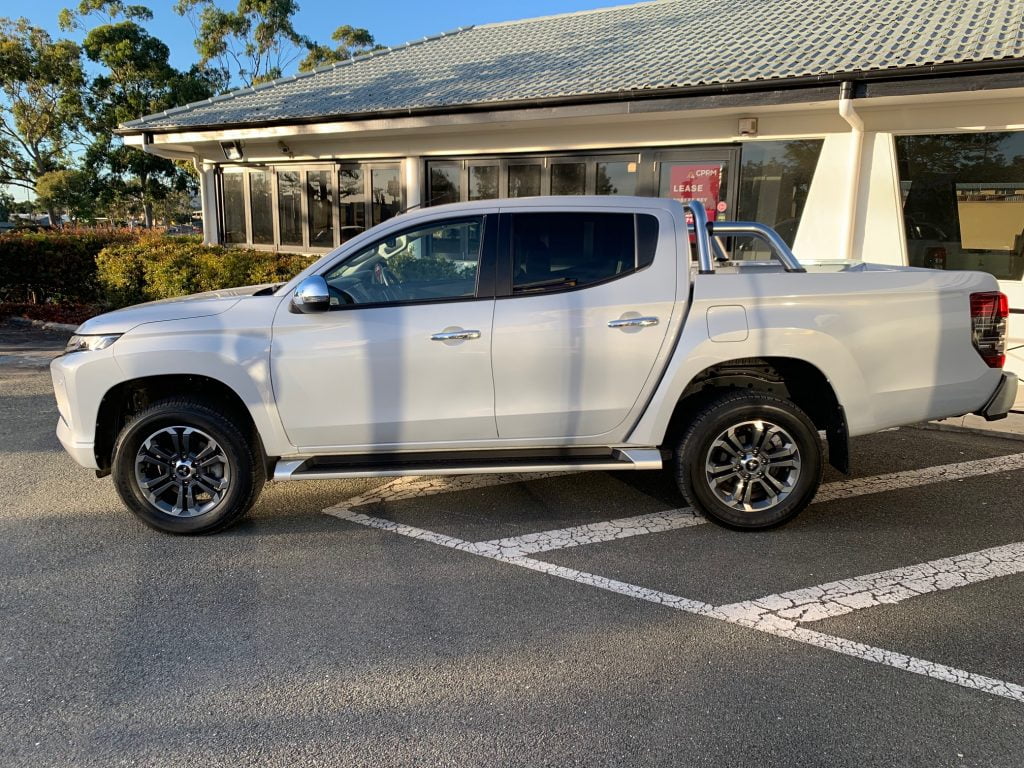 Forward Collision Mitigation system (FCM) with pedestrian detection
Lane Departure Warning (LDW)
Blind Spot Warning (BSW)
Lane Change Assist (LCA)
Rear Cross-Traffic Alert (RCTA)
Adjustable speed limiter
Automatic High Beam (AHB)
Emergency Stop Signal Function (ESS)
Emergency Brake Assist system (EBA)
Hill Start Assist (HSA)
Hill Descent Control (HDC)
Active Stability Control (ASC)
Trailer Stability Assist (TSA)
Active Traction Control (ATC)
Anti-lock Braking System (ABS)
Electronic Brakeforce Distribution (EBD)
Brake Override System (BOS)
AIRBAGS
Driver & front passenger SRS airbags
Driver & front passenger side SRS airbags
Curtain SRS airbags
Driver knee airbag
SEAT BELTS
Front seat belt pre-tensioners
CHILD SAFETY
ISO-Fix child seat anchorage (2)
Child restraint top tether (2)
Childproof rear door locks
Power window lock driver control – passenger windows
DRIVER ASSISTANCE
Cruise control – Adaptive Cruise is available in the GLS Premium
Speed-sensitive intermittent windscreen wipers
SECURITY
Auto door lock
Encrypted engine immobiliser
PARKING ASSISTANCE
Rearview camera
Front and Rear parking sensors
At The Back
 1470mm (width) x 1520mm (length) x 475mm (height) – That's the size of the tub in this dual cab and that's wall to wall. Between the wheel arches, the width reduces to 1085mm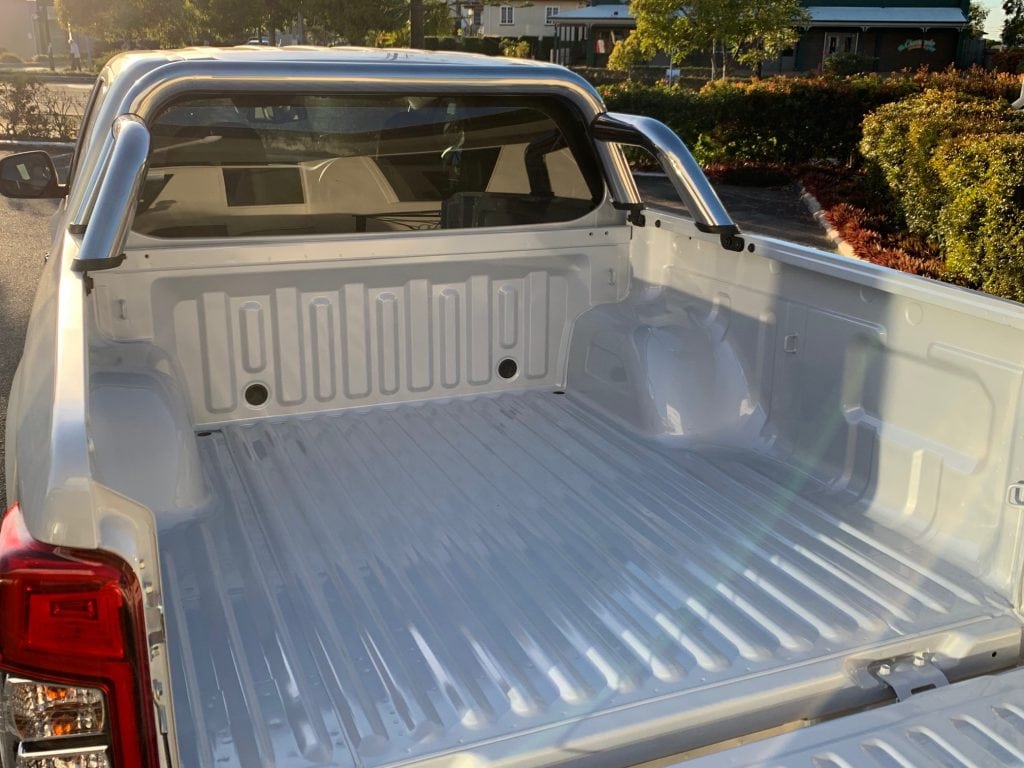 It has 6 inner cargo bed hooks fitted to allow loads to be well secured. Mitsubishi was the first manufacturer to include a reversing camera in a utility and along with rear sensors helps avoid any rear impact damage.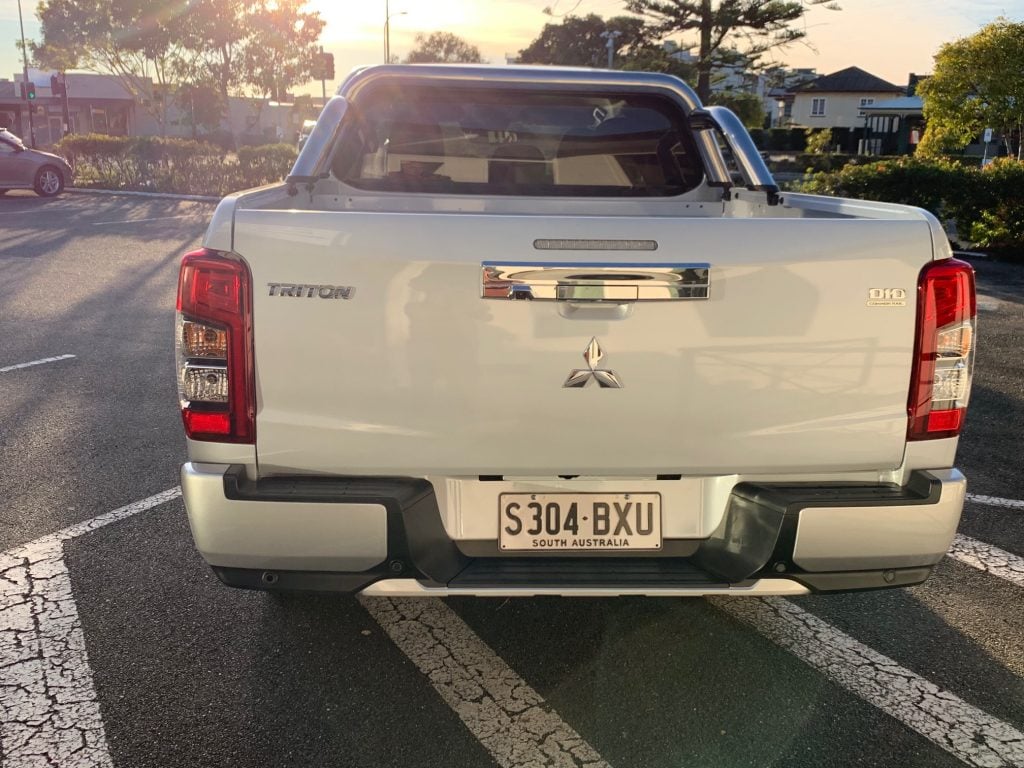 A rear step bumper assists with loading and entry to the tub. The Mitsubishi Triton GLS Dual Cab is a true 4WD with excellent clearances.
Approach angle (degrees)    30.0    Departure angle (degrees)    22.0    Ramp break-over angle (degrees)    25.0    Ground clearance (mm) – minimum, unladen.    205
Mitsubishi Triton GLS Dual Cab Towing Capacity
 With electric brakes fitted, you're able to tow a substantial 3.1-tonne caravan, boat or trailer. Without electric brakes, however, that capacity drops to 750kg.
It's important to always check with your new car dealer and the dealer who provides the vehicle you're towing.
 Driver's Side
 Ok, so it's a utility. There isn't much 'unique design' to be had in a ute – it's got a job to do and vehicle designers can't get cute with their drawings.
One of the important aspects of a 4WD dual cab is the room in the wheel arches. If you go fitting large wheels and tyres, you reduce the amount of up and down travel that your suspension can accommodate.
Driver's Seat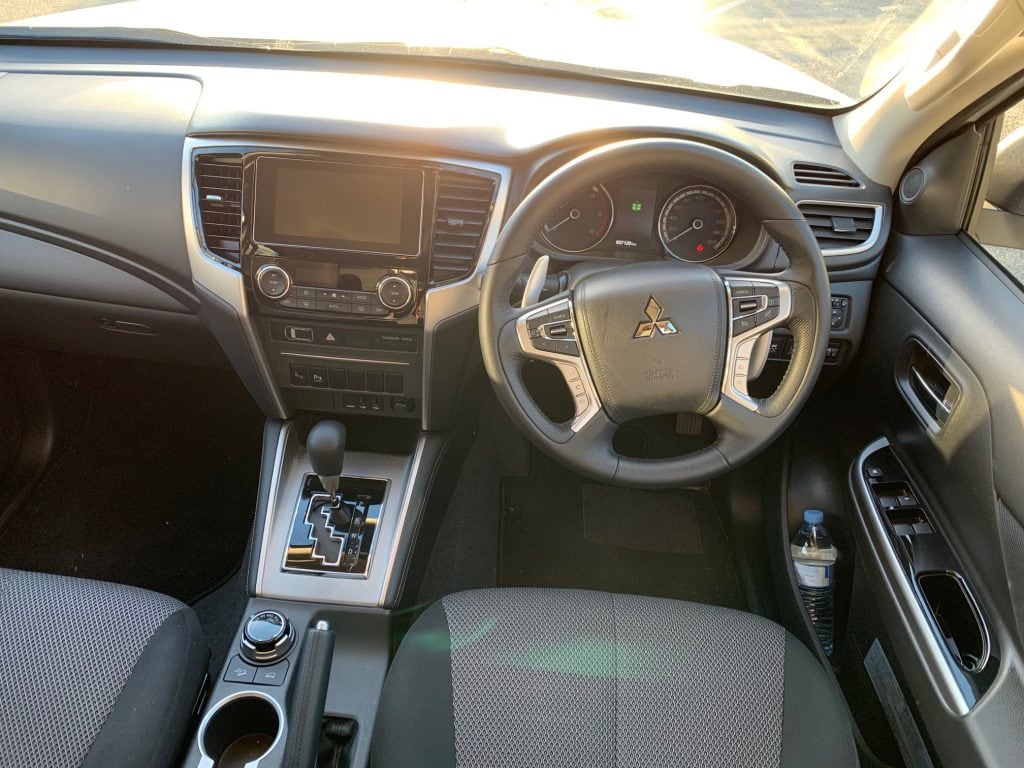 There's enough comfort in the seats to travel a fair distance. And when you're off road, you're hugged well and truly by the seats.
Apple Car Play/Android Auto are standard in the GLS Triton and provide a much better navigation system than any factory system ever would.
There's plenty of head, shoulder and legroom in the front and nearly as much for the rear seat passengers.
Dual Zone Climate Control Air Conditioning is fitted as standard and of course, it does have a dust and pollen filter.
ANCAP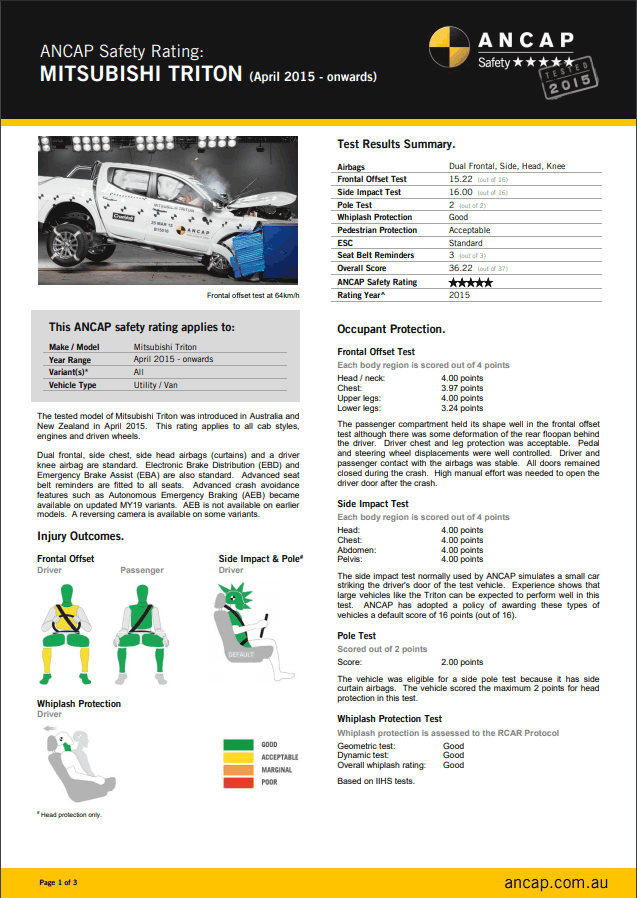 Note to Mitsubishi Motors Australia Limited and ANCAP.
I'm annoyed at the lack of attention to providing up to date details about the safety of cars.
ANCAP shows 'this' vehicle as a 5-star example on their website, but if you look closer, you'll see that this is not the case.
The Mitsubishi Triton was crash tested in 2015 – 4 years ago. That was an MN model and there have been two since – MQ and now MR.
Mitsubishi even still generally claim 5-star safety on the Triton webpage, but aren't plastering the ANCAP logo about their site, so at least that's a good thing.
It's time for ANCAP to step up and introduce a new set of rules – rules that clearly don't allow manufacturers to use the 5-star ANCAP logo or even mention it in their marketing.
Green Vehicle Guide – Mitsubishi Triton GLS 4WD Dual Cab

If you're using the Mitsubishi Triton for work, undoubtedly, you'll prompt for a diesel engine as fitted to my test vehicle. And If you're like me, and you're over three pedals, you'll choose the 6-speed auto transmission. On the other hand, if you've purchased the Triton to tow your caravan or large boat, you're probably wise to discuss fuel use with other Mitsubishi owners. The combined published figures from the Green Vehicle Guide suggest that you'll achieve 8.6 litres per 100klm, but expect to use over 12 litres per 100klm towing.
Mitsubishi Triton Dual Cabs come with a 75-litre fuel tank.
RACQ Insurance – Mitsubishi Triton GLS Double Cab
I use RACQ Insurance to give you a guide as to what you'll pay for your annual comprehensive car insurance. Conditions precedent for this cover are:
A male driver over 60 years of age, having held a license for over 10 years
Bronze member of RACQ with 2 other insurance policies
Has purchased the car for private use and paid cash.
 The car is parked in a driveway overnight.
The driver resides in postcode 4017
The car is fitted with an engine immobilizer
No at-fault claim in the last three years, with no license suspensions
Rating 1 currently, having held that rating 1 for ten years or more
No driver under 25 will use the vehicle.
The premium quoted online by RACQ Insurance for Private Use is $458.35  with a $750 excess. Variations from the information above may result in different outcomes. Check online with RACQ Insurance for your own particular quote.
Service Costs and Warranty
The Mitsubishi Triton GLS Dual Cab presently has a 7-year/150,000km warranty. Roadside assistance is for only a year but is extended when you service your vehicle with a Mitsubishi dealer for up to 3 years.
Capped Price Servicing is available through the Mitsubishi network of dealers Australia wide.  Mitsubishi have 15,000km service intervals on their range, including this Triton
My recommendation would be to have a Mitsubishi dealer service the vehicle making sure that this is the best way to maintain your 7-year Mitsubishi warranty.
After your new car warranty has run its course, you can choose between a dealer and an aftermarket provider.
Me? I stick with the manufacturer for at least 1 year after the new car warranty has expired. And even then, I'll choose the manufacturer as long as they're price competitive.
Mitsubishi Triton GLS Dual CAb – Where to Buy?
Mitsubishi Motors Australia kindly supplied this vehicle for my review. No financial incentives are paid to me by Mitsubishi.
I write what I believe are the important aspects of the vehicle – good or not so much.
If you're in the market to buy a Triton or any other Mitsubishi vehicle for that matter, pick your dealer carefully. When I want to check out the 'worthiness' of a dealer, I Google 'Mitsubishi Dealers Brisbane" where the city is the one that you live in or around and the brand is that particular one you're interested in.
I only list dealers who have achieved a minimum of 10 reviews with Google and then only those with four stars or higher.
From a South East Queensland perspective here are the dealers I'd visit:
Northside                Nundah Mitsubishi                                 4.3 Stars from 283 Reviews
Southside                Motorama Mitsubishi Springwood         4.6 Stars from 340 Reviews
Eastside                  Barton's Mitsubishi Wynnum                 4.8 Stars from 122 Reviews
Westside                Blue Ribbon Mitsubishi                           4.2 Stars from 80 Reviews
Gold Coast             Von Bibra Mitsubishi Helensvale            4.8 Stars from 167 Reviews
Sunshine Coast       Cricks Mitsubishi Nambour                    4.4 Stars from 104 Reviews
(Google Stars and review numbers effective 27th July 2019)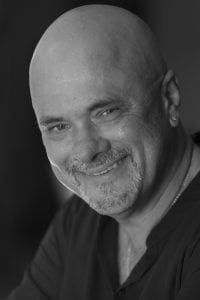 Bob Aldons is The Car Guy
I'm Bob Aldons, the owner and founder of The Car Guy, and Car Business, reviewing cars, reporting on car industry matters, car tech, Formula 1, the motoring world at large and helping you to buy #anynewcarcheaper
I've spent the last forty-one years immersed in the automotive industry from salesman to the owner of a 7 brand multi-franchise dealership and since 2015, as a new car broker.
I know cars.
Find One
If you're hunting around for a great price on your next new car, you should call me, the car buying expert, from Car Business.
My company, a Brisbane Car Broker, Car Buyers Agent or Car Buyers Advocate, will return your inquiry within 24 hours and make the process of buying a new car easy and stress-free.
Are you tired of salesperson tricks? I protect you from the pressure exerted by car dealer's salespeople. There isn't any obligation – just a pretty significant saving in terms of time, stress and financial reward.
You're where? Seriously, my services are available for you in any Australian state and territory: from Darwin to Hobart, Cairns to Perth.  Car Broker Brisbane, Sydney, Melbourne, Adelaide, Perth, Hobart, and Darwin – I'm available when you need me to be.
Whether you're a retail customer, a small company or a large national fleet, I'll go to work and get that price down. Lower new car prices are my goal. So you'll get the best prices from me rather than hoping you can do it by yourself.
If I can't get you the best new car price, better than you can get yourself from a car dealer, I won't charge you any fee. No Saving, No Fee. – that's what you should expect from a car buying expert.
Car Business will help you to purchase your next new car – Cheaper
Car Business WILL save you money on your next new car purchase –guaranteed

The Australian Road Safety Foundation is a not-for-profit organization whose charter is to reduce serious accidents on our roads through training and education.
If you'd like to support this worthwhile foundation, donate to the cause, become a member today or buy your next new car from Car Business.
People Also Ask/Frequently Asked Questions
 Car Buyers always seem to need answers on a vast number of topics about their cars.
There are a few questions that I'm asked regularly, so to save you a phone call, check out my "People Also Ask" questions and answers below.
If your question isn't listed, I'm happy for you to call me on 0418 748 498 or send an email to [email protected]
My advice is free.
Q: Why Should I deal with a Car Broker rather than just going to a dealer?
A: It's the goal and the job of a car salesperson to make as much money for his dealership as he possibly can. And that applies to the car, finance (finance and insurance), and aftermarket sales (tint, paint, interior, rust).
It's the role of a car broker or car buyer's agent to buy the same car at the lowest possible price. Your broker will get prices from at least five dealers or more, get independent finance and insurance quotes and then only recommend the car protection you need rather than the products the dealer wants to sell you. Dealers, on average, make around $3800 on a car sale. An astute broker will get that margin down to around $1800, saving you about $2000 on your vehicle purchase
Q: Should I take Finance and Insurance through a car dealer?
A: Generally no. An average car dealer relies on the car buyer to be exhausted after the trauma and stress of actually buying a car. They depend on their finance manager to make an average profit of $1100 for EVERY car buyer coming into their dealership. The income per finance contract rests around $2700 per contract. In recent times, the ACCC (Australian Consumer and Competition Commission) has looked closely at the way that finance companies and their dealers sell to consumers. Recently, voluntarily, finance companies have reduced the flex rate (the maximum rate allowed to be charged over the base rate for particular consumers) to 2%, down from 8%.
There is still need to be wary of some of the non-standard lenders. For those in our community who have fallen on hard times, have bad credit or are on Centrelink benefits, some lenders are still allowed to charge exorbitant interest rates, upwards of 25%.
Q: It's a fact that dealers, forced by their manufacturers charge very high prices for genuine spare parts. Recently I needed to purchase a set of head bolts for a 2008 Alfa Romeo Sedan. Price quoted by my local dealer was $294. I picked them up from the UK for $115 including freight to Australia. I expect to receive them at the same time as the local dealer would take to get them from Melbourne.
A: It's not the dealer's fault on this occasion. Typically a dealer makes around 20% profit on genuine spare parts sales. It's the manufacturer/Importer who is charged prices higher than dealers in overseas markets can buy at. Shop around. To determine whether you can buy the part you need, you'll first need the part number. Get your VIN, ring the local dealer and ask for the part number. They may oblige and if they do, just search on the net through Google. You'll be amazed. There'll even be local suppliers who can provide a genuine part for you at around overseas prices. For Jeep, Chrysler, Dodge, Fiat, Alfa Romeo, Isuzu Ute and Volkswagen, visit my site www.genuinespares.com.au
Q: If you have a larger vehicle, with a lot of glass area, the chances are that you'll want or need window tinting. At the point of sale, dealers will want to charge you up to $795 to tint the windows of your car. Again, you'll want to avoid the stress and pressure of negotiating anymore and sign where you're asked.
A: Window tinting can be obtained for under $400 through Car Business. My company has arrangements with local tint shops to do just that price – $400. Don't be overcharged. $400 is the price to pay for the average vehicle
Q: How do I pick the right car for my needs?
A: Typically, car buyers will have a general idea of what sort of car they want to buy. However, in a market like ours with nearly 60 brands and thousands of models, historical ownership doesn't have to be maintained.  Find an honest buyer's agent and have a chat to them about your requirements. My company, Car Business, offers this service to our customers without any obligation. You can fill out the lifestyle form, by clicking and a representative of Car Business will contact you to discuss your needs. We use the R J Pound Comparative new Vehicle Price Guide to assist buyers in understanding the alternatives. It may not be the one you're thinking about right now.
Q: I need some accessories for my new car, but I'm not sure that I'm getting the best price from the dealer
A: Accessories are another area that dealers make a lot of their profit. Apart from the window tinting, paint and interior protection and rustproofing, a typical salesperson will run through a long list of accessories. Even the manufacturer has copious amounts of accessories in their new car brochure.
Don't feel obligated to buy any accessories you want through the dealer. I suggest to a lot of my customers to phone the spare parts department of the same dealer and ask for a quote on the accessories they want. You might be surprised at a price. The other way is to search on the internet. There are lots of retailers who buy the same parts you want from overseas suppliers (even ones that supply the manufacturer directly) and will offer them at a substantially better price. All you have to do it fit them up, but generally it's a pretty easy thing to do for the home handyman
Q: If I sell my car privately will I get a better price?
A: It is sometimes possible to achieve a higher price with a private sale; however this reduces significantly if your vehicle is not presented correctly and is no longer under warranty. The private buyer today is looking to receive the same benefits they would by purchasing from a Dealer and expect huge reductions in price if they believe they are disadvantaged. Add to this the cost of preparing your vehicle to the same standards as Motor Dealers. Look at such items as Safety Certificates, Service, Tyres, Windscreen, Chips and Scratches, Detailing, and Advertising along with the need to be accessible and available at all times including weekends when prospective buyers will want to inspect your vehicle. It may not be the wise choice to have people you do not know, coming to your home.
Once the costs and time involved are assessed,  most people choose to trade their present vehicle or to use a professional Car Buying Service to ensure they get a good price without the expense or hassle.
Q: Do you allow and/or recommend RACQ Inspections on second-hand cars?
A: Yes, we welcome the RACQ Inspection Process in our business and recognise the need for such an independent examination. Once completed, I'll discuss the report with you and facilitate any repairs that are deemed necessary. You can arrange for the RACQ to visit my business. I can arrange for them to inspect your choice of vehicle and have them send the report directly to you if you prefer.
Q: Why are dealers so expensive for service in comparison to other service centres?
A: Dealers service and maintain vehicles as set out by the manufacturer's recommendations to protect your new car warranty. They will generally be willing to match other service providers as long as they are comparing "like for like".
Your circumstances can be taken into account regarding changing some filters and coolants etc. They also have factory trained technicians and have the support of specialised equipment and of course the proper factory support. There are many other reasons such as resale value, and when it comes to trade-in price, car retailers always look at maintained service books and especially if a dealer has serviced them.
On the other hand, if you're carefully managing your money, we can arrange a logbook service at one of our preferred providers.
Do I need to return my vehicle to the selling dealer for service?
The simple answer is NO!
While dealers may suggest or insist that your new car is brought back to their service department, the reality is:
You can take your car to any of the brand's service centres for routine or warranty service. Brand X warranty is covered by the manufacturer, not by the dealer. So if there's a more convenient location to have your car serviced, take it there.
Dealers may suggest that you have to have your car serviced at the franchised dealer to maintain your warranty. Again that's a falsehood. You can have your car serviced by any qualified mechanic or technician, provided that they follow the service guidelines for your vehicle as specified by the manufacturer

They should use as a minimum the oil grade specified by the manufacturer and also parts that are of the same quality standard. You shouldn't use inferior parts. While I would suggest using the manufacturer's parts, there are similarly high-quality non-genuine parts available on the market. Things like brake pads, brake rotors, air and oil filters, spark plugs and the like are often cheaper and as good quality as those supplied but the manufacturer
How often should I check my Tyre Pressures?
I check my tyre pressures monthly. I have a tyre gauge purchased from Repco that I rely on to check the pressures in my tyres. Arguably, it's probably better to check your tyre pressures every second time that you fill your fuel tank. High volume petrol centres have good quality air pumps, and it only takes a few minutes to do that after you've got your fill.
What should I do if my car breaks down at night?
Firstly, I'm suggesting that you be in a roadside assistance program such as provided by the RACQ.
If you've purchased a new car, you'll have coverage under your new car warranty. Kia Motors Australia provides seven years of roadside assistance in coordination with their warranty. Hyundai and Ford have a 5-year program.
Mitsubishi provides roadside assistance after the first year provided you're having your services done at one of their dealerships.
If you run out of roadside assistance, best sign up with RACQ or your state motoring body. (NRMA, RACV, etc.) It's far from sensible to break down on a dark or unlit road and then have to do repairs yourself, particularly for younger drivers.
A phone call from inside a locked car is preferable to having to find a phone booth or a 'friendly neighbour' to call for help
If you'd like to discuss anything to do with purchase, trade-in, private sale, service, warranty issues or just have a conversation about the motor industry in Australia, please give me a call on 0418 748 498 or email to [email protected]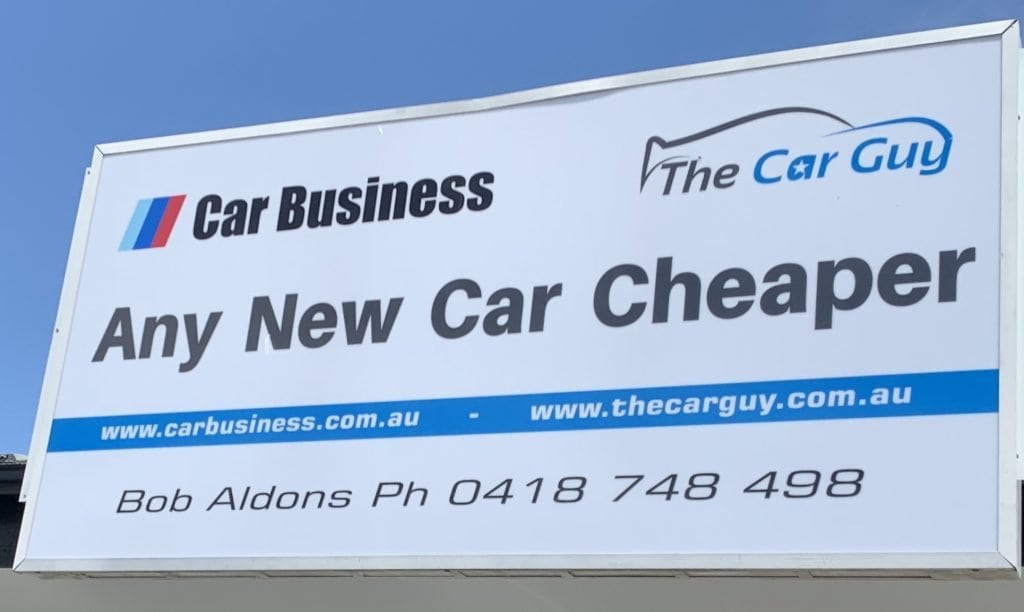 Car Review 2019 Mitsubishi Eclipse Cross LS – Why Should You Buy?