Arguably one of the lesser-known models in their Australian range is their small hatch called the Suzuki Baleno GLX.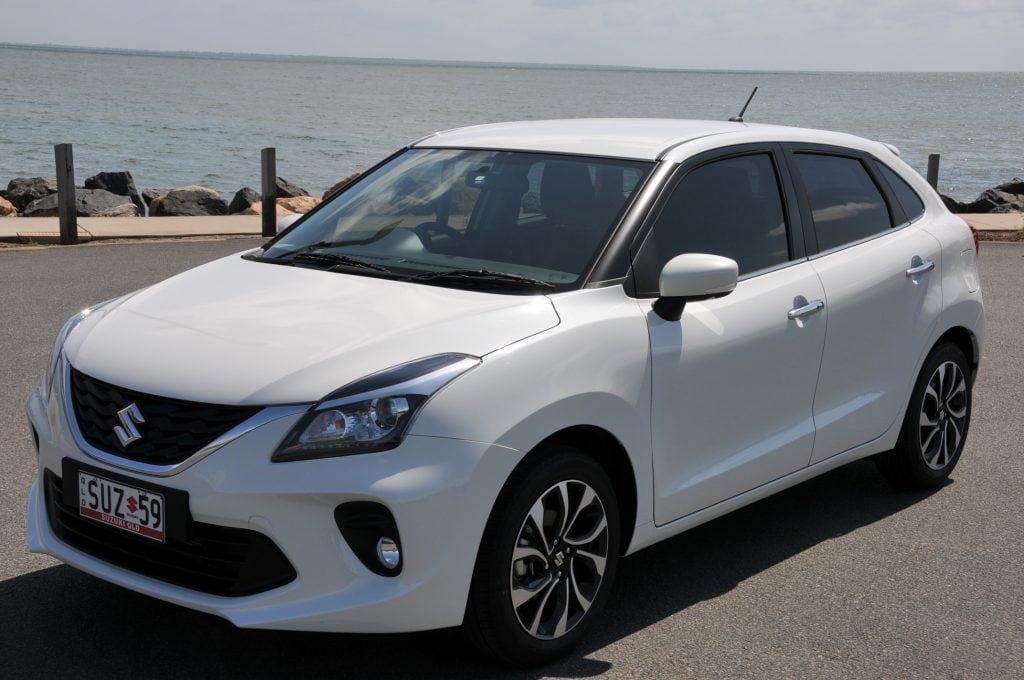 When I first became a Suzuki dealer way back in 2000, Suzuki was probably one of the ignored BRANDS, but that all changed in 2004 with the release of the Suzuki Swift.
Suddenly, Suzuki found itself on the shopping list of young and not so young car buyers, but particularly the 18-24-year-olds who loved the style of the little Japanese car.
Fast forward to 2019 and the glamour associated with the Swift has waned somewhat, but Suzuki as a brand is still front of mind for those looking for an individual car.
Models such as the Swift, Vitara and certainly Jimny are still selling in good volume.
When I was collecting this Baleno for review, I spoke to Steve Craig, Suzuki Queensland's General Manager about their sales volumes. In particular, I was interested in the success of the little Jimny 4WD.
A few months ago I enquired for a customer about the waiting time for Jimny, to be advised that if I ordered today, (15th June 2019) I'd be waiting till April 2020 for delivery. And my goodness hasn't that changed – you'd now be waiting until May 2021 for a new Jimny.
And that's the forward order time for cars like Porsche Taycan and some Ferrari models.
Anyway, let's get into the Suzuki Baleno and see what it gives us.
What is it? Classified as a small hatchback, the Suzuki Baleno GLX gets a 1.4-litre petrol engine and is only available with automatic transmission
How Much? The Suzuki Baleno GLX is the 'top of the line' model in this car and retails for $19,990 drive away in Queensland.
Competitors.  Competition is still fierce in the micro and light car category. Think the likes of Honda City, Mazda2 and 3, Hyundai Accent and i30, Kia Rio and Cerato, Toyota Yaris and Volkswagen Polo for direct comparisons.
At The Front. The Suzuki Baleno GLX comes with a 1.4-litre engine producing 68Kw of power. What does that mean? Simply that the Baleno GLX is a little car that can, rather than thinking twice before going up a steep hill. What's that good for? The Suzuki Baleno is an exceptionally good vehicle around the suburbs and frugal in the city. If you're a highway user, it sips fuel, but I'm not suggesting that it's the right choice for numerous interstate tripping.
More than satisfactory looks – the Suzuki Baleno GLX sports LED Dusk Sensing Projector headlights and front fog lights.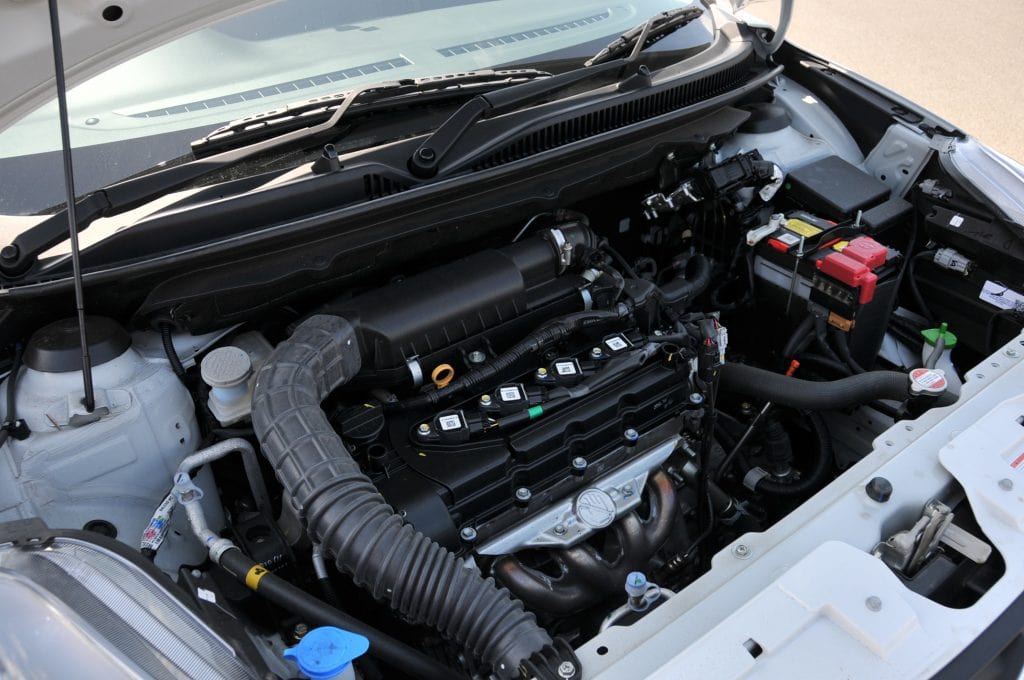 The suspension is excellent in this little car with Macpherson Struts up front and Torsion Beam at the rear. Brakes are discs all round, unlike some other brands that price cut with drum brakes.
Down the Side
Safety seems to be the watchword in most car-buying decisions, and it's a bit disappointing the Suzuki Baleno isn't up to speed with current levels.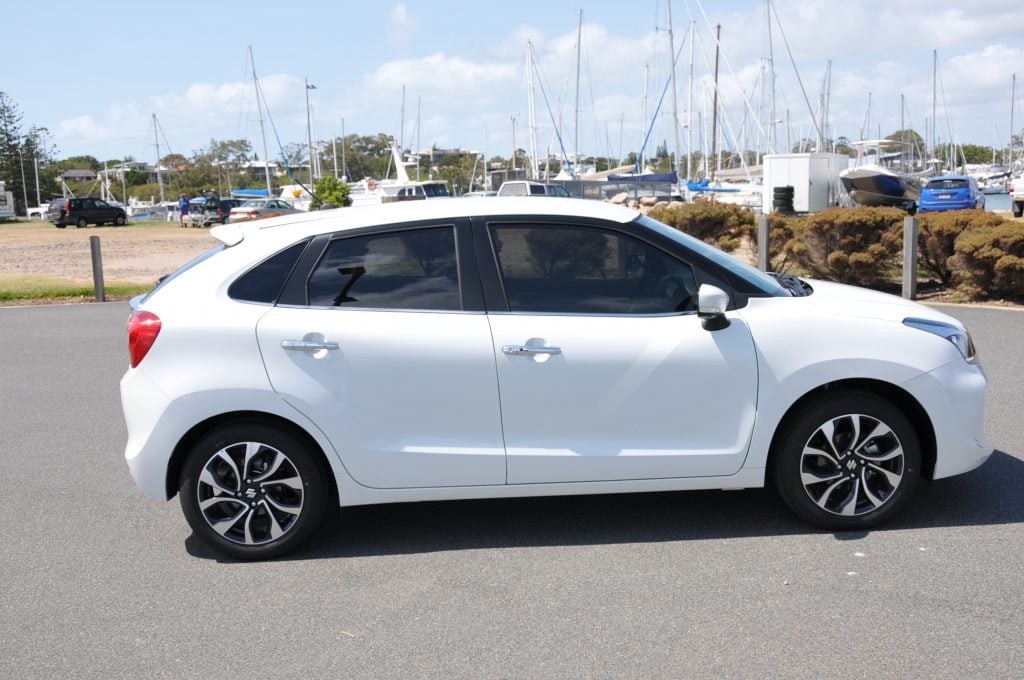 It does, however, have the important stuff with:
Front Air Bags
Side Air Bags
Curtain Air Bags
ABS Braking System
Electronic Brake Force Distribution
Brake Assist System
Vehicle Stability Control
Traction Control
So the little Suzuki 'that can' doesn't have the latest tech such as Lane Departure Warning, Autonomous Emergency Braking and Adaptive Cruise control, but it has enough to keep an attentive driver (and their passengers) safe
At The Back
Suzuki is well known for the capacity of its cars and the Suzuki Baleno GLX is no exception. Useable rear luggage space is around 355 litres of capacity with the rear seats in place and that more than doubles to 756 litres with the second row stowed. With a 60/40 split rear seat, you can still choose to carry 1 or 2 passengers in the rear seat comfortably.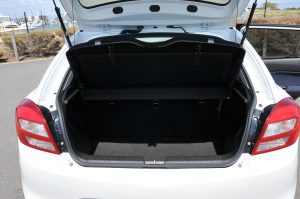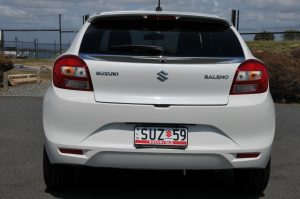 Fuel tank capacity is 37 litres, but with its fuel consumption (see Green Vehicle Guide) you won't be filling every week for normal duties.
Towing
So, you're not buying this car to tow, but fitting a towbar with electric brakes gives you a capacity of 1 tonne or 400kg without. Plenty enough to take that trailer to the tip or tow a small tinny.
Interior
Ok, so the interior isn't Lexus or BMW like, but it's certainly clean, airy and comfortable. It's pretty easy to pick a good driving position and every control falls nicely to hand.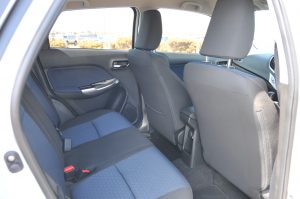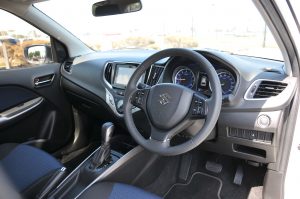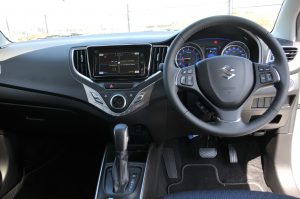 Rear passenger space is adequate for 2 people rather than the 3 it can carry. But if you're in a Baleno, don't pick the rear centre seat. It can get a little cramped.
The infotainment system is good and Navigation is standard in the Suzuki Baleno GLX, although I'd use the Apple Car Play or Android Auto instead of the factory fitted unit.
And the Suzuki Baleno GLX also features things like climate control air conditioning, cruise control, keyless entry and remote start as well as Bluetooth connectivity and voice command.
Safety Rating from ANCAP
ANCAP hasn't crash-tested a Suzuki Baleno GLX in its current guise. In my opinion, if it were to be tested, without the current safety technology, it would probably achieve 3-stars.
Fuel Economy – Green Vehicle Guide

if you're looking for a super economical vehicle, Suzuki Baleno is one of the better ones. Around the burbs, expect to get 6.5 litres per 100 kilometres and on the highway that drops to a fantastic 4.4 litres/100klm for an average of 5.2 litres combined. Carbon Dioxide output is one of the best for an Internal Combustion Engine at 121 Grammes per kilometre and that's pretty close to hybrid stats of the Toyota Prius which achieves 80 g/km.
Comprehensive Insurance – Suzuki Baleno GLX
I use RACQ Insurance to give you a guide as to what you'll pay for your annual comprehensive car insurance. Conditions for this cover are:
A male driver over 60 years of age, having held a license for over 10 years
Bronze member of RACQ with 1 other insurance policies
Has paid cash for the car. The car is parked in a driveway overnight.
The driver resides in postcode 4017
The car is fitted with an engine immobilizer
No at-fault claim in the last 3 years, with no license suspensions
Rating 1 currently, having held that rating 1 for 10 years or more
No driver under 25 will use the vehicle.
The premium quoted online by RACQ Insurance for Private Use – $346.79 with a $750 excess. Variations from the information above may result in different outcomes. Check online with RACQ Insurance for your own particular quote. (Effective November 25th 2019)
Finance  – Suzuki Baleno GLX
I've included some indicative repayment figures for this car. It's RRP drive away is $19,990, but I know you can buy it better than that (Contact Car Business for a price).
So if you finance this Suzuki Baleno GLX over 60 months, your repayments work out this way, with no balloon at the end of the term. Adding a ballon will reduce the payments significantly
Monthly          $421.95
Fortnightly     $194.00
Weekly            $97.37
Interest rate   6%
Repayments are indicative only and will depend on your application. Some people will get a lower rate and some a higher rate. Some fees and charges are excluded from this example.
Warranty & Service – Suzuki Baleno GLX
Suzuki has recently revised their warranty and service program. It has a 5-year/Unlimited Kilometre warranty on offer for their range.
Service costs are pretty reasonable. Suzuki Scheduled Maintenance is due every 15,000km or 12 months – whichever occurs first.  Capped price service runs out to $1635 for 5 years or about $327 per service.
Be careful when you take your vehicle in for service. Some new car dealers will try to upsell items such as Power Steering, Air Conditioning and Fuel Injector service. To avoid unnecessary spend, simply ask the dealer to advise whether this is a Suzuki recommended service. If they so no, then you should say no too.
As far as roadside assistance is concerned, Suzuki doesn't provide any on new vehicles. In the words of General Manager for Sales, Stephen Craig " Why do we need roadside assist? Suzuki's don't break down". Fair point Steve.
Where to Buy – Dealers
My test vehicle was supplied by Suzuki Auto Co in Brisbane. I'm not paid for my reviews, so I can guarantee that my thoughts are completely unbiased.
If you're in the market to buy any new Suzuki, pick your dealer carefully. When I want to check out the 'worthiness' of a dealer, I Google 'Suzuki Dealers Brisbane where the city is the one that you live in or around and the brand is that particular one you're interested in. I only list dealers who have achieved a minimum of 15 reviews with Google and then only those with 4 stars or higher.
From a South East Queensland perspective here are the dealers I'd visit:
Northside                Redcliffe Suzuki                                   4.0 Stars from 26 Reviews
Southside                Zupps Suzuki                                        4.3 Stars from 44 Reviews
Eastside                   No qualifying dealer
Westside                  Westpoint Suzuki                                5.0 Stars from 16 Reviews
Gold Coast               von Bibra Southport                           4.8 Stars from 44 Reviews
Sunshine Coast      No qualifying dealer
(Google Stars and review numbers effective 25th November 2019)
Pro's and Cons
Pro's
It's cute as a button and has enough features to satisfy
It does have Apple Car Play and Android Auto, so a tick here
Very competitive price
Con's
Lacking in modern safety tech.
4 Speed Auto is a bit dated
My Opinion 
Look, I like Suzuki as a brand. It may be disappointing that it doesn't have all the modern tech, but nonetheless, it's a great value for money proposition.
There's plenty of room, it's smooth and economical around town and it won't cost you a fortune to own.
Buying a New Car?
Get in Touch with Car Business – Skip the Dealerships
As a licensed motor dealer for over 40 years, I'm legally able to buy and sell all new and used motor cars. So if you've got a trade-in, I can help with that too.
It's easy to get in touch.
Address:          2/265 Oxley Avenue, Cnr Duffield Rd, Margate QLD 4019
Mobile:            International   +61 418 748 498
Australia          0418 748 498
Websites:      https://www.carbusiness.com.au
                         https://www.genuinespares.com.au
Email:            [email protected]
Facebook:     www.facebook.com/carbusinessqld
LinkedIn:     https://www.linkedin.com/in/bobaldons/
Twitter:        https://twitter.com/mycarbusiness
Instagram:  https://www.instagram.com/carbusinessbrisbane/
Pinterest:    https://www.pinterest.com.au/carbusinessbrisbane/
Finance Disclaimer:
The provided quote should be used as an indication only and does not represent either approval or pre-qualifications for a loan.
The quoted payments apply for the example given and in this instance do not include fees and charges, as different terms, fees or other loan amounts may result in different outcomes between financiers.
The specific details of your loan will be provided to you in your loan contract.
It is advised that you consult your financial adviser before taking out any loan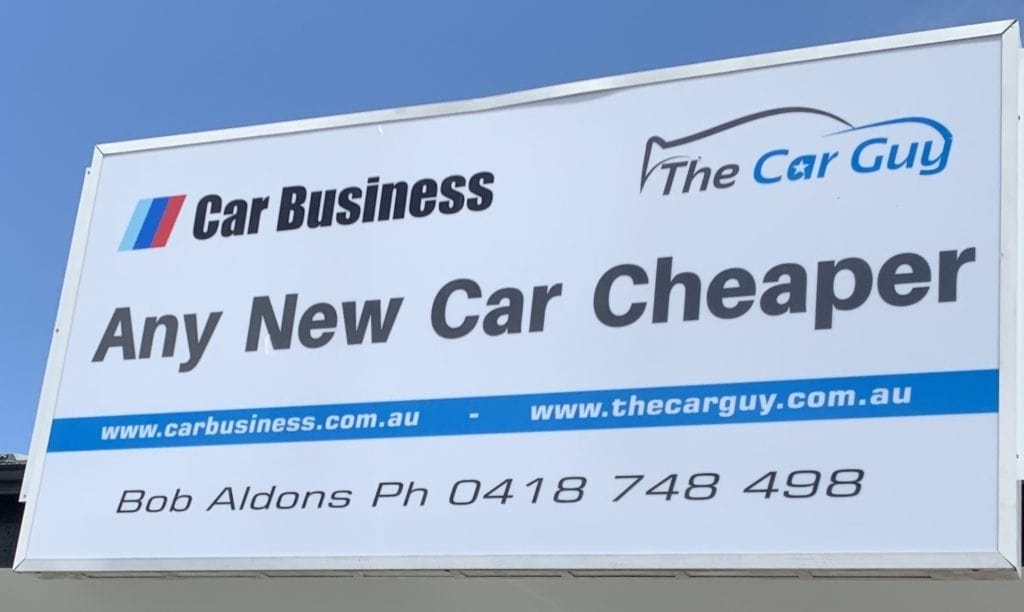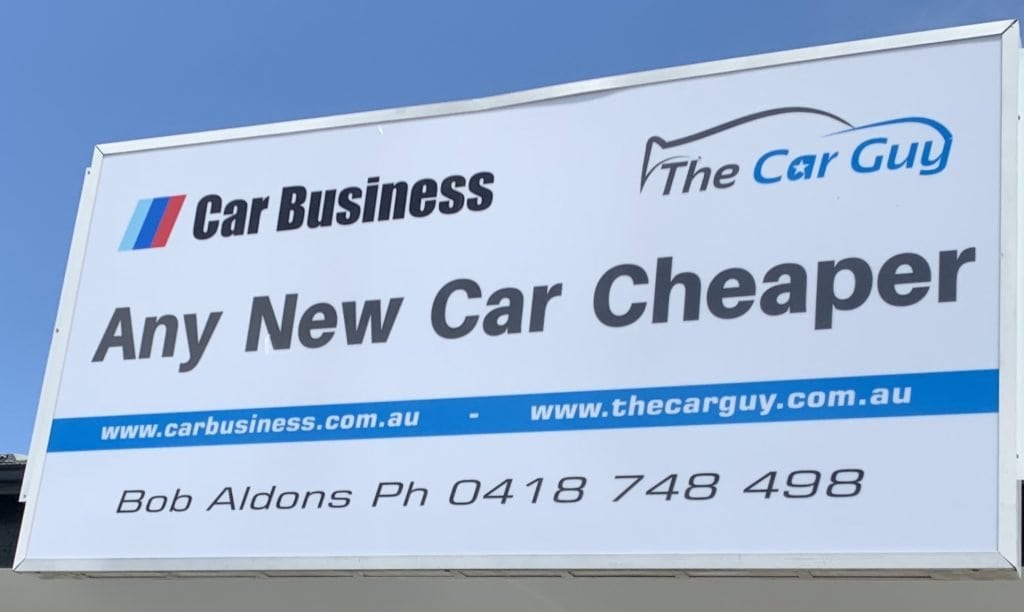 Want some help buying a brand new car? Call me now
Related Articles