At the 2018 Geneva Motor Show in March, Skoda will unveil a new concept called Skoda Vision X.
Skoda has come a long way in the last 5 years. I recall when I was a Volkswagen dealer from 2008 till 2015, Skoda and it's dealers were a bit of a joke. How times change. Rather than being next in the model queue, Skoda has taken some significant steps recently. Skoda Kodiaq is one that Volkswagen dealers haven't received as yet and this new concept vehicle, the Skoda Vision X looks like a production-ready vehicle which will be displayed at the upcoming Geneva Motor Show. The story that follows is from the folks at IAB.com via their contacts in Europe. However, don't except the Skoda Vision X on your local Skoda dealers showroom any time this year. Connections suggest that the Vision X may launch in late Autumn in Europe with a late 2019 launch date in right-hand drive markets such as Australia.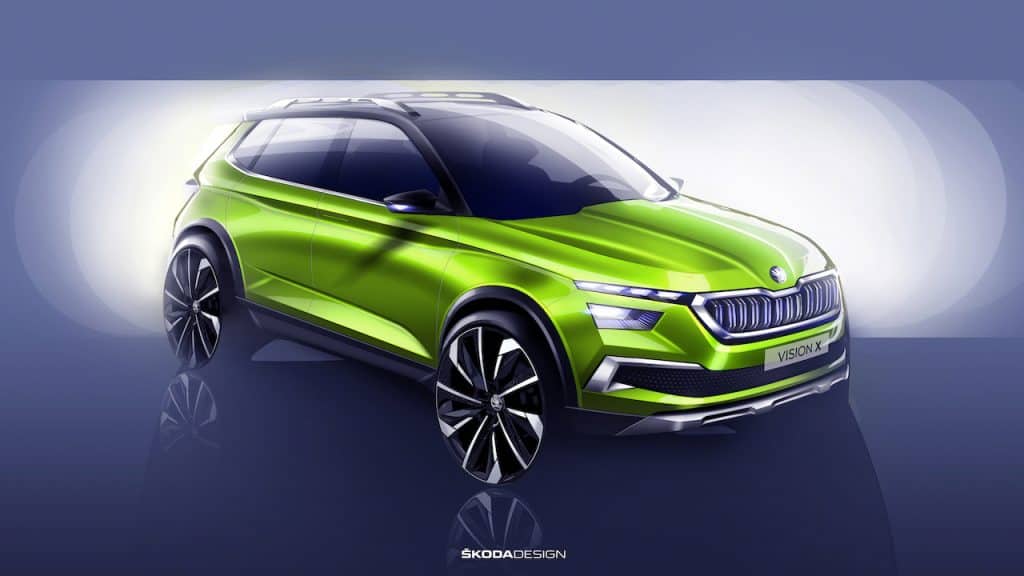 "The Skoda Vision X concept brings the company's design language for SUVs to the small SUV segment. The front fascia is characterized by the signature Butterfly radiator grille featuring double vertical struts flanked by twin headlamps consisting of slim and edgy DRLs on the top and angular main lights in the mid-section, a wide-mouth lower grille with silver garnish at the ends, silver skid plate and strong character lines on the hood.
From the sides, the Skoda Vision X concept is reminiscent of the Seat Arona, but it does not have a similarly rising belt line towards the rear. 20-inch alloy wheels and large fenders add to the masculinity of the SUV. At the rear, the SUV features twin rear light-like setup, silver skid plate, and dual trapezoidal exhausts. Inside, a two-spoke flat-bottomed steering wheel, the notably large and nearly bezel-less central display for the infotainment system and a minimalistic design for the centre console give it a futuristic look. There are green accents on various elements to go with the FlexGreen exterior color.
The Skoda Vision X concept's production version will slot below the Skoda Karoq as a VW T-Cross and Seat Arona rival. It will ride on the MQB platform and likely sell with 95 PS/110 PS 1.0L TSI, 150 PS 1.5L TSI Evo and 110 PS 1.6L MPI petrol engines, 90 PS 1.0L TSI petrol-CNG engine and a 1.6L TDI diesel engine in 95 PS and 115 PS versions. Availability of an AWD system is unlikely in this model."
The Skoda Vision X concept-based B-SUV could arrive sometime late in 2019″
Bob Aldons is the owner and founder of The Car Guy, reviewing cars, reporting on Car Industry Matters, Car Tech and the world at large. He's spent the last forty years immersed in the automotive industry from salesman to the owner of a 7 brand multi-franchise dealership. Bob knows cars.
Find One
 If you're hunting around for a great price on your next new car, you should call the auto expert, Bob Aldons from Car Business. My company, a car Broker, Car Buyers Agent or Car Buyers Advocate based on the north side of Brisbane, will return your inquiry within 24 hours and make the process of buying a new car easy and stress-free. Are you tired of salesperson tricks? I protect you from the pressure exerted by car dealer's salespeople. There isn't any obligation – just a pretty significant saving.
You're where? Seriously, my services are available for you in any Australian state and territory: from Darwin to Hobart, Cairns to Perth.  Car Broker Brisbane, Sydney, Melbourne, Adelaide, Perth, Hobart, and Darwin – I'm available when you need me to be.
Here's an example
Matt wanted to purchase a Mazda 3 SP25 GT Manual Hatch. The retail value, drive away on that car is around $35,000. Car Business managed to purchase the same car for $28, 123.90 and with our fee Matt paid $25, 588, a saving of over $6000. And how do we know? Another customer, (looking for a new Holden HSV) just paid $35,000 for the same car – but he did it himself, without our assistance
If you've got a vehicle to trade, we have some clever ways to maximize the value – from used car dealers keen for your car to assist you to sell it privately. Finance and Insurance? We can handle that too, and we promise you will not be paying exorbitant dealer markups there either.
Trade In Value Example
2014 Jeep Cherokee Limited. Average dealer trade value – $16500. We achieved $22,000
2014 Volkswagen Tiguan 118TSI. Average dealer trade value – $14000. We achieved $16000
So, to get the best new car price, talk to others and then talk me. I've got the experience to handle the dealers and achieve the lowest new car prices. If you think you're entitled to fleet pricing, I can often get better than that too. Whether you're a small fleet or a large national fleet, Car Business will go to work and get that price down. Lower new car prices are my goal. So you'll get the best prices from us rather than hoping you can help yourself.
If I can't get you the best new car price, better than you can get yourself from a car dealer, we won't charge you any fee. No Saving, No Fee. – that's what you should expect from a car buying expert. 
Car Business WILL save you money on your next new car purchase – guaranteed
Car Business supports the Australian Road Safety Foundation. Every car I sell provides a donation to the ARSF and every connection via LinkedIn does the same. I urge you to support the Australian Road Safety Foundation by donating what you can or by becoming a member.