The Kia EV6 GT; the most powerful Kia ever crafted
Kia's most powerful production car ever reaching 0-100 km/h in just 3.5 seconds and boasts a top speed of 260 km/h
High-tech all-electric powertrain delivers 430kW of power and 740Nm of torque combined
Drive Modes unlock full capability of new semi-active suspension
Dedicated GT drive mode enhances response for an exhilarating driving performance
Local Ride and Handling Tune provides exceptional on road experience
Showcased as Australian Open hero display
I've had a Kia EV6 GT on order since the middle of 2022 and I'm told that I should expect it towards the end of March – fingers crossed. I did consider a number of other EV's (Tesla, Polestar, Genesis, and the Kia EV6 GT-Line, but frankly the 430kW engine got my attention. Here's the information from Kia Australia released this morning, 27th January 2023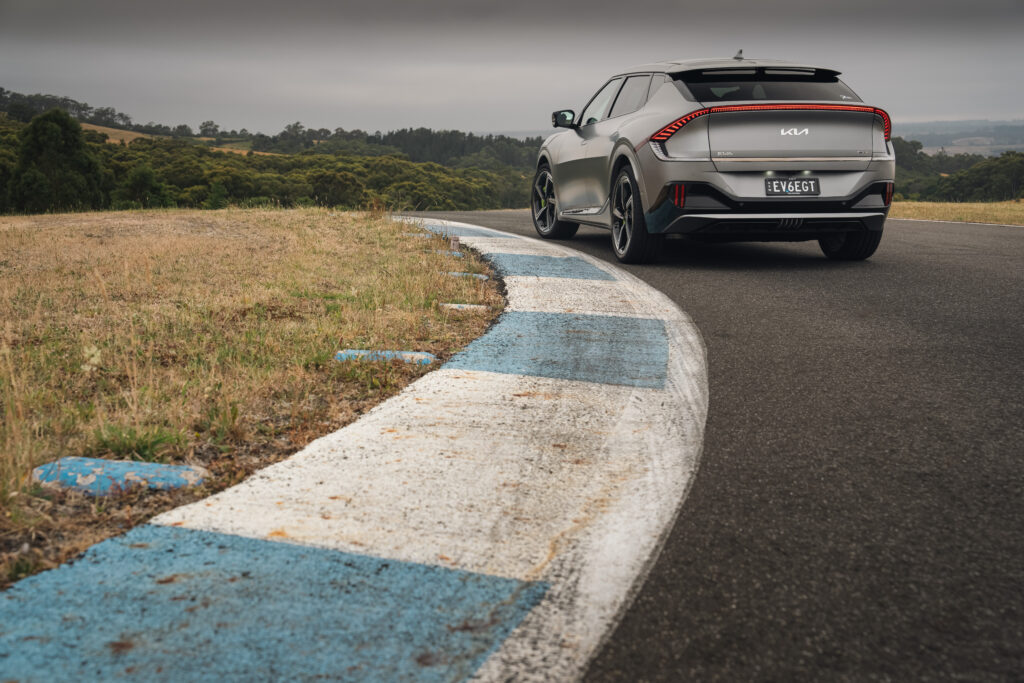 (Australia) January 27, 2023 – The EV6 GT, Kia's most powerful production car ever, has made its public debut at the Australian Open and will be arriving in dealer showrooms over the coming weeks.
Kia recently announced it has extended its support of the Australian Open to 2028 and its newest halo and most anticipated electric vehicle to date, is appropriately being showcased at Kia's hero display on Grand Slam Oval.
"Interest in the award-winning Kia EV6 range in general has been exceptional, even prior to the Air and GT-Line variants being launched around this time last year," said Kia's Chief Operating Officer, Damien Meredith.

"As with the Air and GT-Line, the GT provides the comfort, on road driveability and practicality for everyday use while adding the power, performance and agility of a track worthy car.
"Kia Australia had a strong year in 2022 and now we look forward to what's ahead over the next twelve months including, upgrades of Picanto and Sorento models, and I am very pleased to confirm the local introduction of Kia's EV9 during the second half of 2023."
The EV6 GT's expressive exterior design features a series of sporty touches and aesthetic enhancements that hint at the vehicle's performance attributes. Step inside and occupants are greeted with a focused yet comfortable space that features state-of-the-art tech designed to meet the needs of the driver and passengers
Powering the GT is a front-axle-mounted motor delivering 160kW. This is paired with a powerful new rear-mounted motor producing 270kW, to deliver a combined power output of 430kW and 740 Nm of torque.
The total power output of the EV6 GT is a remarkable 80% higher than that of the next most powerful EV6 variant, the AWD dual-motor model, which has 239kW and 605 Nm of torque (front and rear motors combined).
The EV6 GT can cover the 0-100 km/h sprint in a blistering 3.5 seconds and it has a top speed that peaks at 260 km/h. Despite the enhanced performance potential, driving range is an impressive 424 km WLTP.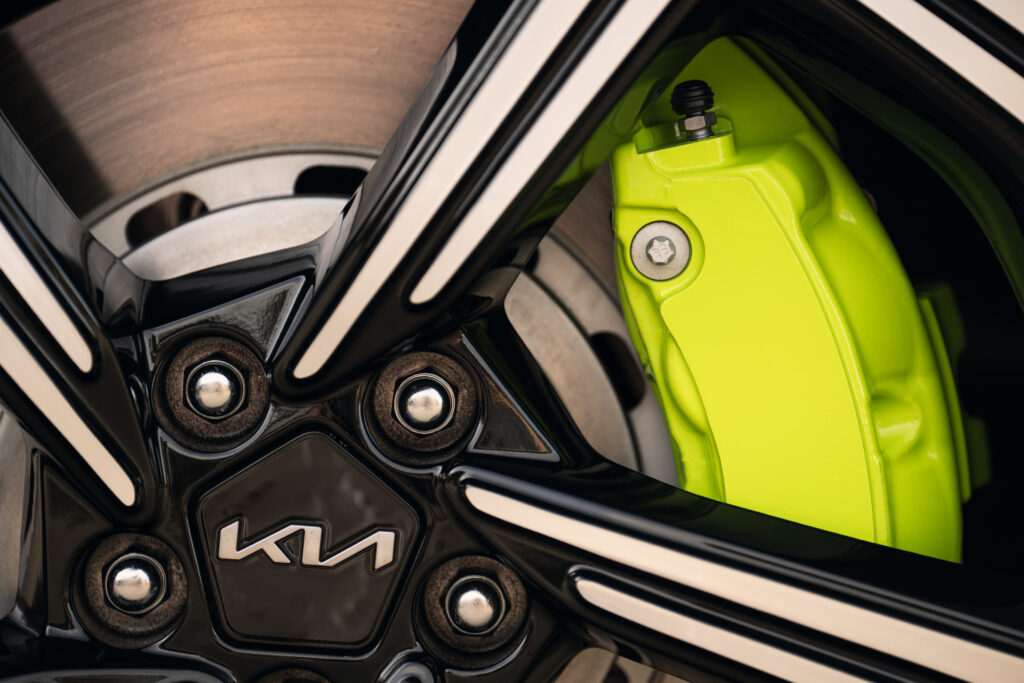 The EV6 GT's design delivers something different with a distinctive, impactful exterior complete with subtle high-tech features.
At the front, the EV6 GT instantly creates a lasting visual impression. Kia's signature 'Digital Tiger Face' includes Intelligent Front Lighting System (IFS) LED head lights and sequential turn indicators, while muscular fenders and clamshell bonnet lend the EV6 GT a powerful look. A revised front bumper, unique to the GT, helps to emphasise the vehicle's width and a stable, planted stance.
The new Intelligent Front-lighting System (IFS) uses the front view camera to recognise oncoming and preceding vehicles. The system reduces the risk of dazzling oncoming or preceding vehicles with high beam by controlling individual LEDs within each headlight. In a Kia Australia first, vehicles with IFS also feature sequential indicators.
The vehicle's sporty character is also communicated via a set of five-spoke 21-inch alloy wheels unique to the EV6 GT, while striking neon green brake calipers signal awesome stopping power. At the rear, an aero spoiler, statement LED taillights and a unique bumper complete the GT transformation.
*Bolded highlights are new and exclusive to the EV6 GT variant.
Exterior Highlights
77.4kWh Battery
LED Tail Lights
Acoustic Film Windscreen
Laminated (Acoustic) Front Door Glass
Solar Glass (Windshield + Front Door Glass)
Privacy Glass (Rear Doors and Tailgate)
Aero Wipers
Auto Folding Flush Door Handles
Power Folding Mirrors
V2L Exterior
Wide Sunroof
GT Body Design with Neon Green Brake Callipers
Electronic Controlled Suspension (ECS)
E-Limited Slip Differential
21″ Alloy Wheels with Michelin Pilot Sport 4S Tyres
IFS LED Head Lights
Sequential Indicators
The EV6 GT is Kia's first fully electric GT vehicle and the second Kia model (after the Stinger GT) to feature Electronic Controlled Suspension (ECS). ECS controls the vehicle dampers to maximise driving comfort and handling performance for the road conditions. The vehicles dampers are automatically adjusted according to the vehicle speed, road surface, cornering, stopping and acceleration requirements.
The system also helps to mitigate body roll when cornering and can limit squat and dive during rapid acceleration or braking.
The initial stages of tuning the EV6 GT commenced in Europe with a very smooth road biased and European tuned car.  The Australian product and tuning team travelled to Germany and searched for 'B grade' roads replicating Australian roads, an essential element in transforming the vehicle into a GT capable of coping with rough, country roads.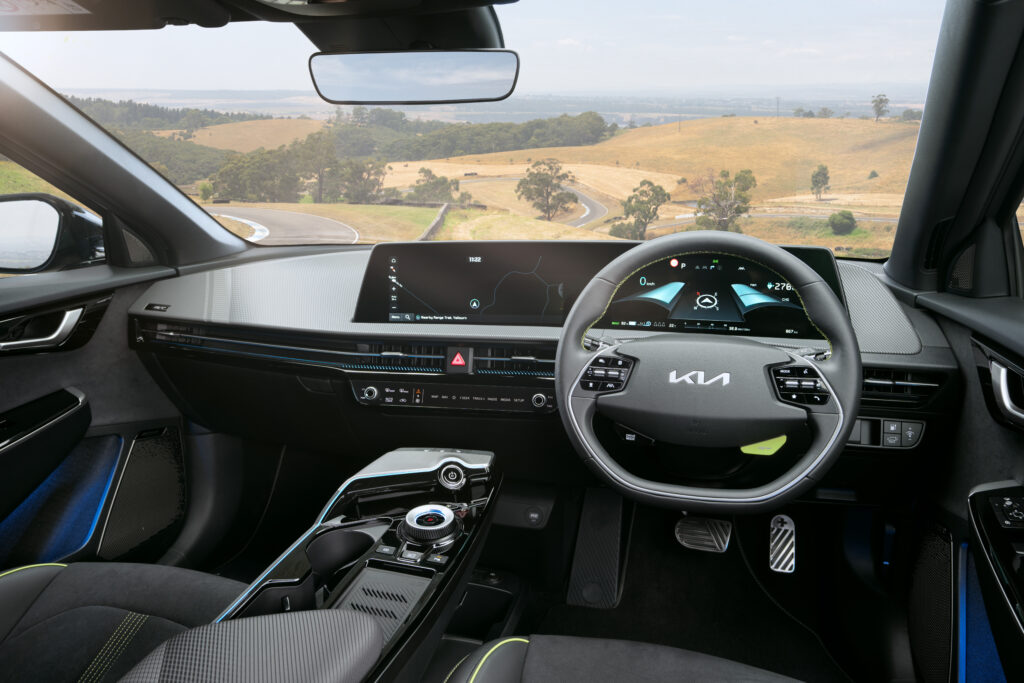 Kia's new dynamic halo however needed to retain track worthiness, which is where the famous Nürburgring came into play, providing validation the car was competent in GT mode. No concerns there with lap after lap driven in a confident, grippy and stable EV6 GT. The initial tuning in Germany locked in the hard parts including the hydraulic tune of the shock absorbers.

Three ECS modes (Normal/Sport/GT) were then fine-tuned extensively on roads in and around Sydney & Canberra, each with their own unique characteristics that are well suited to typical Australian road & driving characteristics providing excellent rough, urban and country road performance, handling & ride quality.
An Electronic Limited Slip Differential (E-LSD) helps to control the differential function of the rear wheels to help:
Improve steering performance when turning at high speed.
Improve launching performance.
Prevent slipping on rainy or snowy roads due to dissimilar friction of the left and right wheels.
The characteristics of the E-LSD also vary according to the drive mode selected.
GT Drive Mode automatically configures the vehicle's e-motors, brakes, steering, the Electronic Controlled Suspension (ECS), e-LSD and Electronic Stability Control (ESC) systems into their most dynamic settings, transforming the character and response of the car, and providing a highly engaging experience.
Drivers can further tailor the various power and suspension control systems to suit their individual driving preferences by accessing the My Drive Mode.
Drift Mode (when activated) sends 100% of torque to the rear wheels to allow the vehicle to easily drift around corners with a small steering input. When exiting a corner, power can be distributed to the front wheels again to improve acceleration. Drift Mode should only be used on a private road/closed circuit in a controlled environment.
An uprated, highly responsive performance braking system that maximises regenerative braking enhances the feeling of confidence and security behind the wheel of the EV6 GT. As well as providing exceptional and consistent deceleration from high speeds.
The GT variant of EV6 features double ball joint front suspension to allow for bigger brakes and a virtual steering axis resulting in better steering feel:
New four-piston high performance calipers at the front – Neon Green
380mm ventilated front discs (325mm on Air & GT-Line)
360mm ventilated rear discs (325mm on Air & GT-Line)
In addition, an Integrated Electric Booster (IEB) contributes to a reduction in braking distances, and the selectable brake mode ('Normal' or 'Sport') allows the driver to tailor the sensitivity of the brake pedal for a more responsive feel.
The new high-performance brake hardware integrates seamlessly with the regenerative brake system, which is officially calibrated to peak at 150 kW recuperation. When combined with active braking, the EV6 GT peaks at over 300 kW recuperation. As with the standard EV6, drivers can choose from multiple regenerative braking levels (none, 1 to 3, 'i-PEDAL', or auto mode), depending on the desired level of energy recuperation.
The Regenerative Braking Maximization (RBM) system expands the range of regenerative braking and uses cooperative control technology to actively use regenerative braking. The EV6 GT is the world's first and only RBM that delivers a large amount of regenerative braking torque to the front and rear.
Furthermore, the EV6 GT RBM enables variable control of the regenerative braking ratio of the front and rear wheels. It is performed at a ratio of 50:50 to the front and rear wheels, and the regenerative braking ratio is variably controlled up to a maximum of 70:30 for the front and rear wheels, depending on the driving environment, such as the steering angle and brake operation. More stable braking is possible through variable control. When in GT mode and driving in a harsh environment with a lot of acceleration and deceleration, it will be able to replace hydraulic braking rather than assisting the braking force. Regenerative braking plays the role of the main braking device and in turn preserves discs and pads and also maximises energy recuperation.
The EV6 GT gains its own variable gear ratio steering system, a highly communicative set-up that builds weight progressively as speeds increase. There are 2.3 turns lock-to-lock, compared to 2.67 for the standard EV6. In its most focused GT Mode setting, the EV6 GT's steering system has been specially calibrated for dynamic driving by increasing sensitivity to inputs and delivering more immediate responses.
Additional bracing has been added to the GT for increased body stiffness resulting in improved vehicle response speeds and agile handling.
Interior Highlights
Dial Type Shifter (E-SBW)
Paddle Shifter (Regen Control)
Remote Folding 2nd Row Seat Release
LED Interior Lighting
V2L (Interior)
Frunk LED Light
Power Windows Auto (Front)
Artificial Leather Steering Wheel
Stainless Steel Luggage Sill
64 Colour Ambient Mood Light
Active Sound Design
GT Mode Button on Steering Wheel
Artificial Leather & Suede Bucket Seats
The EV6 GT features a cabin that combines sporting intent with comfort and practicality. Occupants are greeted by a set of artificial suede-trimmed bucket seats that provide full support during spirited driving, as well as long-distance comfort for extended journeys. Metal inserts inscribed with the 'GT' moniker and neon green piping add to the seats' contemporary and technical appearance.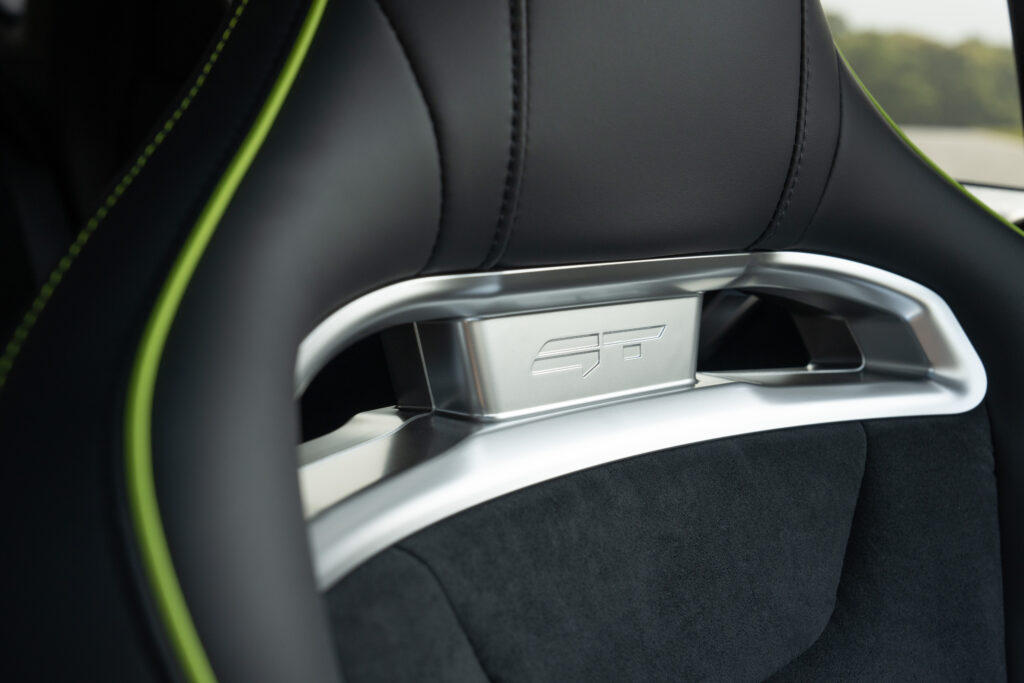 The cabin is finished throughout with premium materials, while sports-inspired touches create a purposeful ambience. A striped motif adorns the upper fascia and front centre armrest, while ambient lighting across the GT's door panels, centre console and dashboard delivers a soothing glow during night-time driving.
The interior benefits from the application of Kia's dedicated electric vehicle architecture, E-GMP. Despite the EV6 GT's compact exterior dimensions, its 2,900mm wheelbase and flat floor results in cabin space similar to that of many mid-size SUVs, providing exceptional long-distance touring capabilities. The EV6 GT offers intelligent and flexible interior packaging and an abundance of cabin storage areas, including 480 litres (VDA) of trunk space with the second-row seats in place – ideal for family trips. With the second-row seats folded down, stowage capacity increases to 1,260 litres. The car also features a front trunk or Frunk, which provides an additional 20 litres of storage.
Convenience and Technology Highlights
Augmented Reality Head Up Display
Dual Curved Display (12.3"+12.3")
Inbuilt Navigation
14 Speaker Meridian Sound System
Wireless Phone Charger
USB Chargers in Rear Console
12V Outlet in Boot
Smart Key & Push Button Start
Dual Zone Climate Control
Rain Sensor
Electrochromic Mirror
Heated Steering Wheel
Remote Smart Park Assist
Smart Power Tailgate
Heated Seats (Front + Rear)
Safety Highlights
AEB with Junction Turning
Blind Spot Detection & RCTA
LKA with Lane Following Assist
Multi Collision Braking
Intelligent Speed Limit Assist (ISLA)
TPMS – Tyre Pressure Monitoring
Front & Rear Parking Sensors
Electronic Park Brake
Tyre Mobility Kit
Smart Cruise Control with S&G
Blind Spot View Monitor
Power Child Lock
3D Surround View Camera
The Kia EV6 GT is available in five colours; Runway Red (standard), Snow White Pearl, Aurora Black Pearl, Yacht Blue and Moonscape (premium paint/matte paint).
The recommended retail price of the EV6 GT is $99,590 plus drive awat charges and dealer handling
Recent Posts: Genesis GV60 and Genesis G80 Electrified
-Advertisement-
Hello. I'm Bob Aldons, the owner and editor of The Car Guy. The Car Guy is an independently owned car review website. I'm currently
reviewing cars for Mazda, Nissan, Kia, Suzuki, Mitsubishi, Haval, MG, Hyundai, Genesis, Jeep, Alfa Romeo and GWM.
Through Mercedes AMG Petronas Motorsport I'll also be writing about the 2023 Formula 1 season. Keep an eye out.
I'm not paid by any car company for my opinion and my companies don't receive advertising revenue to say nice things about them. I call it as I see
it. 
However, I also own a new car broker company – Car Business. Being able to review new cars gives me an opportunity to provide accurate information
on these brands. If you're in the market for Any New Car Cheaper, contact me at Car Business and see how I go about saving you some serious
money. 
Perhaps you think that you can do the job of buying a new car yourself? If you're after any advice at all, give me a call and ask me any question that you
need to be answered. 
If you're an Aussie Veteran or serving in the military, I take particular pride in taking care of you. For every car that I source and deliver, I donate
part of my fee to Mates4Mates.