Straight off the back of a week with the Genesis GV60, this time I'm in the Genesis G80 Electrified Sedan. I'm very grateful to the team at Genesis for making these available for me to drive and allow an independent assessment. If you're in the market for a larger BEV, Genesis G80 is certainly worthy of your time and investment.
Range Anxiety –
The Genesis G80 provides around 520 kilomtres of driving range (without a heavy foot) and that's plenty of range for week day and weekend driving. Ok, so if you're planning to travel long distances, you'll need to plan on accessing fast chargers for your trip. You can capture abut 100 kimoetres through a 240 Volt plug at home. But if you're considering this vehicle, arguably you'll have another mode of transport for long trips
Pricing – Genesis G80 Sedan
The electrified Genesis G80 is priced from $155,663 drive away. Major features include
Solar Roof – Harnesses solar energy to help to charge battery pack and increase vehicle range
520km All Electric Range
Road Preview Electronic Control Suspension
Exterior V2L (Powerbank) Charging Function
Regenerative braking control paddle shift (i-Pedal)
100% Recycled PET cloth headlining; pillars & sun visors
5 years complimentary network charging or a Wallbox Pulsar Plus charger installed at home
By comparison the Tesla Model S retails for around $147,990 plus on road costs and the Tesla S Plaid starts out at $186,990 plus. Ok, so you get 0-100 kph in circa two seconds, but is really worth the money? The Tesla S is arguably the same shape – no style or design changes since it was launched in 2012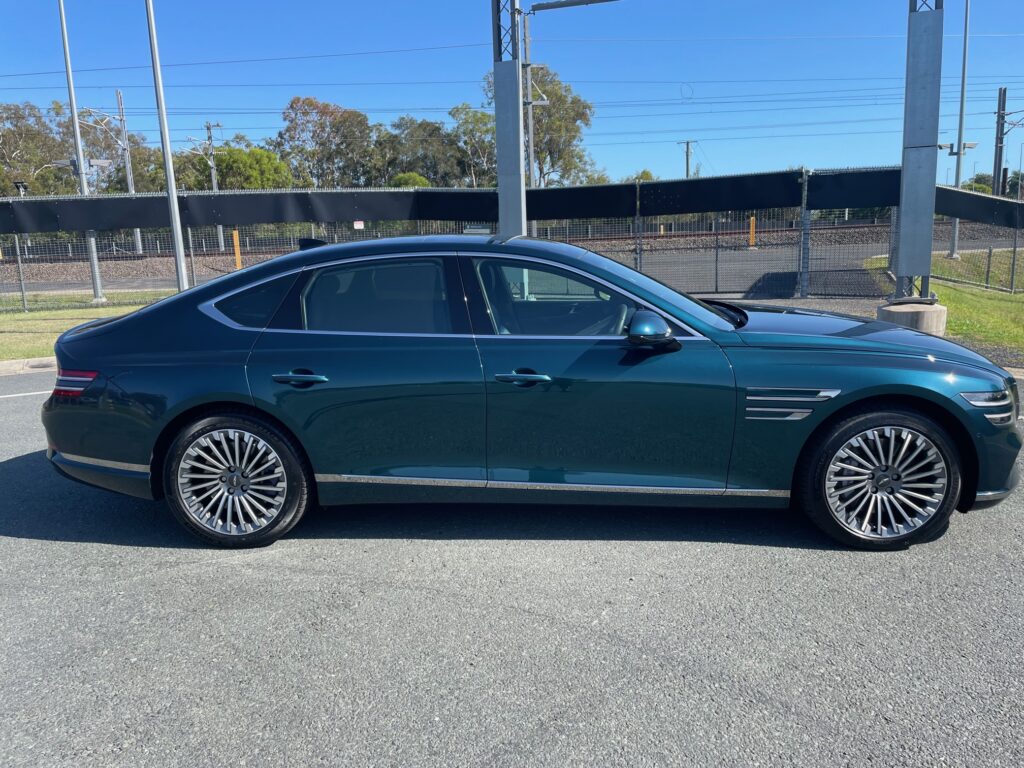 What Genesis Says
GENESIS G80 – Electrified – New Midsize Luxury Sedan
The Electrified G80 presents a new standard for luxury electric sedans with its high levels of performance and technology.
Good Work
Unlike sister Company Hyundai there isn't a premium (metallic) paint charge – its all included. Matte paint is more, and I'm ok with that
In this price range, there's nothing quite like Nappa Leather. Unlike a few of other prestige brands that offer Vegan leather, Artifical Leather and the like, this is the real thing, at least for the seat facings – the bit you sit on. Overseas specifications suggest that apart from the seat facings, synthetic leather 'may' be used
I love the solar charging panels embedded in the sunroof. I remember Elon Musk saying that this technology wouldn't catch on because the sun travels in changing arcs. Someone didn't agree Mr Musk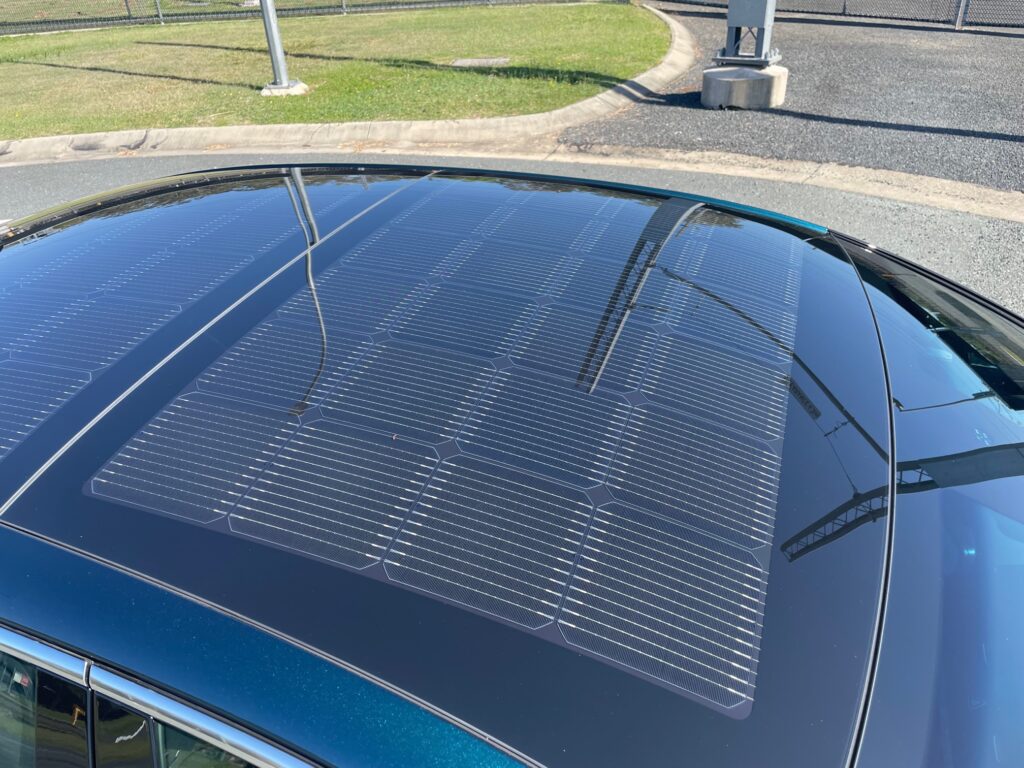 Excellent seating – hip hugging. And the GV80 drives magnificently. It's not a sports car but would arguably be the best electric luxury car on the market
I like where the charging port is – at the front of the car in the 'grille' . Drive into a charging bay without the charge cable dragging accross the bonnet
Effortless power when you need it. 272kw of power and 700Nm of torque is great for round town driving and highway cruising as well. Genesis claims a range of around 513 kilometres
Could Do Better
No Wireless Apple Car Play – thats just sad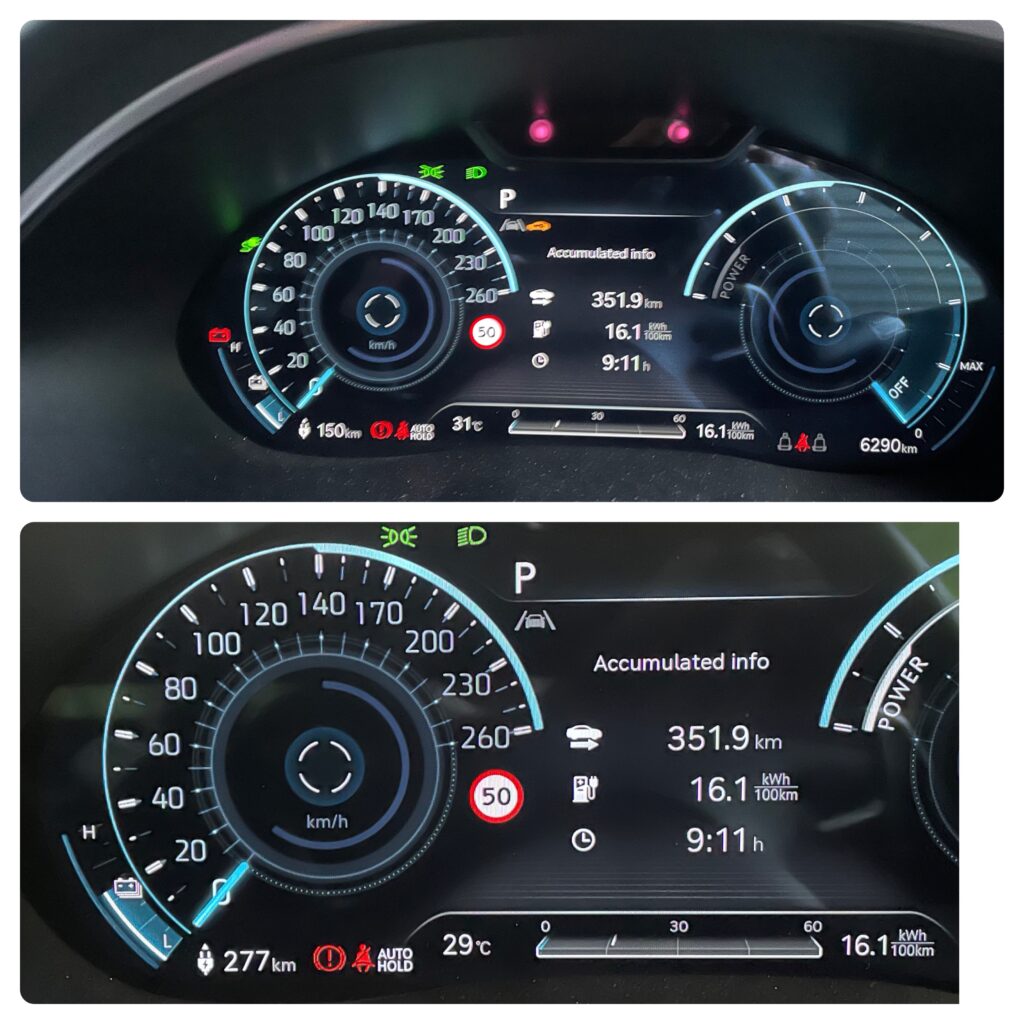 Insurance
So if you're buying a prestige car and an electric one at that, your insurance is going to be a bit more expensive that a regular passenger car. RACQ have quoted me $1667 for the Genesis G80 with an excess of $1,329. NB well. I'd recommend adding windscreen cover for an extra $82. While the windscreen may not be expensive, the sunroof has embedded solar charging and I'm unsure whether thats classed as part of the car or a screen
Another offer – Allianz have quoted me $1087 for the same vehicle or a saving of $242. Their basic excess is similar to RACQ at $1,350 and including a no excess windscreen option is $60
3rd Quote – I stumbled onto the Heritage Bank insurance site which is underwritten by Allianz. They quoted $1108 with an excess of $1200. Their windscreen charge is $60
So my strongest advice is to get a quote from your regular provider and a couple of check quotes too.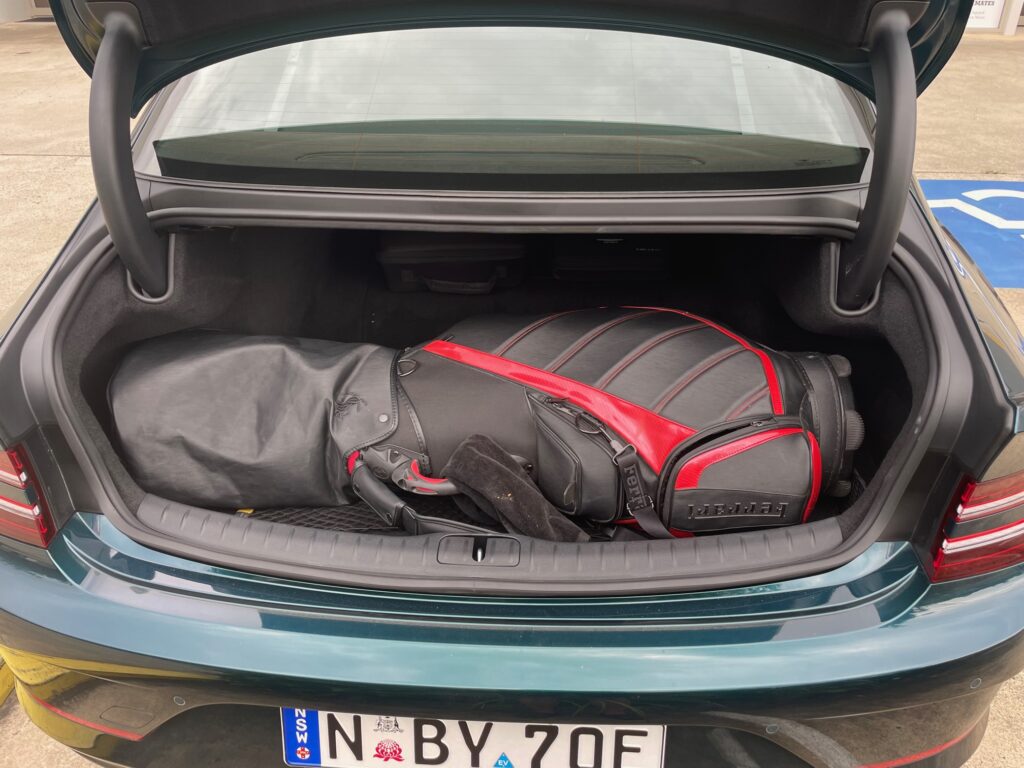 Service Costs
Genesis provides 5 years of servicing included in the vehicle price. And they'll also collect from your home or business (Metropolitan areas only) and provide a courtesy vehicle too.
Towing
If you intend to tow anything with the Genesis G80, sorry to say that Genesis don't have a rated towing capacity for this vehicle. So no towing. Please revert to your 2nd car
Summary / My Opinion
If I'm heading for a larger electric sedan (BEV) this Genesis G80 is a fine alternative to the likes of Tesla. . It's economical, comfy for a family and has all tech wizardry (except one thing) that I'd be looking for in a car that I'd park in my driveway. If your budget can extend to the price of this car, it's worth evaluating. I'm still struggling to understand the need for excessive power (Tesla S has 760kW) but at 272kW for the Genesis G80 Electrified, it's plenty of oomph for me
-Advertisement-
Hello. I'm Bob Aldons, the owner and editor of The Car Guy. The Car Guy is an independently owned car review website. I'm currently
reviewing cars for Mazda, Nissan, Kia, Suzuki, Mitsubishi, Haval, MG, Hyundai, Genesis, Jeep, Alfa Romeo and GWM.
Through Mercedes AMG Petronas Motorsport I'll also be writing about the 2023 Formula 1 season. Keep an eye out.
I'm not paid by any car company for my opinion and my companies don't receive advertising revenue to say nice things about them. I call it as I see
it.
However, I also own a new car broker company – Car Business. Being able to review new cars gives me an opportunity to provide accurate information
on these brands. If you're in the market for Any New Car Cheaper, contact me at Car Business and see how I go about saving you some serious
money.
Perhaps you think that you can do the job of buying a new car yourself? If you're after any advice at all, give me a call and ask me any question that you
need to be answered.
If you're an Aussie Veteran or serving in the military, I take particular pride in taking care of you. For every car that I source and deliver, I donate
part of my fee to Mates4Mates.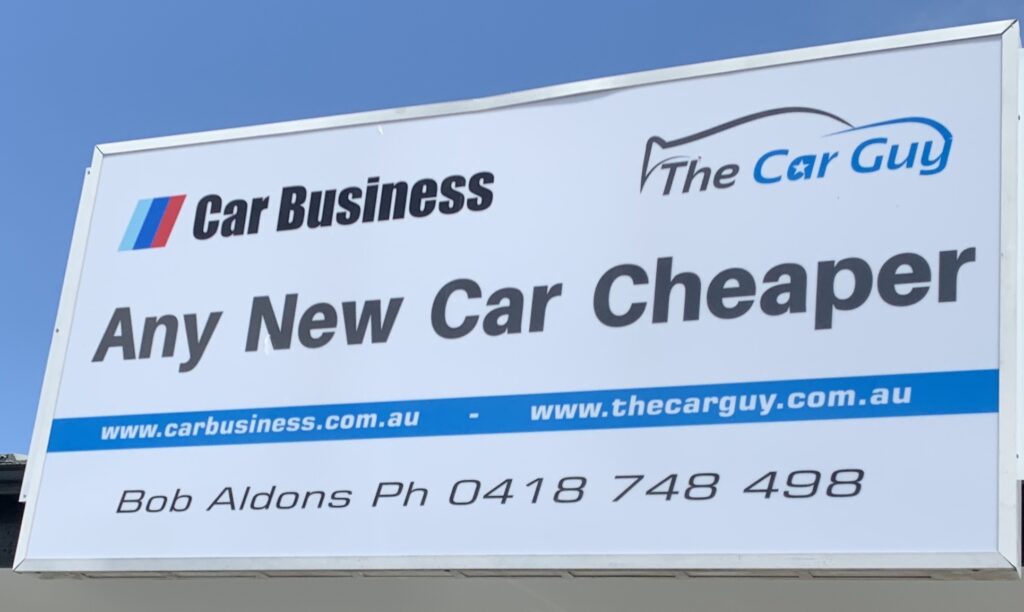 Recent Stories: Genesis GV60