Mazda Australia confirms MX-30 mild hybrid and electric models for 2021 arrival
Don't be confused. We currently have a MX-5, CX-30 and CX-5 and many other nomenclatures besides. And now Mazda are introducing (in 2021) an all new design, the Mazda MX-30.
I'm a big fan of the Mazda brand. Great design ethos, quality build and quirky enough to stand out from the crowded SUV market. Ok, so it's not the cheapest, but argubaly it is the best in category. Recently, MAzda has introduced hybrid technology to the MAzda2 and Mazda CX-30, but hasn't really trumpeted that technology so much.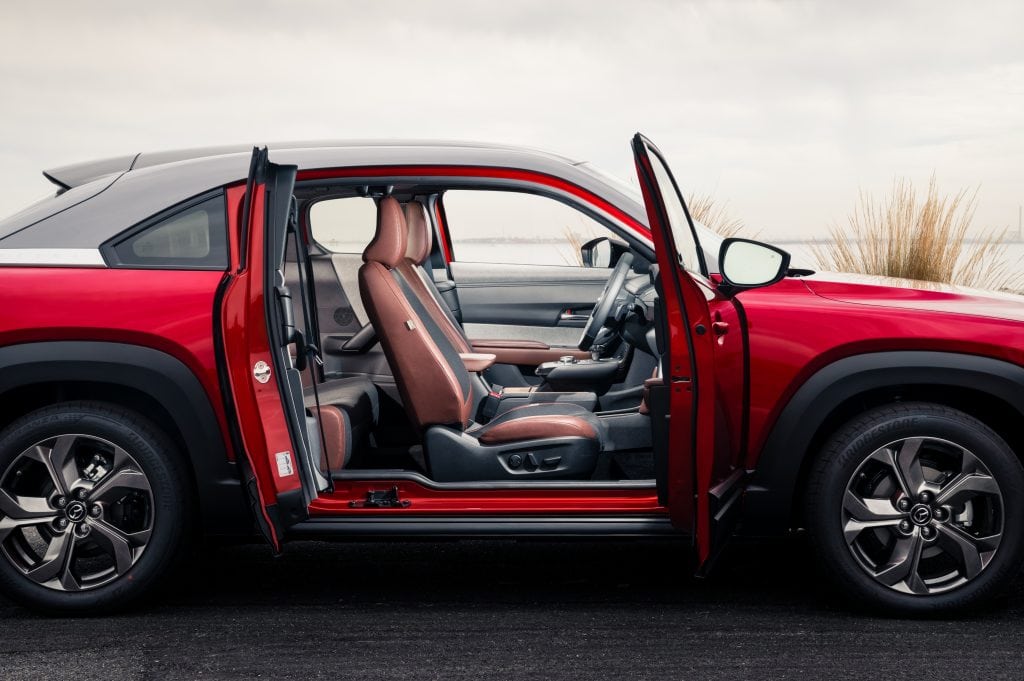 With the difference of the MX-30, I'm sure that Mazda will at last sound the claxon that it is now competing in the hybrid and electric vehicle market. Follows the press release from Managing Director of Mazda Australia, Vinesh Bhindi.
1th December 2020: Mazda Australia is excited to confirm the local arrival of its first ever Mazda MX-30 crossover in 2021.
The first ever Mazda MX-30 combines truly individualised styling cues with a choice of green powertrain solutions: e-Skyactiv G with mild hybrid technology, or the fully electric e- Skyactiv system.
"MX-30 is the bold next step of Mazda's Sustainable Zoom-Zoom 2030 strategy," said Mazda Australia Managing Director, Vinesh Bhindi.
"Combining modern design and sustainable, tactile interior materials, the MX-30 has been created to stimulate the senses and connect with the driver and its occupants.
"While furthering our 'well to wheel' emissions reduction strategy, the MX-30 remains a Mazda at heart: it is poised, agile and fun to drive with exceptional handling.
We are looking forward to seeing MX-30 in Mazda dealerships next year," he said.
The MX-30 M Hybrid will arrive in the first half 2021, with the MX-30 Electric going on-sale in the middle of the year.

MX-30 pushes Kodo design further than ever
Mazda's first-ever MX-30 has pushed the boundaries of Kodo design further than ever before.
The MX-30's design team focused on emerging new values and lifestyles among its target audience. Young, metro and forward-thinking, these people live for experiences, are continuously connected, and adore modern design: the resulting MX-30 shape is the result.
Its exterior is designed to emphasise the vehicle's solid mass, creating an impression of strength and beauty by minimising clutter.
As first impressions last, particular emphasis was placed on the MX-30's unique front-end styling. Here, the central Mazda logo is the focus point, with surrounding surfaces designed to reflect onto the logo, conveying vitality and reliability.
This solid mass impression extends along the vehicle's side profile, with its upright A-pillars, sweeping D-pillars and curved side panels conveying strength.
With the Soul Red Crystal, Polymetal Grey and Ceramic Metallic exterior finishes, a blacked- out roof section and metallic upper body sections are available, offering a stunning three- tone contrast.
Single colour bodies in Machine Grey, Polymetal Grey, Ceramic Metallic, Jet Black and Arctic White will also be available.

An airy, relaxing interior space with premium, sustainable materials
Referencing the legendary Mazda RX-8 sports car, opening the MX-30's Freestyle doors introduces a forward-thinking cabin that combines a sense of light and space with a wide range of sustainable materials.
Following Mazda's characteristic driver-centric cockpit design, the MX-30's interior makes use of floating elements and spaces that are designed to declutter. Touchscreen air- conditioning controls add simplicity, while the floating centre console, upper instrument panel and dash displays convey lightness.
Rear-seat occupants are treated to a couch-like experience, with the Freestyle outer-hinged door system offering a true sense of occasion upon entry.
During the MX-30's design phase, interior materials that blended high sustainability with passenger comfort were deemed essential.
Heritage cork – a tribute to Mazda's 1920 founding as the Toyo Cork Kogyo company – exemplifies this. The MX-30's cork interior surfaces are made from sustainable raw materials, derived from tree bark without cutting the tree down. Mazda applies a unique coating to ensure durability and installs the finished product into the door grips and console trays.
Premium Vintage Leatherette upholstery is created from non-animal materials and manufactured with water rather than solvents, showcasing a tactile quality and premium appearance while being kind to the environment.
Upper door trims are finished in a breathable fabric that is created from recycled PET bottles and the fabric seat trim elements use up to 20 per cent recycled thread.

Five-star rated safety
The five-star Euro NCAP rated MX-30 evolves the Mazda Proactive Safety philosophy with a comprehensive suite of active and passive safety measures.
The MX-30's i-Activsense system introduces a Turn-Across Traffic functionality to the Smart Brake Support System, which helps prevent collisions when turning 'across traffic', for example at an intersection.
Road Keep Assist, which maintains the right track even without lane markings, and Emergency Lane Keeping with Blind Spot Assist, are also included.
A rigid body, optimal driving position and structures that efficiently absorb impact energy provide additional peace-of-mind.
For the EV, the high voltage electric power flow is shut down the instant a collision occurs, and the battery module is covered with high-strength steel and a rigid surrounding frame for solid impact protection.
Ten airbags are included as standard: front, curtain, front-side, rear-side, front far-side (driver) and a driver's knee airbag.

Human Machine Interface shapes in-car technology
From the interior layout and packaging through to infotainment and connectivity options, the Mazda MX-30 is designed to integrate with its owner's connected, tech-savvy lifestyle.
A new, 7.0-inch touchscreen display sits on the central console and adapts its graphical display to suit the temperature and time of day. Once started, the interior climate control system (including air-conditioning and seat heating) is controlled via this screen.
An 8.8-inch widescreen central display, as seen in the Mazda CX-30 acts as an information centre, while a 7.0-inch TFT LCD meter panel sits in the instrument panel.
The latest-generation Mazda Connect system functionality ensures rapid and reliable interaction with the MX-30's on-board systems and extended applications.

New-generation Jinba-ittai

Since 1989's original Mazda MX-5, a Mazda bearing the MX nameplate has stood for
innovation and unparalleled driver engagement. The first ever Mazda MX-30 is no exception.
Based off the innovative Skyactiv-Vehicle Architecture that debuted in 2019, the Mazda MX- 30 range uses new-generation structural technologies to enhance Mazda's Jinba-ittai – oneness between car and driver – philosophy.
Improved body rigidity provides the suspension a more responsive platform with which to work, enhancing roadholding and driver feedback as well as safety.
The Electric model incorporates a specific Electronic G-Vectoring Control Plus (e-GVC Plus) system that specifically leverages the electric motor's torque to enhance chassis response by actively altering the front axle torque split.
For the M Hybrid model GVC Plus uses the braking system to manage traction and aid directional stability.
The result is a vehicle that is a pleasure to drive, with a sense of engagement, agility and handling balance that one expects from a Mazda vehicle.

The Mazda MX-30 M Hybrid System
The Mazda MX-30 M Hybrid is powered by a 2.0-litre, four-cylinder direct-injection 'Skyactiv- G' petrol engine, paired with Mazda's own 'M Hybrid' mild hybrid system. Combined outputs are 114kW and 200Nm, while consuming 6.4L/100km on the combined cycle (NEDC).
Combining the virtues of Skyactiv-G with the M Hybrid system provides improved fuel efficiency, a smoother transition from idling stops and a more refined driving feel.
M Hybrid can recover energy generated from vehicle deceleration, improving efficiency and braking ability. The system can shut the internal combustion engine down before the MX-30 comes to a complete stop, thanks to a new belt-driven integrated starter motor (ISG). Not only does the ISG smooth the transition to an idling stop, it also aids re-start by assisting to spin the engine's crankshaft. The result is a reduction in noise and vibration.
The M Hybrid battery majors on safety, durability and cold weather performance, and works with the regenerative braking system to store energy levels. The redeployment of this energy is intelligently controlled, and can be used to assist engine torque, enhance braking power or prolong idle stop time – all while improving fuel efficiency.
A six-speed automatic Skyactiv-Drive transmission is equipped with a torque converter and drives the front wheels.

Mazda MX-30 e-Skyactiv: A Mazda first
Mazda's new e-Skyactiv powertrain provides the MX-30 Electric with purely electric power. Our engineers envisioned a way to apply Mazda's human-centric development philosophy to the EV space, combining a 35.5kWh lithium-ion battery pack and a 107kW/271Nm electric motor into a vehicle that prioritises driver connection – an enduring Mazda value.
The electric motor, inverter, DC-DC converter and junction box are integrated into a single high-voltage unit that is mounted towards the front of the vehicle.
Sizing for the high-voltage battery was carefully considered to fit the inner-urban lifestyle of the target market, while minimising CO2 emissions throughout its life cycle, from resource extraction through to battery disposal.
Mounted low underneath the floor for maximum driving engagement, the result is a system that can supply 224km of vehicle range (combined, NEDC) while being light, compact, safe and easy to charge.
Using the average Australian daily commute of 32km 'round-trip', the MX-30's range ensures fuss-free, silent driving over the course of a five-day working week – without the need to charge.
When it is time to plug in, both regular AC and rapid charge DC ports are packaged as a set, accessed on the right rear side of the vehicle.

Here next year
The first ever Mazda MX-30 will arrive in Australian showrooms in 2021. Full lineup, pricing and specifications will be confirmed closer to market launch.
-Advertisement-
Hello. I'm Bob Aldons, the owner and editor of The Car Guy.
The Car Guy is an independently owned car review website. I'm currently testing cars for Mazda, Nissan, Kia, Suzuki, Mitsubishi, Renault, Subaru, and Hyundai. Through Mercedes AMG Petronas Motorsport I'm also writing about the 2020 Formula 1 season
I'm not paid by any car company for my opinion and my companies don't receive advertising revenue to say nice things about them. I call it as I see it.
However, I also own a new car brokerage company – Car Business. Being able to review new cars gives me an opportunity to provide accurate information on these brands. If you're in the market for Any New Car Cheaper, contact me at Car Business and see how I go about saving you some serious money.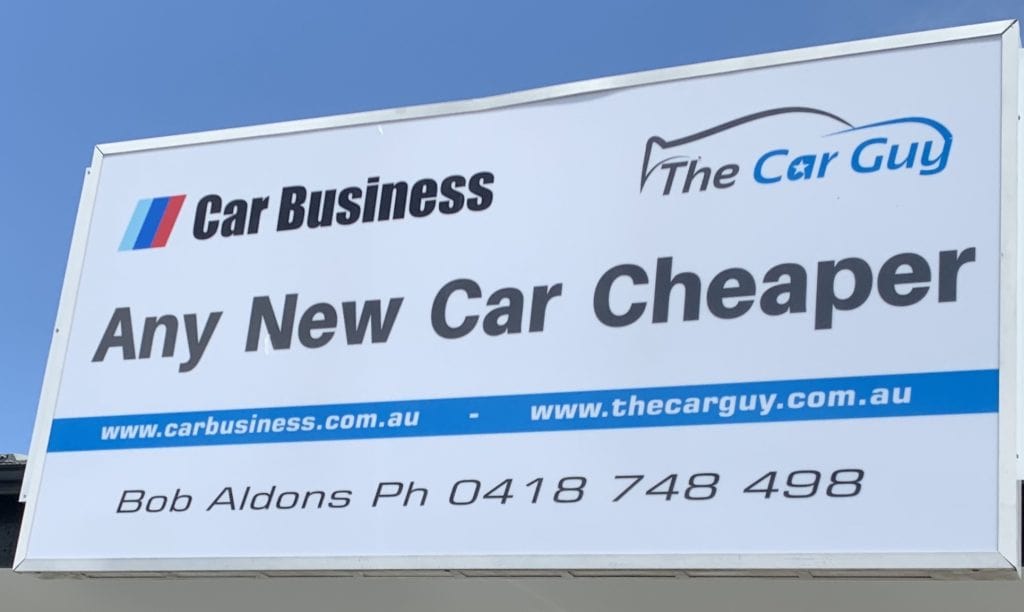 Perhaps you think that you can do the job of buying a new car yourself? If you're after any advice at all, give me a call and ask me any question that you need to be answered.
If you're an Aussie Veteran, I take particular pride in taking care of you. For every car that I source and deliver, I donate part of my fee to Mates4Mates or Brisbane Legacy.
Recent SUV Articles: