Preamble
I was a franchised car dealer for nearly 38 years. During that time I was involved with a broad range of new cars, including Ford, Toyota, Mitsubishi, Suzuki, Chrysler Jeep Dodge, Renault, Citroen, Isuzu Ute, Volkswagen, Fiat, Alfa Romeo as well as Mahindra.
Since I sold my company, Northstar Motor Group in late 2015, I've stayed in the Car Business and taken on a variety of different roles. One of these is writing for various car manufacturers. I've been accredited with Suzuki, Mazda, Mitsubishi, Land Rover, Kia as well as Great Wall and Haval. I also publish regular "In Their Own Words" articles where manufacturers release early information on upcoming models.  You'll find my articles to be written from a car buyers perspective. I'm not so interested in 0-100 kilometer per hour times, how cars handle on banked tracks at 150 kilometers per hour but more so how customers look at cars.
In my years in the Auto Industry, I did my best to train my sales staff to present a new car using the six position sale technique, but without putting heavy pressure on customers to buy that new car now. My perspective is to present a new car as to its features as it befits the new car buyer. From the front of the car, under the bonnet looking at engine and transmission, to the side where I consider the looks and as importantly the safety features, around to the rear considering the luggage capacity and things like reverse camera and reversing sensors. The fifth position is the driver's side, looking at ease of entry into the rear seats(s) and filly to the driver's seat where I consider the driver controls.
Only after that do I look at the on road performance, towing capacity, and things like insurance costs, fuel economy and one of my favourite aspects, the 'Surprise and Delight' items that manufacturers include in their particular model to make it different and appealing
I'll also look at the prices of the car I'm testing and some comparisons with other cars in that particular segment.
So, just sit back in a comfortable chair and consider Why Should You Buy – Mazda 6 Touring Station Wagon
Introduction
Not so many years ago, manufacturers didn't offer a small or medium SUV. They did have big four wheel drives and station wagons. Or they may have been called Station Sedans, Shooting Brakes, Tourings, Estates, and so on. Wikipedia clarifies the description as such:
A station wagon, also called an estate car, estate wagon, or simply wagon or estate, is an automotive body-style variant of a sedan/saloon with its roof extended rearward over a shared passenger/cargo volume with access at the back via a third or fifth door (the liftgate or tailgate), instead of a trunk/boot lid. (https://en.wikipedia.org/wiki/Station_wagon)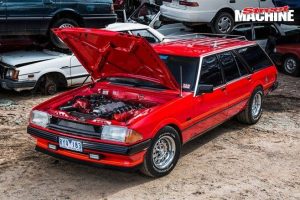 One of my first company cars back in the late 70's was an XD Ford Falcon S-Pack Wagon with T-Bar Automatic Transmission and a 5.8 Litre V8 engine. And it was burnt orange, and I loved it to bits. What would I give to have bought it and stored it until now? The picture below gives you an idea of what it looked like.
Anyway, I'm off topic, but just so you understand, SUV's arguably started to replace Station Wagons as a mainstream product offering in the late 90's, but there are still some manufacturers who have wagons in their range. And certainly, Mazda and the Mazda 6 are still part of that select few. Wagons tend to be more prevalent in Europe than they are here in Australia. Mercedes-Benz, BMW, Ford, Volkswagen Group (VW, Audi, Skoda) Renault, Peugeot, all have models in the wagon market, but for the Asian based companies, the offerings are fairly slim. Hyundai have 1 model, Subaru has 1 and the last Australian built wagon, the Holden Commodore finishes production in October this year.
The 6 Positions of Features and Benefits – Mazda 6 Touring Station Wagon
Front of the Car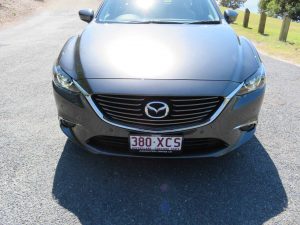 I like Mazda's front end look on all of their passenger cars – this Touring model has the right amount of chrome look highlight surrounds, dark grill with deep-set headlights. At night the look is even more compelling – reminds me of a cave with glistening eyes deep inside.
Daytime driving lights do the job and give the Mazda 6 Touring Wagon a presence.
Under the Bonnet
Under the bonnet is the Mazda Skyactive 2.5 litre four cylinder turbo petrol engine matched to a 6 speed automatic transmission . Mazda offers capped price servicing, 3 year unlimited kilometre warranty as well as roadside assistance for that same 3 years. One excellent thing with the 2.5 Litre Mazda engine is that it's capable of running on 91 RON fuel (normal unleaded). Most of the European alternatives have a minimum of 95 RON Premium Unleaded or 98. And that 91 Ron fuel is always kinder to your pocket.
Down the Side and Safety
I like the look of the Mazda wagon side-on. It's a swoopy design and more attractive than the boxy looking SUV's. Mazda have always been safety conscious and the Mazda 6 Touring Wagon is no exception. From Mazda's Safety and Security Page on their website:
Advanced keyless entry
Advanced keyless push-button Start    Standard
Air Bag SRS – Front, Side, Curtain
ABS Brakes
Blind Spot Monitoring
Child restraint anchor points (2 x ISOFIX, top tether x 3)
Childproof rear locks
Double lock door deadlock function
Driver attention alert
Dynamic stability control
Electronic Brake-force Distribution                                                      
Emergency brake assist
Emergency stop signal
Engine Immobiliser
High Mount stop lamp
Hill launch assist control
Intrusion-minimising brake pedal
Parking Sensors – front and rear
Rear cross traffic alert
Remote Central Locking
Reverse Camera
Seat Belt Warning – All positions
Side-impact door beams
Smart City Brake Support – forward and reverse
Traction control system
Traffic Sign Recognition
Whiplash-Minimizing front seats
This list is extensive for the Mazda 6 GT Wagon, but it's pretty typical of the effort that Mazda put into making their cars some of the safest on the market
I'm a bit puzzled that ANCAP ratings are published referencing models that are on the market in 2017 but were tested in 2012. It doesn't make any sense to me. I think that ANCAP should re-rate older tests on current specifications rather than allow old testing regimes to be published.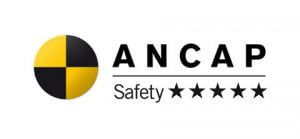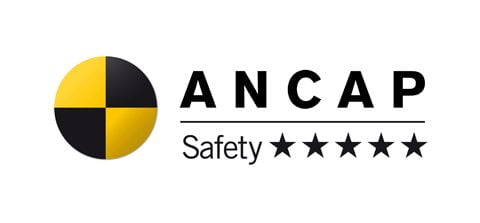 | | |
| --- | --- |
| Airbags: | Dual Frontal, Side, Head |
| Frontal Offset: | 14.44 out of 16 |
| Side Impact: | 16.00 out of 16 |
| Pole: | 2 out of 2 |
| Whiplash Protection: | Good |
| Pedestrian Protection: | Acceptable |
| ESC: | Standard |
| Seat Belt Reminders: | 3.0 out of 3 |
| Overall Score: | 35.44 out of 37 |
| ANCAP Safety Rating: | 5 Stars |
| Rating Year: | 2012 |
Based on these test ratings, the Car Business rating is 95.78%


6.6 Litres per 100 kilometres                  Combined
8.8 Litres per 100 kilometres                  Urban
5.4 Litres per 100 kilometres                  Extra Urban
Air Pollution Standard                              Euro 4
Annual Fuel Cost                                        $1391 ($26.75 per week)
I'm pretty comfortable with the economic outcomes on the Mazda 6, but no so much about the Air Pollution Standard of Euro 4. I'm thinking that Euro 5 is a minimum that all cars on the road in Australia should be achieving
The Backside
There's much to be said for the rear of any vehicle. While designers spend a lot of their time on the front look; the rear end doesn't get as much attention. Not so with the Mazda 6 Touring Wagon. The rear lines are smooth and attractive. There are reversing sensors in the bumper as well as a reversing camera – must have for a bigger, longer vehicle.
Storage space is ample and with the 2nd-row seats down on the verge of cavernous. So, good work Mazda designers. There's plenty of room for suitcases, groceries, prams, golf clubs and lots of other stuff, including and certainly not limited to elderly person walkers.
Drivers Side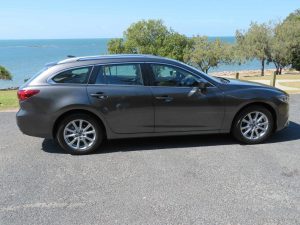 When I look at the driver's side, I'm particularly interested in the rear seat access, and how well the doors open. Do they open wide enough to allow seniors easy access to the rear seats? Do they have ISO-FIX Child seat points? And are the rear seats as comfortable as the front seats? The answer to all of these questions is a resounding yes. I'd be happy to travel in the rear seat, long legs and all at least for a weekend drive, if not a long distance trip intrastate or interstate.
Driver's Seat
The driver's seat position is, as you'd expect, very comfortable. Variable positions for the seat and steering wheel make this a pleasure to drive. All controls are within easy reach and once you become familiar with all of them, you seem to be able to operate them without taking your eyes off the road – very important.
On the Road
In a couple of words – quiet and comfortable. This wagon reminds me of wagons I've driven before but ever more so quiet and extremely comfortable. I can imagine a long trip in this Mazda to a point if I'm wondering whether I'd need a similar sized SUV at all. The engine capacity is perfect for a vehicle of this size – turbocharged 2.5 litre engine coupled with a 6-speed automatic transmission
It has all the features I'd want in a family wagon – whether for children or grandchildren.
Towing
Don't expect to tow a large caravan or boat with a Mazda passenger car but this Mazda 6 Wagon can comfortably tow 1500kg with electronic brake assist. Tow ball download weight comes in at 120kg, so a smaller boat, a larger trailer or a pop top camper will be ideal behind the Mazda 6 Wagon
Insurance
I've started using www.finder.com.au to determine insurance prices for the car I'm reviewing. At finder, you can compare up to 8 different insurance companies. The quote provided is for a 60-year-old male driver, living at Woody Point Q, no claims in last 5 years, no drivers under 40 years of age, used for private use and garaged at night. It's financed (not leased) and the car can be driven by my wife or any other driver over 40 years of age. The standard excess is around $800