Before I launch into the outcome, let me give you the 'formal' name of this race.
Formula 1 Pirelli Gran Premio Del Made in Italy E Dell Emilia Romagna 2021 held at the Autodromo Internazionale Enzo e Dino Ferrari in Imola, Italy.
Now that's a mouthful in anyone's language.
In a rain-affected race, Red Bulls Max Verstappen took the lead on lap one and was arguably never headed. Lewis Hamilton lost significant time when he left the track and hit a barrier on lap 31, before recovering with an outstanding drive to finish in second place. Teammate Valterri Bottas didn't finish the Emilia Romagna Grand Prix, crashing out on lap 33
Lewis completes impressive recovery drive to claim P2 in action-packed Emilia Romagna Grand Prix
Lewis clinched second place in changeable conditions in Imola despite hitting the barrier on lap 31 and falling to ninth position before the race was restarted on lap 34 following a red flag
Valtteri suffered a DNF after an incident with Williams' George Russell on lap 33
Lewis set the fastest lap of the race to claim the bonus point on offer
Lewis (44 points) leads the Drivers' Championship by 1 point from Max Verstappen (43 points) with Valtteri (16 points) in P5
The Mercedes-AMG Petronas F1 Team (60 points) leads Red Bull (53 points) by 7 points in the Constructors' Championship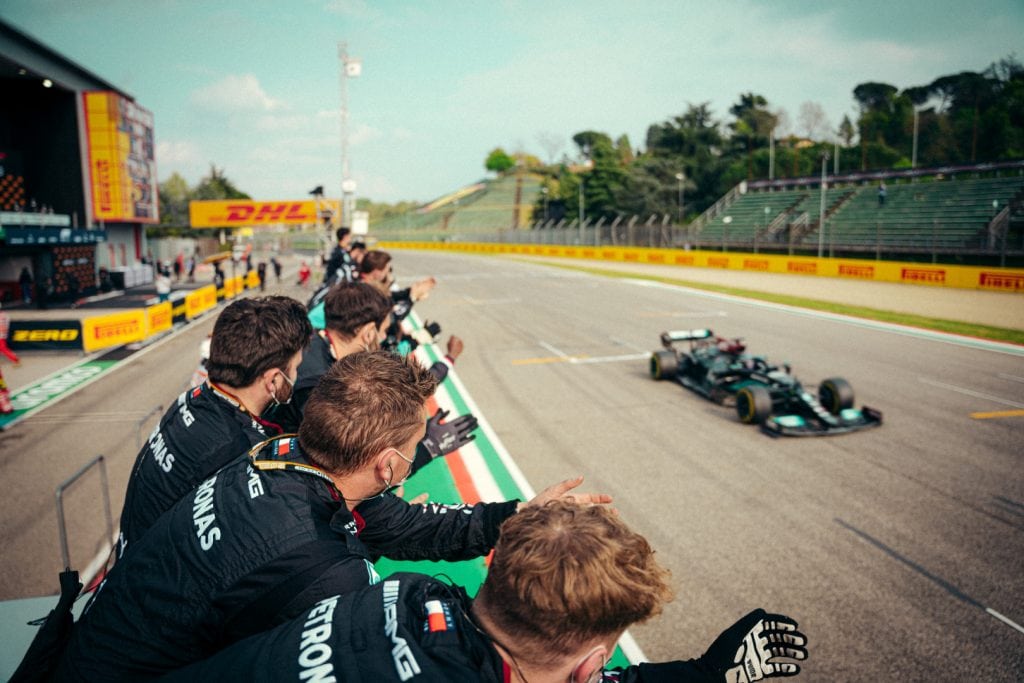 Lewis Hamilton
Considering I was facing the barrier at one stage, then a lap down, yeah, it was a difficult day in that regard. I had some really good pace in the rain and was catching but just a little bit impatient, maybe, with the backmarkers. I'm only human so these mistakes happen. I'm grateful that I was back in the race and could hunt down and get back to second. The car had a rough time today. I started first, should have been first at the finish but these things are sent to test us and we've got a great battle on our hands. Game on.

Valtteri Bottas
I'm okay physically. It was a half-decent shunt but obviously could have been a lot worse at that speed. George got close and decided to go for a move. Obviously, the track is quite narrow, there is only one dry line and he went for the outside, there was space all the time for two cars but he obviously lost the car and hit me. I haven't spoken to him so far: I couldn't hear a thing that he was on about and obviously we will have a different perspective on it. It was a tough race until then, from where I started it wasn't easy to make ground. But I need to take whatever positives I can from this weekend and move on.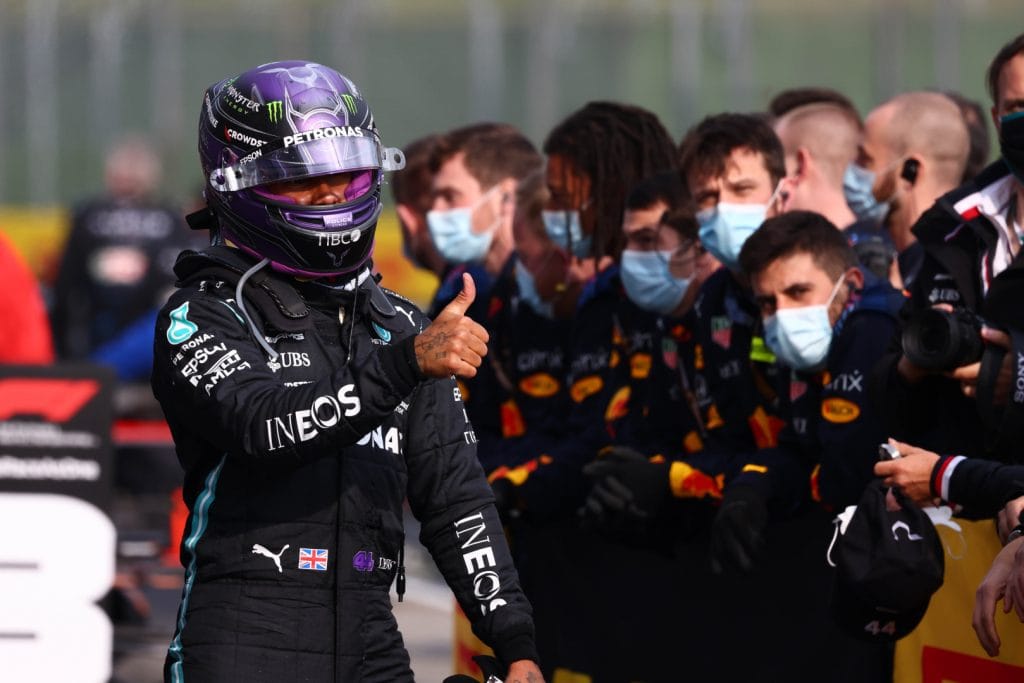 -Advertisement-
Hello. I'm Bob Aldons, the owner and editor of The Car Guy. The Car Guy is an independently owned car review website. I'm currently testing cars for Mazda, Nissan, Kia, Suzuki, Mitsubishi, Renault, Hyundai and Genesis.
Through Mercedes AMG Petronas Motorsport I'm also writing about the 2021 Formula 1 season.
I'm not paid by any car company for my opinion and my companies don't receive advertising revenue to say nice things about them. I call it as I see it.
However, I also own a new car broker company – Car Business. Being able to review new cars gives me an opportunity to provide accurate information on these brands. If you're in the market for Any New Car Cheaper, contact me at Car Business and see how I go about saving you some serious money.
Perhaps you think that you can do the job of buying a new car yourself? If you're after any advice at all, give me a call and ask me any question that you need to be answered.
If you're an Aussie Veteran or serving in the military, I take particular pride in taking care of you. For every car that I source and deliver, I donate part of my fee to Mates4Mates.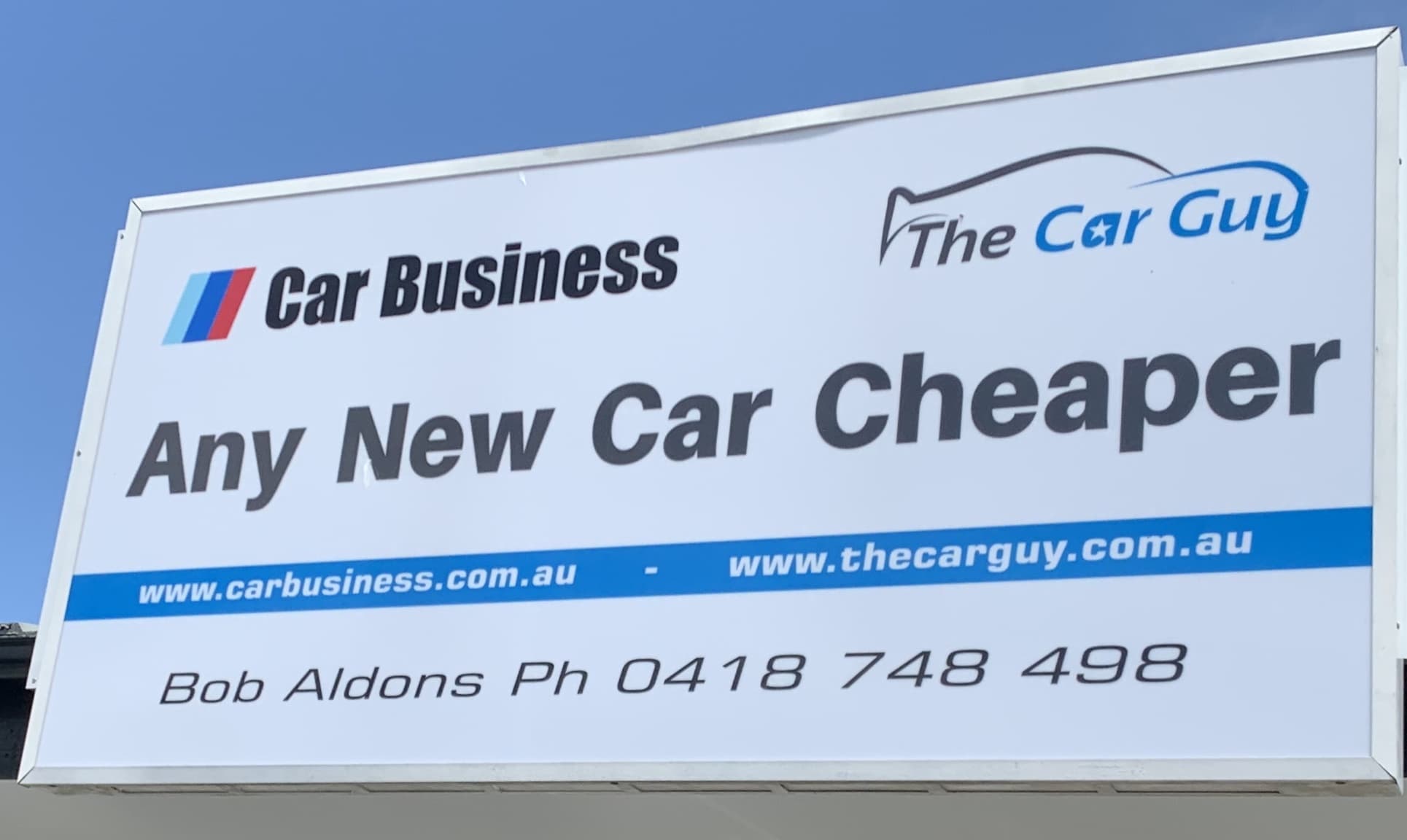 Australian Results
Australia's Daniel Ricciardo, driving his second race for McLaren, finished in 6th place with team-mate Lando Norris, on the podium in 3rd. Ferrari drivers, Le Clerc and Sainz finished 4th and 5th – a credible position for the Scuderia
Recent Car Reviews – Hyundai Palisade