What does Hyundai say?
Our largest and most spacious SUV ever: The PALISADE 8.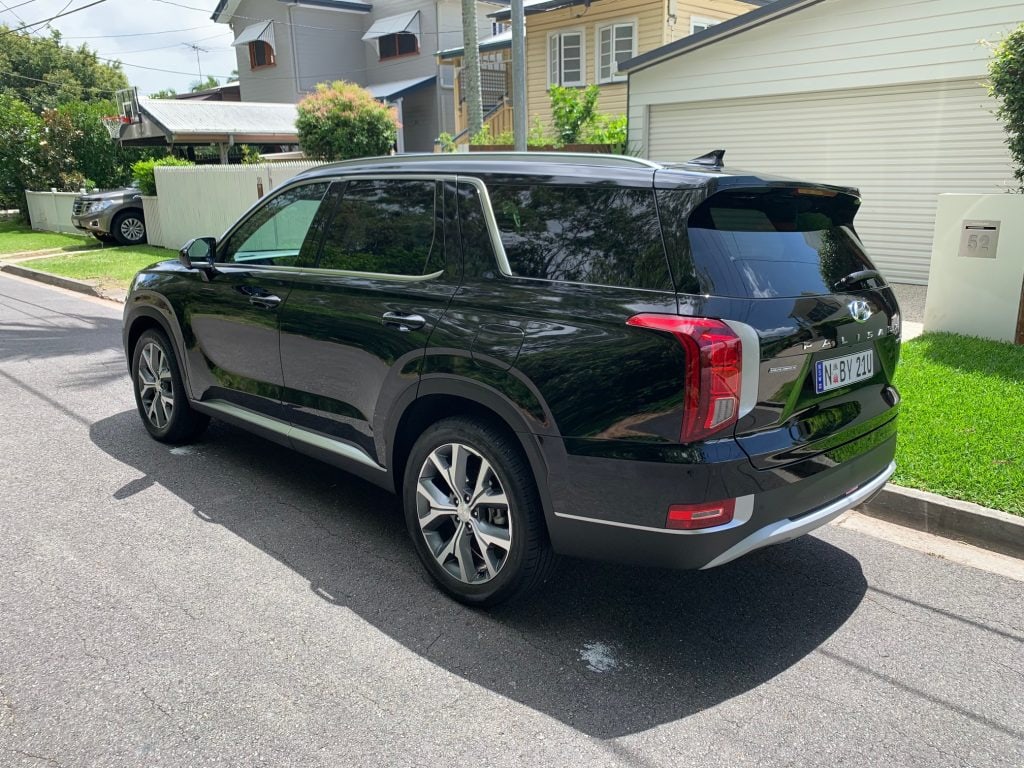 Introducing the all-new Hyundai Palisade: the ultimate getaway vehicle for growing families. With its bold design, innovative safety features and spacious interior available with both 7 and 8 seats, Palisade is made for those who dare to be different, who expect more than their daily routine, and who want to always be ready to get away from it all.
The 2021 Hyundai Palisade has arrived in Australia. When first introduced in America there was chatter than we wouldn't get it here. Thankfully, the budget process allowed this 7 or 8 seater to join the extensive list of Hyundai SUVs.
Now I'm not sure that international celebrities will be driven around in the Palisade, but it will be the vehicle of choice for larger families looking for a bit of individuality and more room than they've had before.
What is it? Hyundai Palisade is a large SUV – bigger than the Santa Fe with the choice of petrol and diesel engines. Each variant will be available with a choice of either a 217kW/355Nm 3.8-litre petrol V6 with front-wheel drive (only), or a 147kW/440Nm 2.2-litre turbo-diesel four-cylinder with all-wheel drive. Hyundai's own design eight-speed automatic transmission is standard across the range
Competitors? Is there any? If you want an 8-seater, then the only value for money option is a Kia Carnival. Down the price list is also the LDV G10 Executive, but its so much smaller and less equipped.
I'll be reviewing the new model MY21 Carnival in the next couple of weeks. According to the Large SUV segment, there's a wide choice, but Hyundai Palisade is bigger and better equipped than all the others and presents a better value for money proposition than most of the others
Real 8 seaters are few and far between. But if you're looking for alternatives in this price bracket then consider Mazda CX-9 as an alternative.
Exterior
No argument here – it's a big unit – a front-rower in a sea of backs. With 8 seat capacity, there's not a lot that designers can do to make it special, at least on the outside. The top-of-the-range Highlander gains 20-inch alloys, while the lower-spec is fitted with 18-inch rims.
And the Hyundai Palisade gets remote open side doors – from the key fob. And that's a handy addition when you're looking for 'fast-loading' the family
Interior
In a week or so I'm reviewing the Genesis G80 and GV80, Hyundai's luxury arm, so watch out for that. There's no doubt that Hyundai has taken design cues from the Genesis to provide a high-quality interior.
It's a large unit outside and consequently pretty comfortable inside at least for the first and second row participants. But the third row is spacious enough given some flexibility of the second row moving forward on sliders. The headroom in the third row suffers a bit given the large sunroof. (Ed. I'd really like to see a delete option on the rear roof). Kids will have to suck it up but the parental argument is that they're just protecting the small people from sun effects.
Infotainment A 7 inch screen within the instrument cluster is great but the 10.25-inch colour touchscreen to handle the infotainment is a huge plus. You're getting Apple CarPlay and Android Auto with wireless charging. A Harman Kardon sound system delivers high-quality music.
Storage 16 Cupholders for 9 passengers? Pass me the Coke No Sugar! The new (and get used to it) gear selector dial is a cracker because it provides more room on the centre console for other things.
On the Road Remember that this is a big vehicle. At around 2 tonnes plus passengers, the Hyundai Palisade is quite nimble. But never think of it as something that you can throw around. The brakes are good, the engine responsive and altogether a remarkable ride for the size. The brakes are progressive and responsive, and while the steering isn't flush with feedback, it's relatively quick and fluid.
In Summary. This big Hyundai is good. Very good. You can distance yourself from the other people movers, although it's a good idea to have something a bit more sporty in the garage for that fix of quick. If I had a big family, I'd seriously consider the Hyundai Palisade over all the others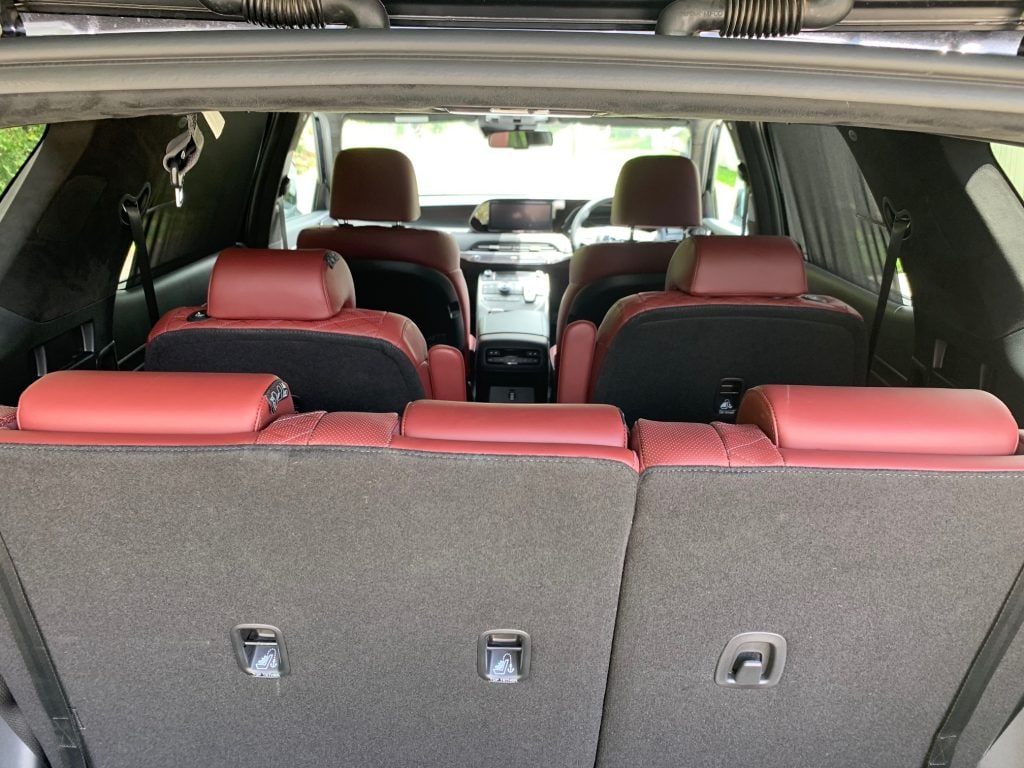 MY VERDICT

At A Glance
Price:                            Hyundai Palisade starts from $65,120 (drive away in Queensland) for an 8-seater base model and goes up to $80,722 for the 8 Seater Diesel AWD Highlander. Unfortunately, metallic paint adds another $930 to the price
Engine/Transmission   My test car had the 2.2 Litre diesel engine and 8-speed auto transmission
Warranty/Service       5 Years / Unlimited Kilometres. Pre-Paid servicing for 5 years or 75,000 kilometres is available for $3,138
Insurance                     I always get a comprehensive insurance quote from RACQ online. I use my personal details to get a number, but you should use your own to get a comparison. Whenever I have a car insurance policy due, I always get quotes from a number of companies. Just because they advertise on the radio and television extensively, doesn't change the way you price compare. 
When I check the price for the Hyundai Palisade Highlander, this new model works out at $700 per annum. 
Safety                         According to ANCAP, they haven't tested the new Hyundai Palisade as yet. But if you use the Sante Fe Highlander as I did for insurance, you're getting a 5-star vehicle tested in 2018.
Load Area                  Big families need storage – a pretty fair offering in the Hyundai Palisade gives you 311 litres of space which more than doubles to 704 litres with the third row stowed. And you get a full-sized spare wheel to boot. If you're carrying a full load of passengers you're going to need a trailer or at least an on roof pod.
What she thinks        Mrs Aldons has been in the car business nearly as long as I have. She started with "        Ford" in 19??. So I'm asking Suzi to give me some feedback on the cars that I test drive. Here's what she had to say about the Hyundai Palisade
" Most comfortable car that I've ever driven. Might be a bit too expensive for what I use it for though"
" You should get rid of your Mercedes and get one of these"               
Hyundai Palisade Significant Features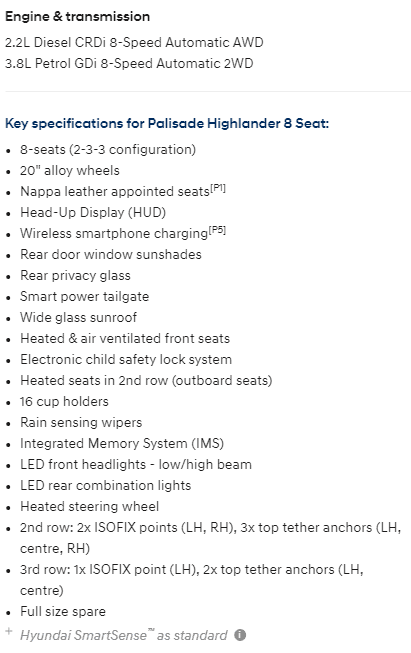 Hyundai Palisade Specification – Click on this link to get access to the Hyundai Palisadewebsite 
Which Dealer?
Whenever I'm looking for a new car dealer, I always search on Google.
In this case, I'd search for "Hyundai Dealers" and then the city (Brisbane) or even the suburb I live in. In South-East Queensland for Hyundai, here are the 6 dealers I'd consider visiting. Google provides a star rating and I suggest that you look for dealers who score more than 4 stars in the Google rankings with at least 10 reviews and stay clear of dealers who don't measure up to the Google standard – after all its real customers who are rating the dealers. 
| | | |
| --- | --- | --- |
| Brisbane Northside | Grand Prix Hyundai Caboolture | 4.7 Stars |
| Brisbane Southside | Moorooka Hyundai | 4.4 Stars |
| Brisbane Eastside | Bartons Hyundai Capalaba | 4.9 Stars |
| Brisbane Westside | Llewellyn Hyundai Ipswich | 4.6 Stars |
| Gold Coast | Gold Coast Hyundai | 4.4 Stars |
| Sunshine Coast | Noosa Hyundai | 4.5 Stars |
-Advertisement-
Hello. I'm Bob Aldons, the owner and editor of The Car Guy. The Car Guy is an independently owned car review website.
I'm currently testing cars for Mazda, Nissan, Kia, Suzuki, Mitsubishi, Renault, Subaru, and Hyundai. Through Mercedes AMG Petronas Motorsport I'm also writing about the 2021 Formula 1 season. I'm not paid by any car company for my opinion and my companies don't receive advertising revenue to say nice things about them. I call it as I see it.
However, I also own a new car brokerage company – Car Business. Being able to review new cars gives me an opportunity to provide accurate information on these brands. If you're in the market for Any New Car Cheaper, contact me at Car Business and see how I go about saving you some serious money.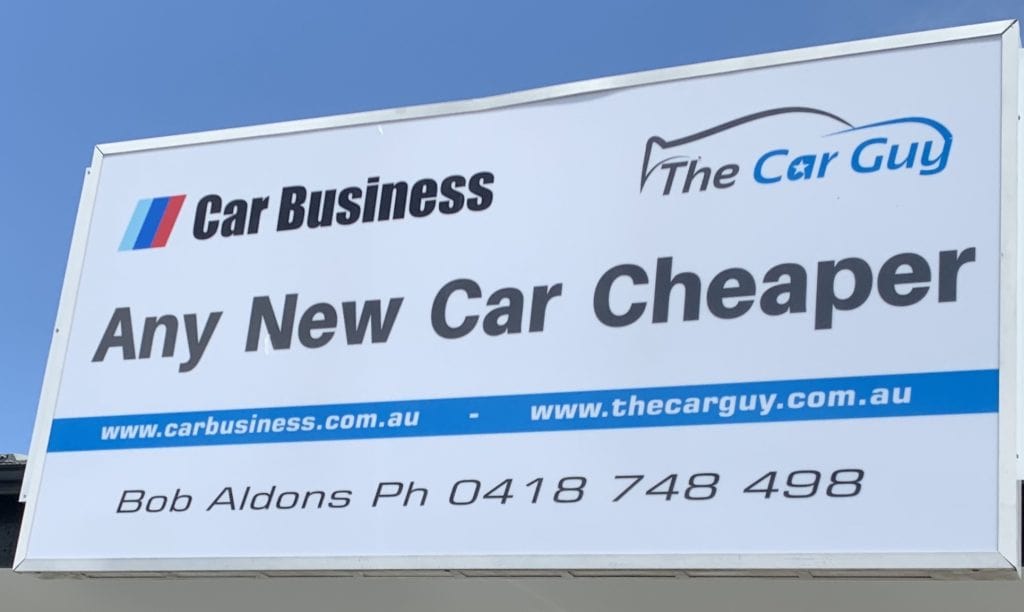 Perhaps you think that you can do the job of buying a new car yourself? If you're after any advice at all, give me a call and ask me any question that you need to be answered. 
If you're an Aussie Veteran, I take particular pride in taking care of you. For every car that I source and deliver, I donate part of my fee to Mates4Mates or Brisbane Legacy. 
Related Stories: