Suzuki Jimny has a heritage that other manufacturers envy. Since 1970 Jimny has provided a legendary reputaion for go anywhere motoring at an affordable price. Ok, so it's not the largest vehicle on the road, but it will take almost everything in its stride. If you're an off road driver, or beach traveller, there aren't many places that Suzuki Jimny is afraid to go.
What Suzuki Has to Say
Tough As Jimny
"Goes places only Jimny can take you".
"It's the original, rugged 4×4. A heritage that began with the LJ10 back in 1970. Whether it's road, track, or trail, Jimny has a reputation for being battle-tough in any terrain. Lightweight but incredibly capable, comfortable yet resilient, and more versatile than a Swiss Army knife, Jimny leaves small tracks on big adventures".
Pricing
One of the standout features of the Suzuki Jimny is its affordability. It offers a lot of off-road capability and character for its price, making it a compelling option for budget-conscious adventure seekers.
Suzuki Jimny 3 Door Lite Manual starts off at $34,990 drive away in Queensland. The GLX Manual is $36,490 while the most popular version, the Jimny GLX Auto retails at $37,990 Drive Away. Metallic Paint is an extra $890 while the Two Tone Paint option is $1,340
However, it's the wait times that are causing most concern. Suzuki Jimny GL and GLX Manual will be available in April 2024, the Auto GLX in August 2024 while two tone versions are out to November 2024. The 5-door GLX Models will be available at launch around June 2024
Suzuki Jimny – On the Road and Off
So, like me, you're probably going to use the Suzuki Jimny for urban driving as well as some off road work. Around the burbs, Jimny is a frugal drive but gets a bit thirstier when its off road. Have a look at Paul Maric's Car Expert review below. While he tested the manual Lite model he certainly put it through its paces off road. And it came through with flying colours. His words – "I'm genuinly impressed with the Suzuki Jimny"
On the highway the design of Suzuki Jimny contributes to being a little fractious – side winds give it a loose feel, but windless, its a practical car. Don't for a moment think that it's a family vehicle. While there's sufficient room in the 2nd row, there's no cargo space, not even for groceries. You'll need to drop one or both of the second row seats to get your luggage in (particularly for a camping weekend), so it's not really practical for a 4 person family vehicle
If you're a 2 person family, the Suzuki Jimny will be perfect for Monday – Friday and excellent for the weekend away, either bush or beach
The Jimny's design is unmistakably boxy and rugged, staying true to its heritage as a no-nonsense off-roader. The 2023 model sports a more modern and refined look with a slightly updated front grille and headlight design. While it may not win any beauty contests, its unique and utilitarian appearance is part of its charm.
Step inside the Jimny, and you'll find a functional, no-frills interior. The materials used are durable but lack the plushness of some competitors. However, the Jimny makes up for this with its practicality. The infotainment system is basic but functional, and the cabin offers good visibility all around. The limited space in the rear seats may be a drawback for taller passengers, but it's a trade-off for the Jimny's compact size.
Where the 2023 Suzuki Jimny truly shines is in its off-road performance. Its compact size, high ground clearance, and robust four-wheel-drive system make it incredibly capable on rough terrain. Whether you're tackling rocky trails or muddy paths, the Jimny handles it with ease. Its small size also makes it incredibly maneuverable in tight spaces, which can be a big advantage when navigating off-road obstacles.
On-road performance is decent for its size, but don't expect sports car-like handling. The ride can be a bit bouncy on rough pavement, which is a compromise for its off-road prowess. The 1.5-liter four-cylinder engine provides enough power for daily driving and off-road adventures, but it won't set any speed records.
Suzuki Jimny Engine/Transmission
1.5 Litre 4 cylinder Petrol Engine with 5-Speed Manual Transmission or Optional 4 Speed Auto. 75kW of Power and 130Nm of Torque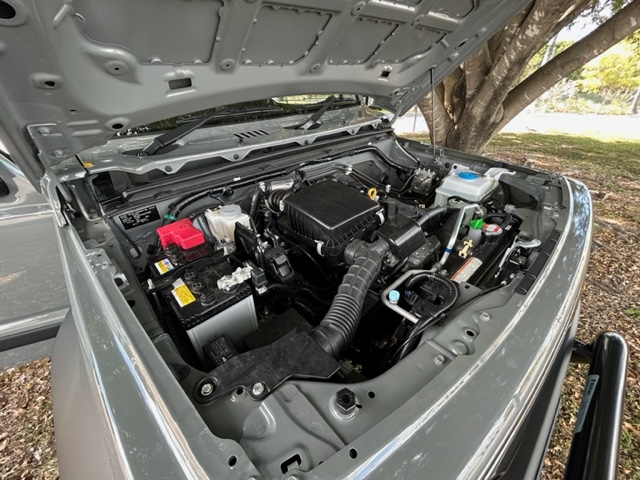 Suzuki Jimny Safety
SRS front dual airbags
SRS side airbags Front
Curtain airbags
Seatbelts Front: 3-point ELR seatbelts with pretensioners and force limiters
Seatbelts Rear: 3-point ELR seatbelts x 2 with pretensioners and force limiters
ISOFIX child seat anchorages Rear x 2
Pedal Release System Brake & clutch
Side impact door beams
ABS
ESP®
DSBS (Dual Sensor Brake Support) Lane Departure/Weaving Alert
Emergency stop signal
Hill hold control
Hill descent control
Brake assist function
High-mount stop lamp
Immobiliser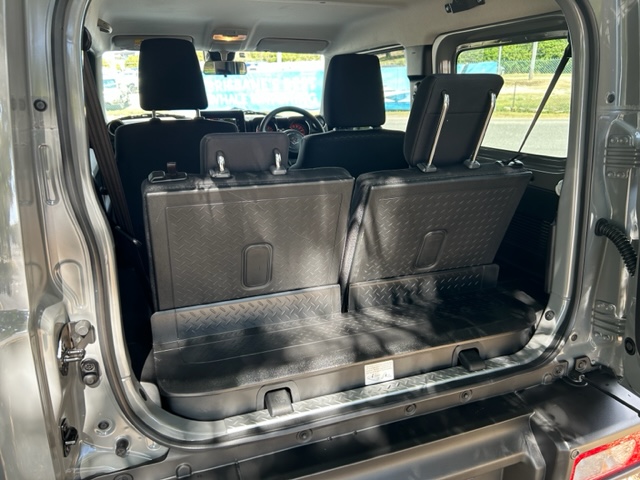 Suzuki Factory Warranty and Service Plans
Excluding some fleet buyers, Suzuki provides a 5 year unlimited kilometre warranty (with every new Suzuki motor vehicle purchased after 1st October, 2019. Suzuki offers a capped price service for new Suzuki vehicles. For this Suzuki Jimny, service is recoemmended at 12 months OR 15,000 kilometres whichever occurs first. The first service (15,000) is $429 and for 60 months is $1885 or an average of $377 per service. My strongest advice is to have your Suzuki serviced at a Suzuki authorised service centre for the entire new car warranty period. Suzuki dealers know their product and have the tecnhicians and diagnostic equipment to maintain your car to the best standard
Comprehensive Car Insurance – Comparisons
The first company I go to for a quote is typically RACQ, but I also use others for comparisons, just to be sure.
The strongest advice I can give you is to never buy or renew with your current company without price checking. You should get at least 2 quotes to ensure that you've got the best deal from a reputable company. In this comparison, RACQ are over $300 more expensive than the next cheapest, Budget Direct. And that's a lot of money out of your pocket.
| | | | |
| --- | --- | --- | --- |
| Vehicle | RACQ | Budget Direct | Virgin |
| Suzuki Jimny GLX Auto | $595 | $430 | $438 |
Summary
As far as price is concerned it's either Suzuki got it wrong at launch or their cost of production and shipping to Australia has risen exponentially since 2019. From a drive away price of $28990 for the most popular automatic version in August 19 you're now paying around $37,990. Thats a 31% increase in four years. And if you've been hesitant to order and wait there's any number of near new Jimmy's available online for well over that $40k or even more. A lot of nefarious private speculators have purchased at a discounted price and are attempting to onsale for a big profit. Research on carsales.com.au shows the cheapest current model 2019 GLX Manual selling for $30,922 and the lowest price 2020 GLX Auto for $38,657.
When I was in primary school, teachers issued reports to show my parents and me what I'd achieved during the school year. I really liked the simplicty of the system, so thought I'd share my thoughts on the good and not so good of the test vehicle
| | |
| --- | --- |
| Well Done | Could Have Done Better |
| Very economical | No Wireless Apple Car Play/Android Auto |
| Go anywhere 4wd system | Luggage room is tiny |
| Suprisingly, rear leg room is quite reasonable for a small car | Basic Interior – no infotainment system |
| Low range 4WD is standard | No blindspot monitoring |
NOTE – One of the better and arguably unbiased reviews you'll see is from Paul Maric of carexpert.com.au. I like to use his reviews to allow you to see how a car performs rather than just still pictures. So thanks to Paul for his review of the Suzuki Jimny.
And Paul says " I'm genuinely impressed with the Suzuki Jimny"
-Advertisement-
Hello. I'm Bob Aldons, the owner and editor of The Car Guy. The Car Guy is an independently owned car review website. I'm currently
reviewing cars for Mazda, Nissan, Kia, Suzuki, Mitsubishi, Haval, MG, Hyundai, Genesis, Jeep, Alfa Romeo, Fiat, Polestar and GWM.
I'm not paid by any car company for my opinion and my companies don't receive advertising revenue to say nice things about them. I call it as I see
it. However, I also own a new car broker company – Car Business. Being able to review new cars gives me an opportunity to provide accurate information on these brands. If you're in the market for Any New Car Cheaper, contact me at Car Business and see how I go about saving you some serious money. 
Perhaps you think that you can do the job of buying a new car yourself? If you're after any advice at all, give me a call and ask me any question that you need to be answered.  Best to get me on 0418 748 498 or email to [email protected]
If you're an Aussie Veteran or serving in the military, I take particular pride in taking care of you. For every car that I source and deliver, I donate
part of my fee to Mates4Mates.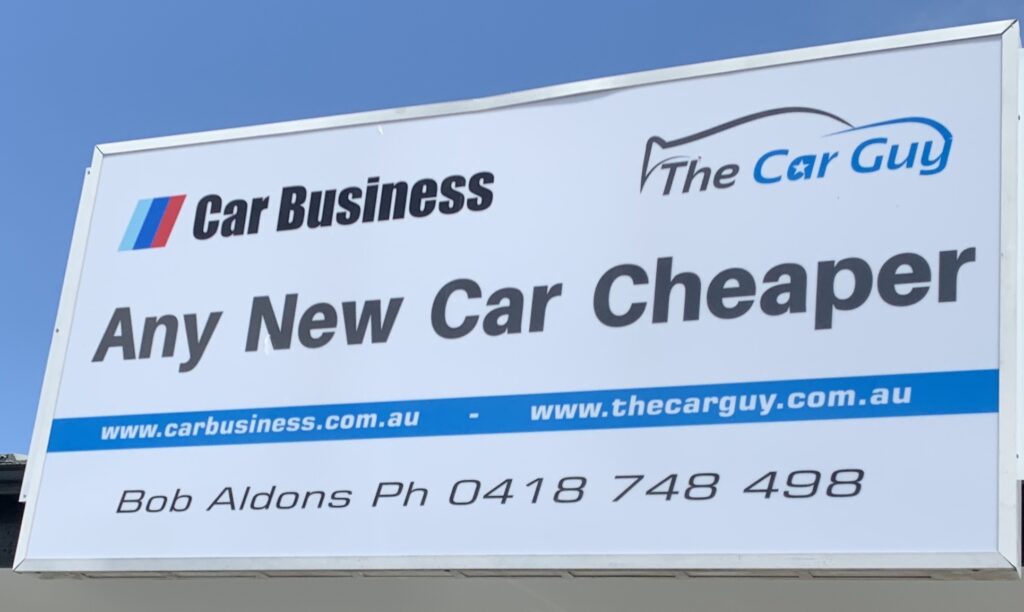 The Car Guy Images
My favourite location for my pictures is at Brighton Park near to the bridges that cross from Brisbane (Brighton) to Redcliffe (Clontarf).
The Houghton Highway, Ted Smout Bridge and what's left of the Hornibrook Highway are generally included. For the information of those not well versed about Redcliffe, the Hornibrook Highway was constructed from 1932 and opened in 1935. All that remains are the entrance and exit of the bridge – the tollhouses. At the time of completion the Hornibrook Viaduct (as it was called then) was the longest road viaduct, built over water in the Southern Hemisphere. The deck was constructed of ironbark timber sourced from the Sunshine Coast hinterland.
2.5 Million Superfeet of wood were transported down the North Pine and Pine Rivers during contruction.
I'm pleased to say that I was able to salvage some bridge timber from the Hornibrook Highway when it was demolished. I had built the desk and coffee table that I use today. A great memory of a heritage listed infrastructure project thats nearly 100 years old
Bob Aldons – BIO
Bob Aldons has spent all his working life (almost) around cars, as a salesman, sales manager, dealer principal, franchise owner or collecting automotive memorabilia. Bob is the current steward of a 1969 Ford Mustang, a 2005 Mini Cooper S and a 2001 Jeep Wrangler. His current 'daily drive' is a Kia EV6 GT. He kicked off Car Business and The Car Guy in 2015 after selling his dealer group, Northstar Chrysler Jeep Dodge, Northstar Fiat and Alfa Romeo, Northstar Isuzu Ute and Northstar Volkswagen. Bob and his wife, Suzi, live in Redcliffe, Queensland.