Is there a really bad vehicle on the Australian market in 2023? I think not. For those built in Korea, the quality and reliability has improved measurably since the first one was launched here in the early 1990's
Since then the Korean twins, Hyundai and Kia, have kicked a lot of goals – prices have risen as the technology has improved, but I think that they are the best value for money brands on the Aussie market
I've driven quite a lot of alternative energy vehicle Hybrids, PHEV and BEV's from the original hybrid seller, Toyota to the latest from Kia and Hyundai. So like a lot of auto commentators I think I'm discounting the future of PHEV. Why? That one rather than a 'normal' hybrid? I for one am not tempted to charge every night to have less range anxiety. The Hyundai Santa Fe Elite Hybrid I'm currently in has a range of over 1000 kilometres with a full tank of 91RON Petrol and a fully charged battery. So my litres per 100 k is currently showing around 6.5. And that's pretty damn good for a large 7 seater SUV.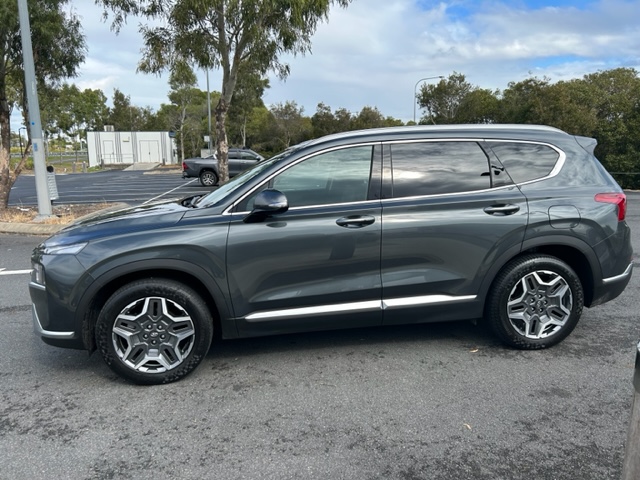 What Hyundai Has to Say
Hybrid electric power and turbo performance in a family size SUV.
Introducing the Hyundai Santa Fe Hybrid – with best-of-both-worlds power and efficiency, it's the agile SUV for active families on the go. This stylish and sporty SUV available in both 7 seater and 6 seater (6-seat option available on Highlander variant only) comes packed with all the latest creature comforts to keep the whole family happy. Peace at last.
Pricing
Hyundai Santa Fe Hybrid starts out with the Elite model for $67,137 (drive away in Qld) rising to the 6 or 7 seat Highlander for $73,809. While that may not sound affordable for the average Aussie new car buyer, the first thing you'll realize is that you're driving a big SUV that promises a range of over 1000 kilometres.
Compares To
Hyundai Santa Fe Hybrid is in a fairly select group of vehicles. Toyota Kluger GXL Hybrid ($71877), and Kia Sorento AWD Hybrid ($74,643) are vehicles that could be compared with the Santa Fe.
Hyundai Santa Fe Hybrid – on the Road
I like it a lot – there's plenty of room for your family and it's versatile. Comfort isn't discounted – all seats are plenty generous and the on road pleasantness is among, if not the best in class, pretty close. Long distance trips are a breeze, while it handles super well on twisting country roads. My favourite test drive is down the Bruce Highway up to Peachester in the Sunshine Coast. I never tire of the journey. The Hyunda Santa Fe Hybrid did the trip in style and comfort
Hyundai Santa Fe Hybrid Engine/Transmission
1.6 T-GDi Hybrid 6-Speed Automatic All Wheel Drive. Produces a combined power output of 169kW and 350Nm of torque
Hyundai Safety
Active safety
Electronic Stability Control (ESC) including:
Anti-lock Braking System (ABS) ● ● ● ●
Brake Assist System (BAS) ● ● ● ●
Electronic Brakeforce Distribution (EBD) ● ● ● ●
Downhill Brake Control (DBC) ● ● ● ●
Hill-start Assist Control (HAC) ● ● ● ●
Multi-Collision Braking (MCB) ● ● ● ●
Traction Control System (TCS) ● ● ● ●
Vehicle Stability Management (VSM) ● ● ● ●
Hyundai SmartSense™ including:
Blind-spot Collision-avoidance Assist – Rear (BCA-R) ● ● ● ●
Blind-spot View Monitor (BVM) – – – ●
Driver Attention Warning (DAW) ● ● ● ●
Forward Collision-avoidance Assist (FCA) – camera and radar type,
including: Car/Pedestrian/Cyclist detection
City/Urban/Interurban operational speeds
Junction Turning (FCA-JT) functionality
High Beam Assist (HBA) ● ● ● ●
Lane Following Assist (LFA) ● ● ● ●
Lane Keeping Assist – Line/Road-Edge (LKA-L/R) ● ● ● ●
Parking Collision-avoidance Assist-Rear (PCA-R) – – – ●
Rear Cross-traffic Collision-avoidance Assist (RCCA) ● ● ● ●
Rear Occupant Alert (ROA) ● ● – –
Rear Occupant Alert (ROA) – Advanced – – ● ●
Remote Smart Parking Assist System (RSPAS) – – – ●
Safe Exit Assist (SEA) – ● ● ●
Smart Cruise Control (SCC) with Stop & Go ● ● ● ●
Surround View Monitor (SVM) – – – ●

Other features
Emergency Stop Signal (ESS) ● ● ● ●
Parking Distance Warning-Front (PDW-F) – 4 sensors, with guidance display – ● ● –
Parking Distance Warning-Reverse (PDW-R) – 4 sensors, with guidance display ● ● ● –
Parking Distance Warning-Front (PDW-F) – 6 sensors, with guidance display – – – ●
Parking Distance Warning-Reverse (PDW-R) – 6 sensors, with guidance display – – – ●
Rear view camera with dynamic guide lines ● ● ● ●
Speed limiter ● ● ● ●
Tyre Pressure Monitoring System (TPMS) – individual tyre pressure readout ● ● ● ●
Passive Safety
Airbags
Front airbags – driver & front passenger ● ● ● ●
Front centre side ● ● ● ●
Side (thorax) airbags – driver & front passenger ● ● ● ●
Side curtain airbags – 1st & 2nd rows ● ● ● ●
Roll-over sensor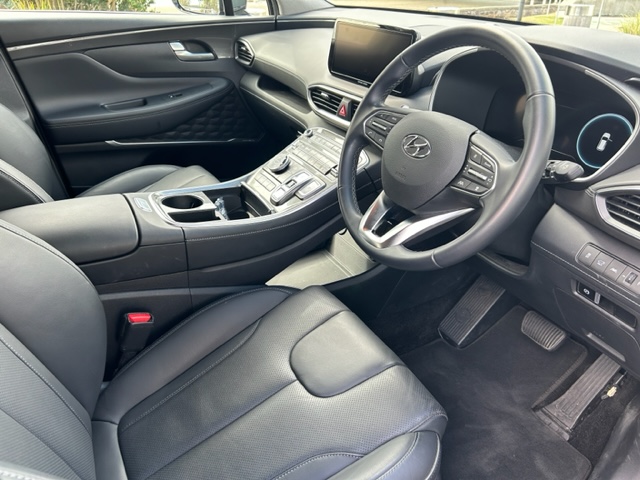 Hyundai Factory Warranty and Service Plans
Hyundai offers a 5-year unlimited kilometre warranty program with capped price service to suit. Hyundai also offers a pre-paid service program for 5 years or 50,000 kilometres (10,000k service intervals) for $2,295 or an average of $459 per service. This program locks the price of your service program irrespective of any potential price increases
Comprehensive Car Insurance – Comparisons
The first company I go to for a quote is typically RACQ, but I also use Allianz and others for a comparison, just to be sure.
The strongest advice I can give you is to never buy or renew with your historical company without price checking. You should get at least 2 quotes to ensure that you've got the best deal from a reputable company. The amounts quoted below are with the insurance companies standard excess amounts, ranging from $800 with Allianz to $900 with Budget Direct
| | | | | |
| --- | --- | --- | --- | --- |
| Comprehensive Insurance | Budget Direct | RACQ | Suncorp | Allianz |
| Hyundai Santa Fe Elite Hybrid | $770.34 | $915.47 | $720.97 | $654.51 |
A warning to the wise. Don't just renew your next insurance policy. You should always – every year – get a quote (online is easy). The above comparison shows that for me, and using my historical details, that I'd go with Allianz who is more than $200 less than Budget Direct and a massive $261 less than RACQ.
Summary
When I was in primary school, teachers issued reports to show my parents and me what I'd achieved during the school year. I really liked the simplicty of the system, so thought I'd share my thoughts on the good and not so good of the test vehicle
| | |
| --- | --- |
| Well Done | Could Have Done Better |
| Exceptional range of over 1000 kilomtres | No Wireless Apple Car Play/Android Auto |
| Family friendly, comfortable motoring | |
| | |
NOTE – One of the better and arguably unbiased reviews you'll see is from Paul Maric of carexpert.com.au. I like to use his reviews to allow you to see how a car performs rather than just still pictures. So thanks to Paul for his review of the Hyundai Santa Fe Hybrid
Maric suggests that he may purchase a diesel Santa Fe than the Hybrid version. Head in the sand Paul? What about the noxious fumes from the diesel v hybrid. Maybe its time to add another category besides power and torque into your review
-Advertisement-
Hello. I'm Bob Aldons, the owner and editor of The Car Guy. The Car Guy is an independently owned car review website. I'm currently
reviewing cars for Mazda, Nissan, Kia, Suzuki, Mitsubishi, Haval, MG, Hyundai, Genesis, Jeep, Alfa Romeo, Fiat, Polestar and GWM.
I'm not paid by any car company for my opinion and my companies don't receive advertising revenue to say nice things about them. I call it as I see
it. However, I also own a new car broker company – Car Business. Being able to review new cars gives me an opportunity to provide accurate information on these brands. If you're in the market for Any New Car Cheaper, contact me at Car Business and see how I go about saving you some serious money.
Perhaps you think that you can do the job of buying a new car yourself? If you're after any advice at all, give me a call and ask me any question that you need to be answered. Best to get me on 0418 748 498 or email to [email protected]
If you're an Aussie Veteran or serving in the military, I take particular pride in taking care of you. For every car that I source and deliver, I donate
part of my fee to Mates4Mates.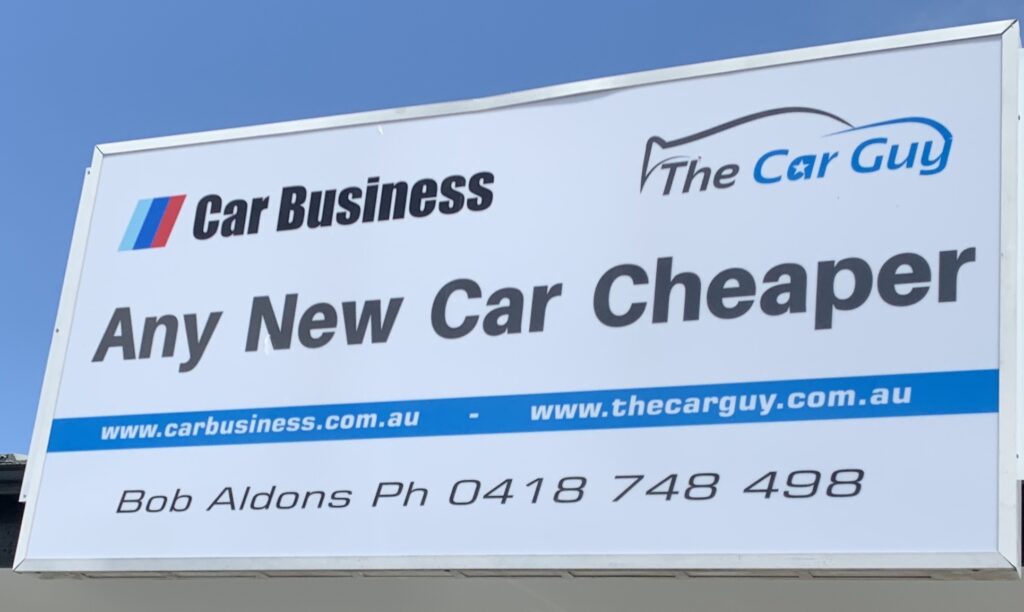 The Car Guy Images
My favourite location for my pictures is at Brighton Park near to the bridges that cross from Brisbane (Brighton) to Redcliffe (Clontarf).
The Houghton Highway, Ted Smout Bridge and what's left of the Hornibrook Highway are generally included. For the information of those not well versed about Redcliffe, the Hornibrook Highway was constructed from 1932 and opened in 1935. All that remains are the entrance and exit of the bridge – the tollhouses. At the time of completion the Hornibrook Viaduct (as it was called then) was the longest road viaduct, built over water in the Southern Hemisphere. The deck was constructed of ironbark timber sourced from the Sunshine Coast hinterland.
2.5 Million Superfeet of wood were transported down the North Pine and Pine Rivers during contruction.
I'm pleased to say that I was able to salvage some bridge timber from the Hornibrook Highway when it was demolished. I had built the desk and coffee table that I use today. A great memory of a heritage listed infrastructure project thats nearly 100 years old