Introduction – Kia EV6
Not so many years ago, Wheels Magazine was the only publication awarding (or not at all in some years) a Car of the Year. We, the motoring press, even use COTY to understand the terminology. It's become the Aussie venacular. Fast forward and it seems that every publication (mostly online) are naming their best cars. There's Drive Car of the Year, Carsales, Off Road Magazines, 4×4 Australia awards and even some that I've never heard of.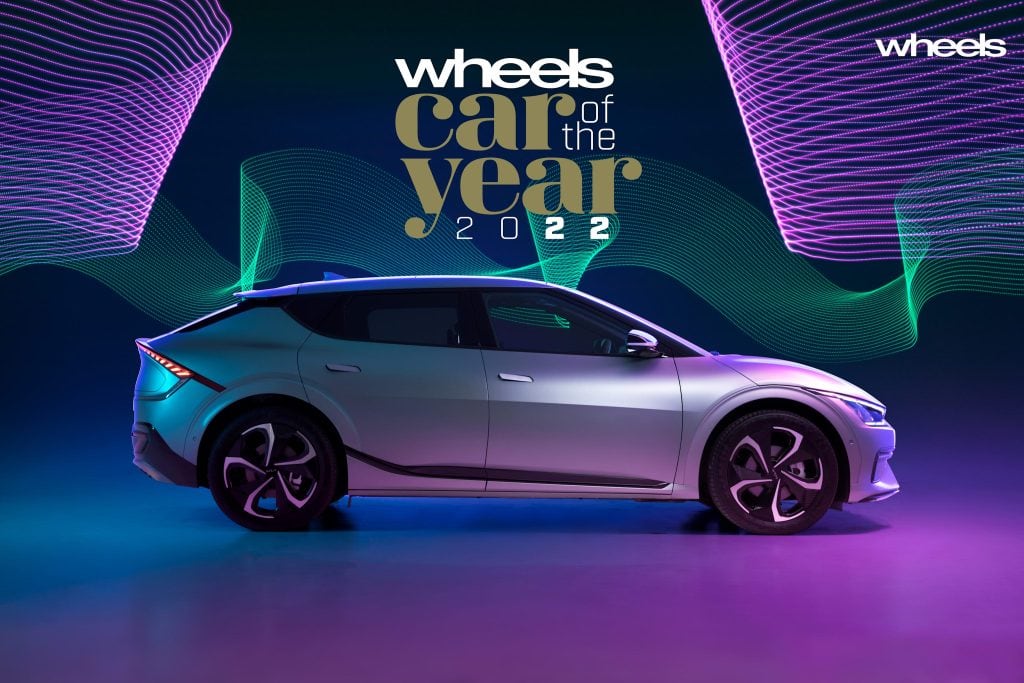 As someone who's been in the industry for over 44 years, Wheels arguably is the most historic and well respected of all the COTY's. Wheels magazine have named the Kia EV6 as their Car of the Year for 2022 – Photography Courtesy of Wheels Mag
Competitors
As a pure Electric Vehicle (EV), there aren't a lot of options for this sized vehicle as yet. Consider sister car, Hyundai Ioniq 5, and then you're into the European options. Drop into something smaller and there's a few more to consider, including other Kia models, Hyundai, MG and more. Kia EV6 seems to me to be the standout for the medium SUV category.
What Kia Says
In pursuit of excellence.
Introducing the Kia EV6, the culmination of Kia's most advanced automotive expertise realised into a single, modern electric crossover SUV. From its bold distinctive exterior, innovative interior design and its cutting-edge technologies, let yourself be inspired by every journey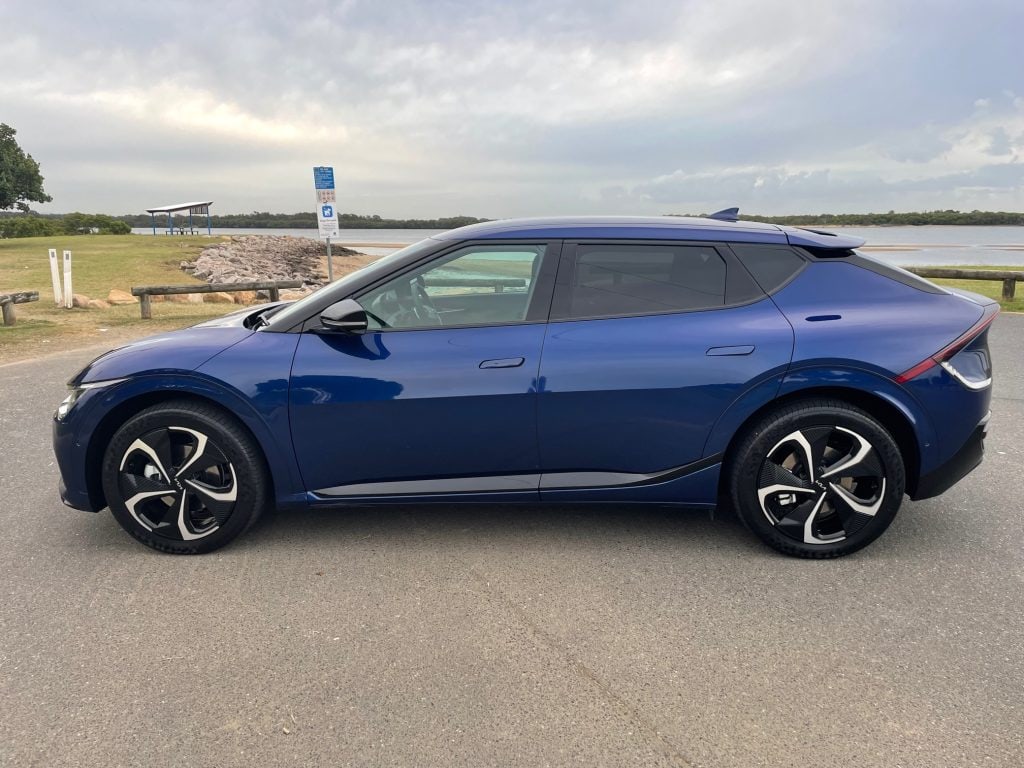 Price
The car I'm driving is a Kia EV6 GT-Line rear wheel drive in Yacht Blue. It retails for $79,725.85 including metallic paint. The EV6 range starts from $72,055 in Runway Red, topping out at $92,365 in the GT-Line All Wheel Drive with matte paint. Which you choose will really depend on the depth of your pockets
Exterior . It's a modern car and gets a modern design. Kia and sister company Hyundai have built their EV's on a special modular platform rather than using older technology. This allows for a flat floor, and this provides unique design parameters – loads more room in the front, rear and boot. And there's no space taken up by the charging connector cable. It's designed for underfloor storage. Kia and Hyundai use the new Electric-Global Modular Platform (E-GMP), designed from the ground up.
Interior And speaking about the interior, it's lavish in the EV6. Shoulder room, leg room and head room are at the top of the game. The GT-Line I'm driving has a combination of suede and leather trim. The Kia EV6 remained beautifully quiet, had levels of Luxury Eurocar refinement, was solid in its footing, and amazingly comfortable. And from comfortable, I mean its a seat that you sit in not on. So when you're driving through tight curves and less than smooth secondary roads, you're snugly held into the seat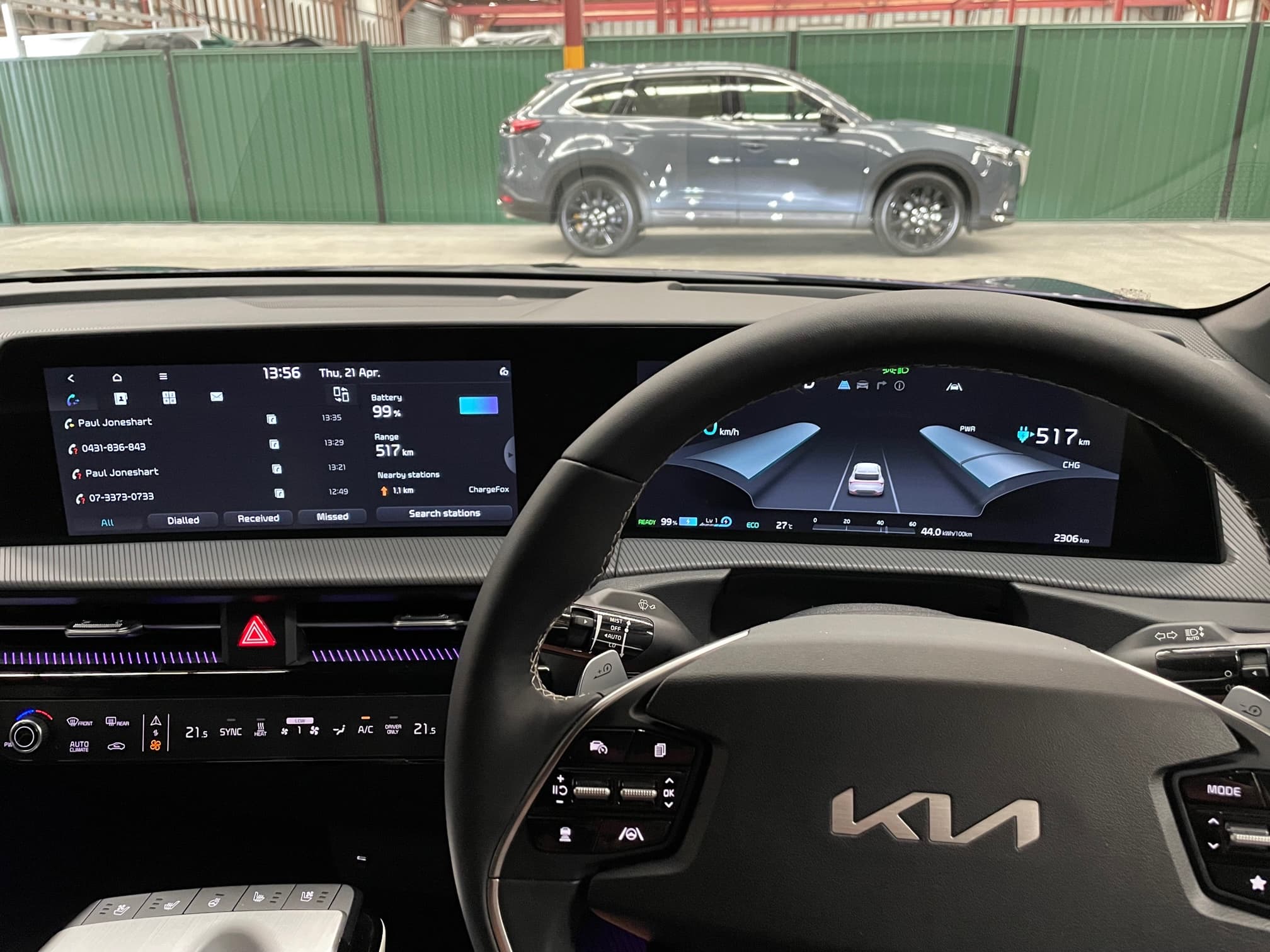 My rating system may need upgrading. While I'm very happy to give the Kia EV6 five stars, if I scored it out of 100, there are a couple of minor 'flaws' that I'd like to see improved
When I'm spending close to $90,000 or more, I'd really want to have a wireless connection from my IPhone. (Maybe put it down to the semiconductor shortage)
Same story with the exterior rear vision mirrors. In most cars the mirrors fold in when the car is parked and off
For some strange reason the radio switches have been moved from the LHS to the RHS. All other Kia's I've driven have it the other way around.
Drive Mode Button – seriously? It should say 'FUN' button or something else like that. 'Cause it surely is fun when you select 'Sport Mode'
And because its a GT-Line, The Kia EV6 gives you lots of 'stuff' that you won't get in an ordinary base model. Air conditioned and heated seats, multi variable electric seats, and lots of room. In fact so much room floor wise that my small dog was able to traverse from the passenger footwell almost to my feet
On The Road It's as good a vehicle as I could imagine. If you're driving 'normally' the Kia EV6 performs faultlessly. But put your foot down it the car explodes with power. 236Kw couldnt have been imagined a couple of decades ago. Now in 2022 there are too many to list here. The Kia EV6 is smooth to drive, extrordinarly quiet and handles like a small sporst car.
The balance in the EV6 is sympathetic to your driving style. Becasue the centre of gravity is low thanks to the battery pack under the floor, you can throw it around and be confident that it will always keep you safe. And tidy in your driving stlye too. With the onboard active safety systems, there's really nothing you can do to get too much out of shape.
The only noise that you'll here is from the tyres. While Kia has chosen Continental blah bla blah for their EV models, you still get tyre noise and thats ok given that the engine itslef gives nothing but quietness
The Kia EV6 has 20″ wheels with continental tyres – 245/50/20 – Big wheels and tyres so why? It's important in an EV to have as much 'roll' as possible – the bigger the wheel/tyre combination the more distance you can achieve for every kilowatt you put into the car. A smaller wheel diamater has less roll – obviously. Some manaufacturers are even optioning 22″ wheels to get a better range. I don't know the answer to this, but if you go bigger and bigger will the range improve?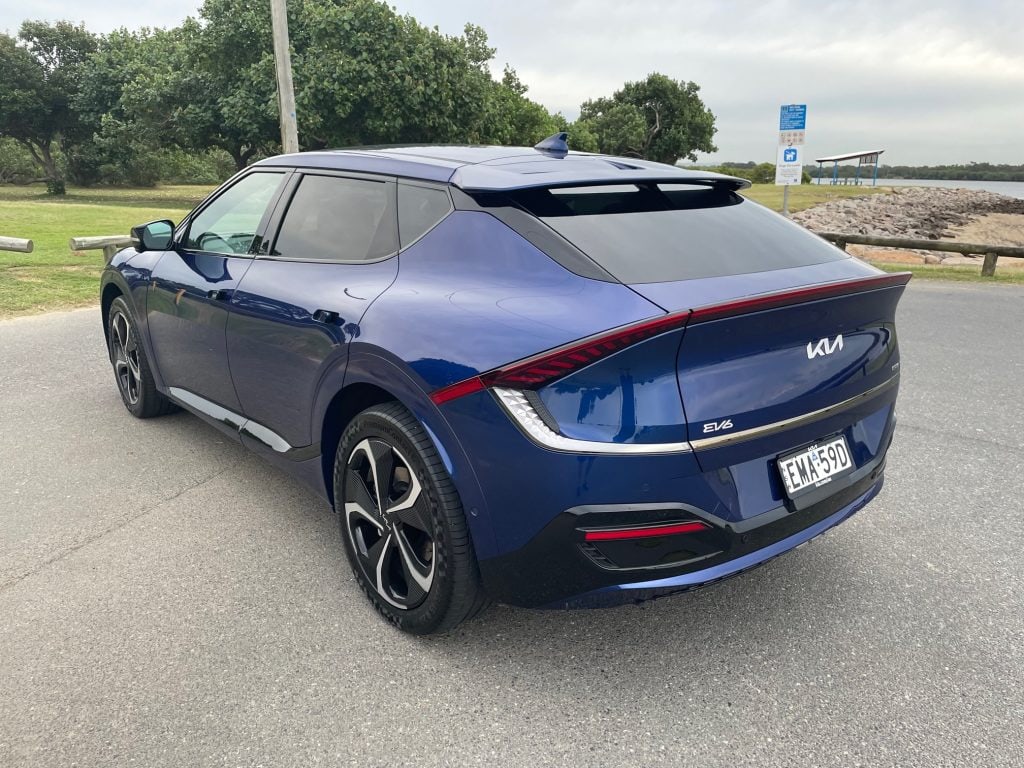 Towing
If you're investing in an electric car, you've probably got another set of wheels for towing your boat, or caravan. The Towing Capacity for this Kia EV6 is 750kg ubraked and 1,600kg with electric brakes fitted. Towball download (kg) 100
Comprehensive Car Insurance
To assist you in the decisions you need to make before purchasing a new car, I use RACQ Online to provide an estimate of the cost of insurance. I always use my own personal information for this estimate, but you should use your own to determine the price you'll pay.
For this 2022 Kia EV6 GT-Line, I was quoted $719.62 with a $750 excess. If you're comparing prices, perhaps look at Budget Direct, Suncorp and NRMA. I currently have car policies with RACQ and NRMA for the cars I own.
Kia EV6 Active & Passive Safety Features
HAC (Hill-start Assist Control)
MCB (Multi-Collision Braking)
AEB (Autonomous Emergency Braking) – Car, Pedestrian, Cyclist & Junction Turning
LKA (Lane Keeping Assist)
LFA (Lane Following Assist)
BCW (Blind Spot Collision Warning) with RCCW (Rear Cross Traffic Collision Warning)
BCA (Blind Spot Collision Avoidance Assist) with RCCA (Rear Cross Traffic Collision Avoidance)
SEW (Safe Exit Warning)
DAA+ (Driver Attention Alert) with Lead Vehicle Departure Alert
ISLA (Intelligent Speed Limit Assist)
Parking Sensors with Dash Display (Front + Rear)
Rear View Camera with Dynamic Parking Guidelines
ROA (Rear Occupant Alert)
Dusk-Sensing Automatic Head Lights
Rain Sensing Wipers
PCA (Parking Collision Avoidance Assist – Reverse)
SVM (Surround View Monitor) with 3D Mode
BVM (Blind Spot View Monitor)
If you'd prefer to see all the specifications for the Kia EV6 – click here
Storage
Storage 4 x Cup Holders (2 x Front Console, 2x Rear Centre Armrest)
4 x Bottle Holders (Front & Rear Doors)
Map Pockets in Front Doors
Glovebox with Illumination
Centre Console Storage Box with Lid
Front Storage Tray
Front Seat Back Pockets
1 x Coat Hook
2 x Coat Hangers (Front Headrests)
Remote Folding 2nd Row Seat (Release Lever x2 in Boot)
Luggage Net Hooks (Cargo Area)
Luggage Net
Cargo Cover (Retractable)
My Verdict
My opinion on electric cars is changing. If only they were relatively price competitive with petrol vehicles, it would be a no brainer. Early adopters (those who buy-in very early with something new) WILL pay a premium for the technology, compared to those who wait for the price to equalize. And that will happen, but not for somewhere between 5 and 10 years time in my opinion.
And then there's the Kia EV6 GT. This halo model is expected in Australia in the first quarter of 2023. The dual-motor, all-wheel-drive EV6 GT produces 430kW and 740Nm of torque. With a quoted 0-100km/h time of 3.5 seconds, it will be, by far, the fastest-accelerating Kia production car yet. How much? Starting price is said to be around $100,000 plus on roads. Gulp!
The EV6 is so quiet on the road and surprisingly quiet on the highway at speed.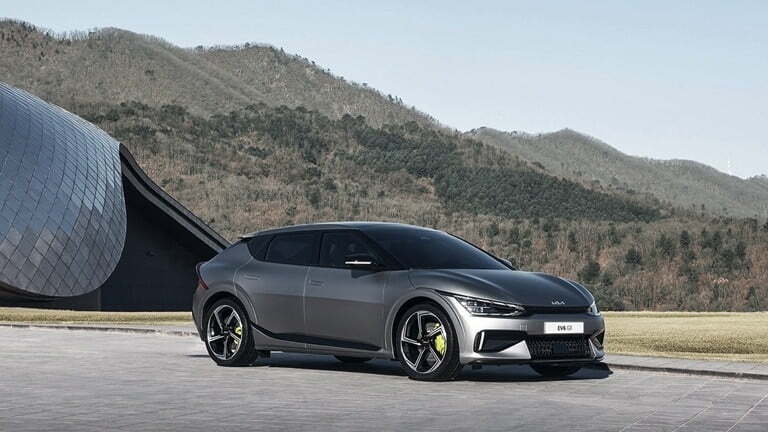 It might not be a Tesla S Plaid in terms of outright speed, but it will be a whole lot less in price. So my conclusion is that I like this car for what it does. I don't like the price, but if you've got those pockets, then off you go and order one. When will you get it? Thats the biggest question of all. Australia only received 500 Kia EV6 vehicles and they're spoken for (Sold). Order one today andd you'll probably be waiting for up to 12 months


At A Glance
Engine/Transmission Battery Battery Type Li-ion Battery Energy 77.4 kWh Voltage 697 V. Power output – 239kW with 605Nm of Torque. According to Kia, the Kia EV6 GT-Line rear Wheel Drive accelerates from 0 t- 100km per hour in 7.3 seconds.
Range An electric vehicle can have a wide economy rating (Kilowatts per 100 kilometres), but most people prefer to know the range. Under the WLTP guildeline (Worldwide Harmonised Light Vehicle Test Procedure) Kia EV6 GT-Line rear wheel drive range, on a combination of city and highway, provides about 504km. And thats a pretty powerful statement as an owner. If you're travelling from Brisbane to Sydney, you'd have to only recharge once. However, if you're using the stonking power mode, you can expect that to almost halve
Warranty/Service Every Kia comes standard with a 7-year unlimited kilometre warranty, 7-year capped price service program and up to 8 years roadside assistance (if you always service with a Kia dealer) . The EV6's battery and electrical components are covered for 7 years, but with a 150,000 kilometre limit
Which Dealer?
If I'm looking for a dealer to speak to about a new car, I only choose dealers who have a minimum four star rating with Google. I'd search for Kia Dealers (and then my own city – Brisbane, Gold Coast, Sunshine Coast etc). From there you'll see a list offered. Choose as many as you'd like to discuss your needs with but my firmest advice is to only speak to dealers who have a minimum 4 star Google rating.
| | | |
| --- | --- | --- |
| Northside | Toowong Kia Toowong | 4.6 Stars |
| Southside | Motorama Kia Moorooka | 4.8 Stars |
| Eastside | Bartons Kia Bayside | 4.3 Stars |
| Westside | Ipswich Kia Ipswich | 4.3 Stars |
| Gold Coast | von Bibra Kia Robina | 4.5 Stars |
| Sunshine Coast | Pacific Kia Currumundi | 4.4 Stars |
If you'd like to discuss the virtues and attributes of the Kia EV6 please call me on 0418 748 498.
So perhaps you're thinking that I'm some sort of car expert?
Well, after 44 years in the auto industry as a salesman, manager and owner of dealerships, I think I am. The Car Guy and associated companies Car Business and Genuine Spares are the sites to find all sorts of information about the motor industry. Including but not limited to the best way to buy a new car, selling your existing car, car finance, car insurance, accessories, spare parts, repairs and just about anything else.
And if you can't find what you're looking for on these sites, send an email to [email protected]. I'll try to provide an answer for you.
I've been in this car business for a long time (since 16/2/1978) and the industry has come a LONG way in that time.


-Advertisement-
Hello. I'm Bob Aldons, the owner and editor of The Car Guy. The Car Guy is an independently owned car review website. I'm currently reviewing cars for Mazda, Nissan, Kia, Suzuki, Mitsubishi, Renault, Haval, Hyundai, Genesis and GWM.
I'm not paid by any car company for my opinion and my companies don't receive advertising revenue to say nice things about them. I call it as I see it.
However, I also own a new car broker company – Car Business. Being able to review new cars gives me an opportunity to provide accurate information on these brands. If you're in the market for Any New Car Cheaper, contact me at Car Business and see how I go about saving you some serious money.
Perhaps you think that you can do the job of buying a new car yourself? If you're after any advice at all, give me a call and ask me any question that you need to be answered.
If you're an Aussie Veteran or serving in the military, I take particular pride in taking care of you. For every car that I source and deliver, I donate part of my fee to Mates4Mates.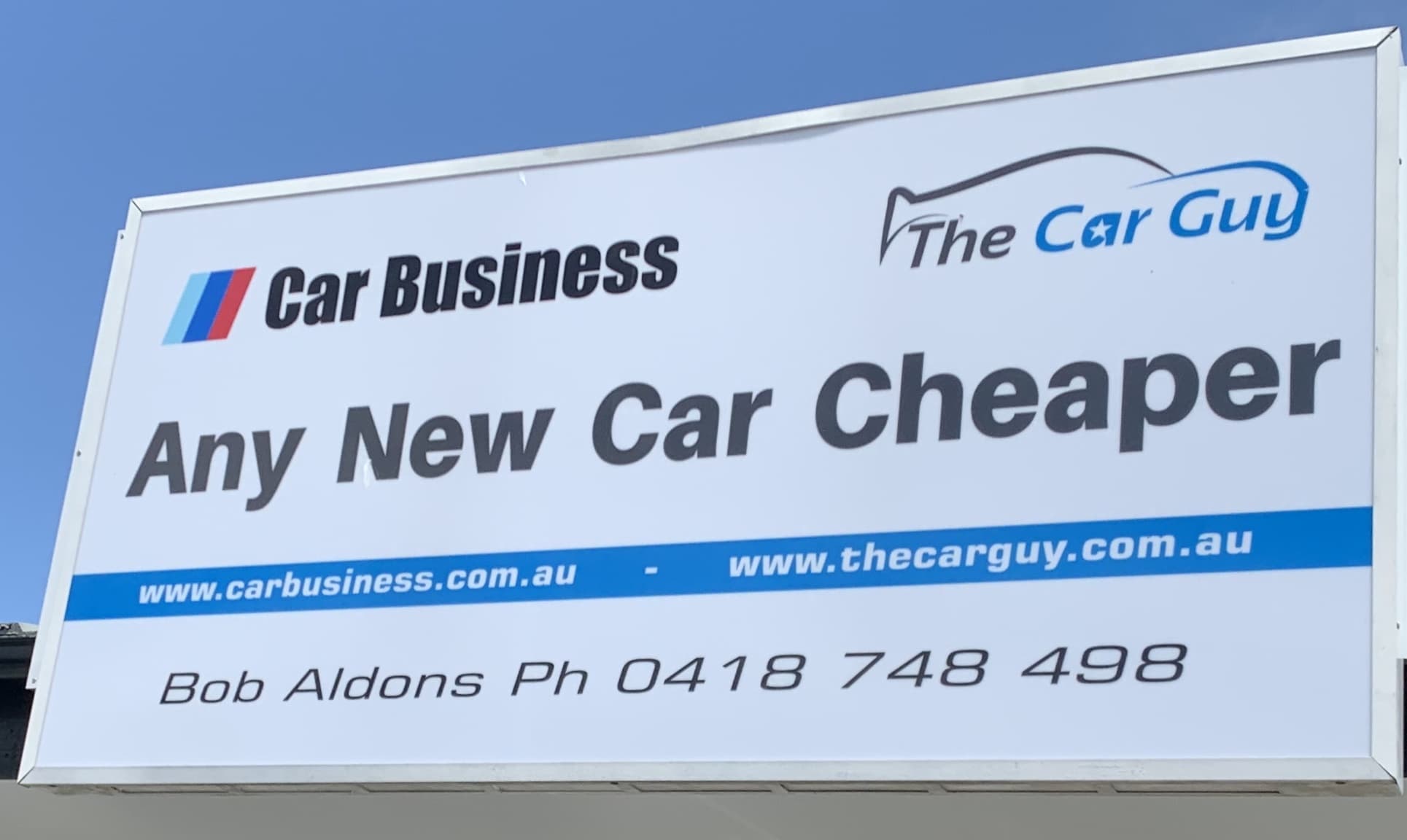 Recent Car Reviews – Kia Sportage First Drive