"You've come a long way baby to get where you've got to today" Philip Morris used this famous line in the 1960s to market their product, but it applies equally to Hyundai and particularly the Hyundai i30 N that I'm reviewing.
And I've got a very particular opinion on this car as a former Volkswagen dealer. When Hyundai introduced their N series in 2017, most VW dealers, me included, thought that it wouldn't do much in the market – particularly as it was only available as a manual. Fast forward to 2021, now with a magnificent 8-speed transmission, and the boy racers who purchased the first N have now got a lot of others lining up.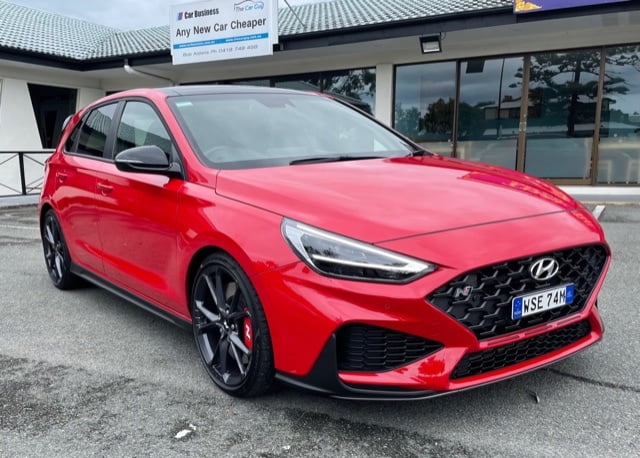 The auto transmission opens up a whole new market – from 50 somethings looking for a sports car and one that they can use on track days without destroying their factory warranty
What Hyundai Says
It's playtime.
Hyundai's first true high-performance car, the i30 N has been reimagined inside and out for maximum driving fun. And now our original N hot hatch is even more fun – available with N DCT for the first time. Now everyone can play.
From the aggressive front bumper and aerodynamic rear to the 19" forged alloy wheels fitted with Pirelli P-Zero high-performance tyres, the i30 N bristles with powerful details prove it was born to play.
Exterior
I'm struggling to identify the N model with Hyundai's regular i30. I know it uses the same shell, but Hyundai's designers have waved a magic wand with the judicious use of spoilers, side skirts, grille, and more.
Competitors
If you're seriously considering playing in the small car hot hatch market, there are a few brands to compare. I'm thinking Volkswagen Golf R, Honda Civic Type R, Renault Megane RS, and Ford Focus ST. There are other pretenders, but hot means something more than warm
Interior
Hyundai has really concentrated on the driver in this car. Very stylish and comfortable sports seat (Recaro like?) cradle the driver beautifully. A combination of Leather and Alcantara fabrics is well designed and purposed.
The dashboard and entertainment design and layout are superb – everything falls to hand easily. It may take you a day or three to work out the controls and buttons so I'd suggest that you ensure that your salesperson is very knowledgeable about the car. You'll typically find someone who has been to a Hyundai Performance training day and that's the person to chat to.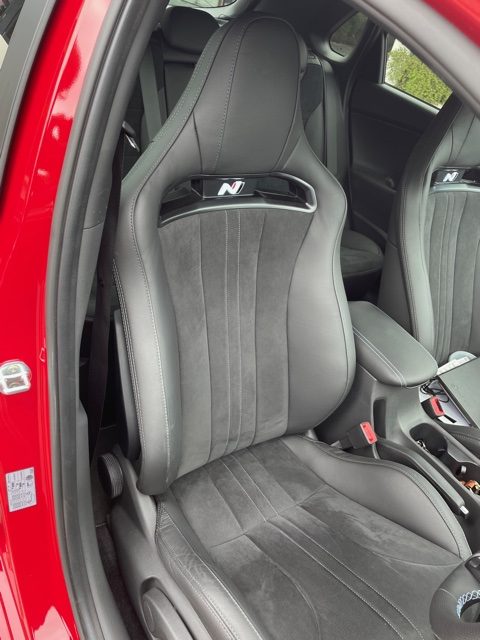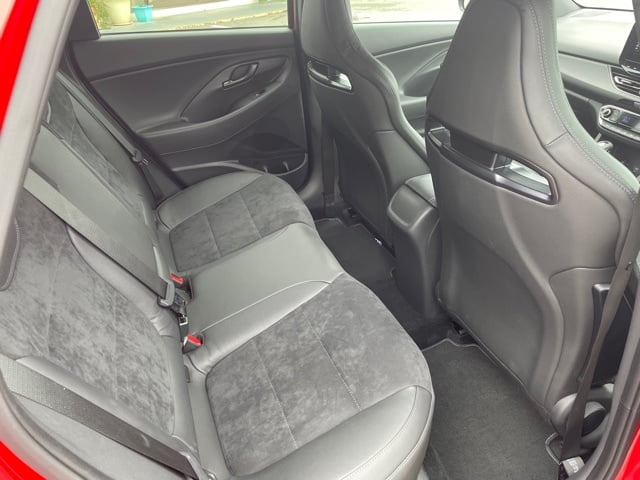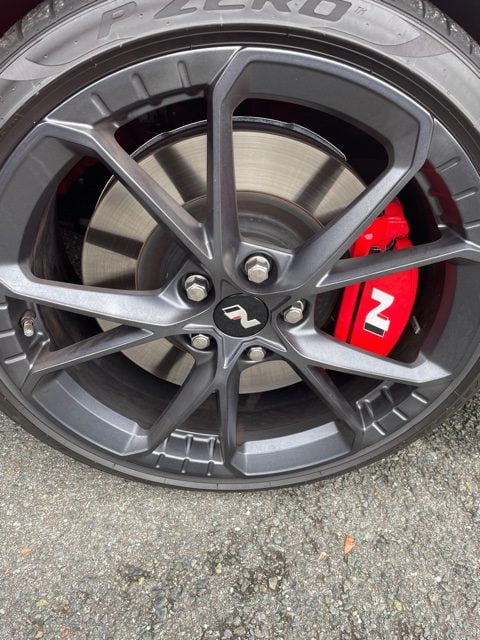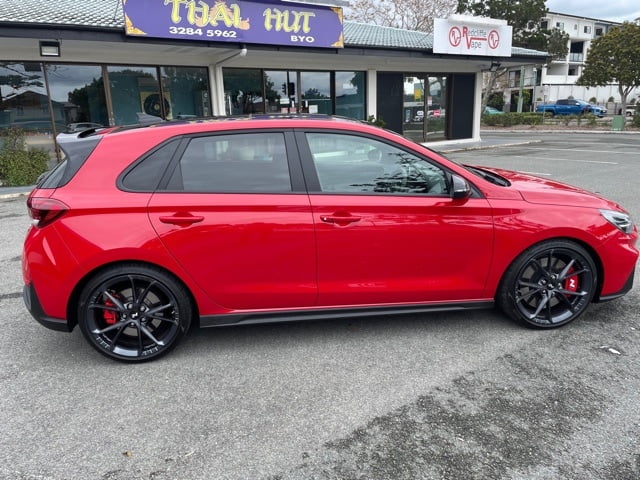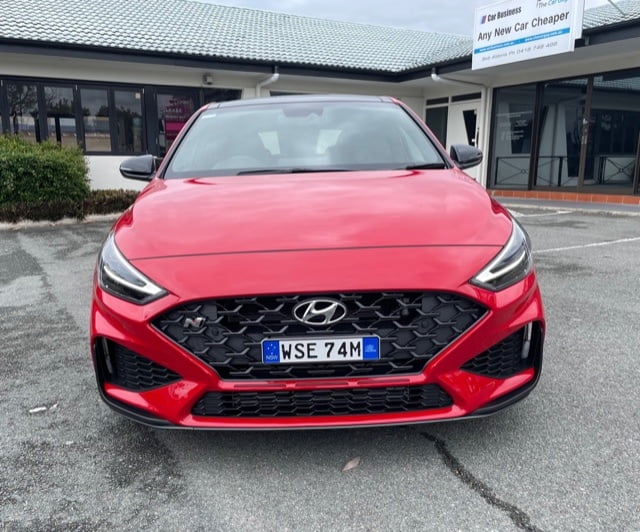 On The Road
Does it look like the MY22 Golf R? I reckon it looks better. Info from Europe suggests that the MY22 R will be wound out to 235kW an increase of 22Kw over the current model. Wonder why they did that? Could be that Volkswagen is more worried about the Hyundai i30 N taking share than ever before.
And on the road, this little car just goes and goes. Love to take it on a track to really see it unleash all the power and gadgets it has. Maybe soon? The front seats are magnificent and hold the driver the way you'd expect in a true sports car.
Adjustable/programmable suspension is great for throwing the car around corners at speed (at the speed limit of course) and it really doesn't feel that you could ever lose control.
The Hyundai i30 N is unique in that it's the only car that I'm aware of that allows you to keep your factory warranty even when you track it. So while it's very capable of going from street to track if this was my car I'd have a couple of track focussed changes First, the brakes. The standard brake rotors are ventilated solid discs. My preference would be to change them up to slotted and drilled rotors and maybe even consider ceramic carbon.
If you're going to do a lot of track work, better brakes would be beneficial. And to tyres. The standard low profile tyres are a good all-rounder – Pirelli P Zero are fitted to a lot of the high-performance cars available. But if you really want to show up your buddies, perhaps look at a set of road/track tyres such as Yokohama Advan Neova or something similar. Reports that I've read suggest that these will improve a lap time by over two seconds compared to the P Zero's
One important point – these tyres aren't so good in the wet – suggestions of aquaplaning at speed, so be careful
MY VERDICT

At A Glance     
Price:                  $56,402 gets you the N Premium with Sun Roof. And thats on the road drive away in Queensland. The N in manual form starts at $48,677 with the 'Base' Auto available for $51,767             
Engine/Transmission  2.0 Litre engine with 8-Speed Dual Clutch Transmission, the Hyundai i30 N produces 206kW of power and 392Nm of torque.
Fuel Economy               95 PULP fuel is recommended but will also take E10, if you're brave enough
Warranty/Service         5-year unlimited-kilometre warranty 
Insurance                     I always get a comprehensive insurance quote from RACQ online. I use my personal details to get a number, but you should use your own to get a comparison. Whenever I have a car insurance policy due, I always get quotes from a number of companies. Just because they advertise on the radio and television extensively, doesn't change the way you price compare. 
RACQ Online has quoted this new Hyundai i30 N at $551.04 with a $750 excess
Significant information regards specifications. If you'd like to check this out yourself, click on HYUNDAI i30
Active variable exhaust system – 3 modes (Normal, Sport, Sport+) ● ● ●
Automatic rev matching – 3 modes (Normal, Sport, Sport+) ● (Manual only) ● ● (Manual only)
Electronic Controlled Suspension (ECS) – 3 modes (Normal, Sport, Sport+) ● ● ●
Electronic sound generator ● ● ●
Launch control ● ● ●
N DCT features – N Grin Shift (NGS), N Power Shift
(NPS), N Track Sense (NTS), Creep start ● (DCT only) – ● (DCT only)
N Drive Mode System – 5 settings (Eco, Normal, Sport, N, N Custom) ● ● ●
Paddle Shifters ● (DCT only) – ● (DCT only)
Rear stiffness bar – chassis brace in luggage area ● ● ●
Electronic Stability Control (ESC) including; N N Premium N Premium w/ Sunroof
Hyundai SmartSense ™ including; N N Premium N Premium w/ Sunroof
Blind-Spot Collision-avoidance Assist – Rear (BCA-R) ● (DCT only) – ● (DCT only)
Blind-Spot Collision Warning (BCW) ● (Manual only) ● ● (Manual only)
Forward Collision-Avoidance Assist (FCA) – City/Urban/
Pedestrian (camera type) ● ● ●
High Beam Assist (HBA) ● ● ●
Lane Following Assist (LFA) ● ● ●
Lane Keeping Assist – Line (LKA-L) ● ● ●
Leading Vehicle Departure Alert (LVDA) ● ● ●
Rear Cross-Traffic Collision-Avoidance Assist (RCCA) ● (DCT only) – ● (DCT only)
Rear Cross-Traffic Collision Warning (RCCW) ● (Manual only) ● ● (Manual only)
Parking Distance Warning – Front (PDW-F) – 4 sensors, with guidance display – ● ●
Parking Distance Warning – Reverse (PDW-R) – 4 sensors, with guidance display ● ● ●
Rear View Monitor with Parking Guidance (RVM w/ PG) ● ● ●
Pretensioners, load limiters & height adjustable upper mounts on front seat belts ● ● ●
Multimedia system N N Premium N Premium w/ Sunroof Functions N N Premium N Premium w/ Sunroof
Apple CarPlay1 & Android Auto2 compatibility ● ● ●
Bluetooth phone connectivity ● ● ●
Satellite navigation ● ● ●
Panoramic glass sunroof – dual panel with tilt and slide front panel and power sunblind – – ●
Solar control front windshield – ● ●
Rear privacy glass – ● ●
N Supervision cluster – 4.2" TFT colour LCD with trip computer, oil temperature / torque / turbo boost gauges, g-force meter, lap timer, & digital speedometer 
Sports pedals – alloy ● ● ●
Daytime Running Lights (DRL) – LED ● ● ●
Headlight functions – automatic dusk sensing with escort and welcome ● ● ●
 
If I'm looking for a Hyundai dealer to speak to about a new car, I only choose dealers who have a minimum four star rating with Google. I'd search for Hyundai Dealers (and then my own suburb). From there you'll see a list offered. From there choose as many as you'd like to discuss your needs with. 
| | | |
| --- | --- | --- |
| Northside | Brendale Hyundai | 4.4 Stars |
| Southside | Westpoint Hillcrest Hyundai | 4.3 Stars |
| Eastside | Bartons Capalaba Hyundai | 4.9 Stars |
| Westside | Springfield Hyundai | 4.7 Stars |
| Gold Coast | Gold Coast Hyundai | 4.7 Stars |
| Sunshine Coast | Noosa Hyundai | 4.5 Stars |



-Advertisement-
Hello. I'm Bob Aldons, the owner and editor of The Car Guy. The Car Guy is an independently owned car review website. I'm currently reviewing cars for Mazda, Nissan, Kia, Suzuki, Mitsubishi, Renault, Haval, Hyundai, and Genesis.
Through Mercedes AMG Petronas Motorsport I'm also writing about the 2021 Formula 1 season.
I'm not paid by any car company for my opinion and my companies don't receive advertising revenue to say nice things about them. I call it as I see it.
However, I also own a new car broker company – Car Business. Being able to review new cars gives me an opportunity to provide accurate information on these brands. If you're in the market for Any New Car Cheaper, contact me at Car Business and see how I go about saving you some serious money.
Perhaps you think that you can do the job of buying a new car yourself? If you're after any advice at all, give me a call and ask me any question that you need to be answered.
If you're an Aussie Veteran or serving in the military, I take particular pride in taking care of you. For every car that I source and deliver, I donate part of my fee to Mates4Mates.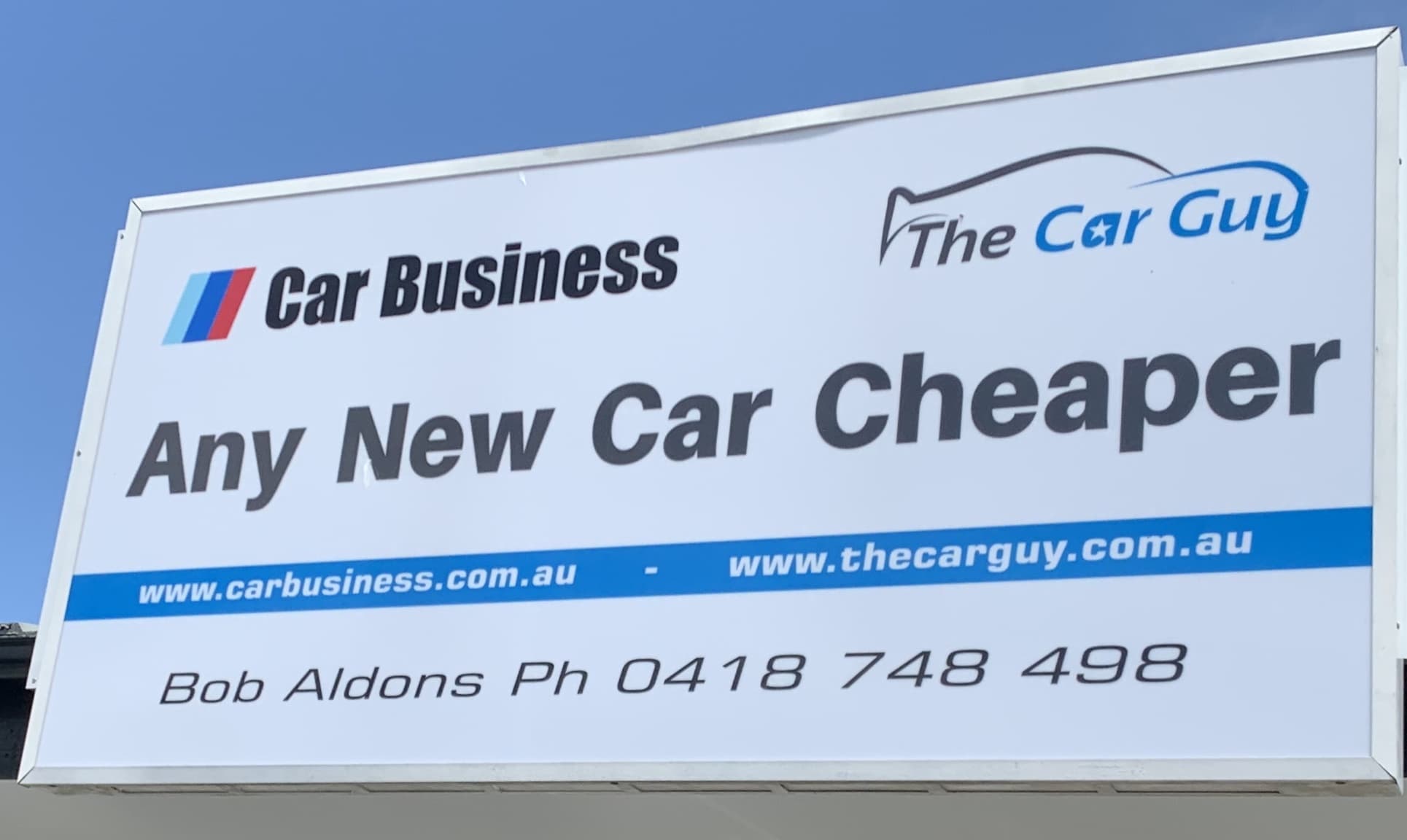 Recent Car Reviews – Kia Niro HEV (Hybrid)