This is a small update to my recent post on the Kia Niro Hybrid. One of the important reasons that I test drive and review various brands, is to provide an honest opinion on the worthiness of the vehicle.
Recently, courtesy of Kia Motors Australia, I reviewed a brand new Kia Niro Hybrid. (Scroll down to see my opinion in full).
Max and Carol Ciol from Scarborough approached me about a new car. Max is a member of my golf club, and he and Carol were interested in buying a new Honda CRV for Carol. And it had to be Orange.
After a bit of a chat with Max, he suggested that they may also consider something in a Hybrid. And guess what? I had the exact model (not the right colour though) just outside my office.
Max took it home, Carol liked it and I arranged for them to inspect and test drive a Sunset Orange Kia Niro Hybrid at a Kia dealership. One week later, and Carol is now the proud owner of a new Kia Niro. Congratulations.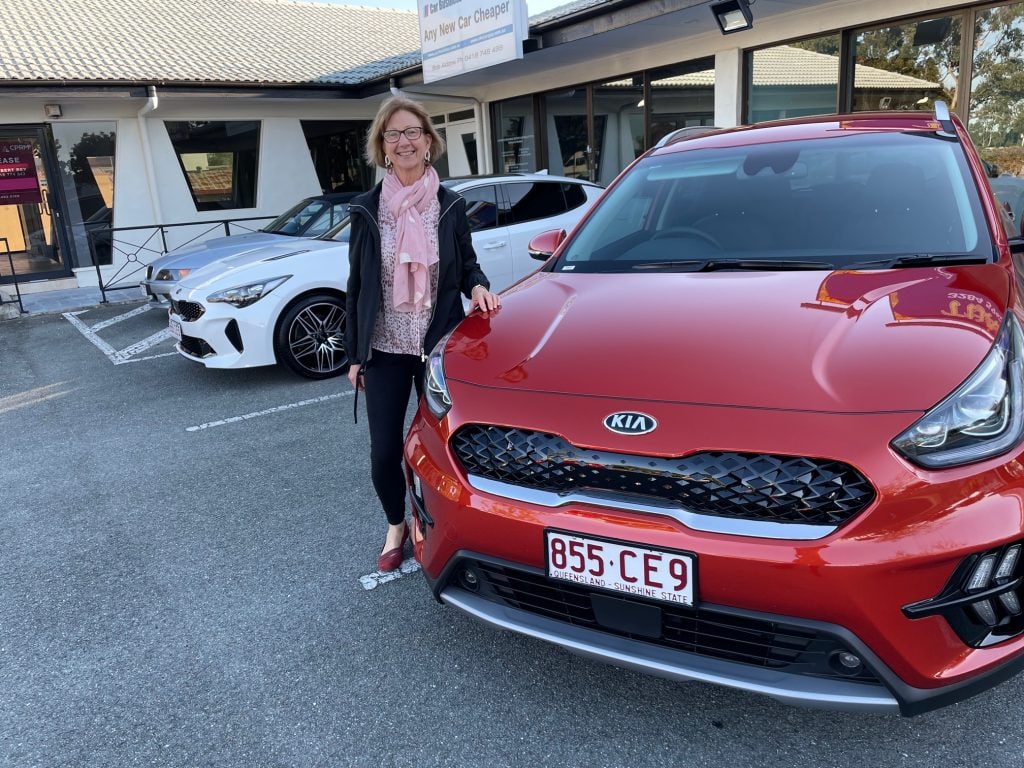 Great anticipation – that's what I felt when Kia Motors Australia offered me the opportunity to test drive and review their first vehicles with 'unconventional' power trains. The Kia Niro Hybrid was the first of these and I'm looking forward to driving the Kia Niro EV next week and thereafter the Kia Niro PHEV
And apart from the tell-tales (Eco Hybrid badge on the tailgate) and the EV sticker mandated on the number plate, you can't really determine what the Kia Niro Hybrid has going on under the bonnet.
So let's delve into the magic and see what Kia has offered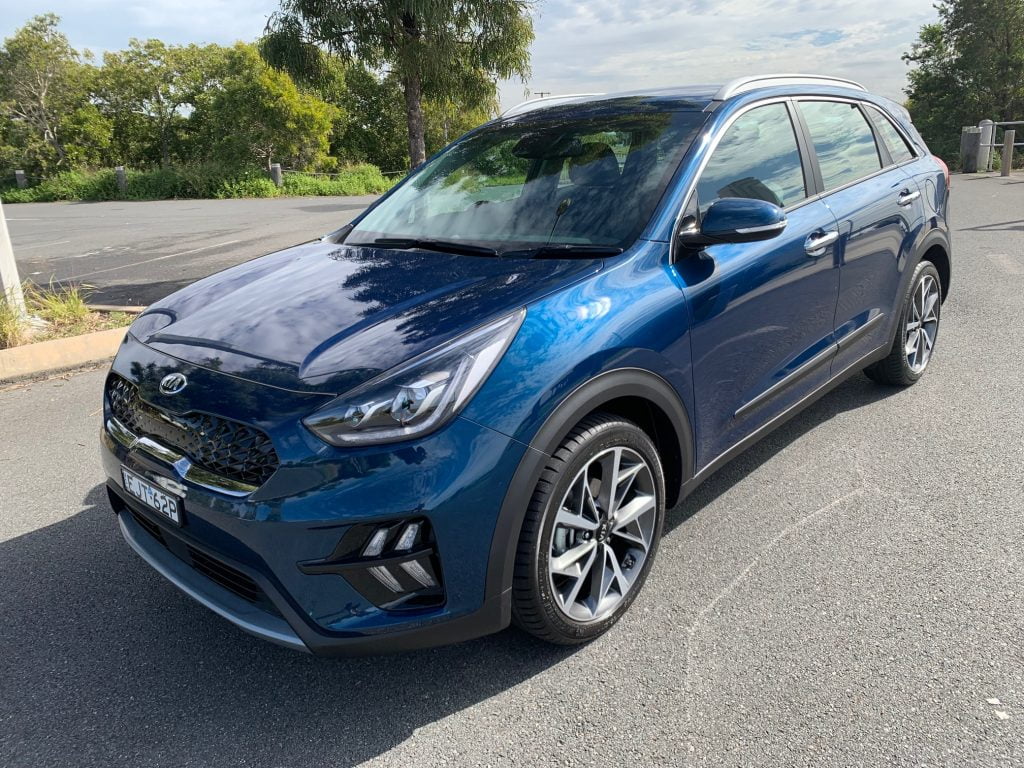 Niro Hybrid SUV – Hybrid Inside, Stylish Outside
What does Hyundai say?
The self-charging Kia Niro gives modern hybrid technology a sleek new look, bringing the efficiency of an HEV to a fun-to-drive crossover SUV. The advanced parallel hybrid powertrain seamlessly blends petrol and electric power – without the need for external charging – for a great ride with outstanding hybrid efficiency.
It's just as impressive on the inside, too — giving you advanced connectivity, tons of comfort and versatility, and a range of intuitive technology and features.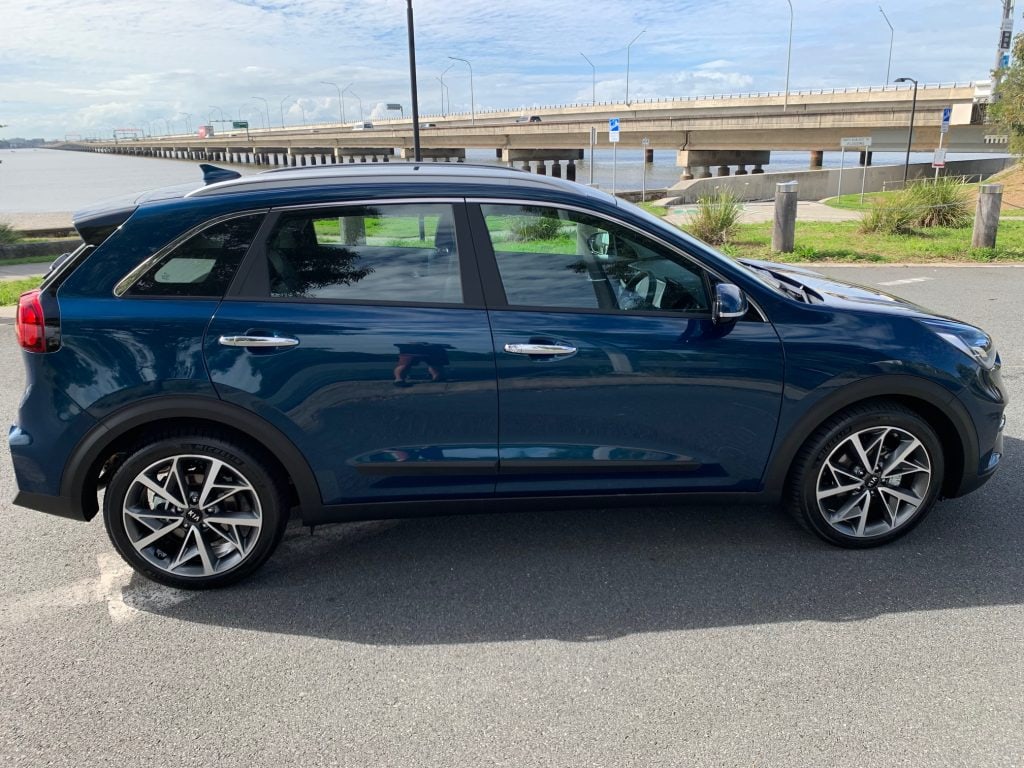 What is it?
Kia Niro Hybrid is the first of the company's vehicles to sport something other than an ICE (Internal Combustion Engine) power train. Sister company Hyundai has had Electric and Hybrid technology for a while, but I think this is better late than not at all. Kia Niro is a good-sized SUV sporting a comfortable 5 seater space and still plenty of room in the luggage area
Competitors
Once upon a time, manufacturers were slow to offer alternative drive trains. Toyota has had the market pretty much to itself over the last 20 years or so, but Hybrid vehicles are becoming more commonplace. Toyota, Mitsubishi, Subaru, Mazda, Honda and Hyundai, from the mainstream market and most of the Europeans for the semi-luxury or luxury segments
Exterior
Frankly, if you didn't see the eco-Hybrid badge on the tailgate, you'd be hard-pressed to tell the difference between petrol-powered cars and this hybrid. Long gone are the days (Toyota Prius from 2001 for example) where a hybrid or EV stands out from the crowded market.
The Kia Niro SUV is like most others – born from a passenger subframe, the Kia Niro provides that wedge-shaped style, wide-opening doors and easy entry and exit for those challenged by older age. Think about your hips folks.
Interior
A thoroughly modern interior with plenty of room for 5 passengers. Legroom, hip, and shoulder room suits my 182cm portly frame and getting a comfortable seating position is a breeze. No push-button start with this model – turn the key and the Kia Niro Hybrid comes to life. Regeneration of the battery is set and forget, but you can choose to utilize the LH paddle to give you heavier autonomous braking and consequently more charge to the battery.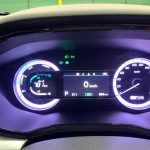 On The Road
My first start-up was a bit of a shock. I'd expected a noiseless engagement, but the petrol engine seemed a bit loud. After a minute, the petrol engine went quiet and the road noise from the tyres was typical of other hybrids I've driven.
The Kia Niro Hybrid is better than you'd expect. Smooth on the bitumen, handles well and there's that extra power produced by the hybrid when you need it. Mrs Aldons was very impressed. From her perspective, visibility was excellent, the seating position was superb and as far as the Deep Cerulean Blue colour, she loved it.
"It will be a lot easier to take care of than my black car wouldn't it?" So there's a small but subtle hint.
MY VERDICT
Frankly, I was very surprised at how much I liked this new Kia. Spacious, frugal and a looker. I'm trying the full EV soon, so I'll be curious to see how that goes. My only hesitation is the price tag on the full EV – circa $70k. Ouch!
Price: Kia are offering a special drive away price for the launch of the Kia Niro Hybrid. You'd expect to pay around $46,224 drive away (Qld Price) for the S model, but the Niro Hybrid is priced super competitively at $42,520 at present. One model up is the Sport at $46,520 drive away including optional metallic paint.
Engine/Transmission 1.6 Litre petrol engine coupled with the Permanent Magnet Synchronous Motor producing 32kW. Total power output of 104kW and 170nM of Torque.
Fuel Economy 3.8 Litres per 100 kilometres for the combined test, 3.8 Litres per 100 k's – Urban (Suburbia) and 3.9 Litres per 100 k's for the extra urban (Highway)
Warranty/Service 7-year unlimited-kilometre warranty for both the vehicle and High Voltage battery fitted to the vehicle. In warranty, Kia provides roadside assistance, but be warned. If you choose to service your car anywhere but a dealer, that roadside assistance doesn't carry on. Service it with a Kia dealer and you get roadside assistance for up 7 years. And if you calculate that cost, it works out at roughly $1000 for the term.
Capped Price Service cost for the Kia Niro Hybrid is $3500 or an average of $500 per annum. Thats not so cheap, but given the technology, its ok in my opinion.
My recommendation, and particularly with Hybrid, PHEV and EV technology is that you service your Kia with a Kia dealer for at least the duration of the factory warranty. Presently, only Kia dealers have the technology to maintain your new vehicle to the standard required. They'll check the currency of the software in your car and update it as required at every service and that's super important with this new technology.
Insurance I always get a comprehensive insurance quote from RACQ online. I use my personal details to get a number, but you should use your own to get a comparison. Whenever I have a car insurance policy due, I always get quotes from a number of companies. Just because they advertise on the radio and television extensively, doesn't change the way you price compare.
RACQ Online has quoted this new Kia Niro HEV at $670 with a $750 excess and an extra $74 for replacement windscreen cover. (Recommended)
Safety and Convienience
Active safety
ABS (Anti-lock Braking System) with EBD12 & BA13 • • •
ESC (Electronic Stability Control) with TCS14 • • •
HAC (Hill-start Assist Control) • • •
VSM (Vehicle Stability Management) • • •
AEB (Autonomous Emergency Brake) with FCWS (Forward Collision Warning System) – Car, Pedestrian, Cyclist
BSD (Blind Spot Dection) with Rear Cross
Traffic Alert (RCTA) (Sport Only)
LKA (Lane Keeping Assist) • • •
LFA (Lane Following Assist) • • •
DAA (Driver Attention Alert) – – •
DAA+ (Driver Attention Alert) with lead vehicle departure alert • • –
Manual Speed Limit Assist • • •
Dusk-sensing automatic headlights • • •
Halogen Headlights (S Only)
LED headlights (Projection Type) (Sport Only)
Halogen Projection front fog lights • • •
LED Daytime Running Lights • • •
LED rear combination lights (Brake / Position) • • •
Rear Spoiler with High-mounted rear stop light • • •
LED Rear fog lightHigh Beam Assist (HBA) (Sport Only)
Rain Sensing Wipers • • •
Reverse parking sensors with dash display • • •
Rear view camera with in-audio screen display & dynamic parking guidelines • • •
Rear view mirror (day & night) (S Only)
Electro Chromatic rear view mirror (Auto-dimming) (Sport Only)
Door open warning on driver display • • •
Speed sensing auto door lock • • •
3-point ELR seatbelts on all positions • • •
Seatbelt warning chime & light on all positions • • •
Child restraint anchorage points
(3x top tether / 2 x ISOFIX) • • •
Child-proof rear door locks • • •
Rear Occupant Alert
Passive Safety
Driver & front passenger SRS airbags • • •
Front side SRS airbags • • •
Driver's knee SRS airbag • • •
Curtain SRS airbags (1st & 2nd Rows) • • •
Front seatbelt pre-tensioners with load limiters • • •
Side door impact beams (front & rear) • • •
Impact sensing auto door unlocking
If you'd like to review all the aspects of the Kia Niro Hybrid – Kia Niro
Whenever I'm looking for a new car dealer, I always search on Google. And that's anywhere in Australia. Car Business, my new car broker company, sources cars all around Australia – even in Western Australia. I always look for the best dealers to work with me and my customers. If the new car dealer doesn't score a minimum of 4 Google Stars, then they're just not good enough to deal with Car Business and my new car buyer
In this case, I'd search for "Kia Dealers" and then the city (Brisbane) or even the suburb I live in. In South-East Queensland for Kia, here are the 6 dealers I'd consider visiting. Google provides a star rating and I suggest that you look for dealers who score more than 4 stars in the Google rankings with at least 10 reviews and stay clear of dealers who don't measure up to the Google standard – after all its real customers who are rating the dealers.
| | | |
| --- | --- | --- |
| Brisbane Northside | Toowong Kia | 4.7Stars |
| Brisbane Southside | Motorama Kia | 4.8 Stars |
| Brisbane Eastside | Keema Bayside Kia | 4.2 Stars |
| Brisbane Westside | Ipswich Kia | 4.2 Stars |
| Gold Coast | von Bibra Robina Kia | 4.6 Stars |
| Sunshine Coast | Pacific Kia Currimundi | 4.8 Stars |
-Advertisement-
Hello. I'm Bob Aldons, the owner and editor of The Car Guy. The Car Guy is an independently owned car review website.
I'm currently testing cars for Mazda, Nissan, Kia, Suzuki, Mitsubishi, Renault, Subaru, and Hyundai. Through Mercedes AMG Petronas Motorsport I'm also writing about the 2021 Formula 1 season. I'm not paid by any car company for my opinion and my companies don't receive advertising revenue to say nice things about them. I call it as I see it.
However, I also own a new car brokerage company – Car Business. Being able to review new cars gives me an opportunity to provide accurate information on these brands. If you're in the market for Any New Car Cheaper, contact me at Car Business and see how I go about saving you some serious money.
And if you're someone who wants to deal with a company that has a great Google Review rating – rest easy. Car Business presently scores 5 stars from over 150 reviews – See my Google Reviews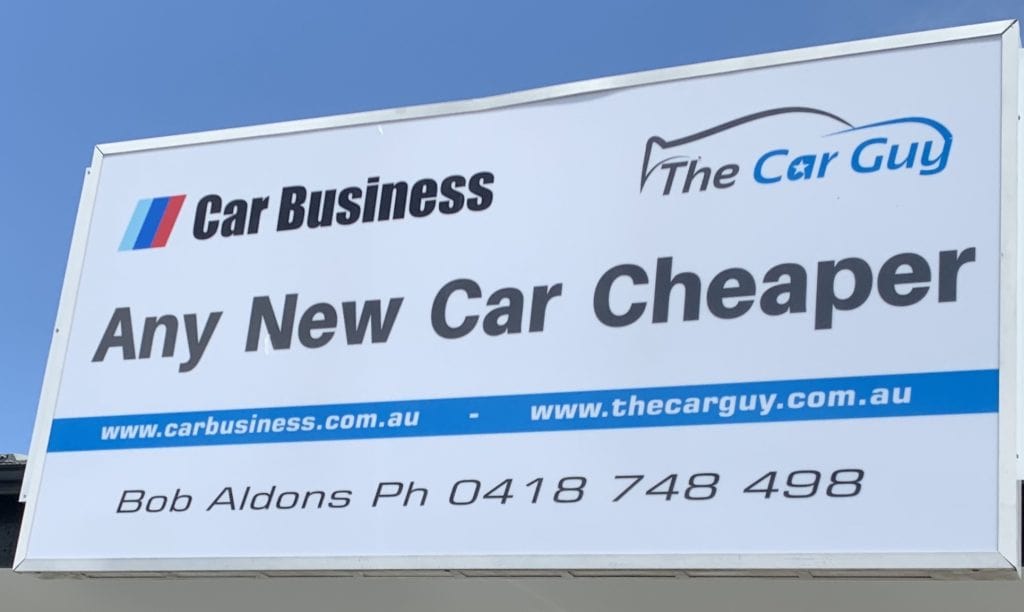 Perhaps you think that you can do the job of buying a new car yourself? If you're after any advice at all, give me a call and ask me any question that you need to be answered.
If you're an Aussie Veteran, I take particular pride in taking care of you. For every car that I source and deliver, I donate part of my fee to Mates4Mates or Brisbane Legacy.
Related Stories: