#HIS7ORY: In a season like no other, the Mercedes-AMG Petronas F1 Team secures a historic seventh consecutive double championship at Imola
Even for a moment, it seemed that Valtteri Bottas would surge away and take the race. And then the Emilia Romagna Grand Prix threw up an alternative as Valtteri ran over debris that had been left on the track. Lewis would take the lead and from there ladies and gentlemen put down your glasses.
The Mercedes-AMG Petronas F1 Team claims the FIA Formula One Constructors' Championship for the seventh time in a row – setting a new world record for most consecutive Constructors' Championships in the sport
Lewis and Valtteri are the only two drivers who can still win this year's Drivers' Championship, securing the seventh consecutive Drivers' title for the team as well
Lewis claimed his 93rd F1 victory – his ninth of the 2020 season and his first at Imola and also led his 5,000th lap in Formula One at the Emilia Romagna Grand Prix
Valtteri came home in P2, securing the 58th 1-2 finish for Mercedes in Formula One
Today's result marked the 100th win for the Mercedes-AMG Petronas F1 Team in the hybrid era as well as the 500th podium place for Mercedes-Benz power
The result also marks the 100th victory for Toto Wolff as Team Principal of the Mercedes-AMG Petronas F1 Team
Lewis (282 points) leads the Drivers' Championship by 85 points from Valtteri (197 points)
The Mercedes-AMG Petronas F1 Team (479 points) leads Red Bull Racing (226 points) by 253 points in the Constructors' Championship – an unassailable lead in the Constructors' Championship with four races to go
Leo Stevens, No. 2 Mechanic on car #44, accepted the Constructors' trophy on behalf of the team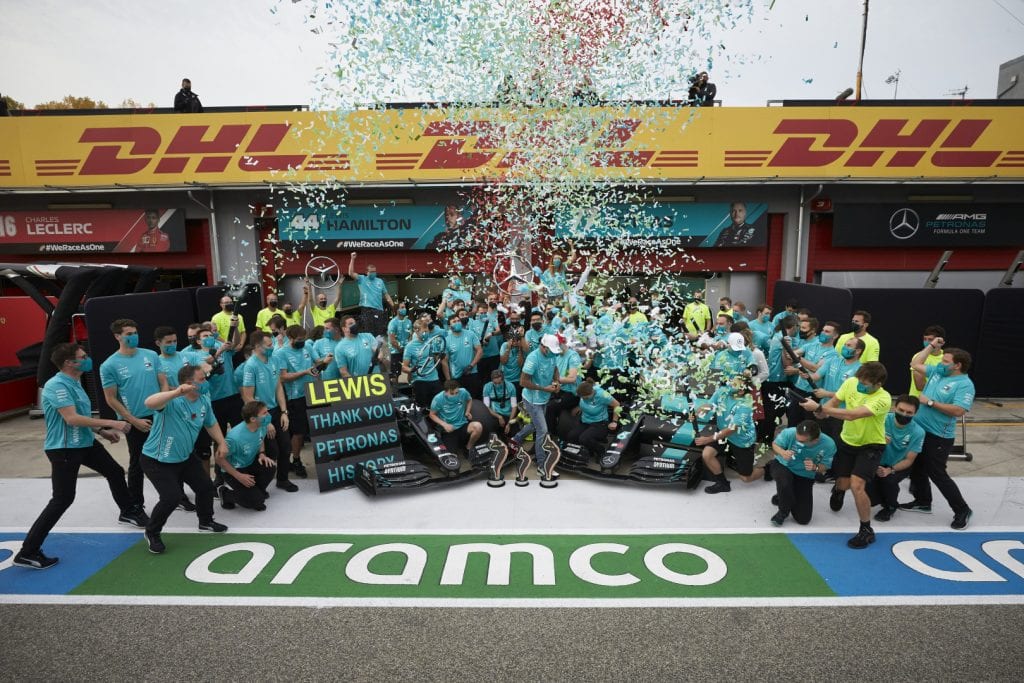 Lewis Hamilton
It's very overwhelming right now. I look at this team and think of everyone back at Brackley and Brixworth, they are the unsung heroes.
They are the ones grafting away, never giving up, continuing to push, elevate and innovate. A big congratulations to the team on a hugely deserved Constructors' title. I'm forever grateful to everyone and so, so proud to be a part of it. To come back year on year and deliver such great performance is absolutely unbelievable.
7-time champions – that's something I'm going to be able to tell my grandchildren one day. No team has ever achieved this and I feel honoured to be a part of breaking this record. A big, big thank you to the entire Mercedes family, to PETRONAS and all of our partners, because we wouldn't be able to do what we do without them.
The race itself was an exhausting one, particularly with the speeds that we are experiencing around this track. I had a tricky start but extended the stint and managed to fight back to the front. It feels fantastic to clinch the title today at Imola in style with a 1-2
-Advertisement-
Hello. I'm Bob Aldons, the owner and editor of The Car Guy.
The Car Guy is an independently owned car review website. I'm currently testing cars for Mazda, Nissan, Kia, Suzuki, Mitsubishi, Renault, Subaru, and Hyundai. Through Mercedes AMG Petronas Motorsport I'm also writing about the 2020 Formula 1 season
I'm not paid by any car company for my opinion and my companies don't receive advertising revenue to say nice things about them. I call it as I see it.
However, I also own a new car brokerage company – Car Business. Being able to review new cars gives me an opportunity to provide accurate information on these brands. If you're in the market for Any New Car Cheaper, contact me at Car Business and see how I go about saving you some serious money.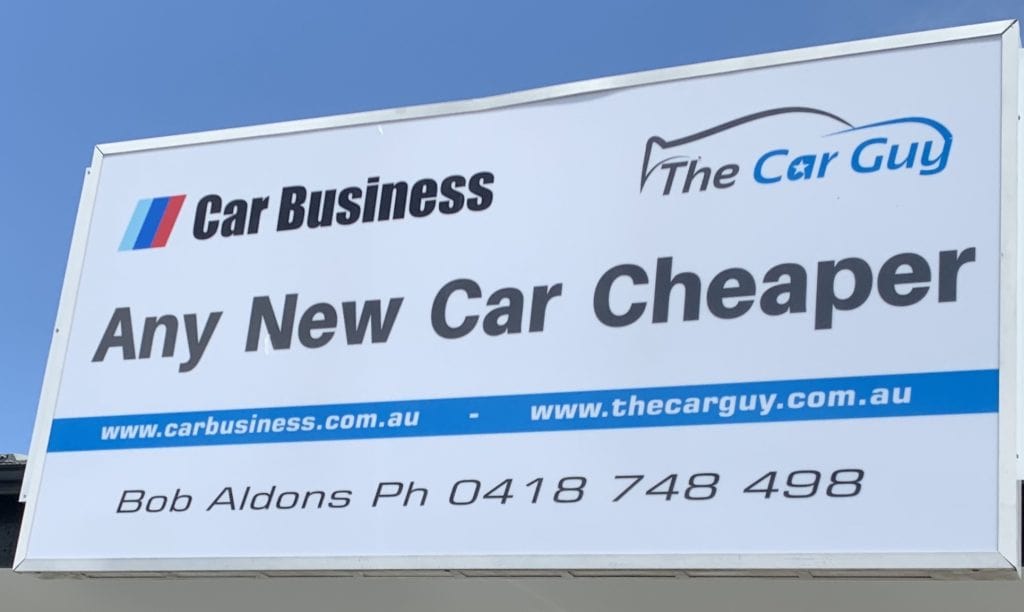 Perhaps you think that you can do the job of buying a new car yourself? If you're after any advice at all, give me a call and ask me any question that you need to be answered.
If you're an Aussie Veteran, I take particular pride in taking care of you. For every car that I source and deliver, I donate part of my fee to Mates4Mates or Brisbane Legacy.
Other Links:  Mercedes-Benz Brisbane – X Class | Consumer Rights