Buying A New Car – Here's my Review on the 2019 Mazda3 Astina Hatch
So rather than just power, torque and other technical terms, I'm providing information that a typical new car buyer is looking for. Hi, I'm Bob Aldons, The Car Guy, bringing you up to date opinions on a wide range of cars available for sale in Australia. The lovely people at Mazda Australia invited me to test and review the recently released 2019 Mazda3 Astina.
So, my initial reaction to the style of the new Mazda3 Hatch wasn't great. I'm not a fan of its design, preferring the sedan version that I drove recently. https://thecarguy.com.au/mazda3-pure-sedan/
But once you're inside, in the driver's seat, all opinions change. This is a beautiful car to drive – smooth on the road, very good handling and well equipped from start to finish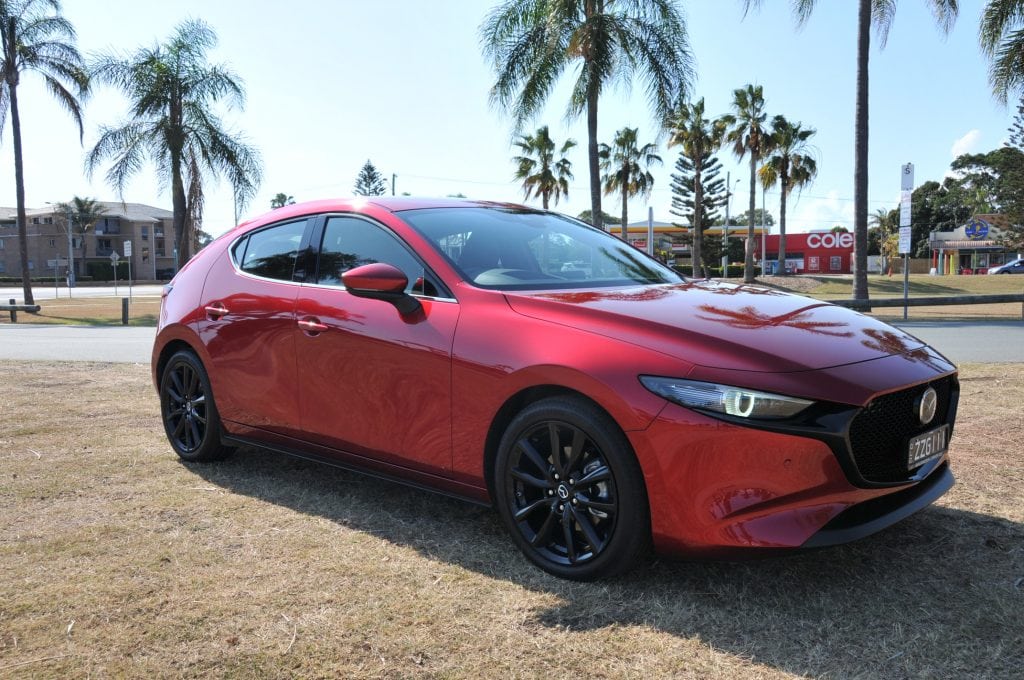 If you can get over the exterior design, it's a fabulous car.
What is it? Mazda3 Astina Hatch is the top of the range small car from Mazda. Larger than the Mazda2 by quite a bit but smaller than the Mazda6 by a substantial margin. If you've considered an SUV, say the Mazda CX-5, and you don't really need the height, Mazda3 will do pretty much the same job.
How Much? This Mazda3 Astina Hatch retails for $41,499 drive away in Queensland. And that's a pretty good price for a fully loaded luxury hatch.
Competitors? According to the comparison I use, there's still a lot of small hatches to consider. Ford Focus, Holden Astra, Honda Civic, Hyundai i30, Kia Cerato, Mitsubishi Lancer, Subaru Impreza, Renault Megane, Skoda Rapid, as well as Toyota Corolla and lastly Volkswagen Golf.
At the Front
Engine type 2.5 litre in-line 4 cylinder 16-valve DOHC S-VT petrol engine with i-stop and cylinder deactivation
Maximum power 139kW @ 6,000 rpm
Maximum torque 252Nm @ 4,000 rpm
Transmission type 6-speed SKYACTIV-Drive (automatic)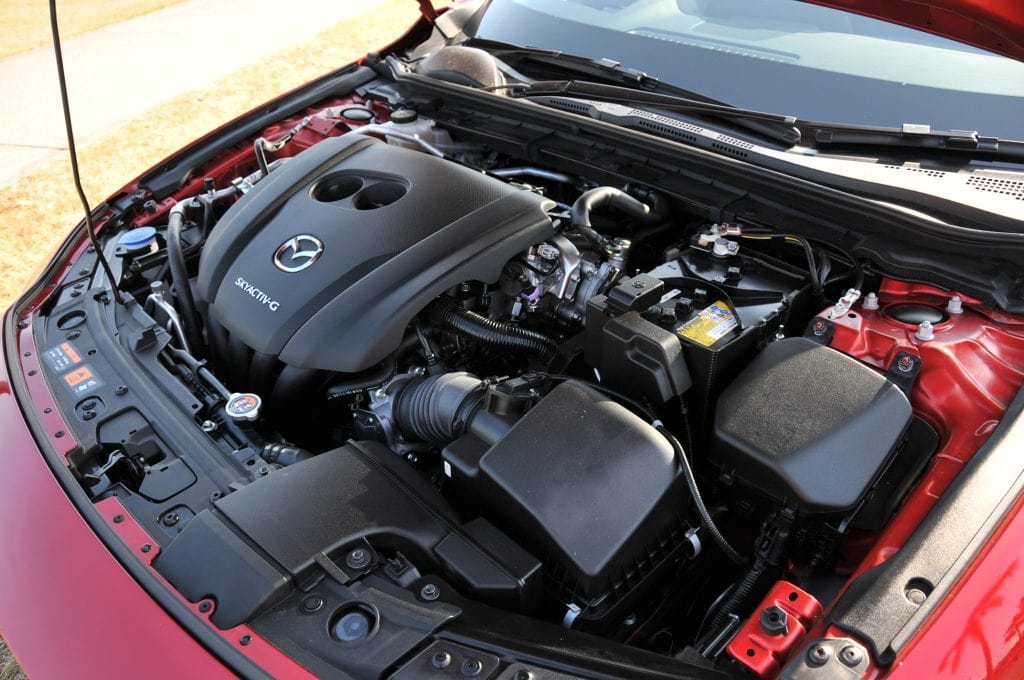 Daytime running lamps LED
Headlamps Adaptive LED (ALH) with auto on/off function
Down The Side
From a safety and technology inclusion viewpoint, the Mazda3 Astina is very well equipped. Apart from the usual safety technology, here's a list of features that you may not be expecting.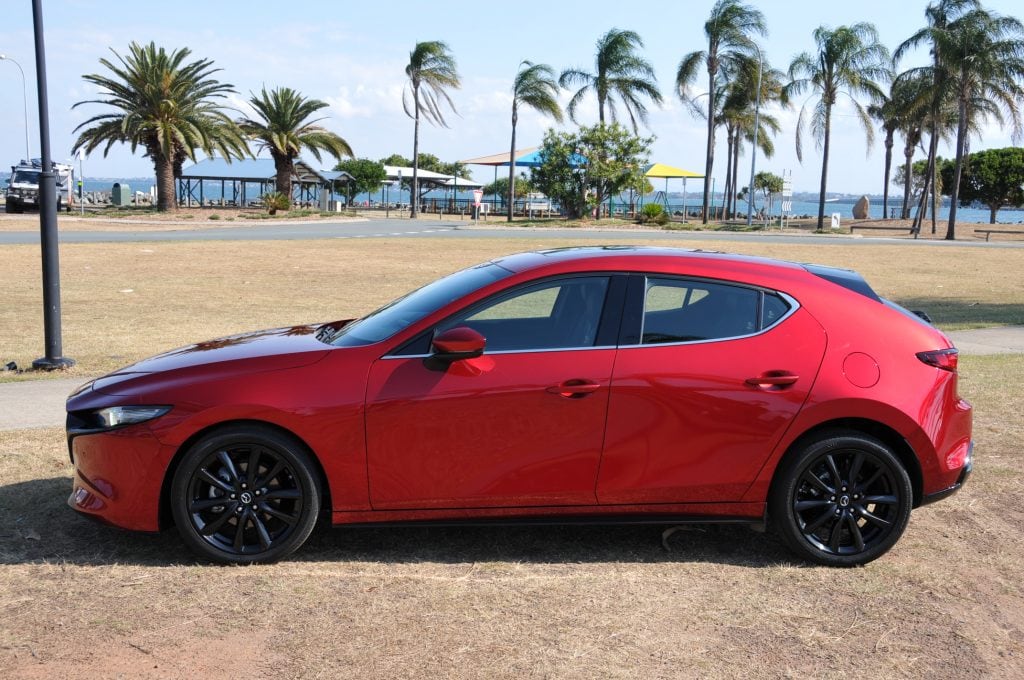 360 Degree View Monitor Standard
7 SRS Airbags Front (Driver & passenger); Side (front); Curtain (Front & rear); Knee (driver)
Blind Spot Monitoring (BSM) Standard
Driver Attention Alert (DAA) Standard
Dynamic Stability Control (DSC) Standard
Electronic Brake-force Distribution (EBD) Standard
Emergency Brake Assist (EBA) Standard
Emergency Stop Signal (ESS) Standard
Forward Obstruction Warning (FOW) Standard
Front Cross Traffic Alert (FCTA) Standard
Hill Launch Assist (HLA) Standard
Intelligent Speed Assistance (ISA) Standard
Lane Departure Warning (LDW) Standard
Lane-keep Assist System (LAS) Standard
Rear Cross-Traffic Alert (RCTA) Standard
Smart City Brake Support (SCBS) Forward (with pedestrian & cycle detection) & reverse
Traffic Sign Recognition (TSR) Standard
Tyre Pressure Monitoring System (TPMS) Standard
At The Back
Towing Capacity
So you're not ever going to tow a large boat or caravan with the Mazda3, but you can certainly pull a smallish box trailer or camper trailer.
Braked capacity is 1,200kg with an 80kg tow-ball download maximum, whilst un-braked, that drops by half to 600kg.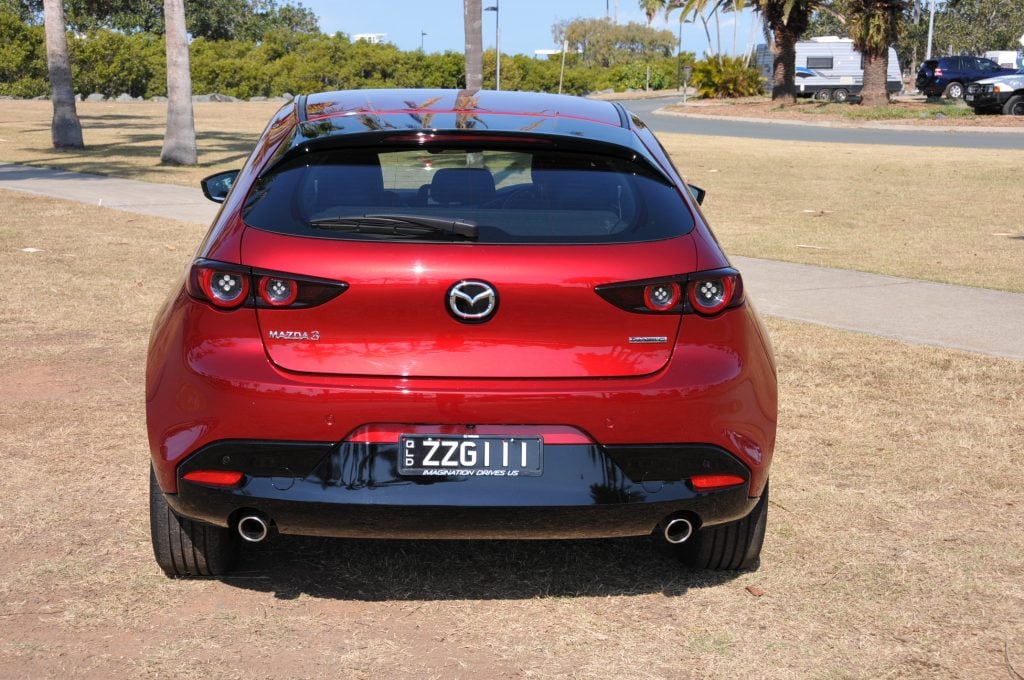 Luggage space is quite large even when the rear seats are in use (295 litres).
You can split the rear seat 60/40 and carry 1 or 2 passengers when the seat is folded. With both seats down the stowage capacity increases significantly – enough to get those larger items from Ikea or Bunnings.
LED Tail Lamps
Rear Cross-Traffic Warning System
ANCAP Safety Rating for Mazda3 Astina
As I've outlined previously, manufacturers don't HAVE to submit their cars for testing. But it sure helps when you have a good rating.  Car buyers are prone to buy vehicles with higher safety ratings than lower. Of course, there are exceptions. Ford Mustang continues to sell well even though the car only achieved a 3-star rating. And upper luxury and performance vehicles aren't tested at all.
Do you really think that Ferrari would allow a $500k car to be driven into a wall?
ANCAP also uses the NCAP ratings. These are the results obtained from testing in Europe. The testing procedure aligns with our own. A 5-star ANCAP rating can also be a 5-Star NCAP rating and so on.
Another interesting example of testing regimes that should be considered is the US program – National Highway Traffic Safety Administration – NHTSA
There's no compulsion to test in the US – and manufacturers don't rely on a star rating system as we have here.
Example: In 2018, new JK Jeep Wrangler was tested in Europe and returned a 1-star rating. NCAP was scathing on the lack of safety and potential for serious injury. Wrangler is one of the best-selling 4WD's on the American market yet it's still not been crash-tested in the US
Example: Volkswagen introduced Amarok to the Australian market in 2011. ANCAP tested it and in 2011 Amarok was given a 5-star rating based on the test criteria in 2011.
Eight years on, Volkswagen hasn't offered another vehicle for testing and arguably the product that they sell in 2019 doesn't meet current crash test criteria. In my opinion, if Amarok was tested today, it would only receive 3 stars.
Is that good enough for our community?
However, there's good news for the Mazda3 Astina. Not only did it achieve 5 stars in 2019, but it would still achieve 5-stars based on the technology required for that level in 2020.
If you'd like to explore the current ANCAP report on Mazda3 in full, click on the link. ANCAP – MAZDA3
Passenger and Driver's Seat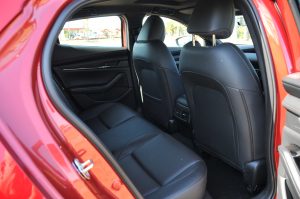 The infotainment screen is surprisingly small – Mazda claims a 7-in TFT LCD screen.
The driver's seat is as comfortable as you'll find anywhere and I include 'luxury' European brands in that comparison. I'm driving a M/Benz CLA 45 presently and the Mazda3 Astina is definitely right up there for driver (and passenger) comfort
There's plenty of room for adults in the back seat, although I don't want to be the person who gets the middle.
 Green Vehicle Guide
The Australian market hasn't moved to the Worldwide Harmonized Test Procedure for fuel economy. We're dragging our heels in Australia, with indications that we may see it in 2020 or 2021.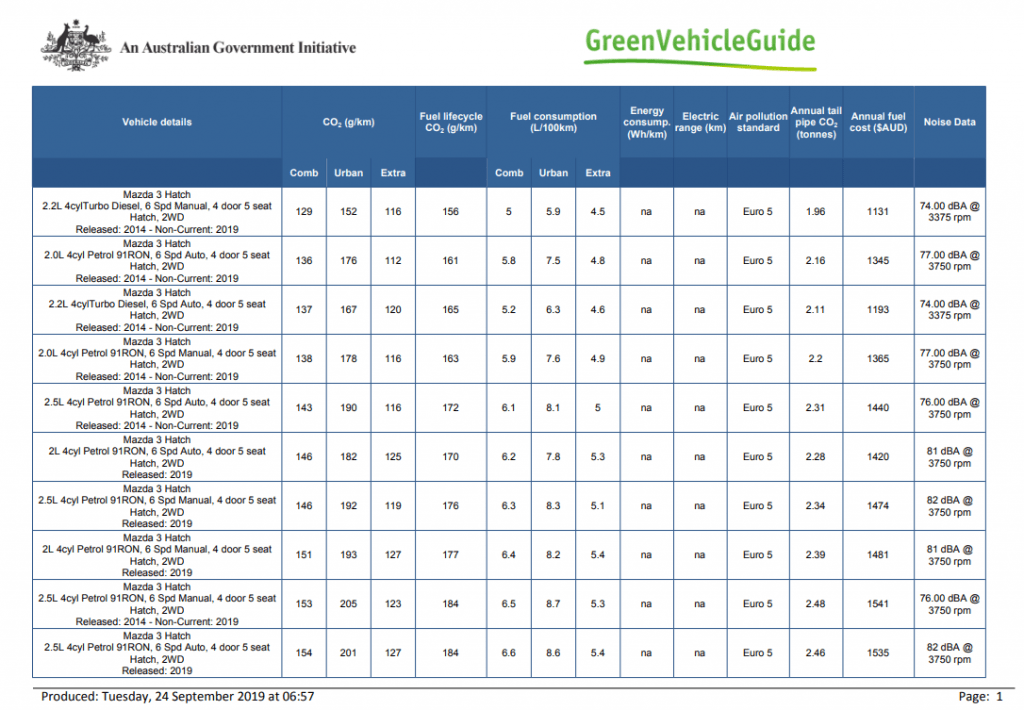 In the meantime, we need to rely on the laboratory results and with this and Mazda3 Astina still shines. Scroll down to the last line on the image above to review the information
With a highway return of 5.4 litres per 100klm, city driving at 8.6 litres per 100klm and a combined result of 6.6 litres per 100klm, this powerful little hatch is quite economical.
Finance  – Mazda3 Astina Hatch*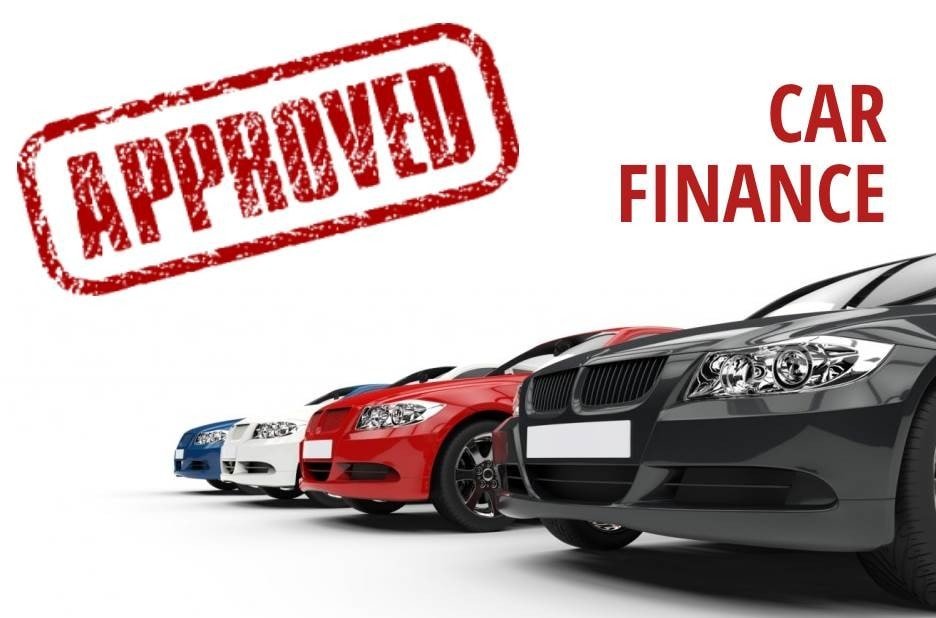 I've decided to provide you with some finance quotations. I obtain these figures from a local finance broker and there are rules that I need to use. This quotation is for business purposes.
Cash Price                                        $41,499
Term                                                 60 months
Monthly Payments                        $623.85
Balloon                                             $12,450
Rate Quoted                                    6.0%
Please refer to the disclaimer at the end of the article.
Insurance – Mazda3 Astina Hatch
I use RACQ Insurance to give you a guide as to what you'll pay for your annual comprehensive car insurance. Conditions for this cover are:
A male driver over 60 years of age, having held a license for over 10 years
Bronze member of RACQ with 1 other insurance policies
Has paid cash for the car. The car is parked in a driveway overnight.
The driver resides in postcode 4017
The car is fitted with an engine immobilizer
No at-fault claim in the last 3 years, with no license suspensions
Rating 1 currently, having held that rating 1 for 10 years or more
No driver under 25 will use the vehicle.
The premium quoted online by RACQ Insurance for Private Use – $456.90 with a $750 excess. Variations from the information above may result in different outcomes. Check online with RACQ Insurance for your own particular quote. (Effective October 23rd 2019)
Mazda3 Astina Service Costs and Warranty
All Mazda vehicles come with a 5-year unlimited-kilometre warranty. Base scheduled maintenance is due every 10,000 km but no longer than 12 months. For the first 5 services or 50,000 kilometres, you should expect to pay $1586 or an average of $317.20 per service. Given the low prices for genuine Mazda service, I think you should return your Mazda3 to the dealer for routine services. Not only will you be sure to keep all software up to date (aftermarket workshops can't do that presently) but having your service manual stamped by a Mazda dealer will give you a much higher resale value. Private buyers LOVE a dealer log book.
One of the other 'whole of life' aspects of the Mazda range is the benefit of a non-turbo engine. Fuel recommended by Mazda is 91 Unleaded or E10. No need to pay the extra that premium unleaded costs unless you choose to do so.
There are some other items that need to be serviced or replaced in this time and they are:
Replace brake fluid (every 40k or 2 years)

The Brake Fluid provides hydraulic pressure for the vehicles braking system. Periodic replacement of the vehicle's Brake Fluid is required as contaminants such as moisture can reduce the overall efficiency of the braking system. This helps to maintain the efficiency of the vehicles braking system, ensuring the safe and reliable operation of your vehicle. –

$67

Replace cabin air filter (every 40k)

The Cabin Air Filter ensures only clean air is drawn into the Cabin of the vehicle. Periodic replacement of the passenger Cabin Air Filter is required due to the build-up of dust and dirt within the filter element. This ensures the comfort of passengers with only clean fresh/filtered air entering the cabin. –

$91
Be careful when you take your vehicle in for service. Some new car dealers will try to upsell items such as Power Steering, Air Conditioning and Fuel Injector service. To avoid unnecessary spend, simply ask the dealer to advise whether this is a Mazda recommended service as are the brake fluid and cabin air filter. If not, then just say no!
As far as roadside assistance is concerned, Mazda provides Premium Roadside Assistance on all new Mazda vehicles.  If you'd like to know ALL the aspects of Mazda's roadside support – click this link to go to the Mazda Website 
My Opinion 
Look, I really like the Mazda3 range. I'm not partial to a hatch, but this model in the sedan would certainly get me interested. Mazda has a wonderful reputation for reliability, great safety technology and probably the best resale value. You could very well see a Mazda3 in my driveway
Where to Buy – Dealers
My test vehicle was supplied by Mazda Australia. No financial incentives were paid to me by Mazda for this review. If you're in the market to buy a new Mazda, pick your dealer carefully. When I want to check out the 'worthiness' of a dealer, I Google 'Mazda Dealers Brisbane where the city is the one that you live in or around and the brand is that particular one you're interested in. I only list dealers who have achieved a minimum of 15 reviews with Google and then only those with 4 stars or higher.
Of all the manufacturer reviews that I've done over the last few years, Mazda and it's dealers have the highest Google rankings I've encountered. They must be doing something right!
From a South East Queensland perspective here are the dealers I'd visit:
Northside                Grand Prix Aspley                             4.4 Stars from 448 Reviews
Southside                Mt Gravatt Mazda                             4.7 Stars from 1173 Reviews
Eastside                  Redlands Mazda                                4.5 Stars from 178 Reviews
Westside                 Westpoint Isuzu Ute                        4.3 Stars from 128 Reviews
Gold Coast              Robina Mazda                                   4.1 Stars from 168 Reviews
Sunshine Coast       Sunshine Coast Mazda                   4.2 Stars from 140 Reviews
(Google Stars and review numbers effective 12th October 2019)
Strengths
Smooth power delivery and economical
Lots of interior space
Great Safety Technology
Weaknesses
Only the rear end design, but that's my opinion
So, in conclusion – Mazda3 Astina is one of the best small cars I've driven. Better than the VW, Ford, Holden, Toyota and Honda alternatives (and the others) I've driven this year. If you're in the market to buy a luxurious small car, give me a call on 0418 748 498 to discuss. My affiliated company, Car Business, can assist you to save your hard-earned money, and it's a simple process. Call now 0418 748 498
Related Articles
Buying a New Car?
Get in Touch with Car Business – Skip the Dealerships
As a licensed motor dealer for over 40 years, I'm legally able to buy and sell all new and used motor cars. So if you've got a trade-in, I can help with that too.
It's easy to get in touch.
Address:          2/265 Oxley Avenue, Cnr Duffield Rd, Margate QLD 4019
Mobile:            International   +61 418 748 498
Australia          0418 748 498
Websites:      https://www.carbusiness.com.au
                         https://www.genuinespares.com.au
Email:            [email protected]
Facebook:     www.facebook.com/carbusinessqld
LinkedIn:     https://www.linkedin.com/in/bobaldons/
Twitter:        https://twitter.com/mycarbusiness
Instagram:  https://www.instagram.com/carbusinessbrisbane/
Pinterest:    https://www.pinterest.com.au/carbusinessbrisbane/
Finance Disclaimer:
The provided quote should be used as an indication only and does not represent either approval or pre-qualifications for a loan.
The quoted payments apply for the example given and in this instance do not include fees and charges, as different terms, fees or other loan amounts may result in different outcomes between financiers.
The specific details of your loan will be provided to you in your loan contract.
It is advised that you consult your financial adviser before taking out a loan