Nissan Motorsport has an extensive history in the Car Business internationally and in Australia. It's been a long while since success in the Australian Touring Car Championship as well as Bathurst. I distinctly recall the success of the team in the early 90's. To celebrate the 25 years since Nissan tasted success, the company is recalling the famous Nissan Calsonic GT-R R32  livery for the Wilson Security Sandown 500 and undoubtedly the Super Cheap Bathurst 1000.
In their own words, here's the press release from Nissan today.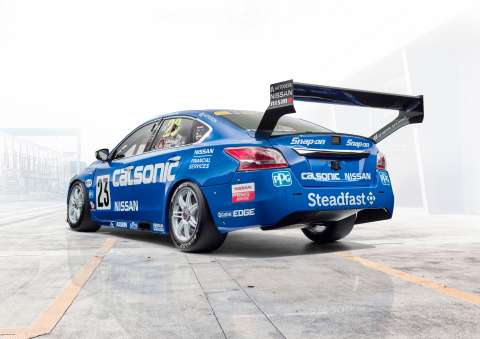 Melbourne, Australia (4 September 2017) – Nissan's world-famous Calsonic GT-R R32 race livery will make a welcome return to the race track when it features at this month's Wilson Security Sandown 500.
At the annual 'retro round' for Supercars, the #23 NISMO Nissan Altima Supercar of Michael Caruso and Dean Fiore will race in the legendary blue colours of the Calsonic-sponsored GT-R – a car that dominated Japanese Group A racing in the early '90s.
Run by Team Impul in the Japanese Touring Car Championship, the Calsonic Nissan GT-R R32 took an impressive 15 victories, as well as the 1990 and 1993 titles. In addition, the famous R32 model holds the remarkable record of remaining undefeated in all of its 29 races, from its debut at the start of the 1990 season through to the end of the Group A era in 1993.
With the Calsonic Nissan finding increased global fame thanks to its popularity in the Gran Turismo video game, the Nissan GT-R R32 also achieved considerable success in Australia winning the Bathurst 1000 twice and the Australian Touring Car Championship on three occasions.
"Nissan has achieved a lot in global motorsport and there are so many great liveries to choose from," said Michael Caruso.
"The Calsonic livery is one of Nissan's most famous and perfectly represents its racing heritage.
"The original Calsonic GT-R was so successful on the track. A perfect record is unheard of in motorsport, so this definitely elevates this car to legendary status.
"Mark Skaife explained what it was like to drive and it sounded wild. What a beast!
"I hope I can emulate its success at the Sandown 500."
One of the longest sponsorships in motorsport, Calsonic has joined forces with Nissan for more than 30 years in Super GT, major endurance events including the 24 Hours of Le Mans and the All-Japan Sports Prototype Championship.
In Super GT alone, Calsonic won the first three consecutive championships as a sponsor from 1993 to 1995, driven by Masahiko Kageyama, and the famous livery is still seen today on the GT500 driven by Jann Mardenborough and Hiro Yasuda.
The original Calsonic GT-R resides at the Nissan Heritage Museum, in Japan.
September's Wilson Security Sandown 500 is the first event of the Supercars' endurance season, followed by the Super Cheap Auto Bathurst 1000 and the Vodafone Gold Coast 600, both staged in October.
Drivers and co-drivers with the most points over these three events are presented with the Pirtek Enduro Cup – a reward for being the most consistent team.
Car Statistics: Nissan GT-R R32
Japan Touring Car Championship (JTCC) competition history
Debut: Nippon 1990
Final race: Fuji 1993
JTCC Round Starts: 29
JTCC Round Wins: 29
JTCC Titles: 4
Team Statistics: Calsonic Nissan GT-R R32
Japan Touring Car Championship (JTCC) competition history
Debut: Nippon 1990
Final race: Fuji 1993
JTCC Round Starts: 29
JTCC Round Wins: 15
JTCC Titles: 2
Drivers: Kazuyoshi Hoshino and Toshio Suzuki (1990 and 1991), Kazuyoshi Hoshino and Masahiko Kageyama (1992 and 1993).
Major Australian GT-R R32 results 
Bathurst victories: (2) 1991 & 1992
Australian Touring Car Championship titles: (3) 1990, 1991 & 1992
If you're hunting around for that great price, perhaps you should call the auto expert, Car Business. Our company, based on the north side of Brisbane, will return your inquiry within 24 hours and make the process of buying your new car easy and stress-free. We protect you from the pressure exerted by car dealer's salespeople. There isn't any obligation – just a pretty significant saving.
We can deal with you in any Australian state and territory: from Darwin to Hobart, Cairns to Perth. If you're buying a new super car, it may be an issue, but any other brand is accessible.
If you've got a vehicle to trade, we have some clever ways to maximize the value – from used car dealers keen for your car to assist you to sell it privately. Finance and Insurance? We can handle that too, and we promise you will not be paying exorbitant dealer markups there either.
So, to get the best new car price, talk to others and then talk to Car Business. We have got the experience to handle the dealers and achieve the cheapest new car prices. If you think you're entitled to fleet pricing, we can often get better than that too. Whether you're a small fleet or a large national fleet, Car Business will go to work and get that price down. Cheaper new car prices are our goal. So you'll get the best Ford prices from us rather than hoping you can help yourself.
If we can't get you the best new car price, better than you can get yourself from a car dealer, we won't charge you any fee. No Win No Fee. – that's what you should expect from a car buying expert. 
Car Business WILL save you money on your next new car purchase – guaranteed