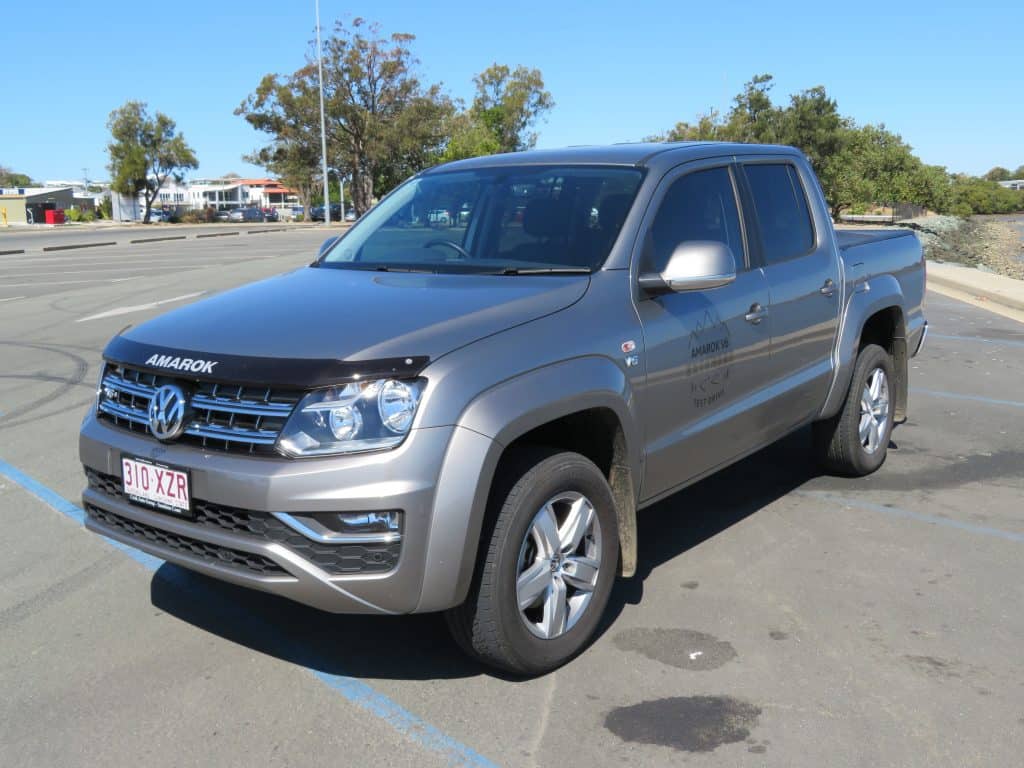 Hello. Bob Aldons, The Car Guy with a review on the Volkswagen Amarok Sportline V6 Dual Cab.
I held the Volkswagen franchise for North Brisbane from 2008 until I sold the business in August 2015 – over three years ago. And it was the first Volkswagen dealership since Darrell Motors closed its doors in the mid-80's. There's no doubt that Volkswagen is an internationally iconic brand and well respected until the recent diesel-gate saga from a few years ago.
Despite the fairly brutal press coverage about Volkswagen, consumers continue to buy more and more of this famous brand. In overall terms, the Volkswagen brand reputation is regaining some lost ground and will no doubt put the emissions drama behind it.
Volkswagen Amarok, built in Argentina, was released to the world market late in 2010. Despite some early quality issues, Amarok has continued to improve both in quality and sales numbers ever since. In fact, after selling Northstar Volkswagen in August 2015, a Volkswagen Amarok Core 4×4 was the vehicle that I purchased with my own $$ to take into semi-retirement. It was that good a vehicle.
Since then, and for the 2017 model year, Volkswagen introduced a 3-litre V6 engine producing 165Kw generally and 180kw on overboost. Rumour has it that to combat the Mercedes-Benz X-Class V6,  that Volkswagen will release a 200kw version of the same engine later in 2018 or early 2019 and possibly add the advantage of a 4wd low gearbox.
What is It?  "The Volkswagen Amarok is a pickup truck produced by Volkswagen Commercial Vehicles (VWCV) since 2010. It is a traditional body-on-frame truck with double-wishbone suspension at the front and leaf springs at the rear.
The Amarok range consists of a single cab and double cab, combined with either rear-wheel drive or 4motionfour-wheel-drive, and is powered by a turbocharged direct injection (TDI) diesel engine" – Source – Wikipedia
Competition: "VWCV considers the Toyota Hilux, Nissan Navara, Mitsubishi Triton, Ford Ranger, Isuzu D-Max and Holden Colorado to be Amarok competitors, although the Amarok is larger".  Source – Wikipedia.
We can now add to that list, Mercedes-Benz X Class and a soon to be released Renault version of the same vehicle. Other vehicles aspiring to this list is the SAIC motor sourced LDV and another Chinese brand – Great Wall Steed
Price: The Amarok V6 Sportline 4×4 Dual Cab TDI550 with 8-Speed Auto is currently available in Queensland on offer for $53,990 drive away. If you're interested is spending a lot more of your hard earned, Volkswagen has an Amarok V6 Ultimate priced at $73, 982 on road.
And that's an awful amount of money for a ute, but with this, you're getting everything you'd expect from a top of the model-line vehicle.
Front of the Volkswagen Amarok V6
In keeping with most of the other dual cab utes on the market, The Volkswagen Amarok V6 has an aggressive front grill and front end. In the V6 Sportline model, there's enough Chrome highlights, and good airflow through to the engine.
The headlight clusters are suited to the car. This vehicle had a bonnet protector fitted, which goes a way to protecting the bonnet from chips and bugs. Having experience with the headlights, don't go breaking one.
Super expensive to replace so my suggestion is to probably fit a set of headlight protectors as well. The light covers are made of polycarbonate plastic but don't age well in the sun. No doubt however that a large stone/rock on b grade roads could/would break it.
Under the bonnet is a 3.0 litre V6 Diesel engine, the biggest and most powerful in the class. An 8-speed 'normal' automatic transmission is a work-horse for the needs of any owner. The engine produces 168Kw normally and 180Kw on overboost. Whispers from Volkswagen suggest that the update due next year will have 200Kw of power to out-muscle the coming Mercedes-Benz X-Class.
Down the Side
This vehicle supplied by Crick Volkswagen from Maroochydore is part of the 'Volkswagen Extended Test Drive Program'. What's that? Typically new car dealers only let you test-drive a potential purchase around the block, but with this program, you can take it away, without obligation overnight or for a weekend.
There's no doubt that Volkswagen design and build good cars and the same can be said for the Amarok. Apart from the lack of rear curtain airbags,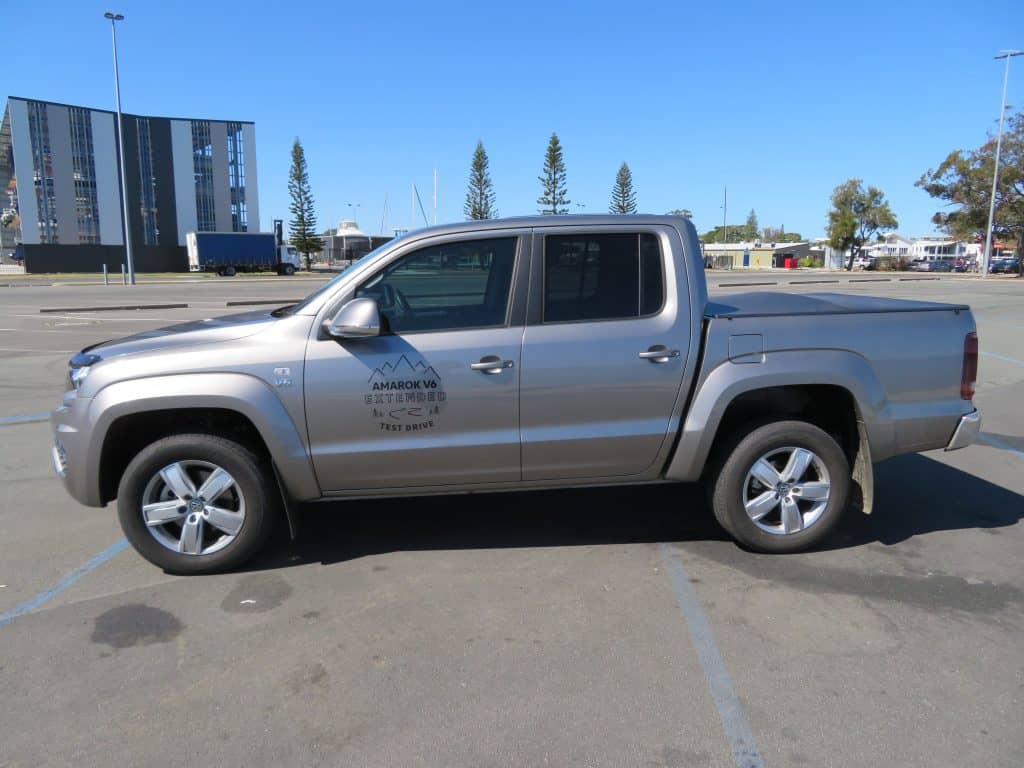 Safety and Security – Volkswagen Amarok V6 TDI550 Sportline
Disappointingly, for a company that prides itself on safety, Volkswagen Amarok V6 isn't fitted with rear curtain airbags. I'm sure that VW will be brought to task on this lack of feature as their peers improve their passive safety regime.
Airbags
Driver & front passenger airbags, Driver and front passenger side (head and thorax) airbags
Brake and Traction Control
Automatic flashing brake lights activated in an emergency braking situation
Electronic Stabilisation Programme (ESP)
Electronic Brake-pressure Distribution (EBD)
Anti-lock Braking System (ABS)
Brake Assist
Anti-Slip Regulation (ASR)
Electronic Differential Lock (EDL)
Auto Hold function
Trailer Sway Stability Control (only with genuine towbar wiring kit)
Mechanical Differential Lock
Multi-collision brake
Active Roll-over Prevention
Driver Assistance Technology*
Off-road mode with optimised ABS, ESP, transmission and hill descent control
Parking distance sensors, front and rear with acoustic warning
Optical Parking System (OPS) in radio/navigation display
Rear View Camera (RVC) with static guidance lines
Dusk sensing headlight function
Rain sensing wipers
Volkswagen Amarok V6 – Out the back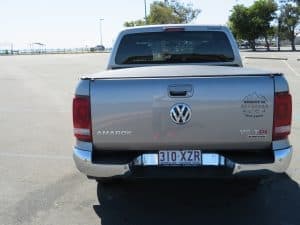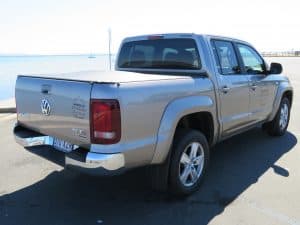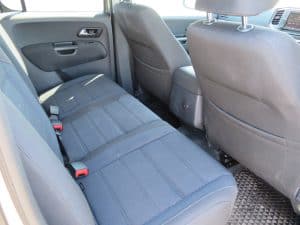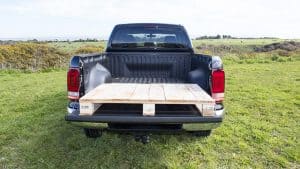 Drivers Side, Drivers Seat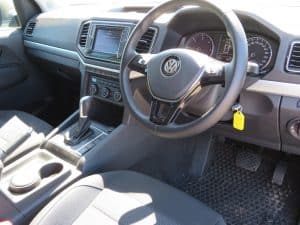 A fairly boxy side profile, there's nothing really to disappoint in the Volkswagen Amarok V6.
Wide opening rear doors, plenty of knee room for rear seat passengers, it's a typical tradesperson truck, albeit without the essential safety of rear curtain airbags.
The Driver's seat is comfortable, instrumentation is fairly basic but competent and the infotainment system is contained within the dash rather than 'floating' as in some SUV's
A handbrake is standard rather than the foot brake in some other brands. The Air conditioning system cools the whole cabin effectively.
On the Road
This Volkswagen Amarok V6, other than the oddles of extra power, was pleasingly familiar after my time in the 2.0 litre Amarok Core a couple of years back. Even without a load, it rode nicely, went around corners easily and on rutty dirt roads, the suspension soaked up the bumps.
If I ever went back to a 4WD dual cab, there's no doubt that the Volkswagen Amarok V6 would find it's way to my driveway. It's just that good. Now if only VW would sort out the safety aspects, it would be a no brainer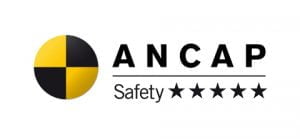 I wrote about the inadequacy of the ANCAP testing regime and reports recently. Frankly, for an organization which gets significant government funding, the information provided to consumers is just plain pathetic.
The crash test results for a Volkswagen Amarok are hopelessly out of date, but I put this report in to give my readers a guide and to encourage them to ask questions of the dealer, the manufacturer and ANCAP.
Note that the test report on Volkswagen Amarok was completed in 2011 – that's 7 years ago. At the time, Volkswagen provided a vehicle for testing and on the criteria at the time, were awarded a five-star rating.
That's back in a day where other comparable vehicles were not as good as far as crashes were concerned. One of the newest ANCAP tests for light commercial dual cab vehicles was conducted in 2017 for Chinese entrant LDV. The T60 achieved a 5-star rating.
To quote ANCAP:
"Dual frontal, side chest and side head-protecting (curtain) are standard. Blind spot monitoring (BSM) is standard and a lane support system (LSS) is available on some variants. Autonomous emergency braking (AEB) is not available."
In the 2018 criteria of a vehicle needing AEB, this vehicle would not achieve 5-stars. But then on a quick review of the main brands, Toyota Hilux (2015), Nissan Navarra (2015), Mitsubishi Triton (2015), Isuzu D-Max (2013) Ford Ranger (2015), Mazda BT-50, (2011) and Holden Colorado (2016)  their tests were conducted years ago and wouldn't achieve a 5-star rating either.
And no, I don't think they have the active and passive features to achieve 5 stars in 2018 either.
Apart from the LDV T60, the other vehicle tested in 2017 that would arguably achieve a 5-star rating is the Mercedes-Benz X-Class. A re-badged version of the Nissan Navarra, the X-Class was tested in 2017 before it's launch here in April 2018. The Benz has the following features:
From the ANCAP website "Dual frontal, side chest-protecting and side head-protecting airbags (curtains) and a driver knee airbag are standard. Autonomous emergency braking (AEB), lane departure warning (LDW) and a manual speed limiter are fitted as standard."
So if it's good enough for these Germans, it's good enough for everyone else.
My strong advice to ANCAP is this. If a manufacturer won't submit the current model/vehicle for testing, then don't give them the luxury of having a star rating at all.
Consumers are being blindsided with manufacturers being allowed to advertise the safety rating of their vehicle, despite that the current model hasn't been tested. It's wrong from so many viewpoints.


My own experience with the Volkswagen Amarok V6 was fairly close to the published figures from Green Vehicle Guide. My fuel guide showed around 11.2 litres per 100km for city use. I didn't have the opportunity to try it on the highway, so I'm thinking that with my history on Amarok, the combined figure of 9 litres per 100km will be fairly accurate as well.
Towing: The Volkswagen Amarok V6 can tow up to 3500kg with electric brakes fitted. If you choose the genuine Volkswagen towbar, you also have the important benefit of Volkswagen's proprietary Trailer Sway Stability Control.
My strongest advice possible here is to stay away from the cheaper aftermarket towbars. The towbar on the Amarok is specifically designed for the vehicle and whilst it may be almost twice the price of the non-genuine bars, a bigger investment here is arguably protecting your very large investment in a caravan or boat.
As in all cases, I strongly suggest that you confer with the boat or caravan dealer to gauge exactly what you can and can't tow sensibly.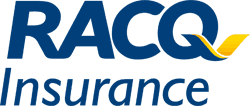 Volkswagen Amarok V6 Insurance. I generally use RACQ Insurance to give you a guide as to what you'll pay for your annual comprehensive car insurance. Conditions precedent for this cover are:
A male driver over 60 years of age, having held a license for over 10 years
Blue member of RACQ with 2 other insurance policies
Has paid cash for the car for private use with the car parked in a garage overnight.
The driver resides in postcode 4019
The car is fitted with an engine immobilizer
1 at fault claim in the last 3 years, with no license suspensions
Rating 1 currently having held that rating 1 for 10 years or more
No driver under 25 will use the vehicle.
The premium quoted online by RACQ Insurance for Private Use – No Finance:  $573.70 with a $750 excess. Variations from the information above may result in different outcomes. Check online with RACQ Insurance for your own particular quote.
Where to buy. My test vehicle was supplied by Cricks Volkswagen at Maroochydore on the Sunshine Coast of Queensland. Cricks is one of the Volkswagen dealers that I seek price submissions from when I'm buying a Volkswagen (and their other brands) for a customer. I'm not paid to write this review either by Cricks or by Volkswagen Group Australia, so it's as impartial as ever
Cricks Volkswagen has a 4.1 star Google Rating from 83 Reviews so would feature in my top dealer reports for this brand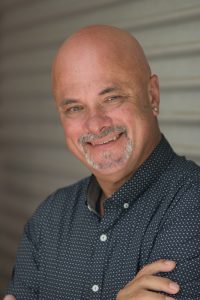 Hi,  Bob Aldons here, the owner and founder of The Car Guy, and Car Business, reviewing cars, reporting on car industry matters, car tech, Formula 1 and the world at large. I've spent the last forty years immersed in the automotive industry from salesman to the owner of a 7 brand multi-franchise dealership. I know cars.
Find One
If you're hunting around for a great price on your next new car, you should call the auto expert, Bob Aldons from Car Business. My company, a car Broker, Car Buyers Agent or Car Buyers Advocate based on the north side of Brisbane, will return your inquiry within 24 hours and make the process of buying a new car easy and stress-free.
Are you tired of salesperson tricks? I protect you from the pressure exerted by car dealer's salespeople. There isn't any obligation – just a pretty significant saving.
You're where? Seriously, my services are available for you in any Australian state and territory: from Darwin to Hobart, Cairns to Perth.  Car Broker Brisbane, Sydney, Melbourne, Adelaide, Perth, Hobart, and Darwin – I'm available when you need me to be.
Whether you're a small fleet or a large national fleet, Car Business will go to work and get that price down. Lower new car prices are my goal. So you'll get the best prices from me rather than hoping you can help yourself.
If I can't get you the best new car price, better than you can get yourself from a car dealer, I won't charge you any fee. No Saving, No Fee. – that's what you should expect from a car buying expert. 
Isn't it Time to Say No? – ANCAP 2 or 3 stars isn't enough  Fuel Price – Extortion – Don't Get Mad, Get Even   2018 Volkswagen Arteon first drive: Bargain German GT?

Car Business WILL save you money on your next new car purchase – guaranteed

The Australian Road Safety Foundation is a not-for-profit organization whose charter is to reduce serious accidents on our roads through training and education. Car Business donates to the ARSF for every car we sell. If you'd like to support this worthwhile foundation, donate to the cause, become a member today or just buy your next new car from Car Business
2018 VOLKSWAGEN GOLF GTI AND R FIRST DRIVE    2018 Volkswagen Arteon first drive: Bargain German GT?