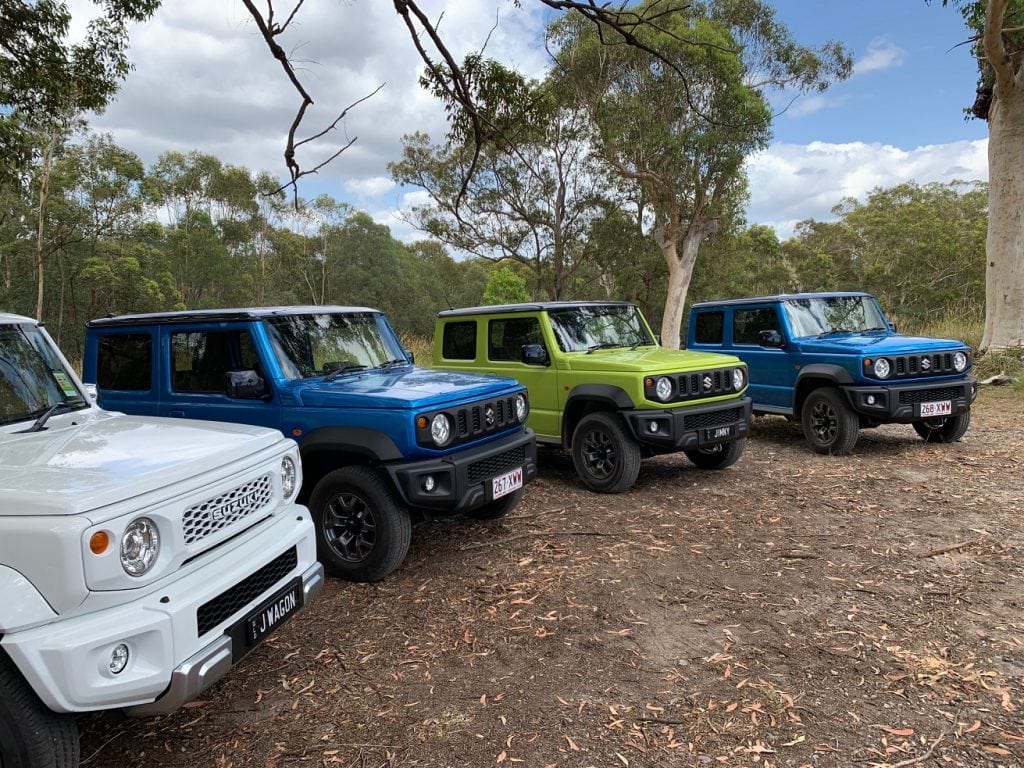 When a particular model in a brand's range hasn't been available for a while, you can expect that it will be difficult to get one let alone at a good price. So it is with the new Suzuki Jimny.
My local Suzuki dealer just this morning (21/3/19) told me that they're taking orders for delivery in March 2020. That's the popularity of this iconic 4WD – amazing but true
Jimny has been an iconic 4WD for generations – came to market in 1970 And subsequent versions have created a market that is the envy of most other manufacturers. It's in a world of its own – there are no competitors of any real substance and the cheapest competitor is arguably the Jeep Wrangler and Jeep Renegade.
If you specifying 4WD (not AWD) in one of these Jeeps, you're looking at $20k more than the Suzuki Jimny.
The manual GLX Suzuki Jimny is listed for $23990 plus dealer delivery and government charges, whilst an automatic transmission will cost you about $2060 more.
Suzuki Jimny is a real 4WD with a ladder frame chassis, and more importantly a low-range gearbox.
Hi. Bob Aldons, The Car Guy with my opinion piece on the 2019 Suzuki Jimny 4WD.
So where to begin? I started with Suzuki as a dealer way back in 2000, long before Suzuki became a name in the market.
When Suzuki Swift took off in 2004, soon the total Suzuki range came out from behind the curtain. And no doubt one of the Suzuki models that had a cult-like following even before Swift was the Suzuki Jimny.
So rather than recreate copy for this article, I've taken some of the comments from the Suzuki Jimny page on a website. So here goes with the mandatory italics in place
"It's the original rugged 4×4. Beginning with the LJ10A in 1970, Suzuki Jimny has forged a legendary reputation for being tougher than the terrain it travels on
Lightweight but seriously capable, the all-new Suzuki Jimny is the next level in taking you places that others can't.
Built to tackle the harshest weather and terrain, the Jimny goes where other vehicle fear to tread. Suzuki Jimny grabs attention with rugged retro looks.
In the Jimny there's little to distract you from your adventure. Its stylish black interior is humble yet handsome and controls are designed for quick, easy operation even when wearing gloves. Enjoyment matters too, so a 7-incg multimedia system integrates satellite navigation, reversing camera as well as the must have Apple Car Play and Android Auto."
The smaller rear storage area can be expanded by folding the rear seats – the floor and seatbacks are resin coated for easy removal of dirt.
"Screw Holes provide support for optional accessories like luggage bars and utility hooks to enhance practicality. A rear power socket also lets you power appliances (a portable fridge for example) and tools (air compressor) behind, particularly when you're camping.
Jimny will take you absolutely anywhere and then bring you back again. Jimny opens up every opportunity for adventure with the incredible 4×4 traction and powerful low-range capability of ALLGRP PRO.
Shift the transfer lever to the 4L mode when the going gets tough for maximum torque and traction. On flat off-road trails and snow-covered roads use 4H to enjoy 4WD traction at higher speeds."
What Is It? The Suzuki Jimny is a small real Four Wheel Drive. Similar in size to its predecessor, the 2019 Suzuki Jimny comes with a 1.5-litre engine and the choice of 5-speed manual or 4-speed automatic transmissions. Importantly and what makes this little car unique is that is has a low range 4WD option, unlike most other SUV's on the market which only have All Wheel Drive.
Competition? Well, I don't think there is any. The next vehicle capable of what the Jimny can do is the Jeep Cherokee Trailhawk at circa $45,000. After that, you have to look at a Jeep Wrangler 2-door at about $49,000
And given that most 4WD's spend most of their time around the suburbs, the Jimny is the most versatile you'll find. ,
Price? Suzuki Jimny Manual retails at about $27,400 (drive-away in Qld) with the auto costing about $2500 more.So that's under $30k for an automatic, cute as a button real 4WD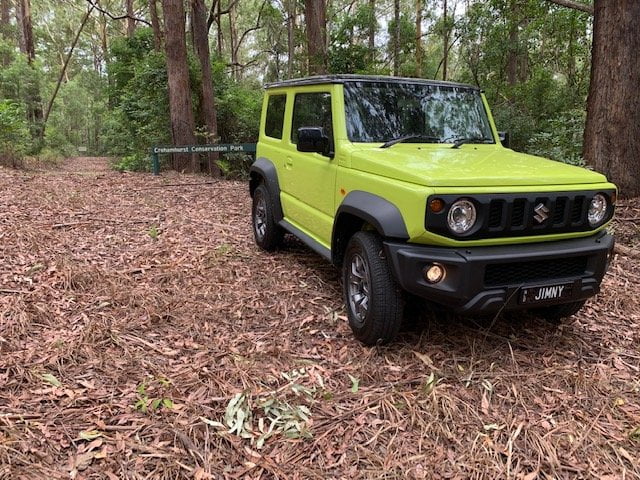 Around the Suzuki Jimny
I first came across Suzuki when my partner and I bought Redcliffe Suzuki and Mitsubishi back in 2000.
The Suzuki range was one of the best-kept secrets in the market in Queensland, but it wasn't long before its reputation for style and reliability became better known with the release of the first Suzuki Swift.
From a relatively unknown Japanese brand, all models in the Suzuki range took off, including the Jimny,
A while ago now (1978 to be precise) when I trained as a salesperson, my manager explained and taught me a process called the 6-position walk around.
This way of presenting a vehicle covers the important aspects that customers would need information on. So, I've attempted to provide this information to my readers, but in simple terms.
ABS Brakes – Anti Lock Braking system assists in keeping the vehicle under control when the vehicle brakes hard.
Electronic Stability Control – Electronic stability control (ESC), also referred to as electronic stability program (ESP) or dynamic stability control (DSC), is a computerised technology that improves a vehicle's stability by detecting and reducing the loss of traction (skidding).
Vehicle Stability Control and Traction Control – is a computerized technology that improves a vehicle's stability by detecting and reducing the loss of traction (skidding). When ESC detects loss of steering control, it automatically applies the brakes to help "steer" the vehicle where the driver intends to go.
Electronic Brake force Distribution – Electronic brake force distribution (EBD or EBFD) or electronic brake force limitation (EBL) is an automobile brake technology that automatically varies the amount of force applied to each of a vehicle's wheels, based on road conditions, speed, loading, etc.
Traction Control – Traction Control systems optimise grip and stability of the car on the road during acceleration by measuring wheel rotation. It stops wheel spin by reducing engine power or temporarily applying the brakes to that wheel, allowing the car to accelerate smoothly, even on slippery surfaces.
Emergency Brake Assist – Emergency brake assist (EBA) or brake assist (BA or BAS) is a generic term for an automobile braking technology that increases braking pressure in an emergency.
Hill Start Assist – Aids the driver to move forward on a hill. Keeps the brakes on until forward movement is detected.
Hill Descent Control – Hill descent control (HDC, or hill mode descent control) is a driver-assistance system. It allows a controlled hill descent in rough terrain without any brake input from the driver.
7 SRS Airbags – Dual Front, Side and Curtain Air Bags along with a knee bag protect the driver and passengers from serious injury in the event of an accident
Reverse Camera – Provides rear vision when reversing the vehicle. For those towing, also aids the alignment of the tow bar/ball and gooseneck of the towed unit.
Side Anti-Intrusion Beams in the doors – Reduces the potential of injury for a side impact.
Engine Immobilizer – Stops your vehicle from being taken by unauthorized people. No Key, No Start and this will also assist with reduced comprehensive insurance premiums with some insurers.
If you'd like to read over the full specification sheet, it's available by clicking on this link. JIMNY SPECIFICATIONS
Rear Of The Vehicle
Access to the rear of the Suzuki Jimny is easy. The rear door swings wide to all easy loading and unloading. With the second row seats down, luggage capacity is 377 litres, but in place, it's only holds at 85 litres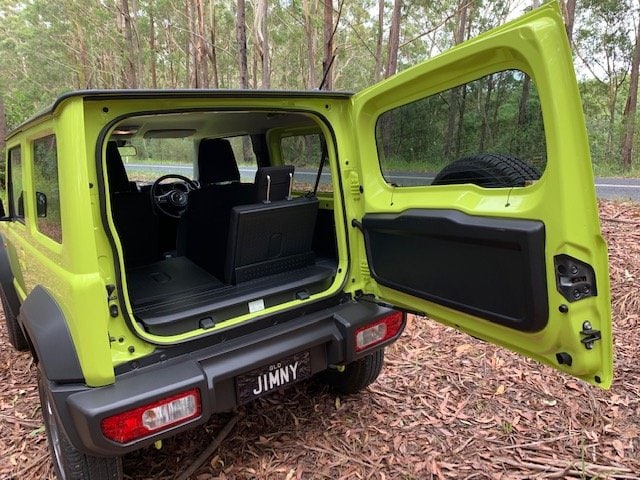 Dress Up? There's any number of items already designed and ready to fit Jimny. Customisation includes items to help you get out in the real outdoors. You can choose a lift kit, larger wheels and tyres, tow bar, roof racks and luggage tray, spotlights and luggage pod. Options such as bull bars, (alloy and steel), and side steps will be available shortly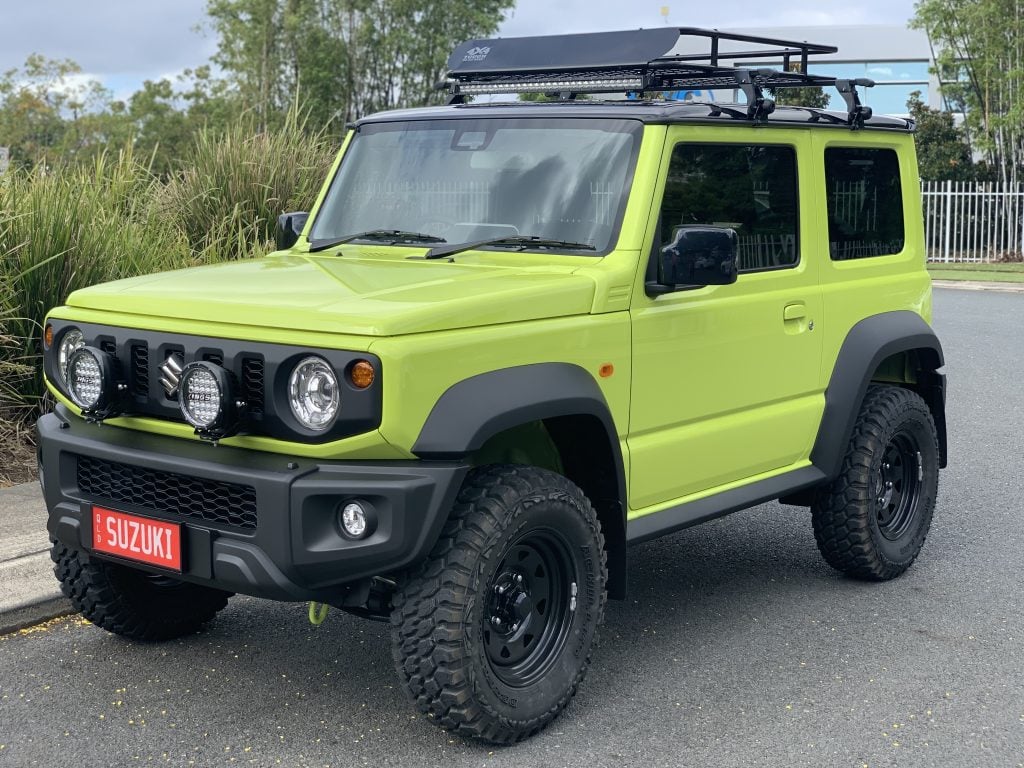 Towing
Suzuki Jimny achieves a 1300Kg towing capacity with electric brakes fitted and only 350kg without brakes. That's more than enough capacity for a small camper trailer or mid-sized alloy boat.
Be sure to check with your car dealer or the camper or Boat Company to make sure that you're not overloading. Besides being illegal in most states, overloading can also impact on your insurance.
Drivers Side and Inside
Jimny gets the luxury of wide opening rear doors to allow easy access to the passenger compartment. There's plenty of head and shoulder room for three people. When fitted to the standard roof rails, the roof bars can carry up to 60Kg.
Seating is relatively comfortable for both driver and passenger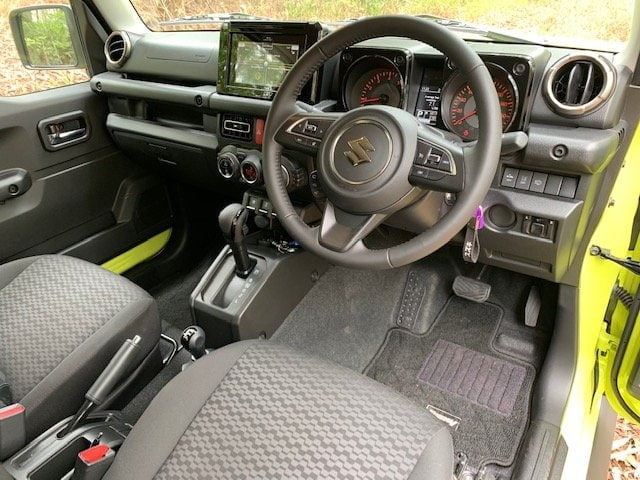 Rear Passenger Compartment
It can be a bit squeezy if you're carrying two passengers in the rear. If the driver is tall, and the driver's seat is at the rear of its travel, you might struggle to have 2 adults sitting there.
2 teenagers will find the room acceptable.
Driver's Seat and Front Passenger Compartment
The driver's area of the vehicle is specifically designed to provide maximum comfort on and off the road. The 8″ infotainment system on the LS-T provided important information, an inbuilt navigation system and was as Bluetooth streaming. The driver's seat is supportive, providing a comfortable environment for long distance driving. The air conditioning works a treat, and the cabin is also fitted with a fine-particle pollen filter, very handy for dusty off-road conditions.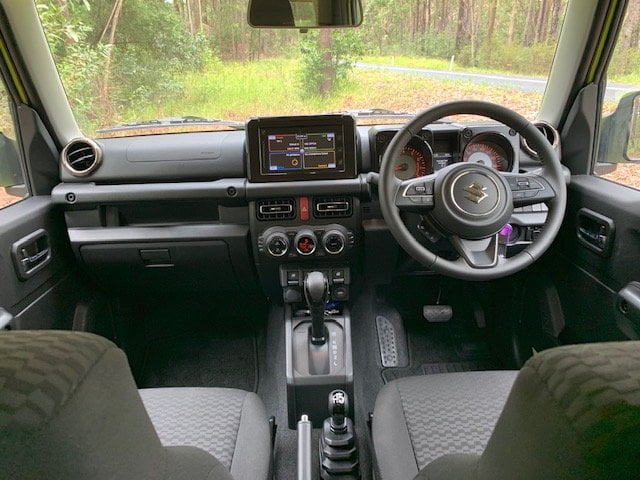 Jimny is standard with Satellite Navigation, voice command and of course Bluetooth connectivity and has standard Apple Car Play/Android Auto.
 The centre touchscreen infotainment system is similar to what's fitted in most of Suzuki's other vehicles – it's clear and easily operated.
On the Road – Suzuki Jimny GXL
Suzuki Jimny might not be the largest real four wheel drive on the market, but over the years it's proven to one of the most popular and reliable.  Jimny sports 3-link rigid axle with coil springs front and rear and have solid disc brakes up front with drum brakes at the rear
An off-road situation is where Jimny shines. Sufficient travel in the suspension gives the driver extra confidence off-road.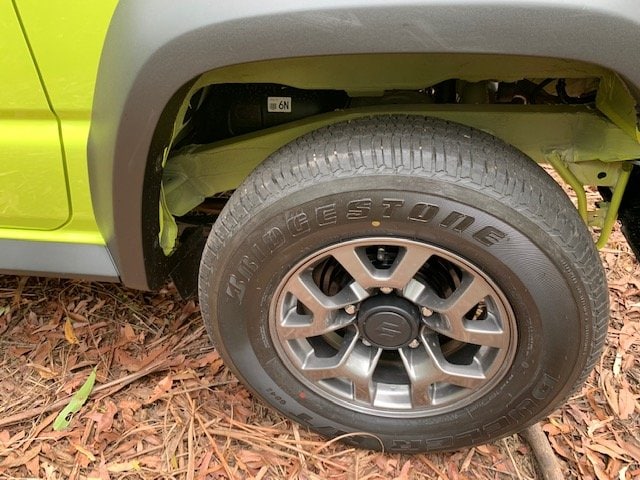 Jimny has a standard ground clearance (unladen) of 210mm, an approach angle of 37 degrees, Ramp Breakover Angle of 28 degrees and a departure angle of a massive 49 degrees. Go anywhere? You bet.
ANCAP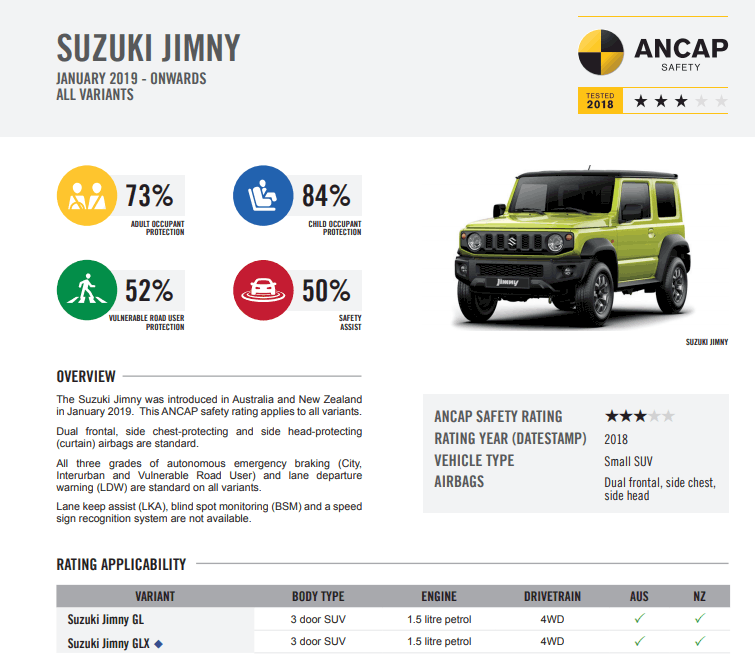 What's wrong with you ANCAP?  I'm continually amazed at the lack of attention to the use of ANCAP ratings by manufacturers. However, on this occasion, the Jimny was 'tested' in 2018 and carries a 3-star ANCAP safety rating.
Other manufacturers have been allowed to get away with more stars even though their vehicles were tested as far back as 2011. Consistency is the only thing that will allow consumers to evaluate a vehicle on an even playing field and ANCAP certainly doesn't seem to have one of those
The full report is available here – http://www.ancap.com.au/safety-ratings/suzuki/jimny/cee648
Green Vehicle Guide

Take real care when you're reviewing these published numbers. Laboratory testing is way off the mark when it comes to fuel economy. Neither of the results above uses real-time data nor do they include a 'load' of people or equipment. So how do you find out what sort of economy you'll get in your particular circumstance? Ask someone that's already driving a Suzuki Jimny. You'll find plenty of them online – Facebook, Twitter and Instagram people will happily provide their experience with not only fuel consumption, but the history with their own car.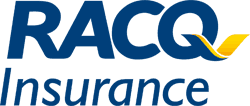 Suzuki Jimny GLX – I use RACQ Insurance to give you a guide as to what you'll pay for your annual comprehensive car insurance. There are some conditions precedent for the quote as follows:
A male driver over 60 years of age, having held a license for over 10 years
Bronze member of RACQ with 2 other insurance policies
Has paid cash for the car for private use. The car is parked in a garage overnight.
The driver resides in postcode 4017
The car is fitted with an engine immobilizer
No at-fault claims in the last three years, with no license suspensions
Rating 1 currently, having held that rating 1 for ten years or more
No driver under 25 will use the vehicle.
The premium quoted online by RACQ Insurance for Private Use – $381.73 with a $750 excess. Variations from the information above may result in different outcomes. Check online with RACQ Insurance for your particular quote.
Service Costs and Warranty
Suzuki Jimny comes with a standard 3-year/100,000km warranty which can be extended to a 5-year/140,000km warranty provided that you have your vehicle serviced under the capped price service program by a Suzuki dealer.
Capped Price Servicing is available through the Suzuki network of dealers. According to the Suzuki Queensland website, for five years or 100,000km, you can expect to pay about $2912 or around $291 per service on average. Suzuki now has 10,000 or 6 months service intervals.
My strong suggestion, not only with Suzuki but all manufacturers, is that you have your car serviced by the brand's dealer network. Dealer servicing is very cheap now compared to years ago, and if something goes wrong, likely the manufacturer will cover the concern, even if it's just outside the stipulated warranty.
Australian Consumer Law dictates that a manufacturer can't dismiss a warranty claim because it's outside the stipulated warranty period. ACL relies on whether the failure is reasonable or not and what life a reasonable person should expect from the failed component
My Opinion 
Cute as a button, sensational off-road, I drove the Jimny around the Sirromet Winery at launch. A couple of weeks later, Suzuki Auto Co gave me this car to allow me to test it in different situations. Up and down the range to Peachester and Maleny, around Redcliffe and up to Bribie Island, the little Jimny impressed.
Would I buy it one? Yes, I would – there are few other vehicles available in this class with the reputation and reliability of the Suzuki Jimny.
Where to Buy – Dealers
My test vehicle was supplied by Suzuki Auto Co, the independent distributor for Suzuki in Queensland and Northern NSW. No financial incentives were paid to me by SAC for this review.
If you're in the market to buy a Suzuki Jimny or any other vehicle in the Suzuki range, pick your dealer carefully. When I want to check out the 'worthiness' of a dealer, I Google 'Suzuki Dealers Brisbane" where the city is the one that you live in or around, and the brand is that particular one you're interested in.
I only list dealers who have achieved a minimum of 10 reviews with Google and then only those with four stars or higher.
From a South East Queensland perspective here are the dealers I'd visit:
Northside                Zupps Suzuki Aspley            4.0 Stars from 411 Reviews
Southside                Moorooka Suzuki                  4.0 Stars from 22 Reviews
Eastside                  No Recommendation                  
Westside                  Westpoint Suzuki                   4.7 Stars from 12 Reviews
Gold Coast               Von Bibra Suzuki Southport  4.9 Stars from 24 Reviews
Sunshine Coast       No Recommendation
(Google Stars and review numbers effective 18th March 2019)
Strengths
Great entry price for a real 4WD
Tough as an old boot
Weaknesses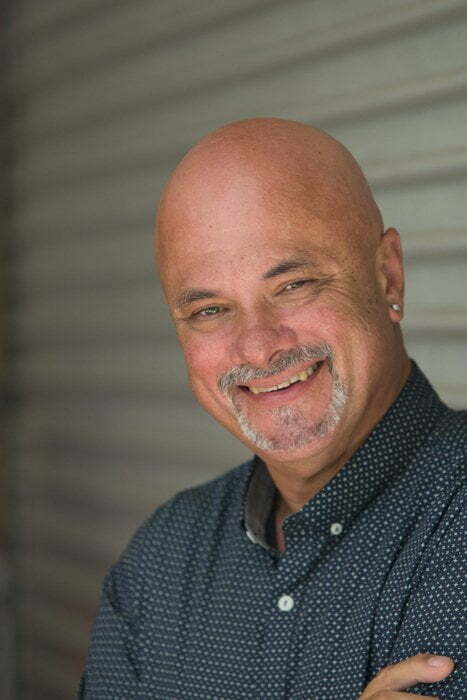 Bob Aldons here, the owner and founder of The Car Guy, and Car Business, reviewing cars, reporting on car industry matters, car tech, Formula 1, buying #anynewcarcheaper and the world at large.
I've spent the last forty-one years immersed in the automotive industry from salesman to the owner of a 7 brand multi-franchise dealership. I know cars.
Find One
If you're hunting around for a great price on your next new car, you should call me, the auto expert, from Car Business.
My company, a Brisbane Car Broker, Car Buyers Agent or Car Buyers Advocate based on the north side of Brisbane, will return your inquiry within 24 hours and make the process of buying a new car easy and stress-free.
Are you tired of salesperson tricks? I protect you from the pressure exerted by car dealer's salespeople. There isn't any obligation – just a pretty significant saving.
You're where? Seriously, my services are available for you in any Australian state and territory: from Darwin to Hobart, Cairns to Perth.  Car Broker Brisbane, Sydney, Melbourne, Adelaide, Perth, Hobart, and Darwin – I'm available when you need me to be.
 Whether you're a retail customer, a small company or a large national fleet, I'll go to work and get that price down. Lower new car prices are my goal. So you'll get the best prices from me rather than hoping you can do it by yourself.
If I can't get you the best new car price, better than you can get yourself from a car dealer, I won't charge you any fee. No Saving, No Fee. – that's what you should expect from a car buying expert.

Car Business will help you to purchase your next new car – Cheaper
Car Business WILL save you money on your next new car purchase –guaranteed

Australian Road Safety FoundationThe Australian Road Safety Foundation is a not-for-profit organization whose charter is to reduce serious accidents on our roads through training and education.
Car Business donates to the ARSF for every car we sell. If you'd like to support this worthwhile foundation, donate to the cause, become a member today or buy your next new car from Car Business.
People Also Ask
Car Buyers always seem to need answers on a vast number of topics about their cars.
There are a few questions that I'm asked regularly, so to save you a phone call, check out my "People Also Ask" questions and answers below.
If you question isn't listed, I'm happy for you to call me on 0418 748 498 or send an email to [email protected]
My advice is free.
Q: Why Should I deal with a Car Broker rather than just going to a dealer?
A: It's the goal and the job of a car salesperson to make as much money for his dealership as he possibly can. And that applies to the car, finance (finance and insurance), and aftermarket sales (tint, paint, interior, rust).
It's the role of a car broker or car buyer's agent to buy the same car at the lowest possible price. Your broker will get prices from at least five dealers or more, get independent finance and insurance quotes and then only recommend the car protection you need rather than the products the dealer wants to sell you. Dealers, on average, make around $3800 on a car sale. An astute broker will get that margin down to around $1800, saving you about $2000 on your vehicle purchase
Q: Should I take Finance and Insurance through a car dealer?
A: Generally no. An average car dealer relies on the car buyer to be exhausted after the trauma and stress of actually buying a car. They depend on their finance manager to make an average profit of $1100 for EVERY car buyer coming into their dealership. The income per finance contract rests around $3000 per contract. In recent times, the ACCC (Australian Consumer and Competition Commission) has looked closely at the way that finance companies and their dealers sell to consumers. Recently, voluntarily, finance companies have reduced the flex rate (the maximum rate allowed to be charged over the base rate for particular consumers) to 4%, down from 8%.
There is still need to be wary of some of the non-standard lenders. For those in our community who have fallen on hard times, have bad credit or are on Centrelink benefits, some lenders are still allowed to charge exorbitant interest rates, upwards of 25%.
Q: It's a fact that dealers, forced by their manufacturers charge very high prices for genuine spare parts. Recently I needed to purchase a set of head bolts for a 2008 Alfa Romeo Sedan. Price quoted by my local dealer was $294. I picked them up from the UK for $115 including freight to Australia. I expect to receive them at the same time as the local dealer would take to get them from Melbourne.
A: It's not the dealer's fault on this occasion. Typically a dealer makes around 20% profit on genuine spare parts sales. It's the manufacturer/Importer who is charged prices higher than dealers in overseas markets can buy at. Shop around. To determine whether you can buy the part you need, you'll first need the part number. Get your VIN, ring the local dealer and ask for the part number. They may oblige and if they do, just search on the net through Google. You'll be amazed. There'll even be local suppliers who can provide a genuine part for you at around overseas prices. For Jeep, Chrysler, Dodge, Fiat, Alfa Romeo, Isuzu Ute and Volkswagen, visit my site www.genuinespares.com.au
Q: If you have a larger vehicle, with a lot of glass area, the chances are that you'll want or need window tinting. At the point of sale, dealers will want to charge you up to $795 to tint the windows of your car. Again, you'll want to avoid the stress and pressure of negotiating anymore and sign where you're asked.
A: Window tinting can be obtained for under $400 through Car Business. My company has arrangements with local tint shops to do just that price – $400. Don't be overcharged. $400 is the price to pay for the average vehicle
Q: How do I pick the right car for my needs?
A: Typically, car buyers will have a general idea of what sort of car they want to buy. However, in a market like ours with nearly 60 brands and thousands of models, historical ownership doesn't have to be maintained.  Find an honest buyer's agent and have a chat to them about your requirements. My company, Car Business, offers this service to our customers without any obligation. You can fill out the lifestyle form, by clicking and a representative of Car Business will contact you to discuss your needs. We use the R J Pound Comparative new Vehicle Price Guide to assist buyers in understanding the alternatives. It may not be the one you're thinking about right now.
Q: I need some accessories for my new car, but I'm not sure that I'm getting the best price from the dealer
A: Accessories are another area that dealers make a lot of their profit. Apart from the window tinting, paint and interior protection and rust proofing, a typical salesperson will run through a long list of accessories. Even the manufacturer has copious amounts of accessories in their new car brochure.
Don't feel obligated to buy any accessories you want through the dealer. I suggest to a lot of my customers to phone the spare parts department of the same dealer and ask for a quote on the accessories they want. You might be surprised at a price. The other way is to search on the internet. There are lots of retailers who buy the same parts you want from overseas suppliers (even ones that supply the manufacturer directly) and will offer them at a substantially better price. All you have to do it fit them up, but generally it's a pretty easy thing to do for the home handyman
Q: If I sell my car privately will I get a better price?
A: It is sometimes possible to achieve a higher price with a private sale; however this reduces significantly if your vehicle is not presented correctly and is no longer under warranty. The private buyer today is looking to receive the same benefits they would by purchasing from a Dealer and expect huge reductions in price if they believe they are disadvantaged. Add to this the cost of preparing your vehicle to the same standards as Motor Dealers. Look at such items as Safety Certificates, Service, Tyres, Windscreen, Chips and Scratches, Detailing, and Advertising along with the need to be accessible and available at all times including weekends when prospective buyers will want to inspect your vehicle. It may not be the wise choice to have people you do not know, coming to your home.
Once the costs and time involved are assessed,  most people choose to trade their present vehicle or to use a professional Car Buying Service to ensure they get a good price without the expense or hassle.
Q: Do you allow and/or recommend RACQ Inspections on second-hand cars?
A: Yes, we welcome the RACQ Inspection Process in our business and recognise the need for such an independent examination. Once completed we will discuss the report with you and facilitate any repairs that are deemed necessary. You can arrange for the RACQ to visit our business. We can arrange for them to inspect your choice of vehicle and have them send the report directly to you if you prefer.
Q: Why are dealers so expensive for service in comparison to other service centres?
A: Dealers service and maintain vehicles as set out by the manufacturer's recommendations to protect your new car warranty. They will generally be willing to match other service providers as long as they are comparing "like for like".
Your circumstances can be taken into account regarding changing some filters and coolants etc. They also have factory trained technicians and have the support of specialised equipment and of course the proper factory support. There are many other reasons such as resale value, and when it comes to trade-in price, car retailers always look at maintained service books and especially if a dealer has serviced them.
On the other hand, if you're carefully managing your money, we can arrange a log book service at one of our preferred providers.
Do I need to return my vehicle to the selling dealer for service?
The simple answer is NO!
While dealers may suggest or insist that your new car is brought back to their service department, the reality is:
You can take your car to any of the brand's service centres for routine or warranty service. Brand X warranty is covered by the manufacturer, not by the dealer. So if there's a more convenient location to have your car serviced, take it there.
Dealers may suggest that you have to have your car serviced at the franchised dealer to maintain your warranty. Again that's a falsehood. You can have your car serviced by any qualified mechanic or technician, provided that they follow the service guidelines for your vehicle as specified by the manufacturer

They should use as a minimum the oil grade specified by the manufacturer and also parts that are of the same quality standard. You shouldn't use inferior parts. While I would suggest using the manufacturer's parts, there are similarly high-quality non-genuine parts available on the market. Things like brake pads, brake rotors, air and oil filters, spark plugs and the like are often cheaper and as good quality as those supplied but the manufacturer
How often should I check my Tyre Pressures?
I check my tyre pressures monthly. I have a tyre gauge purchased from Repco that I rely on to check the pressures in my tyres. Arguably, it's probably better to check your tyre pressures every second time that you fill your fuel tank. High volume petrol centres have good quality air pumps, and it only takes a few minutes to do that after you've got your fill.
What should I do if my car breaks down at night?
Firstly, I'm suggesting that you be in a roadside assistance program such as provided by the RACQ.
If you've purchased a new car, you'll have coverage under your new car warranty. Kia Motors Australia provides seven years of roadside assistance in coordination with their warranty. Hyundai and Ford have a 5-year program.
Mitsubishi provides roadside assistance after the first year provided you're having your services done at one of their dealerships.
If you run out of roadside assistance, best sign up with RACQ or your state motoring body. (NRMA, RACV, etc.) It's far from sensible to break down on a dark or unit road and then have to do repairs yourself, particularly for younger drivers.
A phone call from inside a locked car is preferable to having to find a phone booth or a 'friendly neighbour' to call for help If you'd like to discuss anything to do with purchase, trade-in, private sale, service, warranty issues or just have a conversation about the motor industry in Australia, please give me a call on 0418 748 498 or email to [email protected]