At the time I was a franchise dealer, my respect for Subaru wasn't too high. Of course, they didn't have a Subaru XV in their range all that time ago but did have the likes of Outback, Impreza, Liberty, and Forester. To me, the range was adequate without being brilliant.
I had two brands in the last 18 years competing head to head with the Japanese manufacturer – Mitsubishi and Volkswagen.  I was always a little non-plussed when I lost business to Subaru, but just put it down to price rather than the product.
Over the last 2 years, where my brand loyalty has dissipated, I've become more aware of the quality of the Subaru brand, it's resale value and why Subaru owners keep buying it.
And my daughter, who was a two-time Volkswagen,  upgraded to a Subaru XV recently.  She, who does more research than just about any person I know, wanted a comfortable SUV, high on safety and capable of transporting her and partner, Simon to regular climbs in South-East Queensland. Subaru's symmetrical all-wheel-drive system ticked the boxes for her.
So, here I am driving a Subaru XV-S myself. Exactly the same model and colour that my daughter owns. I'm stunned at the level of technology in this car, let alone the luxury appointments of leather trim and sunroof. If I think about the best features in other brands I've driven recently, the Subaru XV has it. More about the features later.
So let's do the walk around I use to look more closely at the Subaru XV
At the front
Subaru continues its front end look throughout the range. It's a nice look with an unspectacular grille, self-leveling, dusk sensing, halogen headlights (with auto off), front LED fog lights, and daytime driving lights. Under the bonnet is Subaru's 2.0-litre engine coupled with a 7 ratio CVT transmission
Down the Side
I generally use the manufacturer's specification sheet to list the extensive safety technology for your information. So here it is below. I've also decided to link to the online brochure for ant more information that you'll want to consider. Whilst I cover the generally required formation that you may require, my review is simply a brief consideration from my own viewpoint. So here's the link to Subaru's website on the Subaru XV.
The Subaru XV-S has the following features:
Symmetrical All Wheel Drive
Electronic Stability Control
Anti-lock Braking System
Electronic Braking System
Brake Assist
Traction Control
Active Torque Vectoring System
Hill Hold Assist
Electronic Parking Brake
Rear View Reverse Camera
Blind Spot Monitoring
Lane Change Assist
Rear Cross Traffic Alert
High Beam Assist
Reverse Automatic Braking
7 x SRS Air Bags
Front Seatbelts with Pre-tensioners and Load Limiters
Eyesight with
Adaptive Cruise Control
Brake Light Recognition
Lane Departure Warning
Lane Keep Assist
Lane Sway Warning
Lead Vehicle Start Alert
Pre-Collision Braking System
Pre-Collision Brake Alert
Pre-Collision Throttle management
As I've said on more than one occasion most SUVs on the market have a usual SUV design. Generally, a wedge shape from the larger and higher rear end to the smaller or more pointed front. Why? Manufacturers want to create as slippery a shape as possible. Hence why most designs are wind tunnel tested before a design is confirmed
Outback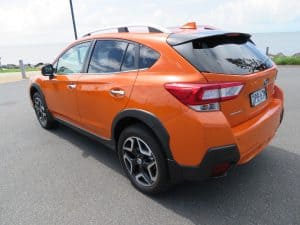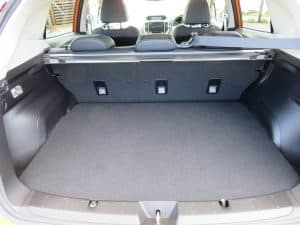 The Subaru XV-S comes standard with rear parking sensors and a reversing camera. The luggage area is quite large not having to cope with a third-row seat.
Capacity with the second row in use is 310 litres whilst this increases to 765 litres with the second row stowed. Rear seats split 60/40 so that standard luggage space can be improved while still carrying one or two rear seat passengers.
The Subaru XV has 2 Isofix points and 3 child seat position for the rear seat. Overall a very good family/school drop/seniors vehicle for luggage carrying capacity, but if I have to be a bit critical, the load height at the rear is a little bit on the high side – might not be as easy for elderly folk to load their groceries as other brands.
Towing
Subaru XV can tow up to 1400kg with electric brakes fitted and 650kg without. Don't just think that this is the load capacity – you need to deduct the weight of what you're actually towing to determine the load you can carry. If you'd like to determine how you can work that out, send me an email to [email protected]  Happy to provide some advice.
Insurance
I generally use RACQ Insurance to give you a guide as to what you'll pay for your annual comprehensive car insurance. Conditions precedent for this cover are:
Male driver over 60 years of age, having held a license for over 10 years
Bronze member of RACQ with 2 other insurance policies
Has paid cash for the car for private use with the car parked in a garage overnight
The driver resides in postcode 4019
The car is fitted with an engine immobilizer
1 at fault claim in the last 3 years, with no license suspensions
Rating 1 currently having held that rating 1 between 5 and 9 years
No driver under 25 will use the vehicle.
The premium quoted online by RACQ Insurance is:          $466.87 with a $750 excess
Drivers Side
The sides of the Subaru XV-S are clean and uncluttered. The designers seem to have deliberately kept away and plastic and I think it's a great design. On the S version, the car has 18" black and polished alloy wheels.
Access to the rear seat is fine, allowing easy access to child car seats or capsules and with the great leg room, the rear seats are welcoming for all ages. Subaru XV-S has 2 ISOFIX points and/or 3 child seat anchor points.
Chrome door handles add to the luxury look and feel whilst the Subaru XV has privacy glass for the rear hatch and passenger side rear doors.
Driving Position
I was blown away by the technology for the driver and that's mentioned in the down the side section. The driver can easily find a very comfortable position – electrically adjustable seat, adjustable steering wheel for height and reach are just a few of the 'nice' things you'll find.
One suggestion though is to have a good read of the owner manual or listen carefully to the person delivering the car when you buy one. There's so much to learn that you'll mostly forget what you're told.
Warranty and Service Costs
Unfortunately, Subaru only offers a 3-year warranty program. During the year, they do offer a 5 year extended warranty plan during promotions, but I personally think it's about time that 5 years was the standard. A capped price service program is available for the 3 years under new car warranty. Service intervals are every 12.500 kilometres . You can expect to pay $1298.19 for the 3 services during the warranty period or an average of just over $432. And that's pretty fair and reasonable in my opinion.
If you'd like to check the service program for yourself, visit https://www.subaru.com.au/service/plans

On the Green Vehicle Guide Website, they use terminology such as Urban and Extra Urban. My Simple English translation of this politically correct wording is:
Urban =                     City
Extra Urban =          Highway
Combined =             Combination of both
City                             8.8 litres per 100 kilometres
Highway                    6.0 litres per 100 kilometres
Combined                 7.0 litres per 100 kilometres
Tailpipe CO2 is the amount of carbon dioxide that comes out of the tailpipe after fuel has been used in the engine. The lower the number of grams the better for our environment.
Tailpipe CO2                                    159 Grams per 100 kilometres
Air Pollution Standard                  Euro 6
Here's a quote directly from the Green Vehicle Guide Website.
"There are two types of emissions that impact on the environment:
Greenhouse gas emissions, such as carbon dioxide (CO2), which can trap additional heat from the sun in the earth's atmosphere, causing the 'greenhouse effect' and climate change. CO2 is the main greenhouse gas produced by motor vehicles. In 2014, the average combined CO2 emissions for a new light vehicle sold in Australia was 188 grams per kilometre (g/km).
The National Transport Commission estimates that if Australian consumers purchased vehicles with best in class emissions, national average CO2emissions for new light vehicles would be up to 50 percent lower."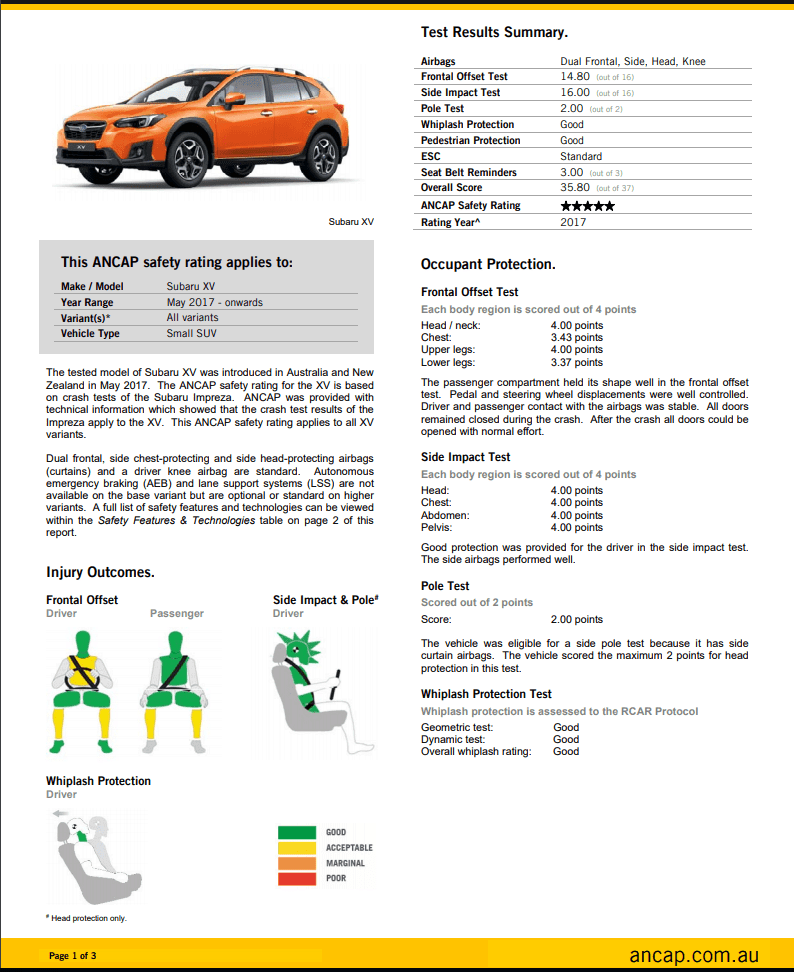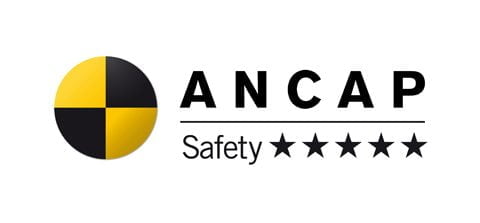 The Five-Star rating for the Subaru XV- S was achieved in May 2017. I don't have any fear that the Subaru XV-S would meet the new standards effective in 2018. If you'd like to read the extensive report, click on this link – Subaru ANCAP
Another Opinion
Close friends of my family, Amy and Simon, have had a Subaru XV-S exactly the same as this car. So rather than just giving my opinion, I asked them to comment on their selection process, and 'time in service'. It's pretty verbatim so here goes. In future, I'm going to try to get a comment from someone who's been an owner of the subject vehicle for a while, just from a different perspective.
"We chose the Subaru XV over other SUVs given Subaru's longstanding presence in the SUV market.  We knew Subaru had a good track record for reliability and durability.  Given we spend a lot of our weekends in the great outdoors, we chose this car as it had a higher clearance than other SUVs and had all-wheel drive which meant we did not have to upgrade to a four-wheel drive.  The XV-S also had all of the features that I was accustomed to having come from a VW (such as rain sensing wipers and dusk sensing headlights) and more, yet cost a fraction of the price compared with a VW.  After driving the XV, Outback, and Forrester, we chose the XV as I preferred the increased visibility over and around the bonnet when driving.  
We've been really happy with the car since we purchased it.  It's comfortable to drive and handles uneven terrain very well.  Car park speed bumps are of little concern for this car and it handles well in the wet.  I particularly love the rear parking camera and parking sensors – they're not too sensitive that they annoy me all the time but have quite a large peripheral area which means they can detect traffic and people before I can when I'm reversing.  For long distance driving, I have really enjoyed the lane assist and EyeSight technology.  The space in the car has been perfect for our trips away with lots of climbing and camping gear.
In terms of fuel economy, the performance is lacking when driving in the city.  It is advertised as having a fuel consumption rate of 8 litres per 100km, whereas, in reality, we obtain between 9 and 10 litres per 100km.  However, on highway driving, we find we have better fuel economy than advertised (between 5 to 6 litres per 100km compared with the advertised 6 litres per 100km). 
Our first experience with the Subaru service department for our first 2000km check-up was satisfactory.  The dealer checked all of the fluid levels and gave us a written breakdown of what they'd looked at.  They also updated all software (which is standard for all services) and washed the car.  
What we like – we love the comfort and space of the car, the way it drives and the driving technology.  While I would not necessarily choose a car for all of the additional features, I am happy to have them given the price we paid.  The high beam assist, parking sensors and rain sensors have been done really well.  
What we don't like – the interior technology is still a little below par, particularly having come from a VW – sometimes having my phone linked into CarPlay interferes with the radio. The voice command in the navigation system is still a bit rusty – it does not seem to understand our voice commands well and can be quite frustrating when you're driving.  The car itself could also do with a little more power/torque.
All in all, we are really happy with our first SUV and Subaru purchase.
On The Road
Ok, so it's not an LWB Mercedes-Benz, but the ride of this Subaru XV-S is very good. I'm publishing a review on a BMW X1 shortly and the drive and ride comparison are close. The Subaru handles well, corners well and I'm comfortable in the driver's seat. Suzi found the passenger seat to be excellent and she was very impressed with the visibility over the bonnet. There's plenty of available power. I like CVT transmissions generally, and this one is no exception.
Whether you're driving around the suburbs or on the highway, the Subaru XV-S ticks all the boxes.
Where to Buy – Dealers
Vehicle provided by Subaru Australia. If you're in the market to buy a Subaru XV-S or any other Subaru for that matter, pick your dealer carefully. When I want to check out the 'worthiness' of a dealer, I Google 'Subaru Dealers Brisbane" where the city is the one that you live in or around and the brand is that particular one you're interested in.
I only list dealers who have achieved a minimum of 5 reviews with Google and then only those with 4 stars or higher.
From a South East Queensland perspective here's the dealers I'd visit:
Northside                         Kedron Subaru                                4.1 Stars
Eastside                            Bartons Bayside Subaru                4.7 Stars
Southside                         Bartons Capalaba Subaru             4.7 Stars
Westside                          Llewelyn Subaru                              4.2 Stars
Sunshine Coast              Cricks Noosa Subaru                      4.9 Stars
Gold Coast                      von Bibra Subaru                            4.3 Stars
Summary
Subaru builds very good cars and they have for a long time. Proof of this is their recent continued increase in volume and market share over the last many years and the repeat business they enjoy from their owners. I'm sure that you'll be happy with the purchase of a Subaru as your next new car.