Volkswagen Australia don't / won't provide vehicles for evaluation to me. Perhaps because I was a VW dealer with an opinion that puts me on the back burner. Despite approaches to senior management, include their PR person, PAul Pottinger, I won't get to drive the Volkswagen I.D 4 before release in late 2023.
Despite being late to the market in Australia (end of 2023 they say) the Volkswagen I.D 4 will be a good vehicle. It's success or otherwise will depend on two things – product and price. Here's what VW have to say about the 'impending' release
8th November 2022
Volkswagen has welcomed to Australia the first examples of the award-winning 2021 World Car of the Year, the Volkswagen ID.4 electric SUV, ahead of a register-your-interest waitlist for customers going live by Christmas.
The two ID.4 electric SUVs arrive in Australia in overseas-market specifications – the 150kW ID.4 Pro Performance with 522km range*, and the 125kW ID.4 Pure Performance with 345km range* and sharing the Pro's 310Nm.
A fully loaded ID.4 Pro Performance will most closely reflect Volkswagen Australia's planned launch specification, while the ID.4 Pure Performance also takes on a key role during discussions with fleet and government agencies.
Brand Director of Volkswagen Passenger Vehicles Michal Szaniecki said "the clear target is to have the ID.4, along with the ID.5, in Australian driveways by late 2023."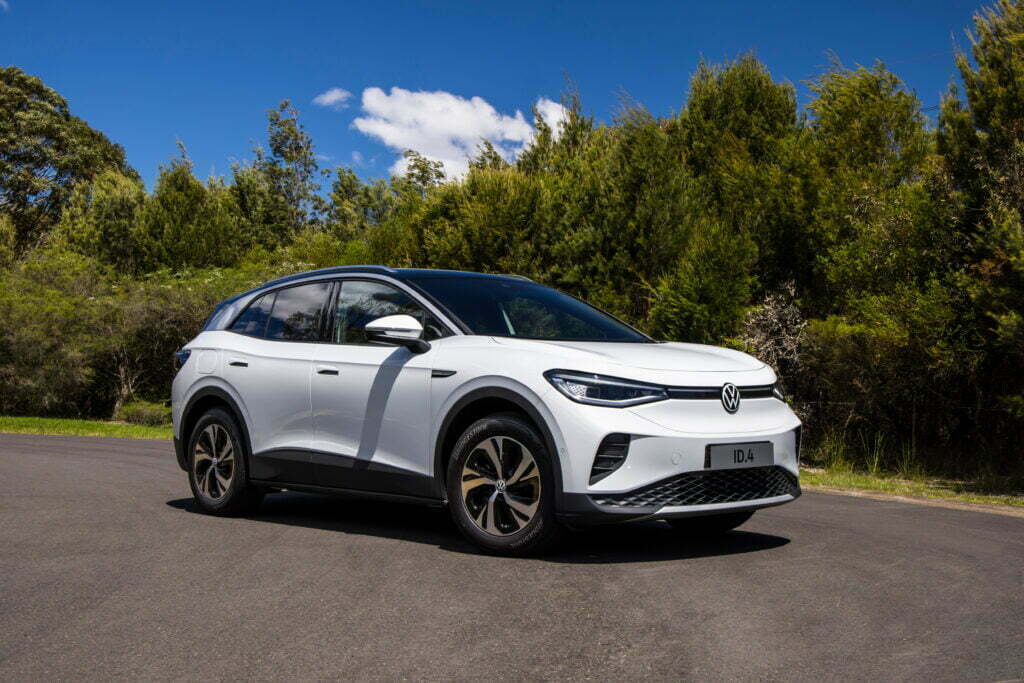 "Strategically the Volkswagen ID.4 and ID.5 represent the most sizeable opportunity for Volkswagen Australia in countless years," he said.
"The ID.4 will not set out to charge customers a premium for being a style statement or shortchange practicalities in any way for being electric. We know that Australians most love medium SUVs, and the ID.4 combines this versatile bodystyle with enviable Volkswagen engineering including a long range.
"The ID.4 will bring electric performance to a broad customer base with target pricing similar to our most in-demand SUV, the Tiguan 162TSI R-Line. Arriving at the same time will be the coupe-style ID.5 with pricing similar to a Tiguan R, enabling customers to alternatively pick an even more design-focused BEV."
The Volkswagen ID.4 and ID.5 are produced on a dedicated, modular battery electric vehicle (BEV) architecture known as MEB.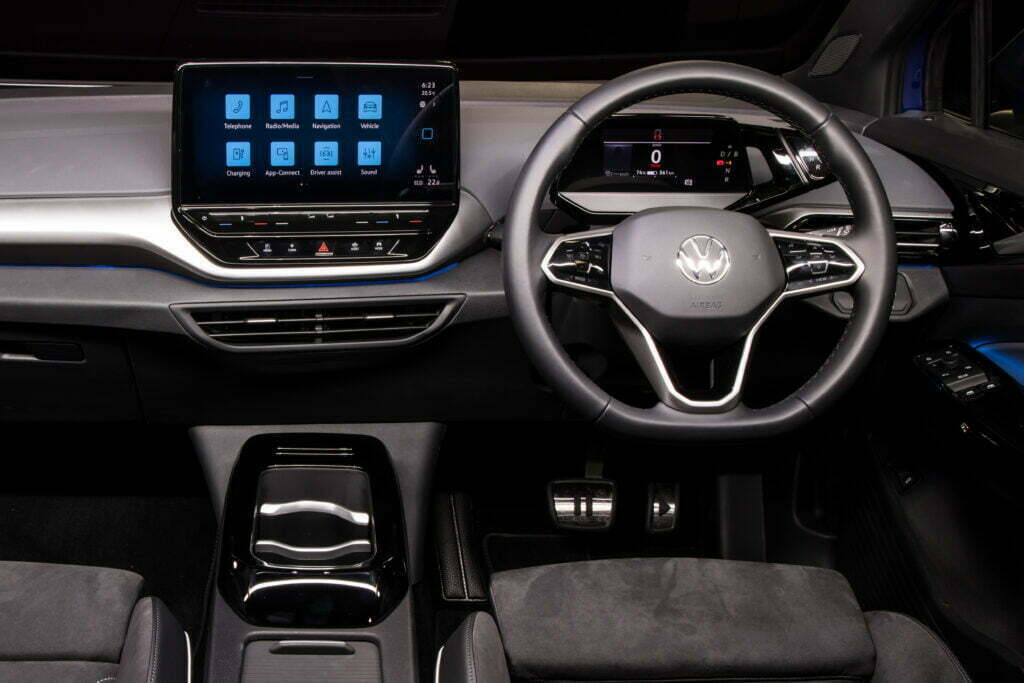 By producing the ID.4 and ID.5 on a dedicated platform it allows designers and engineers to minimise the front and rear overhangs of the vehicle. This ensures that more of the ID.4's 4584mm body length goes into maximising cabin and boot space, which closely mirrors or exceeds that of the Tiguan SUV.
Rear seat space more closely resembles that of the larger Touareg SUV, with USB-C ports and three-zone climate control available. The family-friendly 543 litre boot volume can be expanded to 1,575L with the rear backrest folded.
The MEB platform also ensures the higher kerb weight inherent to BEVs is placed more beneficially to steering, ride and handling qualities than in an equivalent internal combustion engine (ICE) vehicle.
The ID.4 Pro Performance and ID.4 Pure Performance utilise an 82kWh and 55kWh battery package respectively. Both are placed 'flat pack' under the central part of the chassis for more even weight distribution and to lower the centre of gravity.
Targeted at singles, couples, couples-plus-pet, families and empty nesters, the ID.4 Pro Performance's long range will be complemented by up to 125kW DC fast charging enabling charging from 0% in 33 minutes (to 80%) and 42min (to 100%). The ID.4 Pure Performance's 110kW DC fast charging is quicker by 7min and 10min respectively.
The Volkswagen ID.4 is rear-wheel drive and uses a multi-link rear suspension setup for the ride comfort and control typified by a Tiguan, or Golf. It is also rear engined, enabling 0-100km/h performance of between 8.5 seconds (Pro Performance) and 9.0sec (Pure Performance).
With specification still to be locked in for Australia, highlights of the Pro Performance above the Pure Performance in overseas specification include 19-inch alloy wheels (vs 18s), progressive steering, area view camera, augmented reality head up display, 12in infotainment (vs 10in) and 450W 7-speaker audio.
* Range derived from WLTP testing, not confirmed for Australian specification. Factors including but not limited to driving style, road and traffic conditions, environmental influences, vehicle condition and accessories fitted, will in practice in the real world lead to figures which generally differ from those advertised. Advertised figures are meant for comparison amongst vehicles only.
-Advertisement-
Hello. I'm Bob Aldons, the owner and editor of The Car Guy. The Car Guy is an independently owned car review website. I'm currently reviewing cars for Mazda, Nissan, Kia, Suzuki, Mitsubishi, Renault, Haval, Hyundai, Genesis, Jeep, Alfa Romeo and GWM.
Through Mercedes AMG Petronas Motorsport I'll also be writing about the 2022 Formula 1 season. Keep an eye out.
I'm not paid by any car company for my opinion and my companies don't receive advertising revenue to say nice things about them. I call it as I see it.
However, I also own a new car broker company – Car Business. Being able to review new cars gives me an opportunity to provide accurate information on these brands. If you're in the market for Any New Car Cheaper, contact me at Car Business and see how I go about saving you some serious money.
Perhaps you think that you can do the job of buying a new car yourself? If you're after any advice at all, give me a call and ask me any question that you need to be answered.
If you're an Aussie Veteran or serving in the military, I take particular pride in taking care of you. For every car that I source and deliver, I donate part of my fee to Mates4Mates.