The new SONATA spices up midsize sedan segment with sportiest design ever
I'm pleased to see that manufacturers are still designing and building sedans, whether in petrol and diesel rather than pure EV. It's really a contest of East v West. The Europeans are sliding to all EV, with a few exceptions, while the East are remaining steadfastly ICE and EV, at least for the time being. And Hyundai Motors have released images and information on yet another sedan, this time the Hyundai Sonata Mid-Sized Sedan
New design embodies 'The Sportiness' with a long hood and wide front-end layout that integrates a Seamless Horizon Lamp for a more aggressive image
With its driver-centric interior layout, the eighth-generation SONATA implements a future mobility sensibility with delicate high-tech details
For the first time in a Hyundai model, the new SONATA implements a curved display that combines driver information clusters and the infotainment system
The new SONATA's aero-friendly exterior design improves fuel efficiency and stability during high-speed driving compared with other midsize sedans
The redesigned sport sedan to be available in standard and N Line variants and launch globally March 30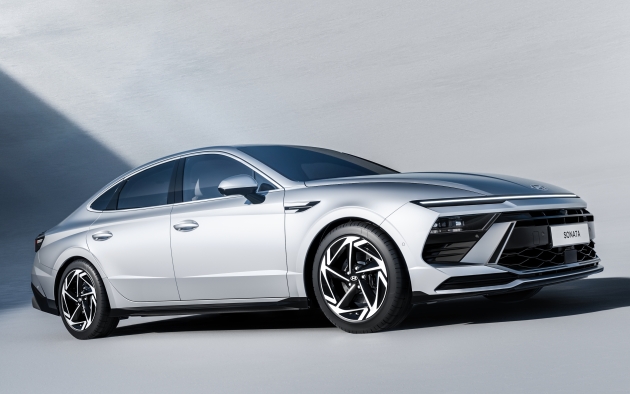 27 March 2023 – Hyundai Motor Company today revealed the design of the new SONATA, with a new badge for the eighth-generation midsize sedan that heralds its sportiest design ever.
Through more than a simple facelift, the new SONATA revolutionises the old SONATA's image, launched in 2019, and is reborn as a dynamic, progressive new model with low-slung, elegant proportions, more aggressive styling and future-oriented technology.
The new SONATA presents a fresh take on the four-door coupe that captures the essence of Hyundai Motor's 'Sensuous Sportiness' design philosophy.
Exterior design embodies 'The Sportiness'
SONATA accentuates its distinctive image with an N Line-based exterior design that conveys sports coupe style with a long hood, low front-end and fastback roof line.
SONATA's low-slung exterior exemplifies progressive automotive design and embodies 'The Sportiness' with a horizontal front-end layout that integrates Hyundai's signature Seamless Horizon Lamp, hidden headlamps, wide grille and air intake for a more dynamic and aggressive appearance. The Seamless Horizon Lamp and wide-set, hidden headlamps create a dramatic lighting effect, emphasising the vehicle's wide stance while adding a futuristic touch.
The dynamic design is emphasised by the contrast between sharp, linear elements and clean, supple surfaces. The black garnish along the bottom of the body rises towards the rear, giving SONATA a strong character.
At the rear, the new H-lights further emphasise SONATA's high-tech image and wide stance. The swooping spoiler-shaped trunk lid and muffler-shaped rear garnish on the standard model reinforce the impression of a high-performance sports sedan while the addition of a rear spoiler and dual twin-tip mufflers along with exclusive 19-inch wheels on the N Line further amplify that image.
Interior design implements a future mobility sensibility
The new SONATA's interior boasts a driver-centric layout that matches its sportier exterior image while implementing a future mobility sensibility with delicate high-tech details in support of modern lifestyles.
For the first time in a Hyundai model, SONATA has a panoramic curved display that combines both 12.3-inch driver information clusters and 12.3-inch AVN infotainment system in a modern and simple dashboard layout that emphasises the horizontal lines and expanded sense of space. The touch-type climate control unit applied to the instrument panel boosts the high-tech vibe.
The interior has undergone significant upgrades for an improved passenger experience with tasteful interior colour combinations to enhance the sense of sportiness and premium character simultaneously.
SONATA's interior 'floating' theme creates a futuristic mood. The application of a column-type shift-by-wire controller behind the steering wheel creates more space in the centre console area. The centre console is further enhanced by the palm rest that provides more comfort for the driver by extending the armrest to lean up to the palm of the hand. The large size cup holder and tray provide additional convenience.
Redesigned sport sedan to be available soon
The actual vehicle of the new SONATA will be unveiled at the Seoul Mobility Show, March 30 – April 9, 2023.
-Advertisement-
Hello. I'm Bob Aldons, the owner and editor of The Car Guy. The Car Guy is an independently owned car review website. I'm currently
reviewing cars for Mazda, Nissan, Kia, Suzuki, Mitsubishi, Haval, MG, Hyundai, Genesis, Jeep, Alfa Romeo, Fiat, Polestar, GWM and now Chery.
I'm not paid by any car company for my opinion and my companies don't receive advertising revenue to say nice things about them. I call it as I see
it. However, I also own a new car broker company – Car Business. Being able to review new cars gives me an opportunity to provide accurate information on these brands. If you're in the market for Any New Car Cheaper, contact me at Car Business and see how I go about saving you some serious money.
Perhaps you think that you can do the job of buying a new car yourself? If you're after any advice at all, give me a call and ask me any question that you need to be answered. Best to get me on 0418 748 498 or email to [email protected]
If you're an Aussie Veteran or serving in the military, I take particular pride in taking care of you. For every car that I source and deliver, I donate
part of my fee to Mates4Mates.