Dan Neill, a writer for The Australian, is one of those lucky bastards that get invitations to view, drive and write on some of the world's great cars. Unfortunately, Dan met Mr. Pagani in Monterey USA rather than his atelier in Modena. And again, unfortunately, I'm not on the list of invitees to purchase one or drive one even though it's extremely unaffordable to me and most other human beings. From Wikipedia, Senor Horacio Pagani is the Argentine founder of Pagani Automobili S.p.A., an Italian specialty auto-maker. From his beginnings in Rural Argentina, he would work for Renault, Lamborghini, and eventually build his own upmarket car company. Pagani Automobili Modena was founded by Pagani in 1992.The first car he produced was the Zonda which took seven years to complete. His second car produced is the Pagani Huayra. It is named after Huayra Tata, the god of the wind in Incan Culture
I'm pleased to provide this story on the Pagani Huarya from Dan Neill for your reading pleasure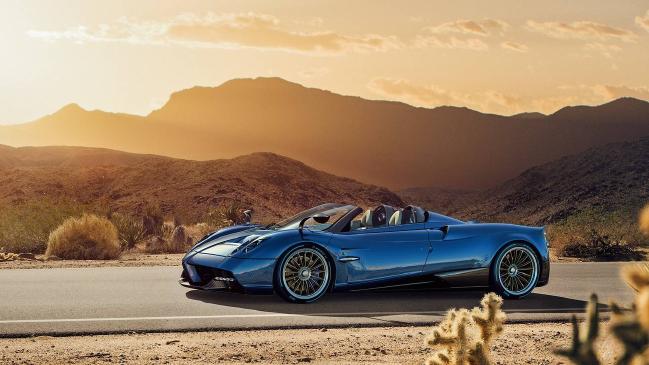 Each Pagani Huayra is assembled by men, not machines.
To appreciate the Pagani Huayra Roadster I ask that you use your imagination like a zoom lens. At the moment we are standing a distance away where we can better appreciate the design's molecular bonding of carnal and sublime.
On one hand the Pagani Huarya Roadster — the latest from maestro Horacio Pagani, of Modena, Italy — is ­beyond bad-ass: low, wide and louche, whispering a filthy argot spoken only in the brothels of ­extreme speed. The $US2.4-million ($3.1m) Roadster harbours a 6-litre, 754-horsepower biturbo V12 engine and weighs practically nothing, an astonishing 1.28 tonnes dry weight. Aviation-style ­ailerons help it stay on the ground. It's fast enough for you, partner.
On the other hand, the Roadster is thoroughly beautiful: ­immaculate in line, elegant in form, with a kind of museum-calibre probity that defies its status as billionaire killer. It is a weapon pricked with jewelled fire, a tsarist axe. This ethereal property, shared with all Pagani designs, has led some to talk about the cars as works of art, which they are not, by theory; but they are damn close.
"The word art is derived from the word 'arto', which in Italian means hand," said Senor Pagani, when I interviewed him in Monterey in August. "Therefore it is the expression of hands. It's an expression that can be in many disciplines, not only when you make a painting or a sculpture."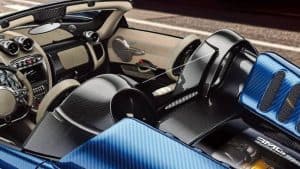 Zoom in closer. Now you can see the distinctive herringbone pattern of carbon fibre draped across the complex body panels in absolute alignment. Pagani, 62, moved from Argentina to Italy as a young man to work in Lamborghini's then-experimental composites department. Thirty-five years later the Pagani name is known to connoisseurs of fast cars as Vacheron Constantin is to chronophiles. Central to the ­appeal is the cars' stupendous surface lustre, the gorgeous landscapes of carbon weave under a miles-deep, glassine polymer.
In a technical milieu that prizes repeatability, the cars' components are fabricated and assembled by hand, most particularly the numinous body panels. "There is no work done mechanically with a machine or a robot," said Roberto Malmusi, Pagani's composites manager. "This is not only an indication of quality but also of philosophy. Our customer must feel with their own hands, with their own senses, sight, touch, what we offer, what we do with the car. And this can only be done by hand, without the use of machines."
Want one? Sorry. All of them, a few score at most, are sold. Hell, they've been sold for some time.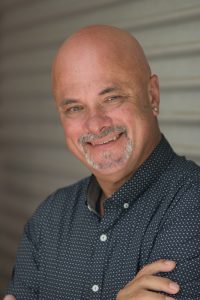 Bob Aldons is the owner and founder of The Car Guy, reviewing cars, reporting on Car Industry Matters, Car Tech and the world at large.
Find One
If you're hunting around for a great price on your next new car, maybe not a Pagani Huarya though, you should call the auto expert, Bob Aldons from Car Business. My company, a car Broker, Car Buyers Agent or Car Buyers Advocate based on the north side of Brisbane, will return your inquiry within 24 hours and make the process of buying a new car easy and stress-free. Are you tired of salesperson tricks? I protect you from the pressure exerted by car dealer's salespeople. There isn't any obligation – just a pretty significant saving.
You're where? Seriously, my services are available for you in any Australian state and territory: from Darwin to Hobart, Cairns to Perth.  Car Broker Brisbane, Sydney, Melbourne, Adelaide, Perth, Hobart, and Darwin – I'm available when you need me to be.
Here's an example
Matt wanted to purchase a Mazda 3 SP25 GT Manual Hatch. The retail value, drive away on that car is around $35,000. Car Business managed to purchase the same car for $28, 123.90 and with our fee Matt paid $25, 588, a saving of over $6000. And how do we know? Another customer, (looking for a new Holden HSV) just paid $35,000 for the same car – but he did it himself, without our assistance
If you've got a vehicle to trade, we have some clever ways to maximize the value – from used car dealers keen for your car to assist you to sell it privately. Finance and Insurance? We can handle that too, and we promise you will not be paying exorbitant dealer markups there either.
Trade In Value Example
2014 Jeep Cherokee Limited. Average dealer trade value – $16500. We achieved $22,000
2014 Volkswagen Tiguan 118TSI. Average dealer trade value – $14000. We achieved $16000
So, to get the best new car price, talk to others and then talk me. I've got the experience to handle the dealers and achieve the lowest new car prices. If you think you're entitled to fleet pricing, I can often get better than that too. Whether you're a small fleet or a large national fleet, Car Business will go to work and get that price down. Lower new car prices are my goal. So you'll get the best prices from us rather than hoping you can help yourself.
If I can't get you the best new car price, better than you can get yourself from a car dealer, we won't charge you any fee. No Saving, No Fee. – that's what you should expect from a car buying expert. 
Car Business WILL save you money on your next new car purchase – guaranteed