Hi, Bob Aldons, "The Car Guy", with my review of the Nissan Navara ST 4×4 Dual Cab.
When I started to write this article, War of The Worlds came to mind – here's a short excerpt from the iconic radio show
"No one would have believed in the last years of the nineteenth century that this world was being watched keenly and closely by intelligences greater than man's and yet as mortal as his own; that as men busied themselves about their various concerns they were scrutinised and studied, perhaps almost as narrowly as a man with a microscope might scrutinise the transient creatures that swarm and multiply in a drop of water. " – H.G. Wells
You're probably asking yourself what this has to do with a 4WD dual cab? Call it my sense of humor or maybe something else, but the ute market is like a war – Japanese, Thai, Argentinian, Chinese, Indian, Korean and now German., but not Martian as yet. Of course, they're made somewhere other than their home countries, but Nissan, Mitsubishi, Ford, Toyota, Volkswagen, LDV, Mercedes-Benz, Foton, Mahindra, Great Wall, Holden, Isuzu Ute, JMC, Land Rover, Mazda, Tata, and Ssangyong have an entrant in the light utility 4×4 market.
What is it?    The Nissan Navara ST 4×4 Dual Cab is a light commercial vehicle featuring the venerable twin turbo 2.3-litre diesel engine and a choice of a 6-speed manual or 7-speed automatic gearbox. Plenty of power (140Kw) to do the work it's famous for and enough comfort to act as a getaway weekender for the family.
Key Competitors: Mitsubishi Triton, Ford Ranger, Toyota Hilux, Volkswagen Amarok, LDV T60, Mercedes-Benz X Class, Mazda BT-50, Holden Colorado, Isuzu D-Max, Ssangyong Actyon, Tata Xenon, Foton Tunland, Great Wall Steed, JMC Vigus, Mahindra Pik-Up, and Land Rover Defender.
Base Price: Nissan Navara ST Dual Cab with auto transmission, metallic paint, and a factory tow bar prices out at $51, 080.21 plus relevant state on roads and dealer delivery. During this month, according to the Nissan Web Site, a manual version is available (white in colour) for $44,990 drive away for ABN holders. I'm guessing that the automatic option will run out at about $2500 more.
At the Front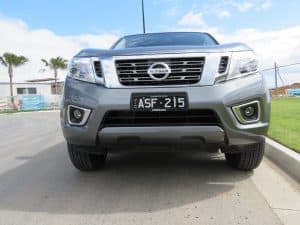 I like the aggressive front end design of the Nissan Navara. Heavy looking bumper, fog lights, LED daytime running lights. Under the bonnet is Nissan's 2.3-litre twin turbo engine pumping out 140kw of power and 450Nm of torque. What that means in simple English is that there's plenty of power and enough grunt to get you where you want to go, loaded or unloaded.
The transmission mated to the engine is the choice of a 6-speed manual or the optional 7-speed auto as fitted to the test vehicle. Because it's a 4WD rather than an AWD, you get a dual range 4×4 with an electronic 4WD selection.
Down the Side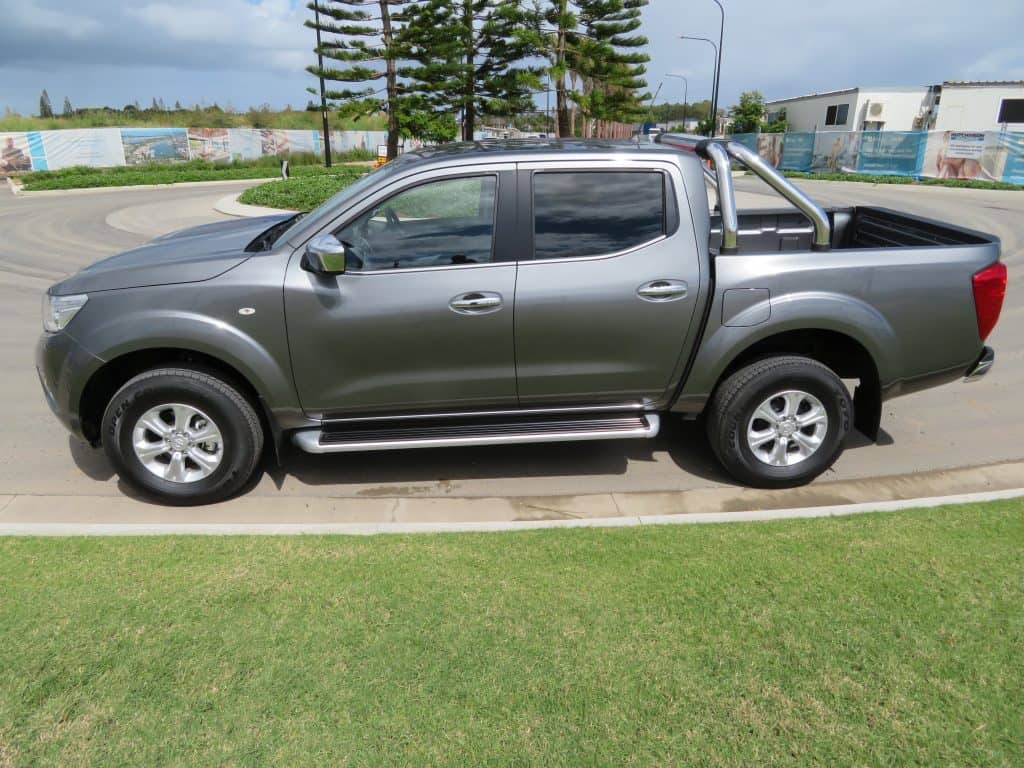 There's not much that any manufacturer can do design wise with a dual cab. The Nissan Navara has a strong presence, higher line through the rear door and a good sized tub at the back. Unlike their sister vehicle, the new Mercedez-Benz X class, Navara still gets rear drum brakes. Here are the basics from an equipment viewpoint. If you want to know I've got a link a link at the end of this section  to the Nissan website
Reversing camera in the infotainment system
Around view monitor – very helpful for tradespeople
ABS Braking System
Electronic Brakeforce distribution
Traction Control
Vehicle Dynamic Control (VDC) with Brake Limited Slip Differential
Active Brake Limited Slip (ABLS)
Brake Assist (BA)
Hill Start Assist (HSA) and Hill Descent Control (HDC)
Electronic rear differential lock
Driver & front passenger front-impact SRS airbags, Driver & front passenger side-impact SRS airbags, Driver knee airbag, Front to rear SRS curtain airbags.
Driver & front passenger seatbelts with load limiters & pre-tensioners
LED signature daytime running lights, Automatic on/off headlights, Twilight detection, LED high mounted stop light
Nissan Anti-Theft System (NATS) vehicle immobiliser with Vehicle Security System (VSS) alarm.
Available colours are: Polar White, Burning Red, Cosmic Black, Brilliant Silver, Deep Sapphire, Hornet Gold, Slate Grey, White Diamond.
You can see the full specification sheet by clicking on this link NISSAN SPECIFICATIONS.
The Rear End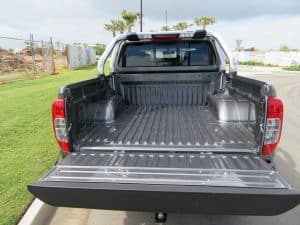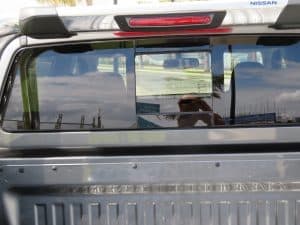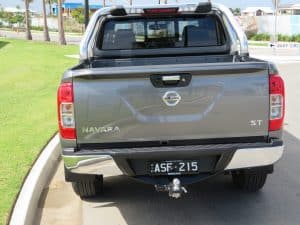 Drivers Side and Driver's Seat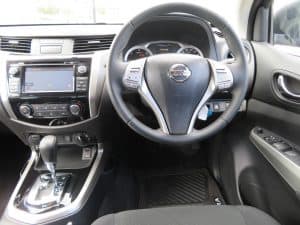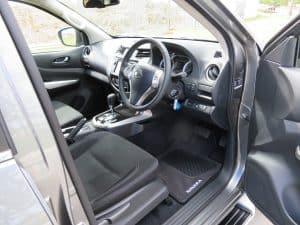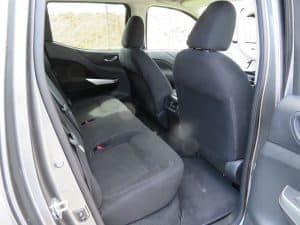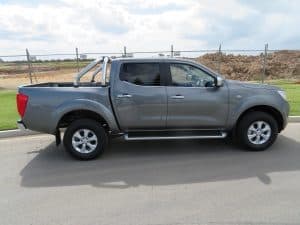 On the Road
The McDonalds Test
On my way to work every morning, I call into Macca's for a coffee – Large Late with an extra shot. After the drive-through, I cross over two speed bumps. And I've started to rate the suspension of cars on whether the coffee comes up through the lid. No guessing with the Nissan Navara. The tough suspension means that I'll lose a bit over the bumps. Interestingly enough, when I had a reasonable load in the back (a couple of bags of soil, 2 bags of potting mix and some fertilizer) the spillage was a lot less. Nice strong suspension with a good payload capacity.
I've owned and driven a wide variety of dual cabs. Toyota Hilux, Volkswagen Amarok, Mitsubishi Triton, Isuzu D-Max, have all found their way to my garage or property over the years. After a couple of trips to Peachester, up the range and down again, I'd have no problem having a Nissan Navara ST 4×4 in my driveway.
Green Vehicle Guide
The Federal Government's Green Vehicle Guide website uses politically correct terminology to determine fuel economy. Urban, extra urban and combined. I'll call it the way it is – City and suburbs, Highway and still use their definition of combined.
You might recall that these tests are conducted in a laboratory to Australian Standards so don't expect to achieve City and Suburb results the same as these. In my experience, I've found that the highway test is closest to the actual economy you'll get, but the city results can be undercooked by as much as 20%. Hopefully, real-world tests and results will be provided this year.
City Cycle                              8.9 litres per 100klm
Highway Cycle                     5.9 litres per 100klm
Combined                             7.0 litres per 100klm
Air Pollution Standard      Euro 5
Tailpipe CO2                        186 grams per kilometre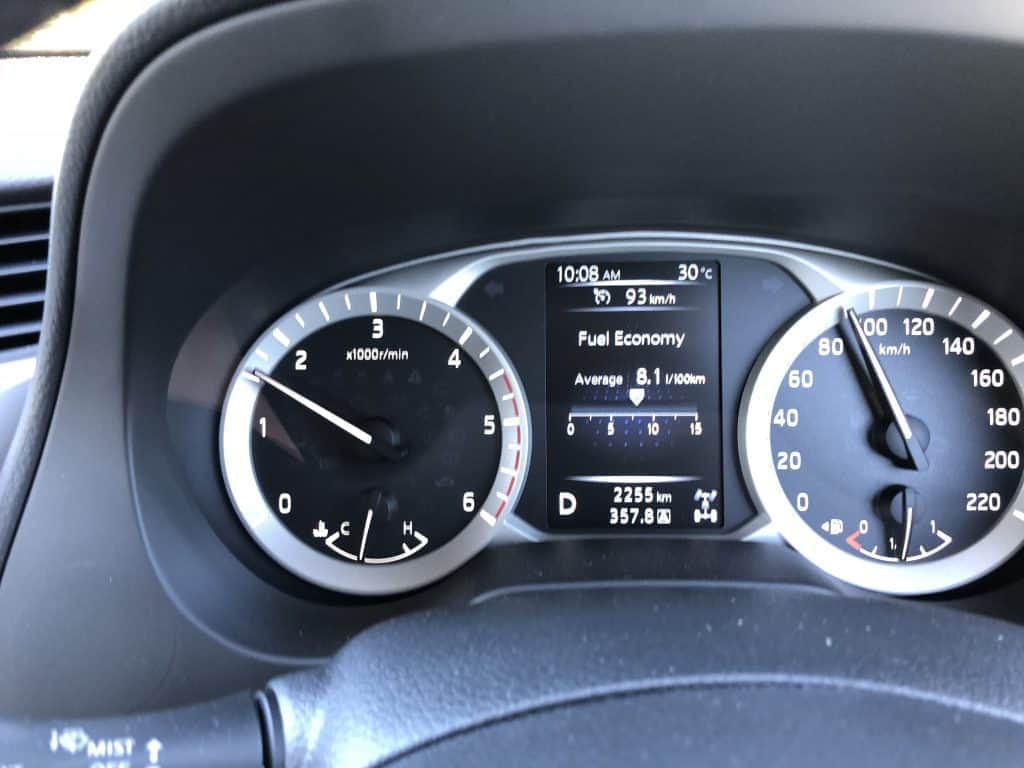 The Nissan Navara St 4×4 has a fuel tank capacity of 80 litres so should be able to handle a work week and weekend on 1 fill.  During my time with the Nissan, I achieved 8.1 litres per 100 kilometres which was about 12% more than the Green Vehicle Guide indicated
ANCAP
These ANCAP safety tests were conducted in December 2017, so a few months before the new standards were introduced. I'd be comfortable in saying that if tested under the new regime, the 330Si would still achieve 5 stars. But a note of importance here. The lower spec models in the KIA Stinger range only achieved 3 stars for their lack of some important safety technology such as Advanced Emergency Braking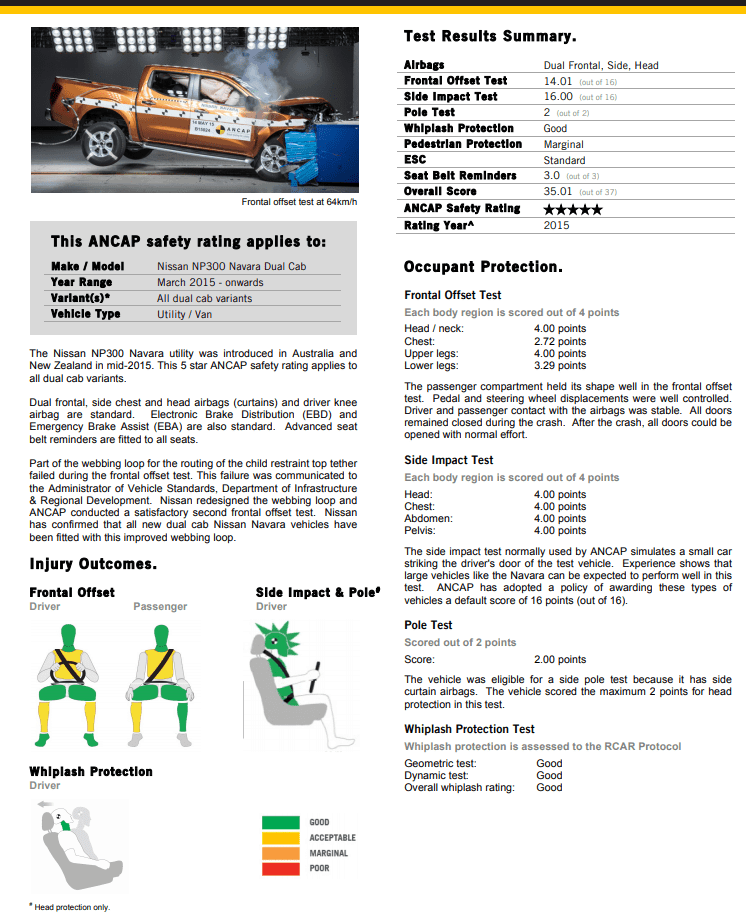 I've stated before in these articles, that there really isn't a bad car being sold in Australia. That being said, if the vehicle you're looking at doesn't have a 5-star ANCAP rating, move on to something else.
If you'd like to download the complete technical report, click on this link ANCAP – Nissan Navara and then burrow further into the report by clicking on the "Technical Report" on the bottom LHS of the first page.
Warranty and Service
The time must be coming when Toyota, Ford, Holden, Nissan, Mazda, and Volkswagen start to offer something better than a 3-year warranty permanently rather than when trying to sell their 'specials'. Hyundai, Mitsubishi, already have a 5-year warranty whilst the market leader, Kia has 7 years. There's a rumour doing the rounds that Kia will increase their warranty to 10 years if other manufacturers move to 5 years.
The Nissan new car warranty is 3 years or 100,000 kilometres. Of course, this doesn't take into consideration the Australian Consumer Law provisions that a vehicle must be fit for purpose and not a lemon. My experience with Nissan is that they build an excellent vehicle whether it's a passenger car or light commercial.
Nissan offers capped priced service on all their vehicles.  Service intervals are 20,000 kilometres or 12 months. Over 120,00 kilometers, you can expect to pay $3688 for dealer servicing.
Towing
The Nissan Navara has one of the best towing capacities in the market today. A braked capacity (with electric brakes fitted) of 3,500 Kg. Without electric brakes, expect to tow up to 750kg
Insurance
I generally use RACQ Insurance to give you a guide as to what you'll pay for your annual comprehensive car insurance. Conditions precedent for this cover are:
Male driver over 60 years of age, having held a license for over 10 years
Bronze member of RACQ with 2 other insurance policies
Has paid cash for the car for private use with the car parked in a garage overnight and another quote for business use
The driver resides in postcode 4019
The car is fitted with an engine immobilizer
1 at fault claim in the last 3 years, with no license suspensions
Rating 1 currently having held that rating 1 between 5 and 9 years
No driver under 25 will use the vehicle.
The premium quoted online by RACQ Insurance is:        Private Use – No Finance:  $525.76 with a $750 excess      Business Use – Financed $1159.16 with a $750 excess
Variations from the information above may result in different outcomes. Check online with RACQ Insurance for your own particular quote.
My Opinion
What I Like        
Access to the tray area through a small window in the rear glass of the dual cab. Arguably installed for those who fit a canopy and provided your canopy has a slider, it provides easy front and rear access for the outdoor folk who camp out in the back.
What I Don't Like
Should have a tub liner as standard.
Where to Buy – Dealers
Vehicle provided by Nissan Australia. If you're in the market to buy a Nissan Navara, pick your dealer carefully. When I want to check out the 'worthiness' of a dealer, I Google 'Nissan Dealers Brisbane" where the city is the one that you live in or around and the brand is that particular one you're interested in.
I only list dealers who have achieved a minimum of 5 reviews with Google and then only those with 4 stars or higher.
From a South East Queensland perspective here's the dealers I'd visit
Northside                         Aspley Nissan                                   4.8 Stars
Eastside                            Bartons Nissan                                 4.7 Stars
Southside                         Springwood Nissan                          4.0 Stars
Westside                          Ipswich Nissan                                  4.3 Stars
Sunshine Coast               Cricks Nambour Nissan                  5.0 Stars
Gold Coast                       von Bibra Nissan                               4.8 Stars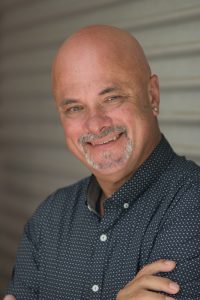 Bob Aldons is the owner and founder of The Car Guy, reviewing cars, reporting on Car Industry Matters, Car Tech and the world at large. He's spent the last forty years immersed in the automotive industry from salesman to the owner of a 7 brand multi-franchise dealership. Bob knows cars.
Find One
If you're hunting around for a great price on your next new car, you should call the auto expert, Bob Aldons from Car Business. My company, a car Broker, Car Buyers Agent or Car Buyers Advocate based on the north side of Brisbane, will return your inquiry within 24 hours and make the process of buying a new car easy and stress-free. Are you tired of salesperson tricks? I protect you from the pressure exerted by car dealer's salespeople. There isn't any obligation – just a pretty significant saving.
You're where? Seriously, my services are available for you in any Australian state and territory: from Darwin to Hobart, Cairns to Perth.  Car Broker Brisbane, Sydney, Melbourne, Adelaide, Perth, Hobart, and Darwin – I'm available when you need me to be.
Here's an example
Matt wanted to purchase a Mazda 3 SP25 GT Manual Hatch. The retail value, drive away on that car is around $35,000. Car Business managed to purchase the same car for $28, 123.90 and with our fee Matt paid $25, 588, a saving of over $6000. And how do we know? Another customer, (looking for a new Holden HSV) just paid $35,000 for the same car – but he did it himself, without our assistance
If you've got a vehicle to trade, we have some clever ways to maximize the value – from used car dealers keen for your car to assist you to sell it privately. Finance and Insurance? We can handle that too, and we promise you will not be paying exorbitant dealer markups there either.
Trade In Value Example
2014 Jeep Cherokee Limited. Average dealer trade value – $16500. We achieved $22,000
2014 Volkswagen Tiguan 118TSI. Average dealer trade value – $14000. We achieved $16000
So, to get the best new car price, talk to others and then talk me. I've got the experience to handle the dealers and achieve the lowest new car prices. If you think you're entitled to fleet pricing, I can often get better than that too. Whether you're a small fleet or a large national fleet, Car Business will go to work and get that price down. Lower new car prices are my goal. So you'll get the best prices from us rather than hoping you can help yourself.
If I can't get you the best new car price, better than you can get yourself from a car dealer, we won't charge you any fee. No Saving, No Fee. – that's what you should expect from a car buying expert. 

Car Business WILL save you money on your next new car purchase – guaranteed

The Australian Road Safety Foundation is a not-for-profit organization whose charter is to reduce serious accidents on our roads through training and education. Car Business donates to the ARSF for every car we sell. If you'd like to support this worthwhile foundation, donate to the cause, become a member today or just buy your next new car from Car Business
In Closing
My reviews aren't based on power performance or high-speed handling capacity. They're not based on 0-100 Kim/hr of 4.0 seconds. And they're certainly not super luxury vehicles that many other "old timers" are feted on by the likes of Ferrari, Lamborghini, and Aston Martin
Back when I started in the motor industry salespeople were schooled and skilled in a process called the road to the sale. Part of that process was a presentation of the car that the customer was ultimately considering,
The six position sell showed the features, advantages, and benefits as it related to that specific car in the eyes and thought process of that particular customer
Those days of a true car sales professional seem to have gone.
Nowadays it seems that all salespeople want to do is accept that the customer knows everything about the car they're interested in, want to crunch the customer as quickly as possible and get onto the next sale
In my opinion, this is one of the reasons that there's such a high turnover in salespeople in this industry of ours.
Now I think that I'm a car industry expert, not because I sell lots of cars, but, as I was taught over 40yeras ago, time sells motor cars.
The more time you spend with a customer, the more information you provide them and the more you're there for them Even AFTER they take delivery of their new car, the more repeat and referral business you'll get.
Typically second and subsequent sales only provide 10% of a car salespersons business. Referral business, where an existing customer refers a friend, relation or work colleague back tot eh selling salesperson as someone to trust and buy a car from is even less – probably 5%
So, if you're a young salesperson reading this article, let me tell you that you should be getting 40-50% of your business from repeat and referral business.
And how do you get that much? Well, that's a story for another article or an opportunity to join me in a training course.
Disclaimer
For your interest, my motoring reviews are my opinion of the vehicle I'm testing. The manufacturer or distributor, in this case, Kia Australia, doesn't tell me what to write or ask for a 'nice' review. Nor am I paid for these reviews – I simply call it as I see it.
I often wonder about the 'truth' that I see from other motoring journalists. And I'm particularly referring to newspapers, online forums, and magazines where the company that owns the publication receives substantial advertising support from the various manufacturers.
Do the owners or editors tell their journalists to go easy on the review? I'm not sure, never having been in that position. Would I turn to softer reviews if my company was being paid for good reviews? Not likely. My independence as a writer is not for sale. I'd rather say no than be bought.
In any case, If that ever happens, rest assured that I'll be telling that story with interest.