World-first gaming controller operated Nissan GT-R achieves 130+mph run around Silverstone
Hi, Bob Aldons, The Car Guy with this press release from Nissan. Not only did Jann Mardenborough win the Nissan GT Academy comp and get to drive for the NISMO team, but he's also got the enviable task of 'driving' this Nissan GT-R remotely around Silverstone raceway. The Nissan GT-R was hooked into a Sony Playstation controller, Jann took to the skies in a helicopter and controlled the Nissan GT-R around Silverstone at speeds of up to 173kph. How awesome is that?
Here's what Nissan has to say.
Nissan has brought reality and virtual together with the ultimate remote-control car for gamers – the Nissan GT-R /C – operated by a PlayStation®4 DualShock®4 controller
GT Academy winner and NISMO driver Jann Mardenborough took the remote-control supercar around Silverstone reaching speeds of 130+mph from the cockpit of a helicopter
Watch Jann Mardenborough, the ultimate gamer-to-racing-driver, take on the ultimate remote-control car for gamers
London, UK (October 11, 2017) – Nissan GB has created the ultimate remote-control car for gamers – the Nissan GT-R /C.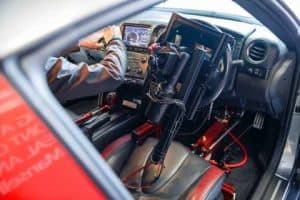 Celebrating the release of Gran Turismo Sport, out in Europe on October 18th, and marking 20 years of Nissan involvement in the Gran Turismo gaming series, the one-off project car was extensively modified to be driven entirely by a PlayStation®4 DualShock®4 controller.
A few millimetres of button movement or joystick travel are all it takes to unleash the GT-R's full power. The remote-control vehicle is capable of a top speed of 196mph – not restricted for the purpose of the project car – with no one sitting behind the wheel.
The GT-R /C was put through its paces by NISMO racing driver Jann Mardenborough, around Silverstone's famous National Circuit. Jann controlled the GT-R /C from the cockpit of a Robinson R44 Raven II helicopter, which had been given special permission to operate at a low altitude.
Mardenborough is one of the most successful winners of GT Academy, Nissan's revolutionary driver discovery and development programme. Jann was approached to be the first driver of the GT-R /C because of his unrivalled talent in both Gran Turismo gaming and real-life motorsport.
Nissan has brought ingenuity and innovation to motorsport for more than 80 years, fusing technology with performance to maintain a competitive edge. Since 2008, Nissan has also made motorsport more accessible to everyone with GT Academy turning amateur gamers into professional racing drivers.
The GT-R /C was engineered in the UK by JLB Design Ltd., using a standard-spec 542bhp V6-powered 2011 R35 – the same year Jann Mardenborough won GT Academy.
On Mardenborough's fastest lap (1:17:47), the GT-R /C averaged 76mph/122kph and reached a top speed of 131mph/211kph – the 'driven' average for the 1.6mile/2.6km loop circuit is around 83mph/134kph.
The GT-R /C is fitted with four robots that operate the steering, transmission, brakes and throttle. Six computers mounted in the boot update the controls at up to 100 times a second. The steering position is measured to one part in 65,000.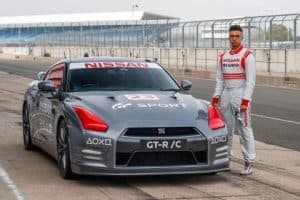 The unmodified DualShock®4 connects to a micro-computer which interprets the joystick and button signals and transmits them to the GT-R /C's on-board systems. The wireless operation has a primary control range of one kilometre.
To help Mardenborough judge the vehicle's speed through the corners, a Racelogic VBOX Motorsport sensor was installed to relay speed data to a LCD display in the helicopter cockpit.
The GT-R /C is also fitted with two independent safety systems, operating on different radio frequencies, which allow two additional operators to apply full ABS braking and cut the engine in the event of the main operator losing control of the vehicle.
James Brighton, JLB Design Ltd commented; "The GT-R /C presented some unique challenges and a number of engineering firsts for us. We had to ensure the robotics would operate effectively during fast acceleration/deceleration as well as high cornering g-forces; deliver realistic and reassuring control of the car at all speeds; and maintain a robust connection between the car and the DualShock®4 over variable distances and with minimal latency in robot response times.
"I'm delighted to say all these challenges were overcome but it's testament to Jann's unique skillset that he was able to master the vehicle's operation in a very short period of time whilst delivering some truly impressive lap times."
Jann Mardenborough added; "This was once-in-a-lifetime, truly epic stuff. The GT-R /C has brought my two worlds together – the virtual of gaming and the reality of motorsport – in a way I never thought possible. The response from the car when using the controller was far more engaging than I thought it would be. JLB Design has done an incredible job at making everything respond really well.
"Steering, acceleration and braking were all intelligently configured, allowing for controlled application so I could really get a feel through the corners and hold it steady down the fast straights. Driving a full-size, remote-control GT-R to 131mph at Silverstone whilst chasing it down in a helicopter was an unforgettable experience. Now that's innovation that excites!"
In 2018, the Nissan GT-R /C will be used in a tour of primary and secondary schools in the UK to promote future careers in STEM (Science, Technology, Engineering and Maths) subjects.
About GT-R R35
In October 2007, 10 years ago this month, Nissan unveiled the R35 GT-R at the Tokyo Motor Show.
Since its launch, the Nissan GT-R has been at the cutting edge of the premium sports car sector – an uncompromising performance four-seater for enthusiastic drivers, a car which completely embodies Nissan's Innovation that Excites motto.
For 2017, the GT-R was significantly updated to keep it where it belongs – on the tip of the tongue of car fans around the world.
The MY17 Nissan GT-R has an exciting new look both inside and out, as well as major driving performance enhancements in key areas, including a revised chassis and more power from its twin-turbocharged 3.8-litre 24-valve V6 engine. The MY17 GT-R is also more comfortable than ever before, with a more sophisticated and premium quality interior. These revisions represent the most significant changes to the R35 GT-R since it was introduced in 2007.
In the UK, the MY17 Nissan GT-R is available in three grades – Pure, Recaro and Prestige. Pricing starts from £82,525 for Pure with Recaro from £84,525. Prestige is either from £85,025 with Black Touring Leather Seats, or from £86,025 with Tan, Ivory or Red Touring Leather Seats. A Track Edition engineered by NISMO, specified at £94,525, is also offered, whilst the range-topping, highly exclusive 600PS GT-R NISMO is from £151,525.
About GT Sport
Out Wednesday 18 October in UK, Europe & Australasia, Gran Turismo Sport brings a new era to racing games through its accessible single player and online game modes.
Game modes range from a traditional Arcade Mode all the way through to online, competitive, FIA-sanctioned races. Gran Turismo Sport forges a new standard for the racing genre by empowering gamers to develop their virtual careers on the track with only the fastest cars available to racing drivers today.
The title will be compatible across the entire PlayStation® ecosystem: PlayStation®4, PlayStation®4 Pro and PlayStation® VR.
Players will be able to drive only the fastest and most sought after vehicles; with over 158 cars in the world, from Vision Gran Turismo concept vehicles to Gran Turismo Sport exclusive prototypes and the best in real-world motoring.
Race across 17 locations in 40 different layouts, ranging from the legendary "Tokyo Expressway" to the ever-popular Nürburgring Nordschleife (North Loop), and a host of other new tracks, such as the half mile oval the "Northern Isle Speedway".
About Jann Mardenborough
Jann Mardenborough is one of the most successful winners of GT Academy, Nissan's revolutionary driver discovery and development programme which, since 2008, has turned the best Gran Turismo gamers into fully-fledged racing drivers.
Jann won GT Academy in 2011 and is the first winner to race in single-seaters and in 2014 he became a GP3 race winner with Arden Motorsport, while on the Infiniti Red Bull Racing driver development programme. Away from single-seaters, Jann's performance in the Ligier-Nissan LM P2 car at the 2014 Le Mans 24 Hours was incredible.
In 2015 Mardenborough, became one of the first GT Academy winners to race in LM P1 for Nissan and also continued his single seater career in GP3.
Making the move to Japan in 2016, Mardenborough made a strong impression as a championship contender in the GT300 class in Super GT and Japanese Formula 3. Winning races in both championships, Jann graduated to GT500 in Super GT and Japan's premiere single seater championship, Super Formula, in 2017.
Jann currently races for Team Impul in a 2017 Nissan GT-R NISMO GT500 in the Japanese Super GT Series.
About JLB Design Ltd.
The engineering of the remote-control elements was carried out by Dr James Brighton and his team at JLB Design.
James has built over 70 full size remote control vehicles including cars, boats, buses and trucks over the past 15 years and has over 23 years' experience relating to automotive, motorsport and off road vehicle engineering and development.
For JLB Design Ltd. the GTR /C is by far their fastest and most sophisticated build to date. James also manages the Advanced Vehicle Engineering Centre at Cranfield University which specialises in applied research, design, development and teaching in relation to advanced vehicle technology for automotive, off road and motorsport environments together with the development of novel light-weight materials and associated nanotechnology.
And you might be interested in a recent story about the 'new' historical Nissan Calsonic livery being used here in Australia this season.
https://thecarguy.com.au/wptcgadmn/2017/09/04/words-nissan-calsonic-gt-r-r32-livery/
Find One
If you're hunting around for that great price, perhaps you should call the auto expert, Car Business. Our company, based on the north side of Brisbane, will return your inquiry within 24 hours and make the process of buying your new car easy and stress-free. We protect you from the pressure exerted by car dealer's salespeople. There isn't any obligation – just a pretty significant saving.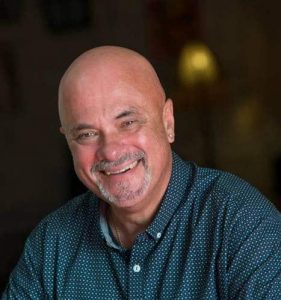 We can deal with you in any Australian state and territory: from Darwin to Hobart, Cairns to Perth. If you're buying a new supercar, it may be an issue, but any other brand is accessible.
If you've got a vehicle to trade, we have some clever ways to maximize the value – from used car dealers keen for your car to assist you to sell it privately. Finance and Insurance? We can handle that too, and we promise you will not be paying exorbitant dealer markups there either.
So, to get the best new car price, talk to others and then talk to Car Business. We have got the experience to handle the dealers and achieve the cheapest new car prices. If you think you're entitled to fleet pricing, we can often get better than that too. Whether you're a small fleet or a large national fleet, Car Business will go to work and get that price down. Cheaper new car prices are our goal. So you'll get the best Ford prices from us rather than hoping you can help yourself.
If we can't get you the best new car price, better than you can get yourself from a car dealer, we won't charge you any fee. No Win No Fee. – that's what you should expect from a car buying expert. 
Car Business WILL save you money on your next new car purchase – guaranteed