Hi, Bob Aldons, The Car Guy, with some information from Nissan Australia to coincide with the Gold Coast 600. Nissan is one of the few manufacturers promoting the use of genuine replacement parts rather than allowing the non-genuine and grey parts market to take control. As a former franchise dealer (Mitsubishi, Suzuki,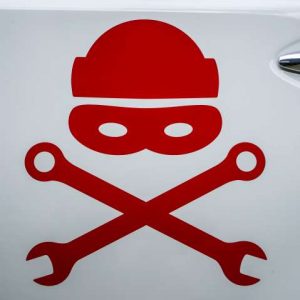 Chrysler Jeep Dodge, Fiat Alfa, Isuzu Ute and Volkswagen) I was always at my wits end competing with the aftermarket parts industry. I stocked nearly $1,000,000 of genuine parts and then had shops ordering those genuine parts and then returning them after they'd checked and then sourced grey parts from overseas. The Beware of Strangers campaign is thoughtful and with this TVC, comical. It's not the one running during the Gold Coast 600, but IMHO, it's better. Beware of Strangers and do what your folks told you to do
I do however have sympathy for the industry – some of the prices on genuine parts here in Australia are 50-100% more expensive than can be sourced from overseas companies. Jeep in particular for me was a constant battle. One part that still comes to mind is a simple Mopar badge. I ordered 50 of them from Jeep and they wanted to charge me $124 per item, whereas I could source them from the USA for $24.
Importers (and that's now 100% of the manufacturers here in Australia) need to have a good hard look at their pricing policy. It seems to me that they can't or won't negotiate good prices and then their margin plus the dealer's margin make them unaffordable compared to overseas pricing. When I sold my dealerships in 2015, the new owner didn't want any genuine parts more than twelve months old. So if you're chasing parts for Jeep, Chrysler, Dodge, Fiat, Alfa Romeo, Volkswagen or Isuzu Ute, visit www.genuinespares.com.au and check over what I've still got left – you'll find that I'm charging about 50% of the price that dealers will want you to pay.
MELBOURNE, Australia (18 October 2017) – Nissan is sending an important message about the importance of using genuine parts, at this weekend's Gold Coast 600 Supercars event.
Like it did at last year's final event of the season, Michael Caruso's #23 NISMO Nissan Altima Supercar will feature the 'Beware of Strangers' livery. This supports Nissan Australia's campaign to inform consumers about the advantages and differences of using genuine versus non-genuine parts.
Nissan developed the 'Beware of Strangers' initiative to educate the public about using genuine parts when maintaining and repairing their vehicle, ensuring the vehicle performs as intended by the manufacturer.
The livery on Caruso's Nissan will be supported with advertising across Channel 10 and Fox Sports – the broadcasters of Supercars – and on popular motorsport websites like Supercars.com.au and speedcafe.com.
"To ensure your safety and the ongoing quality of your vehicle, genuine parts are developed and rigorously tested to meet high quality and performance standards," said Nissan Australia director of aftersales Peter Gillam.
"Non-genuine parts can't necessarily promise this.
"A genuine part is made during the production of the vehicle, or sourced by the vehicle maker, to meet the same high level of specification of parts fitted at the time the vehicle has been manufactured.
"It doesn't matter what type of vehicle you drive, to ensure you get the reliability and safety that you expect, only fit genuine parts that come approved and recommended from your vehicle manufacturer."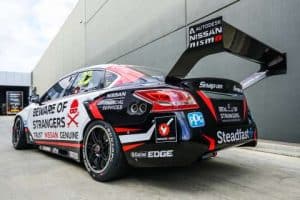 Nissan Motorsport driver Michael Caruso spoke of the importance of genuine parts.
"Nissan is committed to producing genuine parts and accessories that are designed and developed specifically for Nissan vehicles," said Michael Caruso.
"It can be hard to tell the difference between non-genuine parts from the real thing, so I hope this campaign – and the livery of my car this weekend – help educate the public about the importance of genuine parts."
Customers can learn more about Nissan Genuine Parts by visiting this link:  http://www.nissan.com.au/Owners/Owner-Information/Genuine-Parts
Public attention for the topic of genuine parts was given a boost by the Australian Federal Chamber of Automotive Industries (FCAI) with its 'Genuine is Best' program. This campaign provides consumers with important information about keeping their vehicles safe through the use of genuine parts in scheduled servicing as well as collision repairs and general repairs. To help consumers, the FCAI developed the genuineisbest.com.au website, which has been designed to ensure consumers know what genuine parts are, how to get them and importance of good quality repairs.
The Vodafone Gold Coast 600 runs this weekend.
Find One
If you're hunting around for that great price, perhaps you should call the auto expert, Car Business. Our company, based on the north side of Brisbane, will return your inquiry within 24 hours and make the process of buying your new car easy and stress-free. We protect you from the pressure exerted by car dealer's salespeople. There isn't any obligation – just a pretty significant saving.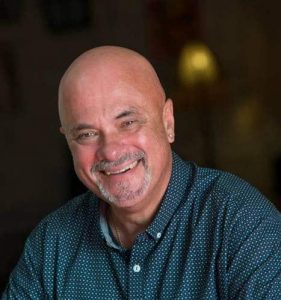 We can deal with you in any Australian state and territory: from Darwin to Hobart, Cairns to Perth. If you're buying a new supercar, it may be an issue, but any other brand is accessible.
If you've got a vehicle to trade, we have some clever ways to maximize the value – from used car dealers keen for your car to assist you to sell it privately. Finance and Insurance? We can handle that too, and we promise you will not be paying exorbitant dealer markups there either.
So, to get the best new car price, talk to others and then talk to Car Business. We have got the experience to handle the dealers and achieve the cheapest new car prices. If you think you're entitled to fleet pricing, we can often get better than that too. Whether you're a small fleet or a large national fleet, Car Business will go to work and get that price down. Cheaper new car prices are our goal. So you'll get the best Ford prices from us rather than hoping you can help yourself.
If we can't get you the best new car price, better than you can get yourself from a car dealer, we won't charge you any fee. No Win No Fee. – that's what you should expect from a car buying expert. 
Car Business WILL save you money on your next new car purchase – guaranteed