It was Goldilocks who started the comparison way back in 1837 – small, middle and large – according to the classification of bear sizes. Hi, Bob Aldons, The Car Guy with my review of the Mitsubishi Eclipse Cross.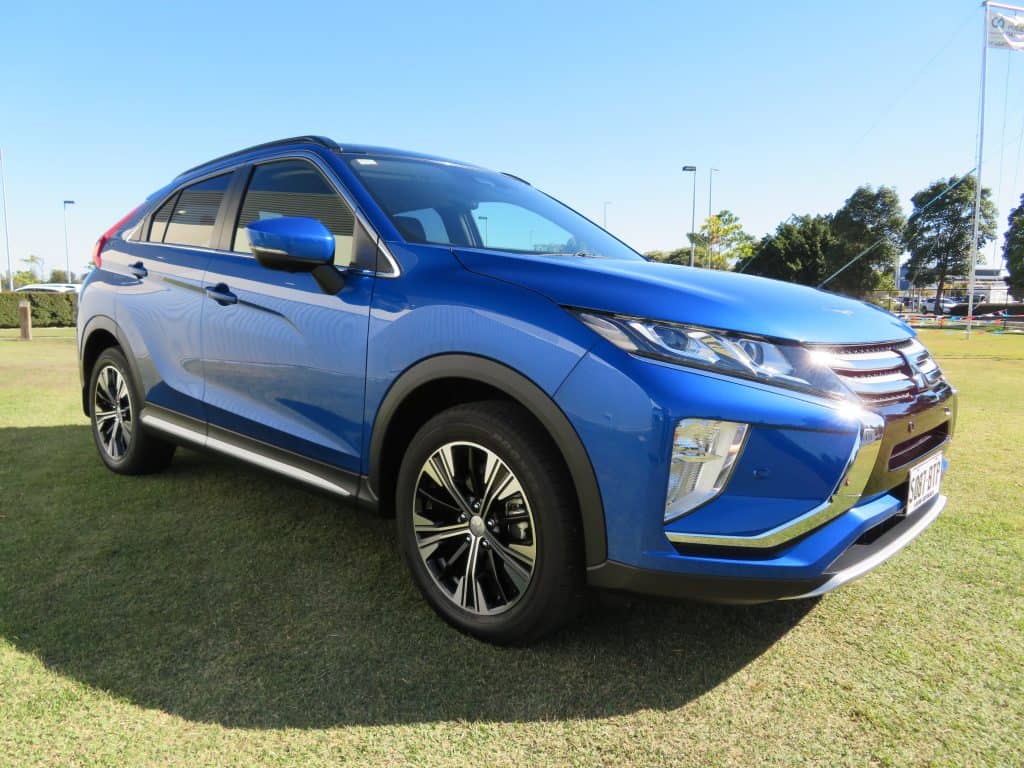 Moving away from most passenger cars in favour of more popular SUV's, Mitsubishi has 3 model names – ASX, Pajero and now Mitsubishi Eclipse Cross. Small, Medium and Large. I've had personal ownership experience with the ASX and have sold a number of Pajero Sports and Pajeros to customers through my car broker division, Car Business.
Make no mistake, Mitsubishi builds quality vehicles. As a Mitsubishi dealer from 2000 to 2012, it was one of the brands which caused me the least amount of concern as far as customer satisfaction was concerned. Those people investing in a Mitsubishi were content with the quality of the vehicle and the ability of the brand to do the job required at a competitive price.
The new Mitsubishi Eclipse Cross is no exception and I thoroughly enjoyed my time in the car.
What It is: Mitsubishi Eclipse Cross slots in between the smaller and older ASX and the Outlander. Mitsubishi has made no apologies for another SUV in their range as they firmly believe that this is the future of motoring not only in Australia but worldwide. The Allianz with Nissan and Renault will undoubtedly see variations built on the same platforms but with unique identities. And that's important for current Mitsubishi owners.
Price: $41580 Driveaway for the car that I had, but the Mitsubishi Eclipse Cross LS in white can be had for $32990. And Mitsubishi is offering a $750 accessory package at the moment (7th Aug 2018)
Competition: Honda HR-V, Nissan Qashqai, Subaru XV, Hyundai Tucson, Kia Sportage, Mazda CX-5 plus a few other brands
At the Front
Using Mitsubishi's family front end, The Mitsubishi Eclipse Cross has a purposeful front look with the 'Mt Fuji' style grille. Eclipse Cross runs a 1.5-litre turbo engine and an 8-Step CVT (Continuously Variable) transmission.
Down the Side
It might look a bit boxy, but the cabin is substantial and easily seats 5 people including the driver. The important safety features are listed below
PASSIVE SAFETY
Driver & front passenger SRS airbags, Driver & front passenger side SRS airbags, Curtain SRS airbags, Driver knee airbag, Reinforced Impact Safety Evolution (RISE) body, Front seatbelt pretensioners & force limiters, Front seatbelt height adjustable shoulder anchorages, Seatbelt warning lamp – driver & front passenger, Seatbelt warning lamp – rear passengers, Childproof rear door locks, Child restraint anchorage points (3), ISO-Fix child seat mountings (2)
ACTIVE SAFETY
Anti-lock Braking System (ABS),Electronic Brakeforce Distribution (EBD),Emergency Brake Assist System (EBA),Ultrasonic Mis-acceleration Mitigation System, Emergency Stop Signal Function (ESS), Active Stability Control (ASC),Active Traction Control (ATC), Hill Start Assist (HSA), Automatic High Beam, Adaptive Cruise Control, Blind Spot Warning System, Lane Departure Warning, Lane Change Assist
If you'd like to discover more about the Mitsubishi Eclipse Cross, here's a link to the vehicle specification page –
MITSUBISHI ECLIPSE CROSS 
Available colours are:  White, Starlight, Sterling Silver, Red Diamond, Lightning Blue, Titanium, and Black
The Rear End
The bulbous rear of the Eclipse Cross is a love or hate proposition. The twin rear spoilers (upper and lower) try hard to make the Eclipse Cross sporty in the rear end but perhaps doesn't quite get the mark. In its side profile, I'm ok with it, but from the rear it's largish.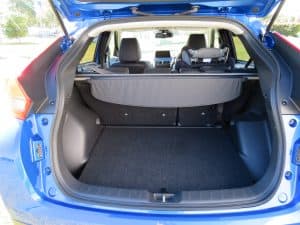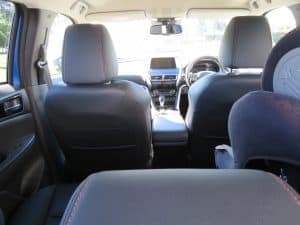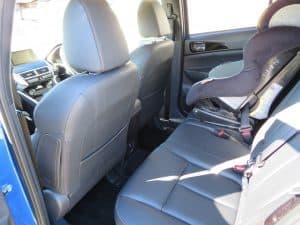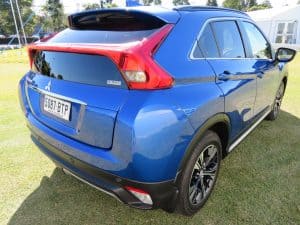 Drivers Side and Driver's Seat
Mitsubishi has done well with the drivers and passenger seating configuration. Any driver that struggles to get comfortable with the Eclipse Cross isn't really trying too hard. Plenty of adjustment in the seat, (manual or power controls) whilst the steering wheel has up/down and in/out adjustment.
Armrests are comfortable and all important controls are located on the steering wheel or within easy reach.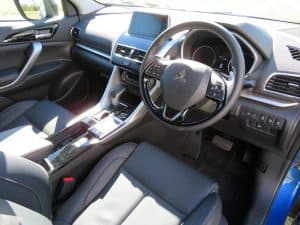 On the Road
At $40k and over the Mitsubishi Eclipse Cross AWD is an expensive medium-sized SUV. However with the introduction of the LS model recently, Eclipse Cross is worthy of your consideration. I certainly enjoyed my week with the Eclipse Cross. It was spacious enough to carry Suzi and me along with our three grandchildren (the youngest in a car seat) and all their must have for the day equipment.
It's smooth on the road, little exterior noise gets in, with plenty of carrying space in the back. The only criticism from Suzi was that she found it hard to see the following traffic.
Not that parking was a concern. The rearview camera and sensors did what they did very well. But I find that shorter people (My wife) find it more difficult to see with chunky C-pillars and the rear spoiler just adds to that.

The Federal Government's Green Vehicle Guide website uses politically correct terminology to determine fuel economy. Urban, extra urban and combined. I'll call it the way it is – City and suburbs, Highway and still use their definition of combined.
You might recall that these tests are conducted in a laboratory to Australian Standards so don't expect to achieve City and Suburb results the same as these. In my experience, I've found that the highway test is closest to the actual economy you'll get, but the city results can be undercooked by as much as 20%. Hopefully, real-world tests and results will be provided this year.

City Cycle                              9.8 litres per 100klm
Highway Cycle                     6.5 litres per 100klm
Combined                             7.7 litres per 100klm
Air Pollution Standard      Euro 5
Tailpipe CO2                        174 grams per kilometre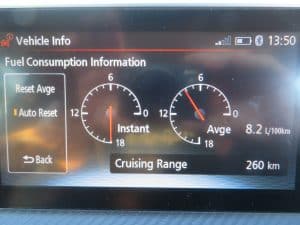 The Mitsubishi Eclipse Cross has a 63-litre fuel tank capacity. That's a pretty large fuel capacity in everyday language and on a positive note uses 90 Ron regular unleaded petrol and so should be able to use E10 as well.
We all know that the Green Vehicle Guide results are pretty way off the mark generally, but in my time with the Mitsubishi Eclipse Cross I was able to achieve 8.2 litres per 100km, only 6.5% higher than in the laboratory.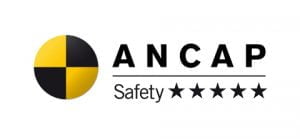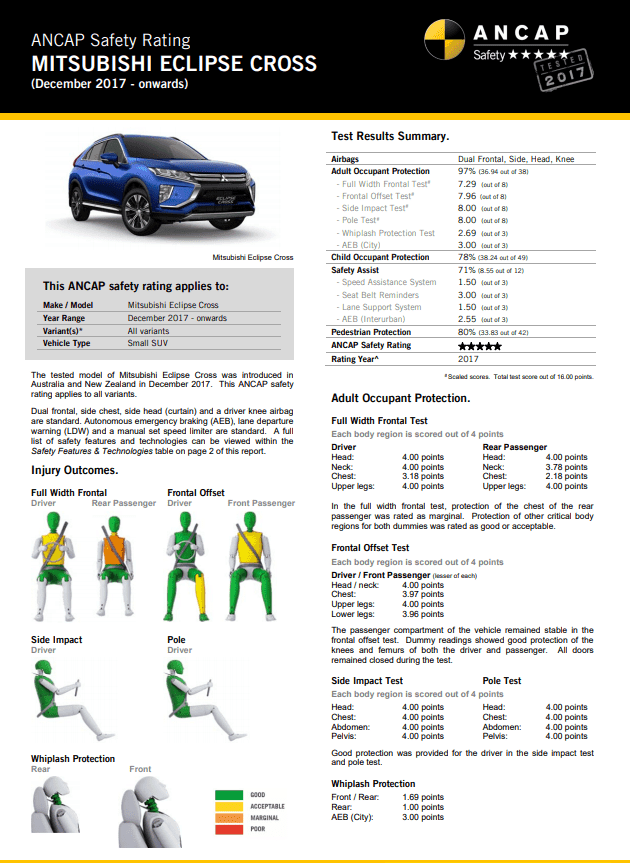 There really isn't a bad car being sold in Australia. That being said, if the vehicle you're looking at doesn't have a 5-star ANCAP rating, move on to something else.
If you'd like to download the complete technical report, click on this link ANCAP – MITSUBISHI and then burrow further into the report by clicking on the "Technical Report" on the bottom LHS of the first page.
Warranty and Service
Over the last few months, more of the larger importers have moved to a 5-year warranty. Toyota, Nissan and Volkswagen need to step up and provide the confidence that buyers now expect.
Mazda, Ford and Holden have recently gone to 5 years whilst Kia is still the industry leader with a 7-year warranty.
The Mitsubishi new car warranty is 5 years or 130,000 kilometres and has been since the mid-2000's. Mitsubishi offers capped priced service on all their vehicles, but only for 3 years.
Service intervals are 15,000 kilometres or 12 months. It's time that Mitsubishi stepped up to provide peace of mind to their customers by extending that capped price service program to 5 years.
Over 45,000 kilometres, you can expect to pay $1100 for dealer servicing or an average of $367 per year. If nothing else that low cost should encourage you to take your new Mitsubishi back to a dealership and thereafter, a wise person would get a price comparison between Mitsubishi dealers and the aftermarket companies.
My strong advice is to continue servicing your Mitsubishi with a dealer at least until a year after the warranty expires.
Towing
The Mitsubishi Eclipse Cross can tow, but nothing of any real weight. With electric brakes fitted, you'll realize 1600kg and without just 750kg.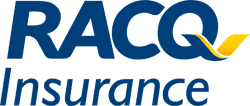 I generally use RACQ Insurance to give you a guide as to what you'll pay for your annual comprehensive car insurance. Conditions precedent for this cover are:
Male driver over 60 years of age, having held a license for over 10 years
Bronze member of RACQ with 2 other insurance policies
Has paid cash for the car for private use with the car parked in a garage overnight and another quote for business use
The driver resides in postcode 4019
The car is fitted with an engine immobilizer
1 at fault claim in the last 3 years, with no license suspensions
Rating 1 currently having held that rating 1 between 5 and 9 years
No driver under 25 will use the vehicle.
The premium quoted online by RACQ Insurance is:        Private Use – No Finance:  $490.90 with a $750 excess      
Variations from the information above may result in different outcomes. Check online with RACQ Insurance for your own particular quote.
What I Like    
Spacious and classy interior
Great turbo engine
Good warranty and service intervals
What I Don't
Not the bargain buy that Outlander or ASX are as yet.
Rear visibility is a concern
Where to Buy – Dealers
This vehicle was provided by Mitsubishi Motors Australia Limited. If you're in the market to buy a Mitsubishi, pick your dealer carefully. When I want to check out the 'worthiness' of a dealer, I Google '[Brand] Dealers [location]' where [location] is the one that you live in or around and the [brand] is that particular one you're interested in.
Typically, I only list dealers who have achieved a minimum of 10 reviews with Google and then only those with 4 stars or higher. You can see from this list, that the dealers mentioned have a fantastic reputation with their customers.
From a South-East Queensland perspective here are the dealers I'd visit.
Northside                         Nundah Mitsubishi                          4.2 Stars from 178 reviews
Eastside                            Bartons Wynnum                             4.8 Stars from 672 reviews
Southside                         Motorama Springwood                   4.4 Stars from 116 reviews
Westside                          Blue Ribbon Mitsubishi                  4.1 Stars from 55 reviews
Sunshine Coast               Cricks Nambour                               4.5 Stars from 90 reviews
Gold Coast                       von Bibra Nissan                              4.9 Stars from 55 reviews
Other Mitsubishi Reviews
Mitsubishi Outlander LS AWD Wagon – Why Should You Buy?
In Their Own Words – Mitsubishi Eclipse Cross
Bob Aldons is the owner and founder of The Car Guy, reviewing cars, reporting on Car Industry Matters, Car Tech and the world at large. He's spent the last forty years immersed in the automotive industry from salesman to the owner of a 7 brand multi-franchise dealership. Bob knows cars.
Find One
If you're hunting around for a great price on your next new car, you should call the auto expert, Bob Aldons from Car Business. My company, a car Broker, Car Buyers Agent or Car Buyers Advocate based on the north side of Brisbane, will return your inquiry within 24 hours and make the process of buying a new car easy and stress-free.
Are you tired of salesperson tricks? I protect you from the pressure exerted by car dealer's salespeople. There isn't any obligation – just a pretty significant saving.
You're where? Seriously, my services are available for you in any Australian state and territory: from Darwin to Hobart, Cairns to Perth.  Car Broker Brisbane, Sydney, Melbourne, Adelaide, Perth, Hobart, and Darwin – I'm available when you need me to be.
Whether you're a small fleet or a large national fleet, Car Business will go to work and get that price down. Lower new car prices are my goal. So you'll get the best prices from us rather than hoping you can help yourself.
If I can't get you the best new car price, better than you can get yourself from a car dealer, we won't charge you any fee. No Saving, No Fee. – that's what you should expect from a car buying expert. 

Car Business WILL save you money on your next new car purchase – guaranteed

The Australian Road Safety Foundation is a not-for-profit organization whose charter is to reduce serious accidents on our roads through training and education. Car Business donates to the ARSF for every car we sell. If you'd like to support this worthwhile foundation, donate to the cause, become a member today or just buy your next new car from Car Business