Hi Bob Aldons, The Car Guy with the first press release from Mitsubishi Motors Australia about the Mitsubishi Eclipse Cross. And whilst the 'media' will be guests of Mitsubishi this weekend in Tasmania, unfortunately, I'm not on the exclusive invite list (yet). So the more you read my articles and share them with your friends, the better my chance of getting to more of these events – please?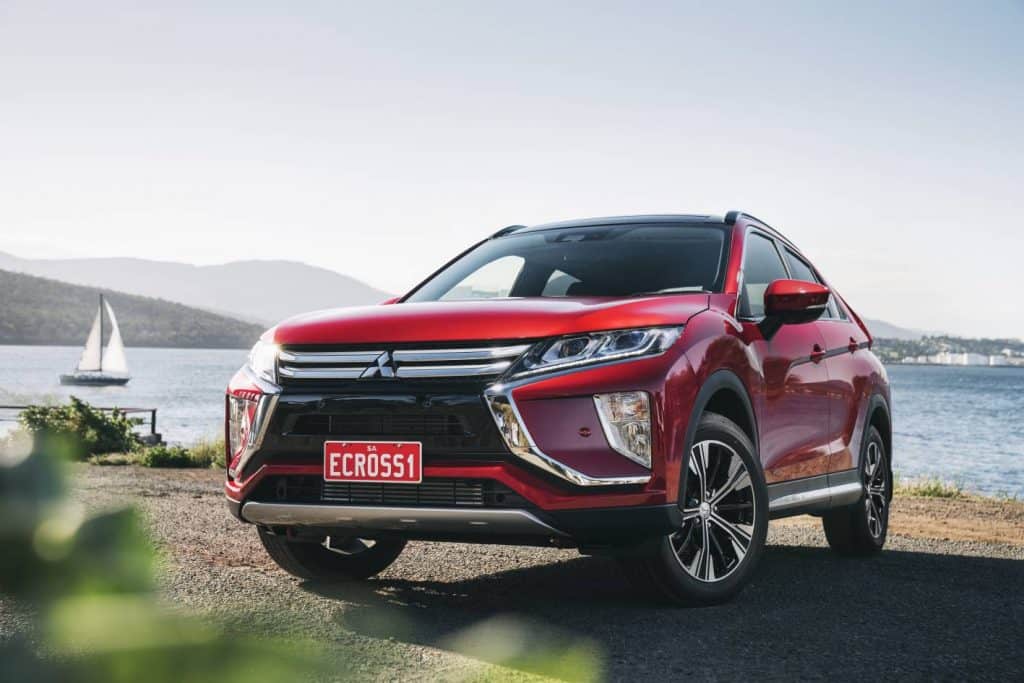 Follows Mitsubishi's press release prior to the drive day. I've been promised my chance to drive the eclipse Cross in a few weeks time and then I'll tell you what I think. In the meantime, get into your local Mitsubishi dealer next week and check out the Eclipse Cross for yourself. It fits in between the popular ASX and the value for money Outlander. Just like Goldilocks said, not too small, not too big – just right.
 "Mitsubishi Motors Australia will put the all-new Eclipse Cross through its paces on the best roads in Tasmania this weekend, as part of the national media launch of its new coupe-like SUV.
Now officially on sale, the all-new Eclipse Cross, the first of a new generation of Mitsubishi Motors Corporation cars, joins the brand's current lineup of SUVs: the ASX compact SUV and the Outlander and Outlander PHEV mid-size SUVs.
Combining the spaciousness and versatility of a mid-size SUV, Eclipse Cross is capable and desirable thanks to sharp exterior design, engaging driving characteristics, appealing interior, advanced technologies and safety features.
All versions of the Mitsubishi Eclipse Cross will be powered by an all-new direct injection turbocharged petrol engine developing 110kW of power and 250Nm of torque matched to an advanced new automatic transmission with Sports mode, manual override and paddle shifters. The new transmission benefits from the latest step logic technology to combine the packaging and running cost benefits of a CVT with the smoothness and responsiveness of a traditional automatic.
The Eclipse Cross will be available with two or four-wheel drive, the latter incorporating the latest generation of Mitsubishi's Super All-wheel Control (S-AWC) system that offers a choice of three advanced drive modes – Auto, Snow, and Gravel.
The cockpit-style driving environment in the Eclipse Cross reinforces its focus on driving pleasure and the spaciousness of the cabin is further enhanced by slide-and-recline adjustment for the 60:40 split rear seat on all models. To optimize loading capability, passenger comfort and to facilitate loads of various sizes and shapes, the rear seat back has eight reclining settings and the base has up to 200mm of travel.
The Eclipse Cross protects its occupants, other drivers, and pedestrians with a comprehensive array of active and passive safety features and systems which have ensured the vehicle attained an official 5-star ANCAP safety rating.
"Mitsubishi has a long history in developing innovative and exciting new models and the Eclipse Cross will build on our reputation as a leader in the SUV segment," said Mitsubishi Australia's CEO, John Signoriello.
"We are excited to be able to showcase the new Eclipse Cross in one of Australia's most scenic landscapes as we move into a strong 2018 with our expanded SUV range."
Exterior
Styling of the new Mitsubishi Eclipse Cross, which was inspired by and evolved from the Mitsubishi XR PHEV II Concept car, incorporates its dynamic contours and wedge-shaped beltline, resulting in a dynamic SUV coupé-like shape with a tapered roofline, short overhangs and muscular front and rear fenders. The deeply sculptured upper and lower side character lines are also carried over from the XR PHEV II Concept.
Mitsubishi's brand identity is strong due to the latest iteration of the company's Dynamic Shield exterior design theme. The fog lamps and indicators are set lower within striking bumper recesses, while the LED headlights and daytime running lights are located in the main headlamp assembly. The detailing, such as the bar and mesh upper grille, subtly contributes to the sporty visual character of the car.
The rear end is distinguished by its double rear screens divided by high-mounted LED brake lights. The roof lip spoiler and 'venturi' style lower bumper profile communicates the dynamic and characteristic rear design elements.
In addition to its more stylish design, the Eclipse Cross also represents a significant enhancement of the perceived quality of Mitsubishi Motors products, with materials, textures, colours and trim more consistent with the concept of fine Japanese craftsmanship and arranged such that they contrast and complement each other perfectly.
Interior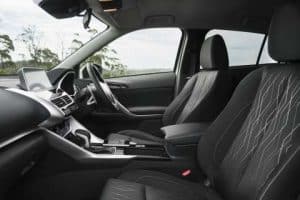 The Eclipse Cross features a new dashboard architecture that uses a horizontal axis design. The logical layout also works to visually widen the interior, while the tall centre console helps create a cockpit-like environment to further enhance the dynamic driving experience.
Mitsubishi's new SUV is finished with high-quality trims to create a stylish and crafted feel throughout the cabin. Carbon and piano black accents are used for the instrument panel, steering wheel, centre console and door panels, while high finish silver trim frames the lower dash, centre console, front door armrests and air vents. Mitsubishi's latest model also benefits from all-new front seats featuring body-hugging side bolsters, optimised foam density and thicker cushioning.
Within its compact dimensions (2,670 mm wheelbase, 1,805 mm overall width and overall length of 4,405 mm), the Eclipse Cross offers an airy and spacious interior. Luggage space is optimised with a 60:40 split rear seat, with slide-and-recline adjustments, which provides rear occupants with plenty of legroom (200 mm sliding range) while also allowing occupants to adopt their favourite seatback position (16-32° via eight reclining steps).
Adding to the overall roominess, the clever twin bubble roof design ensures plenty of headroom, a benefit which isn't compromised if the car is equipped with the panoramic glass roof. Other features that aid practicality and comfort are wide-opening rear doors (75°), multiple storage areas including a large double-compartment glovebox, centre console with sunglass tray, underfloor cargo box and new 'Sync' function for the air conditioning to synchronise the left and right temperature.
Audio
Mitsubishi's Smartphone link Display Audio (SDA) enables compatible smartphone connectivity through Android Auto and Apple Car Play systems. Users can connect to selected apps, including navigation, stored on their smartphone through the system's 7-inch colour touchscreen or via voice control. The system also allows users to make calls or send SMS messages hands-free. SDA is a standard feature on all Eclipse Cross models.
The SDA system is combined with a new Touchpad Controller, which allows for a more intuitive operation of the infotainment system. Placing the Touchpad Controller in the centre console allows the driver to operate the SDA system easily and without having to shift seating position. (Note: The Touchpad Controller is not compatible with Android Auto)
Digital Audio Broadcast (DAB+) is standard on all variants of Eclipse Cross, along with traditional AM/FM tuner.
Model Range
Three variants will be offered in LS and Exceed specification levels.
Eclipse Cross will be competitively priced from $30,500 recommended retail for the LS 2WD model – very well equipped with a direct injection turbocharged engine, 8-speed CVT automatic transmission, 18" alloy wheels, Smart key, 7" SDA, 7 airbags, FCM, AHB, LDW, ASTC, HSA.
The high specification Exceed adds dual-zone air-conditioning, leather interior, power, and heated front seats, LED headlamps with auto levelling, double panoramic sunroof, HUD, BSW, RCTA, MAM, UMS. 2WD Exceed is priced at $36,000 recommended retail.
At $38,500 Mitsubishi's flagship Eclipse Cross AWD Exceed comes standard with the same luxury appointments and comprehensive safety package as featured on the 2WD Exceed with the addition of Mitsubishi's Super All Wheel Control S-AWC four-wheel drive system.
Safety
The Mitsubishi Eclipse Cross features comprehensive passive safety architecture based on Mitsubishi's RISE (Reinforced Impact Safety Evolution) impact safety body and seven SRS airbag arrangement. This includes airbags fitted in the front driver and passenger, side, curtain and driver's knee positions.
Pedestrian protection measures have been developed through energy absorbing structures under the bonnet panel, cowl top, front bumper bar and headlamps.
Eclipse Cross has a range of advanced active safety technologies which are fitted as standard across the range. By utilising multiple sensors to monitor the perimeter of the vehicle, Eclipse Cross can predict situations that may lead to an accident by assisting the driver in collision avoidance.
As a result, the all-new Eclipse Cross has been awarded an ANCAP five-star safety rating"
The Eclipse Cross is only available in the higher specification at the moment. The price conscious ES model won't be here for a couple of months, so if you're looking for the value for money model, be patient
Bob Aldons is the owner and founder of The Car Guy, reviewing cars, reporting on Car Industry Matters, Car Tech and the world at large. He's spent the last forty years immersed in the automotive industry from salesman to the owner of a 7 brand multi-franchise dealership. Bob knows cars.
Find One
 If you're hunting around for a great price on your next new car, you should call the auto expert, Bob Aldons from Car Business. My company, a car Broker, Car Buyers Agent or Car Buyers Advocate based on the north side of Brisbane, will return your inquiry within 24 hours and make the process of buying a new car easy and stress-free. Are you tired of salesperson tricks? I protect you from the pressure exerted by car dealer's salespeople. There isn't any obligation – just a pretty significant saving.
You're where? Seriously, my services are available for you in any Australian state and territory: from Darwin to Hobart, Cairns to Perth.  Car Broker Brisbane, Sydney, Melbourne, Adelaide, Perth, Hobart, and Darwin – I'm available when you need me to be.
Here's an example
Matt wanted to purchase a Mazda 3 SP25 GT Manual Hatch. The retail value, drive away on that car is around $35,000. Car Business managed to purchase the same car for $28, 123.90 and with our fee Matt paid $25, 588, a saving of over $6000. And how do we know? Another customer, (looking for a new Holden HSV) just paid $35,000 for the same car – but he did it himself, without our assistance
If you've got a vehicle to trade, we have some clever ways to maximize the value – from used car dealers keen for your car to assist you to sell it privately. Finance and Insurance? We can handle that too, and we promise you will not be paying exorbitant dealer markups there either.
Trade In Value Example
2014 Jeep Cherokee Limited. Average dealer trade value – $16500. We achieved $22,000
2014 Volkswagen Tiguan 118TSI. Average dealer trade value – $14000. We achieved $16000
So, to get the best new car price, talk to others and then talk me. I've got the experience to handle the dealers and achieve the lowest new car prices. If you think you're entitled to fleet pricing, I can often get better than that too. Whether you're a small fleet or a large national fleet, Car Business will go to work and get that price down. Lower new car prices are my goal. So you'll get the best prices from us rather than hoping you can help yourself.
If I can't get you the best new car price, better than you can get yourself from a car dealer, we won't charge you any fee. No Saving, No Fee. – that's what you should expect from a car buying expert. 
Car Business WILL save you money on your next new car purchase – guaranteed
Car Business supports the Australian Road Safety Foundation. Every car I sell provides a donation to the ARSF and every connection via LinkedIn does the same. I urge you to support the Australian Road Safety Foundation by donating what you can or by becoming a member.