A friend of mine dropped by my office recently. He pointed to the Kia Cerato Sport Plus sedan in the carpark and asked what it was. When I told him it was a Kia Cerato, he was surprised.
And the next question was about the price. The entry-level Cerato Sedan in automatic mode is a steal for only $21,990 whilst this one, the Sport Plus, is currently advertised for $28,040 drive away in Queensland.
When you compare it with the recently released Mazda 3 G20 Touring sedan, which prices out at over $35,000, it's no wonder that Kia is doing so well with the Cerato. That's $7000 cheaper and with arguably the same amount of kit.
This is the first opportunity I've had to drive the sedan version of the Cerato – I've driven a lot of the hatches, but I'm so impressed with the booted version.
What is it?
The Kia Cerato Sports Plus sedan is the booted version of the very popular small/medium Kia Cerato. So while it's classified as a small car. I'd be happy to put it up against the next size up
And The Competition?
So Kia Cerato where do you fit? Ford Mondeo, Honda Accord, Hyundai Sonata, Mazda 6, Subaru Liberty, Toyota Camry, Skoda Octavia and Volkswagen Passat maybe that touch bigger outside, but interior space is comparable.
Officially, you'd compare Kia Cerato Sedan with Mazda 3, Mitsubishi Lancer, Renault Megane, Subaru Impreza, and Toyota Corolla but in my humble opinion, Kia wins in both categories, particularly with the Sports Plus.
How Much?
As I mentioned before, Kia Cerato Sports Plus is available for $28,040 drive away iN Queensland, whilst you can up-spec to the Kia Cerato GT sedan, with its 1.6 Turbo Engine for $32,990. I've driven the GT hatch, and it's a whole lot of car for the money.
Front of the vehicle.
If a salesperson is explaining an unfamiliar vehicle correctly, they'll start at the front. The Kia Cerato produces 112kW of power and 192Nm of torque. What does this mean to you? Simply that the power and torque are more than sufficient to use the Kia around town and for highway use as well.
The salesperson should explain that the engine has a 2.0-litre capacity and that it's a pretty fuel-efficient unit for general use. They'll go onto explain that the transmission is a 6-speed sport automatic, and is exceptionally well mated to the 2.0 engine.
Make no mistake, there is an abundance of safety and driver features in the Kia Cerato Sport Plus. If I listed all of them, you'd be reading for hours – so let's cut to the ones that I think are most important.
Features
You'll see that the headlights are dusk-sensing automatic headlights with LED daytime running lights and a rear fog light. And a salesperson with a bit of nous will also tell you that Kia offers a lot of factory authorised and designed accessories designed purposefully to fit the Kia Cerato.
When presenting the side of the vehicle, I also list the safety and security features. Items such as
Electronic Stability Control – Electronic stability control (ESC), also referred to as electronic stability program (ESP) or dynamic stability control (DSC), is a computerized technology that improves a vehicle's stability by detecting and reducing loss of traction (skidding). In the Kia it incorporates Traction Control stops wheel spin by reducing engine power or temporarily applying the brakes to that wheel, allowing the car to accelerate smoothly, even on slippery surfaces.
Electronic Brakeforce Distribution – Electronic brakeforce distribution (EBD) is an automobile brake technology that automatically varies the amount of force applied to each of a vehicle's wheels, based on road conditions, speed, loading, etc.
Emergency Brake Assist – Emergency brake assist (EBA) or brake assist (BA or BAS) is a generic term for an automobile braking technology that increases braking pressure in an emergency.
Blind Spot Detection – The blind spot monitor is a vehicle-based sensor device that detects other vehicles located to the driver's side and rear
Lane Keep Assist This system was pioneered by Mercedes-Benz, using a camera array linked to the brakes. If the system detects your vehicle veering out of its lane, it brakes the appropriate wheel to slow that side of the vehicle and nudge it safely back into line.
Hill Start Assist – Aids the driver to move forward on a hill. Keeps the brakes on until forward movement is detected
6 SRS Airbags – Dual Front, Side and Curtain Air Bags protect the driver and passengers from serious injury in the event of an accident
Reverse Camera – Provides rear vision when reversing the vehicle. For those towing also aids the alignment of the tow bar/ball and gooseneck of the towed unit.
Engine Immobilizer – Stops your vehicle from being taken by unauthorized people. No Key, No Start and this will also assist with reduced comprehensive insurance premiums with some insurers
Rear Of The Vehicle
Rear Cross-Traffic Alert – Rear cross-traffic alert can help you when backing out from a parking space. When your vehicle is in reverse and your speed is less than 8kph, the system is designed to detect other cars approaching between 8kph & 26kph from the right or right rear of the vehicle.
Rear View Camera with dynamic parking lines assists you to reverse park showing the movement of your vehicle in the in-car audio system.
Rear Parking Sensors – In addition to the reverse camera, audible front and rear parking sensors are included in the Kia Cerato Sport Plus Sedan
Towing – Whilst the Kia Cerato has a braked towing capacity of 1100kg, tow bars are not currently available for this model. Kia are unable to advise when a tow bar system will be available.
 Drivers Side
Rear Passenger Compartment
Driver's Seat and Front Passenger Compartment
The following items are included as standard in the Kia Sports Plus Sedan
 Tilt and Telescopic Steering Wheel, 6-way adjustable driver's seat. – Enables the driver to find the most comfortable seating position.
Electro-chromatic Rear View Mirror – Automatically changes the angle of the rear vision mirror when encountering high beam following
Autonomous Emergency Braking with Forward Collision Warning and Pedestrian and Cyclist Avoidance.
Adaptive Cruise Control – Allows autonomous braking with cruise control set.
 Leather Seat Facings
 8" LCD Touch Screen with Apple Car Play or Android Auto, Satellite Navigation, Blue Tooth, AM/FM Tuner with Digital Broadcasting.
And no more using your key to enter and start this car. A 'Passive Entry and Start System' allows you to tuck your key away safely.
ANCAP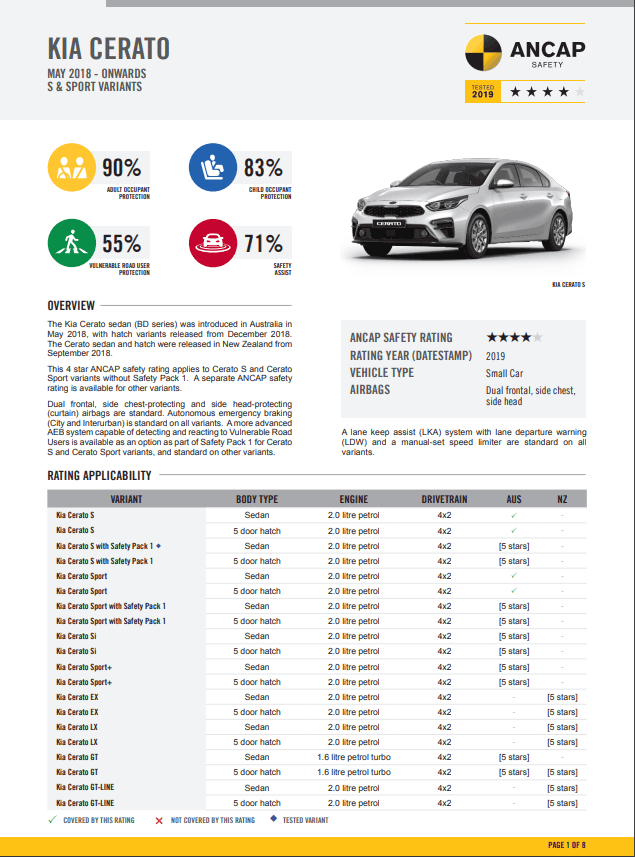 Green Vehicle Guide

Insurance – Kia Cerato Sports Plus Sedan
To calculate an approximate annual insurance premium, I use myself as the candidate via RACQ online.
Male Driver over 60
No insurance claims in the last 3 years, Rating 1
Clean Driving Record – No fines
Living in Postcode 4017
I paid cash for the vehicle and it's garaged at night.
I'm already a member of RACQ Roadside Assist, have 2 other eligible policies with RACQ and completed the policy online
No driver under 25 will use the vehicle.
Premium quoted was $395 with a $750 excess. The premium indicated is for this example only and may differ for any other situation
On The Road
I have a number of other cars in my garage ranging from a 2006 Alfa Romeo Spider, 2007 Ford Cobra GT, a 2018 Mercedes-Benz AMG CLA45 and a 2019 Honda Civic VTi-LX, so I suppose I can access the Kia Cerato Sedan Sport Plus adequately.
On the road, the Kia is a smooth car, the suspension irons out the typical bumps beautifully and on the highway, it is fantastic. Fuel consumption during my week with the Kia was 7.0 litres per 100 kilometres,  which is a little better than the green vehicle guide suggests for combined driving.
I've sold a number of these through my brokerage company Car Business and every buyer has been more than satisfied with the fit, finish and performance.
Warranty and Service
All Kia vehicles come with a 7 year, unlimited-kilometre warranty, 7 years roadside assistance and 7 years capped price servicing plan. Without argument the best warranty plan available in Australia.
From a service perspective, 7 years or 105,000klm of services comes in at a cost of $2,869 or an average of $409 per service. In any comparison, that's very competitive.
My advice for new car owners is to service their new car at the brands' dealerships whilst it's still covered by the factory warranty. While you can take your car to an independent, the dealer has much better technology to service the car, particularly where software upgrades and in-service improvements are concerned.
Where to Buy?
One of the more difficult decisions to make is where and how to buy your new car generally and a Kia in particularly.