Let me state this immediately – I'm a Kia fan and arguably an advocate of the brand from design, usability and definitely from a warranty viewpoint. I've commented favourably on all Kia's I've driven – Picanto, Sportage, Sorrento, Stinger and Carnival. I'm driving a Kia Cerato Sport Sedan this week.
Kia – you've dropped the ball on this one. Not from a design, warranty, or drive viewpoint, but from a feature perspective. This Kia does have Autonomous Emergency Braking (AEB) but Adaptive Cruise Control (ACC) is missing. Oh dear! If I remember correctly, Kia did something similar with the introduction of the Stinger – base model didn't get all the safety tech that the higher spec models did and was only awarded 3 stars when ANCAP tested.
If you do want ACC, you'll need to step up to the Sport Plus for another $2,500, but you'll also get a smart key, better AEB features, leather trim, Electric folding mirrors, Dual Zone Climate Control with rear vents and heated front seats. Neither this model nor any other in the range gets Blind Spot Detection (BSD) or Rear Cross Traffic Alert (RCTA). Pity.
And it's difficult to say with the Kia Cerato Sedan, but in my opinion, it would only score 4 stars if tested today. What with the new standards introduced in 2018 by ANCAP, forgoing the aforementioned AEB and ACC would likely cause the Kia Cerato to be scored down.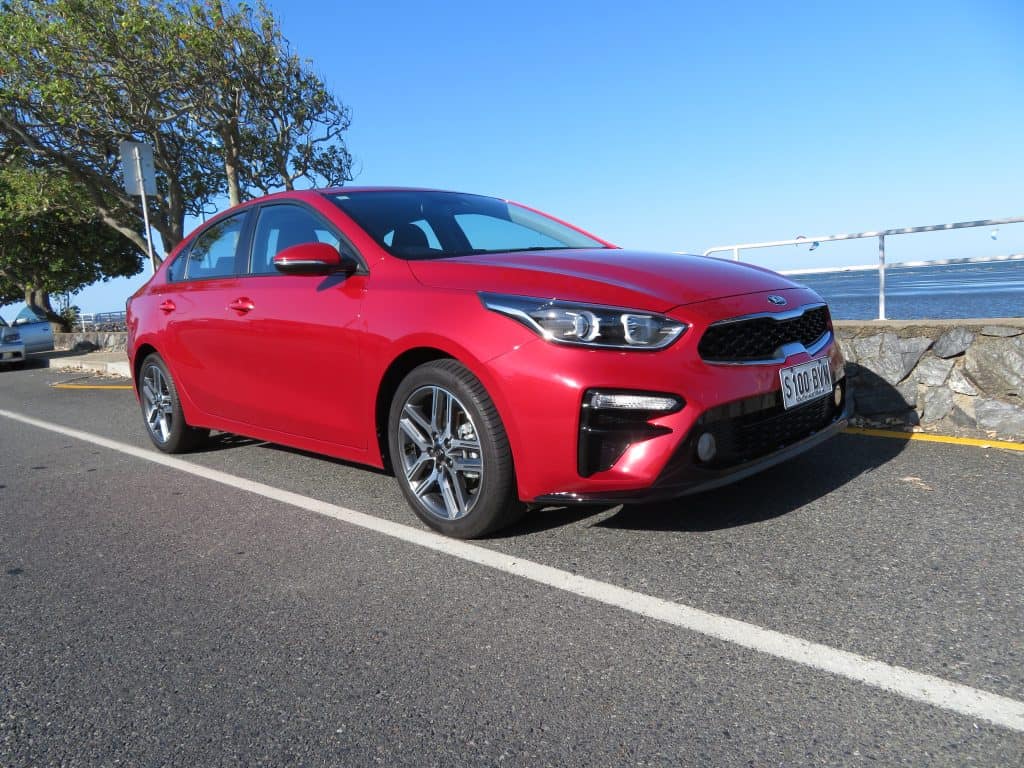 What is it? This iteration of the Kia Cerato is, in my opinion, a smaller version of the Kia Stinger. It's Kia's medium-sized sedan – size down is the Rio and the big brother is the Stinger.
Competition? Whilst the market size for medium-sized passenger vehicles is dropping in favour of SUV's there's still a section of the buying population who don't want the larger SUV. Compare Kia Cerato to Mazda3, Ford Mondeo, Toyota Camry, Renault Megane and Volkswagen Jetta in the volume car categories.
How Much? $23,690 drive away in Queensland with the occasional bonus thrown in. Presently (17th November 2018) there's a $777 bonus available which takes the price under the sensitive $23k number.
At The Front
The Schreyer grille dominates all Kia's and this new model Cerato is no exception. The Kia Cerato Sport Sedan is a good looking car all around, but the dominating front appeals to me. The Cerato range is fitted with a 2.0-litre Multi-Point Fuel Injected engine and a 6-speed automatic transmission. Plenty of get up and go for city and highway use. The transmission is smooth as you'd expect.
Down the Side
Looking at the side profile of the Kia Cerato Sport Sedan, I find the design pleasant to the eye. Some designers seem to be forgetting about the viewing appeal of price range cars, but Kia is an exception. Walking around the Kai Cerato, there really isn't any area of the car that could be better. Big tick to the designers at Kia.
Below is the list of important active and passive safety features for the Kia Cerato Sport and Sport Plus. If you'd like to view the same specifications for the other models – just click on this link. Kia Specifications
ACTIVE SAFETY
 

| Grades | Sport 2.0L MPI Petrol Automatic | Sport Plus 2.0L MPI Petrol Automatic |
| --- | --- | --- |
| Autonomous Emergency Braking (AEB) with Forward Collision Warning System (FCWS) – Car Avoidance§ | ● | ● |
| Autonomous Emergency Braking (AEB) with Forward Collision Warning System (FCWS) – Pedestrian & Cyclist Avoidance§ | ○ | ● |
| Blind Spot Detection (BSD)§ | ○ | ○ |
| Rear Cross Traffic Alert (RCTA)§ | ○ | ○ |
| Lane Keeping Assist (LKA)§ | ● | ● |
| Anti-lock Braking System (ABS) with EBD5 & BA6 | ● | ● |
| Electronic Stability Control (ESC) with TCS7 | ● | ● |
| Vehicle Stability Management (VSM) | ● | ● |
| Hill-start Assist Control (HAC) | ● | ● |
| Emergency Stop Signal (ESS) | ● | ● |
| Seatbelt warning chime & light on all positions | ● | ● |
| Front parking sensors | ● | ● |
| Reverse parking sensors | ● | ● |
| Parking sensor dash display | ● | ● |
| Rear view camera with in-audio display & dynamic parking guidelines | ● | ● |
| Rear view mirror (day & night) | ● | – |
| Electrochromic rearview mirror (auto dimming) | – | ● |
| High-mounted rear stop light | ● | ● |
| Halogen daytime running light (DRL) | ● | – |
| LED daytime running light (DRL) | – | ● |
| Dusk-sensing automatic headlights | ● | ● |
| Rear fog lights | ● | ● |
| Door open warning on driver display | ● | ● |
| Speed-sensing auto door lock | ● | ● |
| Child restraint anchorage points (3 anchors + 2 ISOFIX positions) | ● | ● |
| 3-point ELR seatbelts on all positions | ● | ● |
PASSIVE SAFETY
 

| Grades | Sport 2.0L MPI Petrol Automatic | Sport Plus 2.0L MPI Petrol Automatic |
| --- | --- | --- |
| Driver & front passenger SRS airbags | ● | ● |
| Front side SRS airbags | ● | ● |
| Curtain SRS airbags | ● | ● |
| Front seatbelt pre-tensioners with load limiters | ● | ● |
| Side door impact beams (front & rear) | ● | ● |
| Childproof rear door locks | ● | ● |
| Impact sensing auto door unlocking | ● | ● |
Towing
Towing Capacity unbraked 610kg with a braked capacity of 1,100kg.  The maximum towball download capacity is 75kg. If you want to tow anything at all, you should check carefully with your dealer, tow bar supplier and/or the company you're buying the towed item from. Besides being illegal to tow over the set weights, you can also have an issue with your insurance company in the event of an accident if you're over capacity.
Dimensions and Power
So I wanted to compare the Kia Cerato Sedan (mini Stinger) with a regular Kia Stinger and here's what I found.
The Cerato is 190mm shorter than the Stinger. It's 70 mm narrower, 40mm higher and has a smaller wheelbase by 205mm. In 'old-timers' language that's 7.5 inches shorter, about 3 inches narrower, 1.5 inches taller and a substantial 8 inch shorter wheelbase. Where the Stinger does have it over the Kia Cerato, albeit with the same engine capacity is in power – Cerato produces 112kw to the Stinger's 182kw. Put that 62% increase in power to the turbo engine.
The really wonderful thing about both these Kia's is that they run on regular unleaded petrol. And that says a lot when you consider that 95 Ron premium unleaded fuel is about 10c per litre more expensive than unleaded.
Kia Cerato
| | | |
| --- | --- | --- |
| Overall length (mm) | 4,640 | 4,640 |
| Overall Width (mm) | 1,800 | 1,800 |
| Overall Height (mm) | 1,440 | 1,440 |
| Wheelbase (mm) | 2,700 | 2,700 |
Kia Stinger
Overall length (mm)
4,830
Overall Width (mm)
1,870
Overall Height (mm)
1,400
Wheelbase (mm)
2,905
Fuel
A big plus for Kia, besides the best warranty of any company in Australia, is that their vehicles are happy to use 91 or E10 fuels. When you consider the whole of life fuel expense and the price difference between unleaded and premium unleaded, it certainly sways the scales in favour of Kia.
| | | |
| --- | --- | --- |
| Fuel type recommended | Regular Unleaded** | Regular Unleaded** |
| Fuel tank capacity (L) | 50 | 50 |
At the Back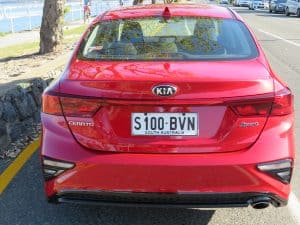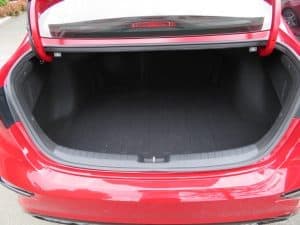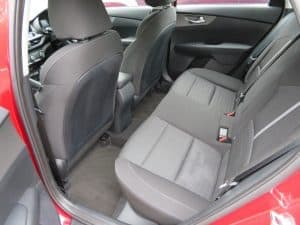 Drivers Side and Drivers Seat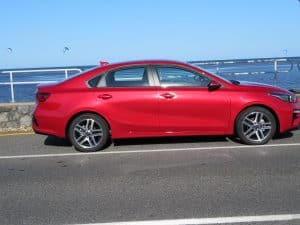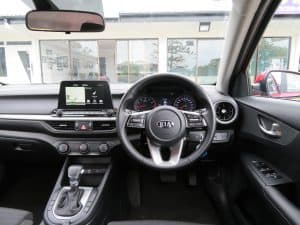 I'm really comfortable with the overall size and shape of the Kia Cerato Sport Sedan.
It's got that look that won't age for a while and inside the driver and front passenger are well catered for. I couldn't find fault with the driving position and it was excellent on the highway.
I'm a bit non-plussed nowadays about the ANCAP rating system. The Kia Cerato was tested 4 years ago in 2014. This new model, released mid this year has also got the gong for 5 stars.
Arguing the result? – I think that Kia produces very safe cars, but I am suggesting that ANCAP and the manufacturers need to show the year of testing a lot more clearly.
And manufacturers shouldn't be able to rely on testing from prior years if they want to trumpet the safety of their current model cars today.
In my opinion, if a manufacturer doesn't want to submit 2018 vehicles for testing, then they shouldn't be able to advertise that their cars are 5-star.
It's up to the Federal Government to mandate the testing procedures for ANCAP testing. I know of instances where a manufacturer is still sprouting the 5-star accomplishments of a vehicle that was tested in 2011 – 7 years ago and in a segment that has significantly moved on from a technology and safety perspective
What does it cost to test a car? From memory, ANCAP is given 3 vehicles to conduct their testing regime. The cost to manufacturers? Let's say on average a vehicle to be crashed is worth around $35,000. If they need 3, that totals $100,000. But there is a significant number of models within a range that need testing.
Some people may think that' a very big investment, but when you compare it with their annual advertising and marketing spend, it pales into insignificance.
In my opinion, this Kia Cerato Sport Sedan wouldn't get a 5-star rating. It's missing Adaptive Cruise Control and I think that this feature is one of the pre-requisites for 5-stars in 2018.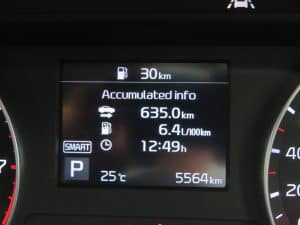 I have no doubt that the published figures on the Green Vehicle Guide website are overstated. But by how much? The new worldwide real-world testing regime hasn't been published for many brands – seems that the Europeans are on the job, but not so much elsewhere.
So, typically, I take some readings on the cars that I test and review.
With the Kia Cerato, I achieved 6.4 litres per 100km during my week with the car. The driving, I covered 635 kilometres,  was principally highway between Redcliffe and Peachester (near Maleny in the Sunshine Coast hinterland) and local roads around the Redcliffe Peninsula.
So I'm calculating that the fuel consumption figure published by the Federal Government is about 12% out. And that's not so bad compared to other cars I've tested.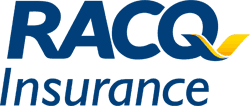 Kia Cerato Sport Sedan. I generally use RACQ Insurance to give you a guide as to what you'll pay for your annual comprehensive car insurance. Conditions precedent for this cover are:
A male driver over 60 years of age, having held a license for over 10 years
Bronze member of RACQ with 2 other insurance policies
Has paid cash for the car for private use with the car parked in a garage overnight.
The driver resides in postcode 4017
The car is fitted with an engine immobilizer
1 at fault claim in the last 3 years, with no license suspensions
Rating 1 currently having held that rating 1 for 10 years or more
No driver under 25 will use the vehicle.
The premium quoted online by RACQ Insurance for Private Use – No Finance is $399.55 with a $750 excess. Variations from the information above may result in different outcomes. Check online with RACQ Insurance for your own particular quote.
Where to Buy – Dealers
My test vehicle was supplied by Kia Motors Australia. No financial incentives were paid to me by Kia for this review. If you're in the market to buy a Kia Cerato Sport Sedan or any other Kia for that matter, pick your dealer carefully. When I want to check out the 'worthiness' of a dealer, I Google 'Kia Dealers Brisbane" where the city is the one that you live in or around and the brand is that particular one you're interested in.
I only list dealers who have achieved a minimum of 5 reviews with Google and then only those with 4 stars or higher.
From a South East Queensland perspective here's the dealers I'd visit:
Northside            Brendale Kia                                      4.6 Stars from 43 Reviews
Southside            Motorama Kia Hillcrest                   4.8 Stars from 57 Reviews
Eastside               Keema Bayside Kia                           4.7 Stars from 22 Reviews
Westside              Toowong Kia                                      4.5 Stars from 112 Reviews
Gold Coast           Von Bibra Kia                                    4.8 Stars from 31 Reviews
Sunshine Coast   Cricks Noosa Kia                              4.3 Stars from 9 Reviews
(Google Stars and review numbers effective 17th November 2018)
My Opinion 
I really enjoyed my week with the Kia Cerato Sport Sedan, particularly that I was mainly driving on the Bruce highway.
The 2018 Kia Cerato is great to drive. I travelled over 630 kilometres and it didn't let me down. For those buyers looking at a medium SUV, think about this sedan. It's got plenty of interior space, sufficient luggage capacity, and great fuel economy. Pity that it doesn't have adaptive cruise control, but if I was buying, I'd take the step up to the Sport Plus
Strengths
Effortless Power and Smooth Transmission
Plenty of room front and back
Weaknesses
The horn is a poor excuse for a sound making device – terrible
No Adaptive Cruise Control
Rear seats don't fold
Why Should You Buy – Kia Sorento 7 Seat Wagon  Kia Carnival Review – Why Should You Buy?  Kia Stinger – The Gran Turismo Redefined.
Hi,  Bob Aldons here, the owner and founder of The Car Guy, and Car Business, reviewing cars, reporting on car industry matters, car tech, Formula 1, buying #anynewcarcheaper and the world at large.
I've spent the last forty years immersed in the automotive industry from salesman to the owner of a 7 brand multi-franchise dealership. I know cars.
Find One
If you're hunting around for a great price on your next new car, you should call the auto expert, Bob Aldons from Car Business.
My company, a Brisbane Car Broker, Car Buyers Agent or Car Buyers Advocate based on the north side of Brisbane, will return your inquiry within 24 hours and make the process of buying a new car easy and stress-free.
Are you tired of salesperson tricks? I protect you from the pressure exerted by car dealer's salespeople. There isn't any obligation – just a pretty significant saving.
You're where? Seriously, my services are available for you in any Australian state and territory: from Darwin to Hobart, Cairns to Perth.  Car Broker Brisbane, Sydney, Melbourne, Adelaide, Perth, Hobart, and Darwin – I'm available when you need me to be.
Whether you're a small fleet or a large national fleet, Car Business will go to work and get that price down. Lower new car prices are my goal. So you'll get the best prices from me rather than hoping you can help yourself.
If I can't get you the best new car price, better than you can get yourself from a car dealer, I won't charge you any fee. No Saving, No Fee. – that's what you should expect from a car buying expert.

Car Business WILL save you money on your next new car purchase – guaranteed

Australian Road Safety FoundationThe Australian Road Safety Foundation is a not-for-profit organization whose charter is to reduce serious accidents on our roads through training and education.
Car Business donates to the ARSF for every car we sell. If you'd like to support this worthwhile foundation, donate to the cause, become a member today or just buy your next new car from Car Business