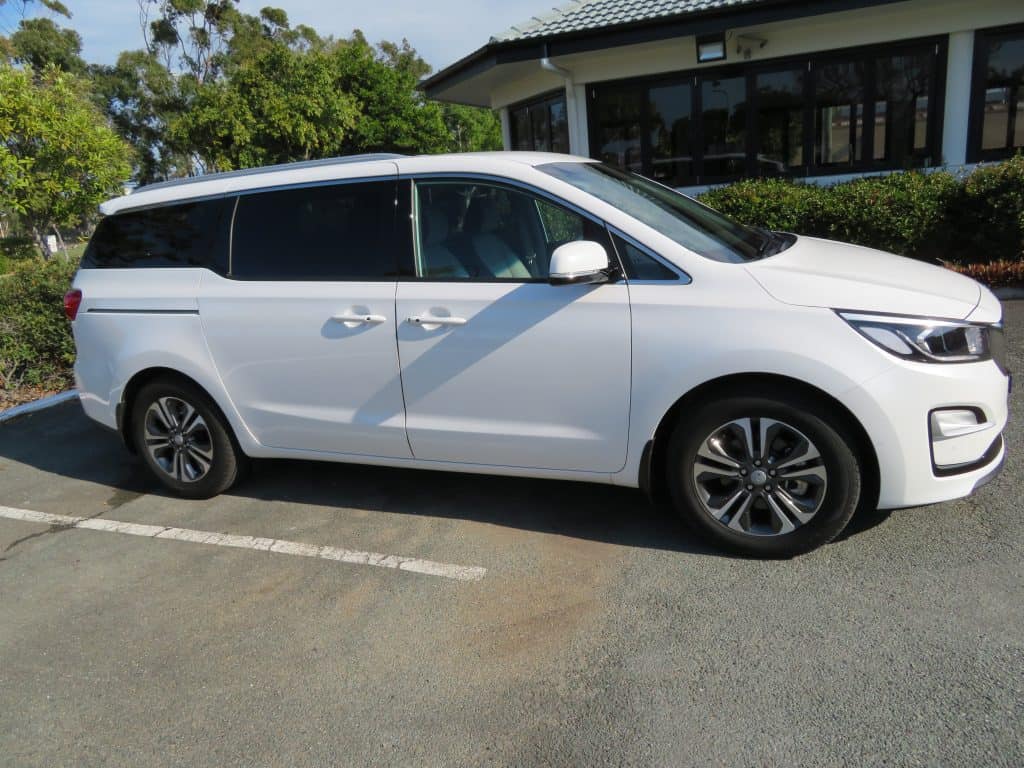 Hi, Bob Aldons, The Car Guy with my experiences with the Kia Carnival SLi.
I've been driving this Kia Carnival SLi around for a week and as the week has rolled by, I've come to be more comfortable in it than I was on the first day.
In fact, as I'm getting ready to hand it back to Kia Australia, I'm finding it more and more as one that I want to keep. Now, it's not the prettiest of vehicles, but wow, isn't it versatile.
I can open (and close) the large sliding side doors (2 of) and the tailgate/hatch from the key fob. It's got more room inside than the Brisbane Entertainment Centre. I've been moving office and it's doubled as a handy commercial van with seats up and down. Boxes, cartons of wine, rubbish, computers, printers – the use for the Kia Carnival goes on and on, apart from being able to carry a driver and seven other adults.
So, special note to Kia Australia and it's dealers. If you truly want to increase sales of the Kia Carnival range, best get your customers to test drive more than around the block. Some other manufacturers are providing extended test drives and I'd strongly suggest that this is the best and only way to convince your prospective customers to truly engage with the vehicle you're wanting to sell.
Now as a new car dealer for over 40 years, I can tell you horror stories about old Kia Carnivals. My instructions to our trade buyers in the early part of the noughties were to stay well clear of them. The old Kia Carnival had significant engine issues and it took Kia a long time to work through this minefield with out of warranty repairs, recalls and everything else that went with a poorly built family vehicle.
Fast forward to now and haven't times changed? Kia is so confident in the Kia Carnival and every other vehicle in their range that they offer a 7-year factory warranty. And that's putting your money where your mouth is.
What is it? Kia Carnival is an 8 seater people mover with the choice of engines between a 3.3 litre 6 cylinder and 2.2 litre Diesel. For most commercial users, the diesel will be the first choice, whilst the 6-cylinder will be the pick for private users.
Competition:   Kia Carnival is the best selling people move in the Australian market and arguably the most awarded, certainly over the last 2 years.  Other entrants are, Toyota Tarago, Volkswagen Caravelle, Mercedes-Benz Valenti and V class and Chinese built LDV.
Price: There are 6 models in the Kia Carnival range starting with the S 3.3 Litre petrol automatic (list price before on roads of $xxxxxx) all the way up to the Platinum Sli Diesel Auto. ($62790 plus on roads). The model that I'm driving this week is the SLi Petrol Auto in Metallic Sno White Pearl can be bought for circa $58, 326 drive away. The diesel option adds an extra $2500 to the price
The Front:
All Kia models start with the Schreyer grill and the Kia Carnival is no exception. It has a strong presence and that's a good thing. Under the bonnet of this Sli is a silky smooth 3.3 litre 6 cylinder engine coupled to an 8-speed automatic transmission. Headlights are Dusk-sensing LED type with self-levelling on the Platinum model.
Whilst the exterior mirrors are heated and this model gets folding exterior mirrors too. Very handy for tight car parks. Dusk sensing headlights are standard across the higher spec models, but not the S version
Down The Side
So, it's not a Jennifer Hawkins look. To fit three rows of seats with plenty of room, any people mover has to be a compromise between looks and functionality. Some colours downplay the hip rise at the rear – black being the most successful at that. Nonetheless it's certainly not what you'd call an ugly vehicle, just big.
In my opinion, one of the most important safety features in the Carnival, missing from most other 3-row vehicles is the third-row SRS Airbag system. Unlike others, it seems that Kia cares about the whole family. And this third-row curtain airbag is standard across the range.
I always list the passive and active safety features of all vehicles I review and here's the Kia Carnival Sli Petrol Auto.  If you'd like to browse the complete model range specification page, here's a link to KIA.
 

| | SLi 3.3L Petrol Automatic |
| --- | --- |
| ABS (Anti-lock Braking System) with EBD5 & BA6 | ● |
| ESC (Electronic Stability Control) with TCS7 | ● |
| Hill-start Assist Control (HAC) | ● |
| Front and 2nd Row outboard seats seatbelt warning chime & light | ● |
| Reverse parking sensors | ● |
| Front parking sensors | ● |
| Rear view camera (in-audio display with parking guidelines) | ● |
| Rear view mirror (day & night) | – |
| Electrochromic rear view mirror (auto dimming) | ● |
| High-mounted rear stop light | ● |
| LED front headlamps with auto levelling | – |
| HBA (High Beam Assist – auto on/off) | – |
| LED positioning lamps (4 LED type) | – |
| LED positioning lamps (20 LED type) | ● |
| Dusk-sensing automatic headlamps | ● |
| Front fog lamps | ● |
| BSD (Blind Spot Detection) & LCA (Lane Change Assist)8 | – |
| RCTA (Rear Cross Traffic Alert)8 | – |
| LDWS (Lane Departure Warning System)8 | ● |
| AEB (Autonomous Emergency Brake) with FCWS (Forward Collision Warning System)8 | ● |
| 360° camera view | – |
| Speed sensing auto door lock | ● |
| Door open warning | ● |
| Child restraint anchorage points (4 x top tether / 3 x ISOFIX) | ● |
| 3-point ELR seatbelts (all seating positions) | ● |
 

| | SLi 3.3L Petrol Automatic |
| --- | --- |
| Driver & front passenger SRS airbags | ● |
| Front side SRS airbags | ● |
| Curtain SRS airbags (1st, 2nd and 3rd row) | ● |
| Front seatbelt pre-tensioners with load limiters | ● |
| Side door impact beams (front & rear) | ● |
| Impact sensing auto door unlocking | ● |
| Child-proof rear door locks | ● |
At The Back
Electric tailgate and side doors operate from the key fob controller in the SLi. And I like that. Seating is ultimately variable so there's plenty of space even with all seats in play. With seats down, you could pack and drive this around Australia, without a trailer.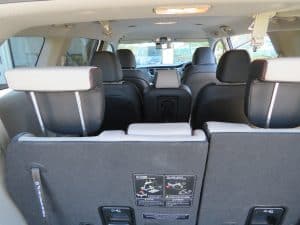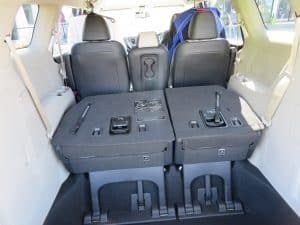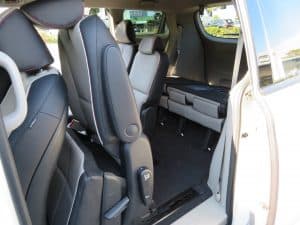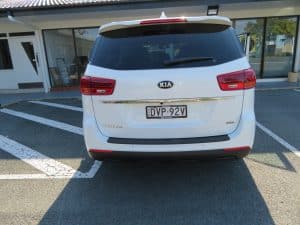 Drivers Side and Seating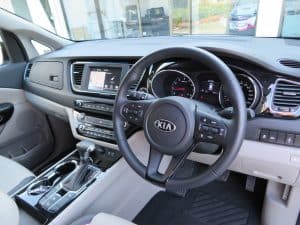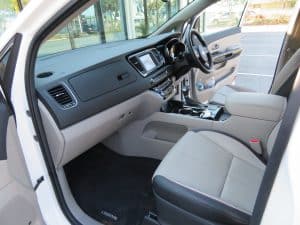 Whilst probably not the foremost thing in the designer's mind, both driver and front seat passenger are rewarded with comfortable seating, extensive controls and plenty of room. Squashy cabins lead to tired drivers – Kia Carnival drivers can stretch out easily
Good variation to the steering wheel from both a reach and height perspective, coupled with good variability in the seating position means the driver is able to set all these to suit his/her individual needs.
The cabin colour provides good light – the lighter trim faces, whilst maybe a minor problem for cleaning, gives excellent 'aroundness' for all passengers and the driver
Towing
Towing capacity with electric brakes fitted is 2000kg, unbraked 750kg and a towball download weight of 200kg. So in simple English, the Carnival won't tow a large caravan but will comfortably tow a camper trailer, medium sized caravan or a fairly decent boat. In all cases, you should check with your boat or van dealer to determine actual weights of the towed item.
ANCAP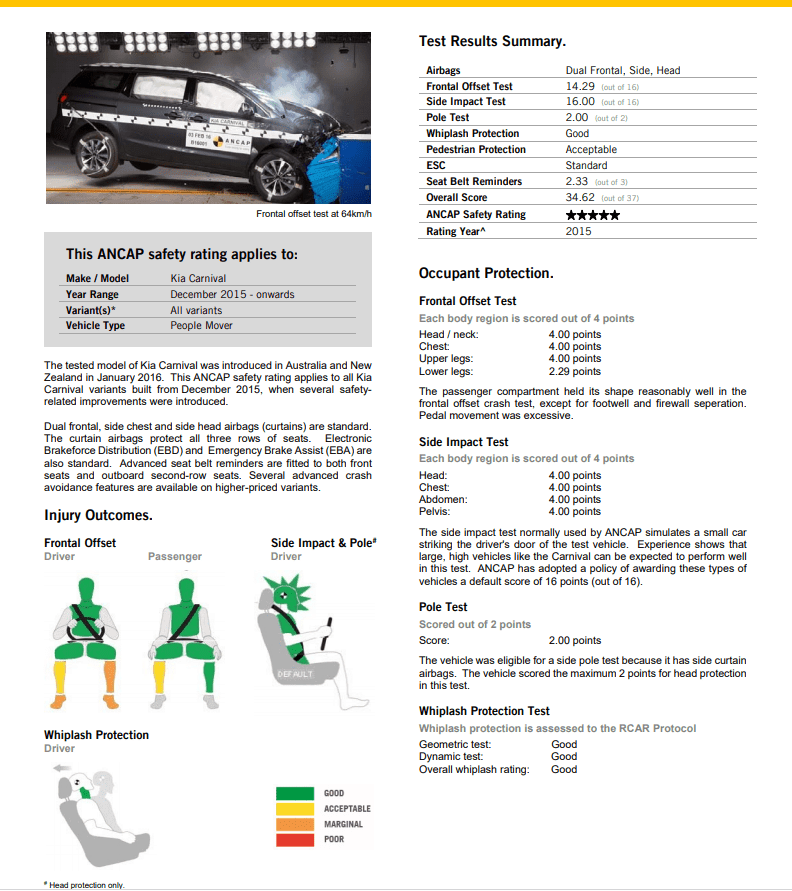 Whilst tested in 2016 and achieving a five-star rating, I'm comfortable that a new test would provide the same outcome as this model is fitted with autonomous emergency braking, lane departure warnings, and blind spot detection.
Kia Carnival is arguably the safest 8-seater vehicle available anywhere.
Have a look at the Active and Passive safety list shown earlier in this piece. If you know of a safer family vehicle, then let me know. I sure can't think of one.
Service and Warranty
All Kia vehicles come standard with the 7-7-7 program. 7 Years warranty, 7 years roadside assistance and 7-years capped price service. 7 years or 105,000-kilometre service will cost around $3,532 or an average of $504.57 per year.
As always I firmly recommend that you service your new car with the brand's dealer network for at least the 7 years and probably 1 extra year to boot.
Whilst Kia's warranty is the best in the business, no-one knows the Kia service and maintenance requirements like factory trained technicians do. And to add extra emphasis, only a Kia dealer can keep your vehicle's software and in-service updates current.
Green Vehicle Guide

My Opinion 
During this past week, I've had strangers come up to me in shopping centres and tell me their story. A close mate of mine recounted the story of his sister-in-law breaking down on the Toowoomba range and when towed to a mechanic, he refused to even quote the work suggesting that it would be 10 times more than the vehicle was worth.
The 2018 Kia Carnival is a wonderful vehicle. I've driven it for around 400 kilometres and it hasn't put a foot wrong. For those people with large families, who are considering an SUV like the Kia Sorento, (link to my review at the end of this story) my advice is to look seriously at this 8-seater family vehicle.
Strengths 
Styling looks premium
Three rows on SRS Airbags – even for the smallest people in the back seats
Cabin storage, layout and comfort are the best in the business
The petrol engine is genuinely fuel-efficient if you're not always in traffic
Weaknesses
I'd like to see active and passive safety across the full range.
It can be a bit thirsty in around city traffic. Opt for the diesel if you only do that.
Kia Carnival is a big unit. Good idea to do a bit of practice in the larger vehicle.
Kia Picanto GT Line Review – Why Should You Buy?   Kia Cerato Sport Hatch – Why Should You Buy?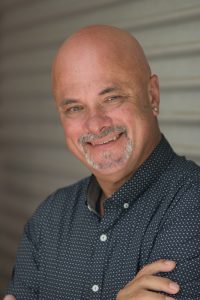 Hi,  Bob Aldons here, the owner and founder of The Car Guy, and Car Business, reviewing cars, reporting on car industry matters, car tech, Formula 1 and the world at large. If it's automotive related, I've got an opinon.
I've spent the last forty years immersed in the automotive industry from salesman to the owner of a 7 brand multi-franchise dealership and now as a Car Broker and commentator on the industry. I know cars.
Find One
If you're hunting around for a great price on your next new car, you should call the auto expert, Bob Aldons from Car Business. My company, a Car Broker, Car Buyers Agent or Car Buyers Advocate based on the north side of Brisbane, will return your inquiry within 24 hours and make the process of buying a new car easy and stress-free.
Are you tired of salesperson tricks? I protect you from the pressure exerted by car dealer's salespeople. There isn't any obligation – just a pretty significant saving.
You're where? Seriously, my services are available for you in any Australian state and territory: from Darwin to Hobart, Cairns to Perth.  Car Broker Brisbane, Sydney, Melbourne, Adelaide, Perth, Hobart, and Darwin – I'm available when you need me to be, but I specialize in south-east Queensland, my home base.
Whether you're a small fleet or a large national fleet, Car Business will go to work and get that price down. Lower new car prices are my goal. So you'll get the best prices from me rather than hoping you can help yourself.
If I can't get you the best new car price, better than you can get yourself from a car dealer, I won't charge you any fee. No Saving, No Fee. – that's what you should expect from a car buying expert. 

Car Business WILL save you money on your next new car purchase – guaranteed

The Australian Road Safety Foundation is a not-for-profit organization whose charter is to reduce serious accidents on our roads through training and education. Car Business donates to the ARSF for every car we sell. If you'd like to support this worthwhile foundation, donate to the cause, become a member today or just buy your next new car from Car Business