Hi, Bob Aldons, The Car Guy, with information on the 2018 Jeep Wrangler fresh off the press. I'm indebted to my industry colleagues from Autoweek for this story, the first one since the embargo by Jeep USA was lifted. In fact, Jeep flew a bunch of journos to New Zealand for the drive program so I'm sure that you'll see their impressions in publications such as Go Auto, Wheels and online at Car Advice, Carsguide, and others.
Despite what the naysayers have to say about all things Jeep – I just finished a YouTube video on the new Jeep Grand Cherokee Trackhawk – a few of Jeep's models are just great cars. Grand Cherokee is one of them. Despite little niggles, G/C is a fine vehicle, great for towing and frugal if you buy a diesel. The other model in the range is the Wrangler and the vehicle subject of this article is the all-new 2018 model which we'll see in the second half of next year once the yanks have got their fill of left-hand drive versions.
There is no better serious off-road vehicle than the Jeep Wrangler. Even in 'standard off the factory production line' models, Jeep Wrangler is the benchmark that other manufacturers aspire to but will never introduce. Toyota tried it with the FJ Cruiser but production of that vehicle finished recently at least for Australian buyers. Serious rock crunchers can only specify a Jeep and if you've seen some of the terrains that Jeep Wrangler travel over, you'd think seriously about whether you'd ever traverse things like the Rubicon trail.
I can't wait to get my hands on one to drive – not that Jeep will offer me that opportunity, but friends in the industry will lend me one for a review – hopefully.
So sit back and have a read of this quite lengthy story from Autoweek. Warts and all.
In which we go all the way to New Zealand to put the pride of Toledo to the test — and find it more than worthy
"South Island, New Zealand: It's day two of a two-and-a-half-day overland adventure. We're driving 2018 Jeep Wrangler JL Rubicons through some of the world's most mind-melting scenery, taking the slow, hard routes, crossing streams as often as we can and trying to touch pavement as infrequently as possible.
At this particular point in the trek, we're creeping through someone's multi-thousand-acre sheep station (like a cattle ranch but for, yep, sheep) on the outskirts of Mount Aspiring National Park. To the right, towering above us, is a glacier-capped peak, which sends the occasional blast of icy air to us in the valley below. On the left is a gully rendered impassible by boulders. The rock field where we're going to test the new Jeep's scrambling abilities is, I'm figuring, somewhere up ahead.
I figure wrong. The boulder-choked gully is the rock field. Next thing I know, we're disconnecting the sway bars and locking the differentials (or pressing the button and toggling the switch to accomplish the same), and our four-truck caravan is scrambling up and over the obstacles like a little herd of mountain goats. Then we cruise back down and do it over and over again until lunch.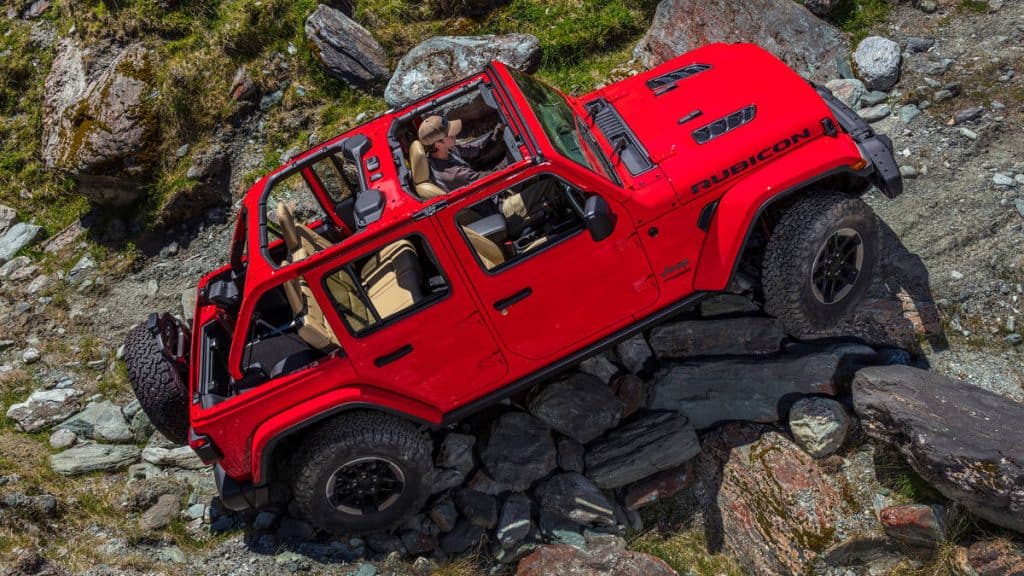 Spotters take a lot of the stress out of the process, as does the wheel angle indicator in the instrument cluster (one of many toys new for 2018). Ultimately, though, it's that time-tested four-wheeler formula — torque channeled through the transfer case's 4.0:1 low range to a pair of electronically locked Dana 44 live axles, then onward to the meaty 33-inch BF Goodrich rubber at all four corners — that makes it seem so easy.
No sense in having 10.8 inches of ground clearance and an electronic sway bar disconnect if you're not going to use it.
The point of the exercise is clear: The all-new Jeep Wrangler is capable of handling anything you can imagine throwing at it — and a good deal you can't. You could have guessed as much from a glance at the specs. In every meaningful way, from approach and departure angles to ground clearance to fording depth, it's an upgrade over its rugged predecessor. But when you're offered the opportunity to try it out for yourself in Middle Earth, you go.
New Jeep Wrangler doesn't happen very often, only about every decade or so (the outgoing Wrangler JK was introduced for the 2007 model year). Like a comet vintage, the coming of a new take on the Ur-Jeep merits celebration — hence the antipodean trekking party — but enthusiasts are right to be a touch apprehensive about the whole ordeal. The Wrangler is the spiritual and direct successor to the legendary CJs, and thus the war hero Willys MB; though no vehicle can afford to remain unchanged forever, this thing carries on its sports bar-equipped back an unusually weighty heritage. Anyone tasked with doing a ground-up redesign ought to tread very, very carefully.
This is what New Zealand actually looks like. If you were looking for a place to film a smash-hit fantasy film trilogy, plus a few uninspired prequels, it'd be a pretty good bet.
It's been a long time coming, but the 2018 Jeep Wrangler JL is officially here. Jeep has released details and specifications about its new take on the classic off-roader, which is headed to …
The execution
With all that in mind, it's hardly surprising how familiar the whole package looks and feels when viewed in isolation. As it happens, though, another small herd of Jeeps, all JKs, is there to serve as support vehicles. They look dangerously close to dated next to the fresh JLs. It isn't any one thing; the new trucks benefit from a series of little styling refinements — a side character line here, a deleted bit of fussy plastic trim there — that add up to a big overall impact. This is, as I learn, something you can say about the whole vehicle.
The powertrain reads like old news, but only for the base truck. The 3.6-liter Pentastar V6 is standard, even on the top-level Rubicon, with 285 hp and 260 lb-ft of torque. It remains a serviceable if uninspiring motor; in this new application, it hasn't picked up any of the low-end grunt that it could so badly use. Once I learn to ignore its high-rpm wail while cruising in low range — something I have to relearn every time I'm driving a Wrangler in low — it works well enough.
Would the new, optional turbocharged 2.0-liter inline-four's ample torque (295 lb-ft from 3,000 rpm) make it easier to creep around with a manual? It's impossible to say because the six-speed is only available on the V6. Every other Jeep Wrangler will, at this point, get an eight-speed automatic. (Diesel and plug-in hybrid variants are in the works. Like the turbo I4, these should provide plenty of accessible torque; it will be interesting to see how these are received — especially that hybrid — and how they play on the trail.)
It's a shame that you can row your own only with the base motor because its action is hugely improved over the JK's. It's not a short-throw gearbox by any means, nor should it be, but the vagueness and loose-tooth wiggling when you're in gear are gone. As with everything else on the truck, from styling to ride, the slack has been pulled out of it; the action is now crisp and pleasant.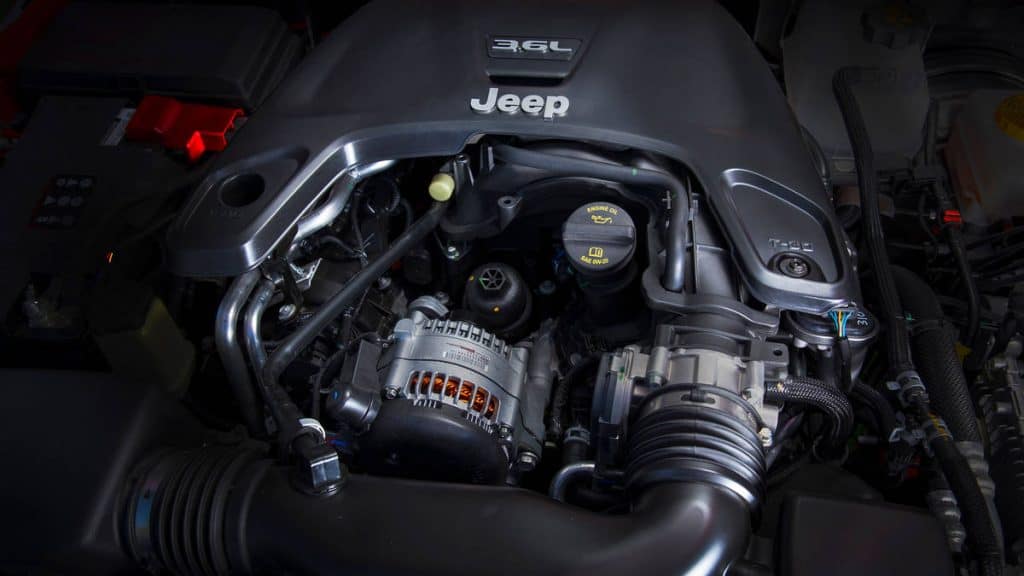 There are different schools of thought about whether a manual or an automatic is better for various Jeep Wrangler activities (say, mudding versus rock-crawling). It makes for a more engaging and old-school experience, though, and it adds an extra level of challenge to certain maneuvers. Throw thick, peaty mud into the mix, the perfect consistency to pack the treads of those BF Goodrich KO2 All-Terrain tires, and you're pretty well on your way to understanding how, early in our trip, I find myself stuck on an especially greasy ascent with a steep drop-off a few yards behind me. The funny thing about those pulse-quickening off-road moments is how they unfold so very slowly compared to driving on the track.
It's the only time someone has to break out the tow strap and the winch. Hey, it had to happen to someone. And that snafu aside, the JL is demonstrably more capable than the previous model. Designer Mark Allen, driving one of those support JKs, gets hung up on a rise the JLs didn't sweat. I don't get the sense that he's the type of sandbag; sometimes, eight-tenths of an inch of extra ground clearance and 4.5 degrees of extra break over angle can make all the difference.
That said, while driving the JL, there's no moment of revelation — no big leap forward to smack you upside the head. That this is an all-new vehicle comes across in a series of upgrades and refinements; the boxy body-on-frame attitude is still there, but it feels less crude, more honed. Not a few times I find myself staring at some reimagined component or seemingly minor new feature and thinking, "Why didn't they do this 10 years ago?"
Case in point: The soft top. The Jeep Wrangler is fundamentally a convertible; that's part of its appeal. Historically, however, the canvas tops have been heavy on the zippers and a total pain to operate under anything other than ideal conditions. Owners have grinned and borne it (or opted for a hard top).
No more! The accursed zippers are gone, and the side windows are now attached with a series of channels and retainers. The roof itself has never been easier to operate; even on a four-door Unlimited, I'm able to raise and lower the top in moments. It's a beautifully engineered piece — only the ragtop on the new Mazda MX-5 bests it when it comes to simplicity.
2018 Jeep Wrangler JL: 5 of our favorite design details
The 2018 Jeep Wrangler JL is here (finally), and its big LA Auto Show reveal necessarily focused on the big-ticket items. Output and ground clearance are all very important things, to be sure, but …
On its own, it's not revolutionary, but it's a thoughtful and effective upgrade. I could say the same thing about the reduced turning radius and the increased window area (which makes for a much more open-feeling cabin). Or the doors, which are easier to pop off and reinstall than ever before thanks to staggered-length hinge pins. Or the windshield, which used to require the removal of 28 bolts to lower but now takes just four (and those bolts are inside the cabin, where rust won't freeze them in place).
Or the fact that Jeep designed the JL Jeep Wrangler with the burgeoning aftermarket in mind — you'll be able to take off the stock 33-inch tires, bolt on 35-inchers and, with a Mopar 2-inch lift kit, regain full range of suspension travel after spending a few hours wrenching in the driveway.
In all likelihood, most buyers won't take regular advantage of these features. But they should. They're part of what gives the Jeep Wrangler its unique charm, and commendably, Jeep has made them more accessible than ever.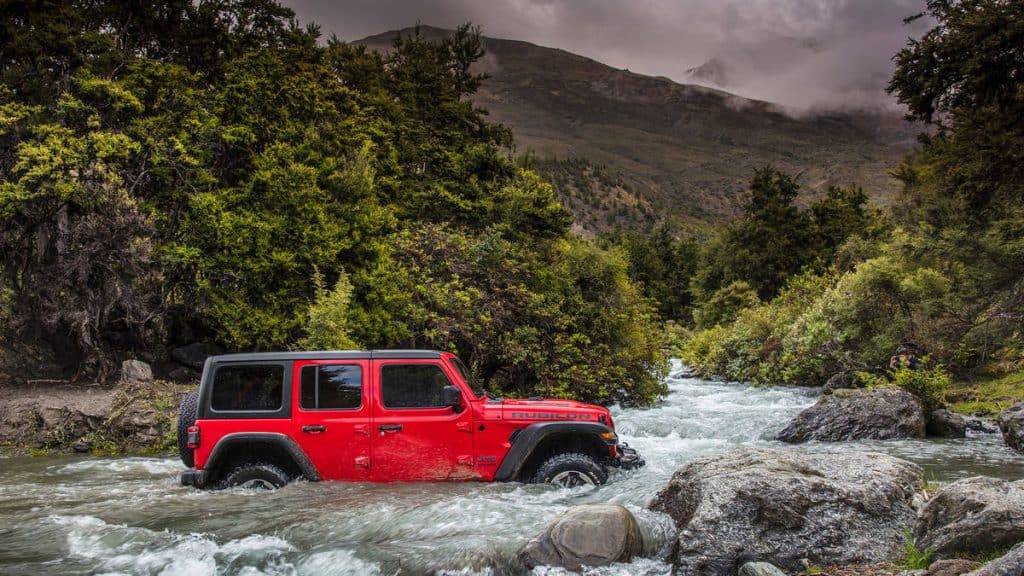 The takeaway
There's an Enzo Ferrari quote, frustratingly difficult to attribute, to the effect of Jeep is America's only real sports car. He probably meant that as a dig at Chevrolet's Corvette, but there's more truth to that particular chestnut than the snarky Commendatore realized. As with the best old sports cars, Wranglers (like the CJs before them) have always been honest, elemental machines, the fundamentals of their form dictated largely by function. This honesty is palpable the moment you hop in. It's not your average commuter box; the Wrangler transports you somewhere, at least mentally, before you put it in gear.
As far as sports cars go, it's one perfectly matched to our national spirit. No one really needs a Wrangler as a daily driver. But this is America! We revel in glorious overkill! "Doomsday Preppers" is part of our cultural legacy; "It's better to have it and not need it than need it and not have it" might as well be our national motto. We are as much in love of with the idea of what the Wrangler can do as we are with actually doing it. That's fine. I'd venture that not every owner of a Porsche 911 GT3 is a track rat, either.
Our little test fleet of Wrangler JL Rubicons acting like a bunch of dang goats high up on some South Island mountain.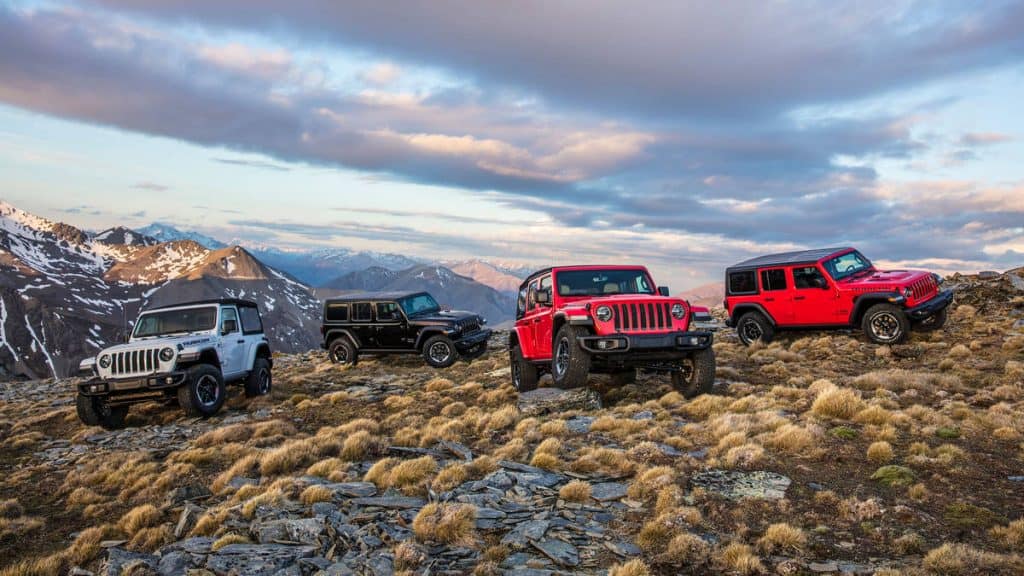 There are two groups of people who will not enjoy the JL. First, you have the crusty arch-purists who think that Jeep lost its way the moment the last CJ-2 rolled down the assembly line; the JL will do little to persuade them otherwise. Conversely, there are those who see the JL's live axles and aero-flouting two-box design as hopelessly anachronistic. Rather than allowing them to ruin the Wrangler, I will happily point them to any one of the more or less car-like crossovers infesting the lineups of every manufacturer. Jeep included.
For the swelling legions of people who do really get the Jeep Thing, though, the JL is just about perfect. It's everything great about the previous Wranglers made better: It can do astounding things right from the factory, it is rivaled only by Lego or the AR-15 when it comes to customization potential (Mopar already has hundreds of parts in the catalog, and the aftermarket is just getting revved up), and while our off-road-centric journey didn't give much of a taste of its on-road manners, it does promise to be more comfortable on pavement and somewhat more livable day-to-day than the JK.
This should go without saying, but Jeep absolutely could not afford to mess up here — for its own sake, sure, but also for the sake of all of us who love Jeeps and what Jeeps stand for. So much of the brand's identity, as well as off-road culture in general, is tied up in this one Toledo, Ohio-built vehicle.
They didn't mess up. The JL is proof that honesty is still the best policy when it comes to the sort of vehicle enthusiasts can really get behind, and it's a worthy inheritor of 76 years of all-American go-anywhere tradition."

GRAHAM KOZAK – Graham Kozak drove a 1951 Packard 200 sedan in high school because he wanted something that would be easy to find in a parking lot. He thinks all the things they're doing with fuel injection and seatbelts these days are pretty nifty too.  ON SALE: January 2018

BASE PRICE: $37,490/$41,290 (Rubicon two-door/Unlimited, est.)
POWERTRAIN: 3.6-liter V6; 4WD six-speed manual
OUTPUT: 285 hp @ 6,400 rpm; 260 lb-ft @ 4,800 rpm
CURB WEIGHT: 4,145/4,455 (Rubicon two-door/Unlimited)
0-60 MPH: 8 seconds (est.)
FUEL ECONOMY: 17/23/19 mpg(EPA City/Hwy/Combined)
PROS: The Wrangler JL improves on its predecessor without losing an ounce of character
CONS: If you were expecting a revolutionary departure for the Wrangler formula…we've got bad news

Bob Aldons is the owner and founder of The Car Guy, reviewing cars, reporting on Car Industry Matters, Car Tech and the world at large. He's spent the last forty years immersed in the automotive industry from salesman to the owner of a 7 brand multi-franchise dealership. Bob knows cars.
 Find One
If you're hunting around for a great price on a Jeep Wrangler, you should call the auto expert, Bob Aldons from Car Business. My company, a car Broker, Car Buyers Agent or Car Buyers Advocate based on the north side of Brisbane, will return your inquiry within 24 hours and make the process of buying a new car easy and stress-free. Are you tired of salesperson tricks? I protect you from the pressure exerted by car dealer's salespeople. There isn't any obligation – just a pretty significant saving.
You're where? Seriously, my services are available for you in any Australian state and territory: from Darwin to Hobart, Cairns to Perth.  Car Broker Brisbane, Sydney, Melbourne, Adelaide, Perth, Hobart, and Darwin – I'm available when you need me to be.
Here's an example
Matt wanted to purchase a Mazda 3 SP25 GT Manual Hatch. The retail value, drive away on that car is around $35,000. Car Business managed to purchase the same car for $28, 123.90 and with our fee Matt paid $25, 588, a saving of over $6000. And how do we know? Another customer, (looking for a new Holden HSV) just paid $35,000 for the same car – but he did it himself, without our assistance
If you've got a vehicle to trade, we have some clever ways to maximize the value – from used car dealers keen for your car to assist you to sell it privately. Finance and Insurance? We can handle that too, and we promise you will not be paying exorbitant dealer markups there either.
Trade In Value Example
2014 Jeep Cherokee Limited. Average dealer trade value – $16500. We achieved $22,000
2014 Volkswagen Tiguan 118TSI. Average dealer trade value – $14000. We achieved $16000
So, to get the best new car price, talk to others and then talk me. I've got the experience to handle the dealers and achieve the lowest new car prices. If you think you're entitled to fleet pricing, I can often get better than that too. Whether you're a small fleet or a large national fleet, Car Business will go to work and get that price down. Lower new car prices are my goal. So you'll get the best prices from us rather than hoping you can help yourself.
If I can't get you the best new car price, better than you can get yourself from a car dealer, we won't charge you any fee. No Saving, No Fee. – that's what you should expect from a car buying expert. 
Car Business WILL save you money on your next new car purchase – guaranteed
Read more: http://autoweek.com/article/car-reviews/2018-jeep-wrangler-jl-rubicon-first-drive-review-photos-and-specifications#ixzz51BOCT5jp