Jeep Wrangler gets more engine options and off-road capability than ever before — and it should be nicer on-road to boot
I'm a Wrangler fan. Since 2003 when I took on the Chrysler Jeep franchise here in Redcliffe, through Northstar Motor Group, there's never been a vehicle to compare. And yes, Toyota introduced the FJ but arguably, it didn't. Jeep has history – all the way back to the second world war when the US army asked for a vehicle to use on the muddy fields, dirt tracks and go anywhere areas.
It's an icon – I'm sure you've seen the modifications, heard about the exploits of Jeep on the Rubicon trail and stories of great trips and crossings where things went well and didn't. For those buyers looking for a school bus experience, well it didn't. But if you were a Jeep diehard, you just put up with the electronics, the water leaks and everything else so you could experience Jeep and particularly Wrangler at its best and worst. The JL Jeep Wrangler has been mooted as the latest and greatest for a long while. So here's the information from US colleagues Autoweek directly from the Los Angeles Motor Show. And sometime in the middle of December, I'll publish the first off-road review from Autoweek from of all places New Zealand. Can't wait for that. If you're hoping to see Jeep Wrangler at the same time as the US, then think again. North American dealerships expect first shipments in January, but I'm thinking it will be late 2018 for the Jeep fans down under. So here's the full article and images from autoweek.com.au
"It's been a long time coming, but the 2018 Jeep Wrangler JL is officially here. Jeep has released details and specifications about its new take on the classic off-roader, which is headed to dealerships early next year, ahead of a big LA Auto Show reveal.
As you'd expect, there's a lot to digest. But if you experience an odd feeling of deja vu while reading through it all, it's because the entire enthusiast community has been hoovering up every second- and third-hand fact, rumor and wild unsourced speculation about the new Wrangler for years now (ourselves included).
But there's a reason the leaked JL owner's manual will forever be regarded as the most closely read document of its kind in automotive history: This is a critical vehicle, both for Jeep and for the people who love Jeeps. Yes, a good chunk of new Wranglers will barely taste a gravel road, let alone a boulder field, but a lot of owners will try to get the most out of their Jeep ownership experience.
Fortunately, with the nearly complete official specs finally in hand, it doesn't look like those lucky-but-fearful souls tasked with reinventing an icon screwed it up.
In the 2018 Wrangler JL, we're looking at an all-new truck that refines and evolves what was already an immensely popular, incredibly capable product without losing the distinctive plot that made it so dang popular and capable in the first place. If the JL sticks to the known formula, it promises to be better off-road, more comfortable on-road and more efficient — and yet still unmistakably a classic Jeep.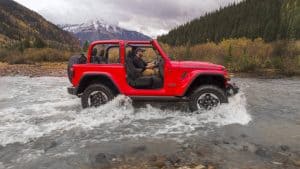 The design
Yep, the new JL looks more than a little like the JK it replaces, which is something we've known for a while now.  At least until you dive into the details. The way the headlights push into the edges of the trademark seven-slot grille recalls old CJs, for example. The windshield has a bit more rake to it (aero is important, even on a rolling box), and the hood (held fast by rugged over-center latches) loses much of the JK's forward slope.
Form follows function, which is as it should be on a Jeep. Everything you see on the body is there for a reason: Character lines running just below the side windows help add rigidity to the now-aluminum body panels, but they also give the truck's otherwise slabby sides some welcome definition. All of the vents are functional, at least on the Rubicons, including those right behind the front wheel wells (those openings in particular help relieve underhood pressure). The new truck is just a little more toned overall — something that becomes especially apparent if you see a JL and a JK side by side.
One welcome change: Window openings have been enlarged all around, and the spare tire has been shifted downward to improve rear visibility. The result is, we hope, a slightly less cavelike driving experience, especially in the four-door Unlimited.
Overall length for the two-door is, including the spare tire, 166.8 inches (on a 96.8-inch wheelbase), a growth spurt of a little over 2 inches. The four-door grows 3.5 inches compared to the JK for an overall length of 188.4 inches (on a 118.4-inch wheelbase); a little over an inch of that is used to improve rear-seat legroom.
The Wrangler JL's track width grows 1 inch to 62.9 inches, but overall width is up just 0.1 inches at 73.8 inches.
Though its bones are still steel, the Wrangler now uses lightweight materials wherever possible: The doors, hood, and fenders are aluminum, and the rear swing gate is magnesium. Additionally, the engineering extended its lightweighting efforts to aluminum engine mounts and hollow track and stabilizer bars in an attempt to keep mass manageable.
The result? Well, the Wrangler certainly didn't lose weight this time around; curb weights range from 4,010 pounds for a 2.0-liter-powered two-door Sport to 4,455 pounds for a 3.6-liter-powered four-door Rubicon. No analog for that previous vehicle existed before the JL, but in the case of the latter truck, that's a 115-pound gain over the JK (thought the JL is, again, a larger vehicle). So long as this extra weight is kept down low, however, it shouldn't hurt capability.
The interior is perhaps a bigger departure from the outgoing model than the exterior; the dashboard, which can accommodate an up-to-8.4-inch Uconnect touchscreen (splash-proofed, or so we're told), is more coherent and premium than what we're used to seeing in the JK. Especially on the Rubicons, which trade the Sahara's leather for painted panels, it recalls vintage metal dashes found in old trucks. Thanks to a mid-cycle refresh, the interiors of later JKs looked and felt far nicer than those in earlier trucks. At first glance the JL represents another big step forward — and Jeep claims it's quieter in there, too.
Everything, from the front bumper to the spare tire, has been reworked for the JL. The new Wrangler loses those old, anonymous taillights and gains these sculpted pieces, which incorporate optional blind spot sensors (that's the black wedge on the outside edge).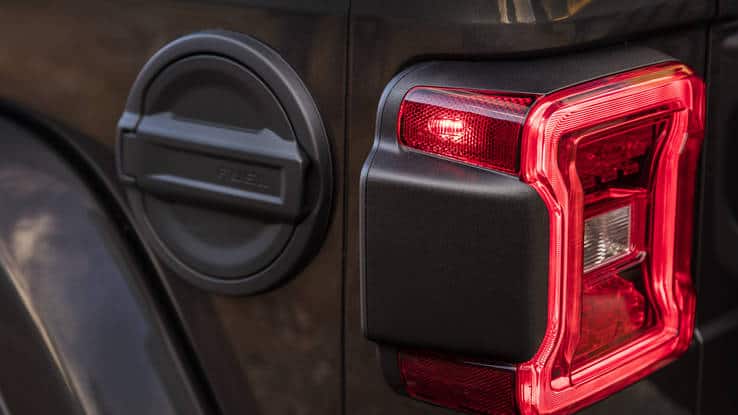 The powertrain
No huge surprises here to start: The familiar 3.6-liter "Pentastar" V6 carries over to the JL, producing an equally familiar 285 hp and 260 lb-ft. It comes with an all-new six-speed manual standard; an FCA-built TorqueFlite eight-speed automatic transmission is optional.
New for the JL is a 2.0-liter inline-four turbocharged gasoline motor; it's available for all models, and while it's down on horsepower compared to the V6 at 270 hp, it seems to make up for that with 295 lb-ft of torque. With this motor, the eight-speed is mandatory.
Coming in 2019 is a 3.0-liter turbodiesel V6. The so-called EcoDiesel, which we've already experienced in the Ram 1500, is built by VM Motori. In this application, it produces 260 hp and 442 lb-ft of torque; it will be mated to a "more robust" version of the TorqueFlite eight-speed.
As for the rumored hybrid? We'll have to wait and see.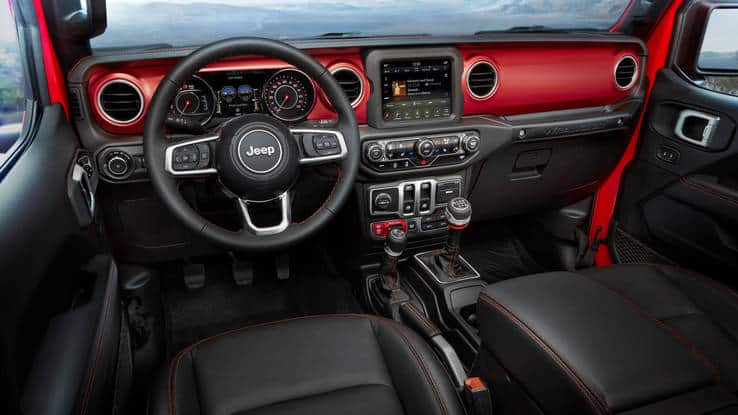 The off-road bits
The engine and transmission options apply, at the time of writing, to the whole Wrangler lineup. Where you start to see some mechanical differentiation between the trims is in the transfer cases and axles.
Wrangler Sport and Sahara models come with Dana 30 axles up front and Dana 35s in the rear; a Command-Trac NV241 part-time transfer case is standard for these models, as is a 3.45 rear axle ratio. However, a two-speed Selec-Trac full-time transfer case is available for the Sahara, which only comes as a four-door Unlimited, exclusively — a first for a Wrangler.
The Rubicon gets beefier Dana 44 axles front and rear (4.10 axle ratio) and retains the NV241OR Rock-Track transfer case; it was practically a given that features like an electronic sway bar disconnect would return, as well. New for 2018: bigger tires, different tires and an improved crawl ratio (84.2:1 and 77.2:1 for manual and auto Rubicons, respectively).
Tire-wise, the Rubicon now rides on 33-inch diameter tires on 17-inch rims. The off-road range-topper sticks with BFGoodrich, but they are now All-Terrain rubber versus the JK's Mud Terrains; it was a better fit for what the average Rubicon owner was doing with the truck, Jeep told us, and serious mud guys were putting bigger wheels with specialized tires on anyway.
Water fording depth is a stated maximum of 30 inches at 5 mph, and that's before you goofballs start installing those snorkel kits.
Ground clearance is up across the board: For Sport, Sahara and Rubicon JLs, it is now 9.7, 10 and 10.8 inches, up from 8.3 (9.6 with optional 17-inch wheels), 9.7 and 10 inches for the respective JKs. Likewise, approach, breakover, and departure angles are increased across the board compared to standard JKs. Take the Rubicon Unlimited; in JK guise, its respective angles were 42.2, 21.2 and 32.5, while on the JL, those have been improved to 43.9, 22.6 and 37.
The takeaway is that you should be able to drive up and down steeper inclines in search of taller rocks to drive over with impunity. And if you have to cross a stream or two en route, the power is yours.
What we still don't know
2018 Wranglers will be headed to Jeep showrooms in January, but while the official reveal confirms much of what we suspected about the new vehicle and gave us a pile of nitty-gritty specs to chew on, it hasn't answered all of our questions. We're waiting for information on pricing and fuel economy, to name two particularly important things, and of course we're hungry for more details on the long-awaited Scrambler pickup truck. Plus, there are features like the "Sky One-Touch" power top that we're eager to play around with.
One thing we can't wait to share with you soon: exactly what the JL is like to drive. A few weeks back, we had the chance to put a variety of new Wrangler Rubicons to the test on New Zealand's stunning South Island. We can't tell you about how the vehicles — two- and four-door models with a variety of engine and transmission options — performed just yet; stay tuned for a full first drive review coming the second week of December."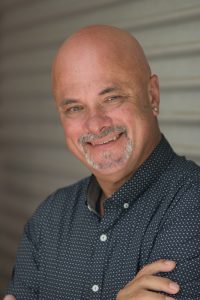 Bob Aldons is the owner and founder of The Car Guy, reviewing cars, reporting on Car Industry Matters, Car Tech and the world at large.
Find One
If you're hunting around for a great price on your next new Jeep Wrangler, you should call the auto expert, Bob Aldons from Car Business. My company, a car Broker, Car Buyers Agent or Car Buyers Advocate based on the north side of Brisbane, will return your inquiry within 24 hours and make the process of buying a new car easy and stress-free. Are you tired of salesperson tricks? I protect you from the pressure exerted by car dealer's salespeople. There isn't any obligation – just a pretty significant saving.
You're where? Seriously, my services are available for you in any Australian state and territory: from Darwin to Hobart, Cairns to Perth.  Car Broker Brisbane, Sydney, Melbourne, Adelaide, Perth, Hobart, and Darwin – I'm available when you need me to be.
Here's an example
Matt wanted to purchase a Mazda 3 SP25 GT Manual Hatch. The retail value, drive away on that car is around $35,000. Car Business managed to purchase the same car for $28, 123.90 and with our fee Matt paid $25, 588, a saving of over $6000. And how do we know? Another customer, (looking for a new Holden HSV) just paid $35,000 for the same car – but he did it himself, without our assistance
If you've got a vehicle to trade, we have some clever ways to maximize the value – from used car dealers keen for your car to assist you to sell it privately. Finance and Insurance? We can handle that too, and we promise you will not be paying exorbitant dealer markups there either.
Trade In Value Example
2014 Jeep Cherokee Limited. Average dealer trade value – $16500. We achieved $22,000
2014 Volkswagen Tiguan 118TSI. Average dealer trade value – $14000. We achieved $16000
So, to get the best new Jeep Wrangler price, talk to others and then talk me. I've got the experience to handle the dealers and achieve the lowest new car prices. If you think you're entitled to fleet pricing, I can often get better than that too. Whether you're a small fleet or a large national fleet, Car Business will go to work and get that price down. Lower new car prices are my goal. So you'll get the best prices from us rather than hoping you can help yourself.
If I can't get you the best new car price, better than you can get yourself from a car dealer, we won't charge you any fee. No Saving, No Fee. – that's what you should expect from a car buying expert. 
Car Business WILL save you money on your next new car purchase – guaranteed
Graham Kozak – Graham Kozak drove a 1951 Packard 200 sedan in high school because he wanted something that would be easy to find in a parking lot. He thinks all the things they're doing with fuel injection and seatbelts these days are pretty nifty too.
Read more: http://autoweek.com/article/los-angeles-auto-show/2018-jeep-wrangler-jl-official-specifications-and-details-reavealed#ixzz4zrNWey6u