There's little doubt that young children are getting less and less actual one on one time with their parents and siblings, instead watching and using smartphones, computers and games consoles to occupy their time. In this case, Ford Australia have analysed children's time spent on these devices.  Social commentator and practicing psychologist Sabrina Read, comments on the findings.
In some cases, I'm not yet privy to an actual road test on many brands and models. I currently review Suzuki, Mazda, Nissan, Kia, Land Rover, Great Wall, Haval, and Mitsubishi. Other manufacturers are yet to come to their senses as I'm reviewing cars as a potential customer would.
In any case, there's a myriad of press releases submitted by manufacturers every week, and to help keep you up to date with what's going on in the Car Business, I've introduced a new section for The Car Guy website. It's titled "In Their Own Words".  I sincerely hope that this article gives you some extended information as a prospective new car buyer on cars that I haven't had an opportunity to drive and review. Just be careful to understand that these releases are the manufacturers spin and not my opinion. If you're interested in more information about a particular brand or model of new vehicle, please contact me directly, whichever state you're living in on 0418 748 498. I'll be sure to assist you in any way I can.
Ford Australia say a 30 minute drive to the beach may be the secret to getting your kids to open up
"The best place to disconnect from the digital world and reconnect with loved ones may be the family drive, according to new research
MELBOURNE, August 28, 2017 – New research released today by Ford Australia has found that, while 95 per cent of parents feel family drives present an excellent opportunity for bonding, screen time was invading the experience. A substantial 76 per cent of parents with children aged 3 to 16 years said their child is typically on a device or watching digital media during this time.
An increasing reliance on our devices makes going screen-free a challenge – for adults and children alike. Practicing psychologist and Australian social commentator Sabina Read believes it's a habit Australian families should try to break. "It's worrying that these days people often seem more connected to a virtual world than to their own family, friends and what's really around them. It's important to find ways to escape our devices and reconnect with each other."
The difficulty of disconnecting
According to the survey, the average age Australian parents believe is okay for mobile device ownership is 11 years old, with 20 per cent of parents saying that mobile ownership for children as young as five to nine years old is acceptable. Meanwhile, the Australian Department of Health advises parents to limit screen time for children, specifically the use of electronic media for entertainment (e.g. seated electronic games and computer use) to no more than two hours a day1.
"As hard as it may be, parents, partners and friends can reclaim personal and family time by going screen-free, such as on weekend excursions or a Sunday drive," said Sabina. "Research tells us that car trips can provide a great social connection point, so it's a worthwhile space and time Aussies should consider for family bonding and play."
The car as a safe space for conversation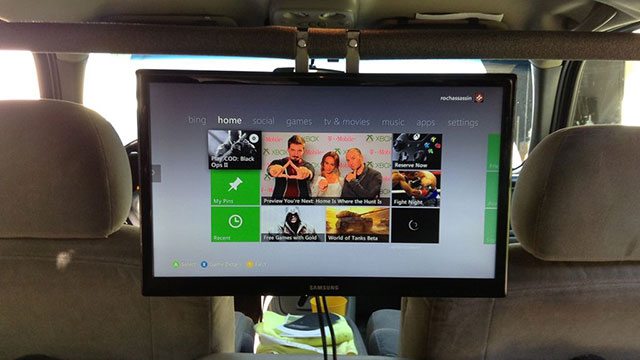 Survey findings show that time in the car can help spark kids' imaginations and get them chatting, and it doesn't take long for them to open up either. Almost half (48 per cent) of kids will open up within five minutes of being in the car, while 92 per cent will open up within half an hour.
"The best conversations often happen in cars for a few reasons, from no eye contact to fewer distractions, providing a safe space for loved ones, especially children, to open up," added Sabina.
Interestingly, the destination may also impact the quality of conversation in the car, with 70 per cent of Aussie parents identifying a trip somewhere new as inspiring the most excitement in their kids, followed by a trip to see friends or family (49 per cent), or a trip to the beach (48 per cent).
The car space provides a social connection point for couples and friends too
For couples and friends taking a drive without kids, family still comes first, with 32 per cent of survey respondents noting 'family' as the number one topic of meaningful discussion in the car. This was followed by 'plans for the future' (18 per cent), and 'school/work' (14 per cent). Almost half (48 per cent) of those aged 18-34 years old felt the car was a safe space to discuss planning a family.
With all the pressures of modern living, finding a screen-free space and time for families and adults to play and bond can be tough – but it is important. Turns out, the solution may be as simple as a short Sunday drive.
Additional survey findings:
Australians believe the car provides a great place and time for family bonding because it provides an escape from the demands of home life (63 per cent), it offers fewer distractions (59 per cent), they can listen to music (51 per cent), it offers an opportunity to enjoy the scenery passing by (43 per cent) and it offers an opportunity to put away mobile devices (35 per cent).
Australian parents believe the car provides a great place for family bonding mainly because 'it's good to escape the day-to-day demands of home life for a while' (63 per cent), it offers 'fewer distractions' (59 per cent) and they find it 'easy to open up have conversations/ for children to open up for conversations' (42 per cent).
Amongst adults in the car travelling with a partner or friends, 63 per cent are regularly on devices, checking social media, making calls and reading or sending emails. However, 79 per cent also engage in conversation, underscoring the car as a great place for discussion."

If you're hunting around for that great price, perhaps you should call the auto expert, Car Business. Our company, based on the north side of Brisbane, will return your inquiry within 24 hours and make the process of buying your new car easy and stress-free. We protect you from the pressure exerted by car dealer's salespeople. There isn't any obligation – just a pretty significant saving.
We can deal with you in any Australian state and territory: from Darwin to Hobart, Cairns to Perth. If you're buying a new super car, it may be an issue, but any other brand is accessible.
If you've got a vehicle to trade, we have some clever ways to maximize the value – from used car dealers keen for your car to assist you to sell it privately. Finance and Insurance? We can handle that too, and we promise you will not be paying exorbitant dealer mark-ups there either.
So, to get the best new car price, talk to others and then talk to Car Business. We have got the experience to handle the dealers and achieve the cheapest new car prices. If you think you're entitled to fleet pricing, we can often get better than that too. Whether you're a small fleet or a large national fleet, Car Business will go to work and get that price down. Cheaper new car prices are our goal. So you'll get the best Ford prices from us rather than hoping you can help yourself.
If we can't get you the best new car price, better than you can get yourself from a car dealer, we won't charge you any fee. No Win No Fee. – that's what you should expect from a car buying expert. 
Car Business WILL save you money on your next new car purchase – guaranteed