Thanks to Hyundai Australia for providing me their range of cars during 2022. And special thanks for this Hyundai Sante Fe Highlander Hybrid over the extended Christmas break.
I'm quickly drifting to Hybrid (HEV) and pure electric (BEV) as my preferred cars of choice. Lately, I've been in a number of brands which are pursing a change to their ICE technology. Some have been doing it for ages, while others only recently. And the key to encouraging customers to consider alternative technology is arguably the price difference between old and new technologies
The Hyundai Santa Fe Highlander Hybrid fits well. At a premium of only around $5000, you should consider a Hybrid. Why? Simply, at 65,000 klm (+/-) you'll have paid for your Hybrid. And besides that, the resale value (IMHO) will far exceed the extra $5000 you paid to go hybrid in the first place.
Range Anxiety –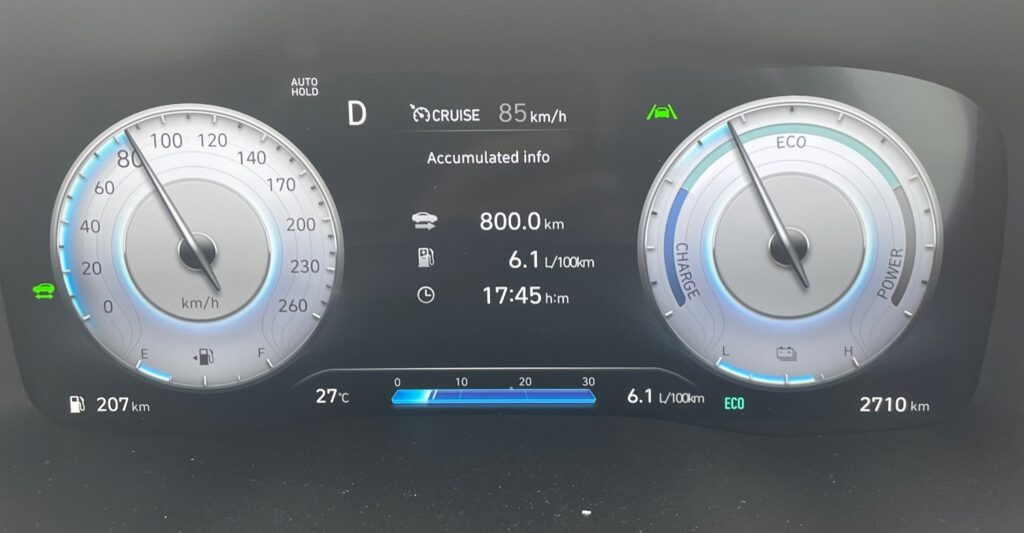 As with most other hybrids, there isn't any range anxiety. Even after 5 days, I'm showing a distance to empty of 207 kilometres and I've already travelled 800 kilometres. So that gives me a range of just over 1000 kilometres. Great work Hyundai and something else not to have to worry about.
Pricing – Hyundai Santa Fe Highlander Hybrid
So this Hyundai Santa Fe Highlander Hybrid isn't the cheapest going around, but you'll be comparing it against the like of Toyota Kluger Hybrid, Mitsubishi Outlander PHEV, BMW, Mercedes and Lexus vehicles. And my advice? Get over the badge snobbery and consider something that provides great design, safety tech and comfort for your passengers as well as brilliant economy
The Hyundai Santa Fe Highlander Hybrid costs $73,807 drive away in Queensland and thats only a little over $5000 for the hybrid option. I'm still a little bit confused as to why Hyundai charge $695 for a metallic paint option. In a $70,000 plus vehicle, surely that should/could be a no cost option. The Hyundai Santa Fe starts at $50,732 drive away for the 3.5 Litre Petrol (ICE) Engine, and $53,903 for the 2.2 Diesel Engine.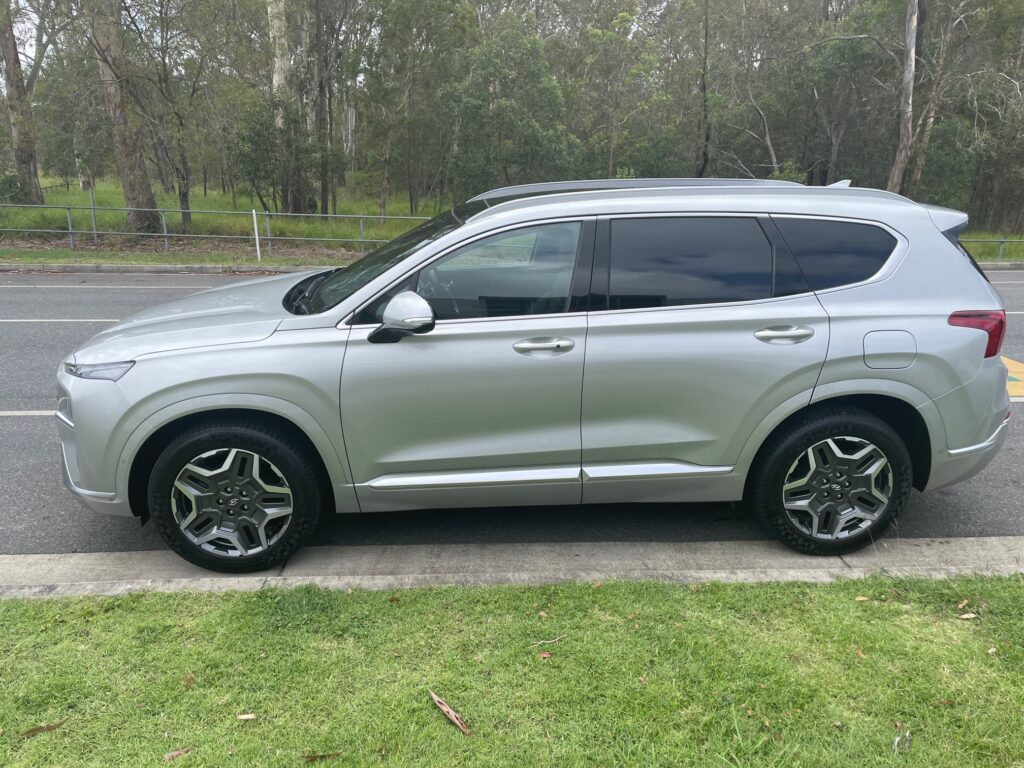 What Hyundai Says
Hybrid electric power and turbo performance in a family size SUV.
Introducing the Hyundai Santa Fe Hybrid – with 'best of both worlds' power and efficiency, it's the agile SUV for active families on the go. This stylish and sporty SUV available in both 7 and 6 seater (6 seat option available on Highlander variant only) comes packed with all the latest creature comforts to keep the whole family happy. Peace at last.
Good Work
Most everything about the Hyundai Santa Fe Highlander Hybrid is not only good, but excellent
Fuel economy is wonderful. As mentioned earlier, your range with a full tank of fuel (67 litres) and a full charge of electricty is circa 1000klms
Hyundai Santa Fe Highlander must have the comfiest seats in a largish SUV. And besides being nice to sit in, the front seats also have heating and cooling functionality. Our small dog, Marlet, just loves these features – she just falls to sleep as soon as I turn it on
Could Do Better
Hey Hyundai – consider dropping the metallic paint charge on your top of the line vehicles. Or just add it to the RRP
Auto Hold doesn't stay in memory when the vehicle is switched off. I reckon it should, so I don't have to select it every time I start the car. Same with cruise control. (Two of the aspects of Mazda that I particularly like).
A vehicle at this price point MUST have Wireless Apple Car Play and Android Auto.
Insurance
I generally use RACQ to get insurance comparisons. When I price the policy I use my personal details to get the estimate. In this case, RACQ are quoting me $885. Before you renew your current vehicle (or house) insurance, do yourself a favour and shop around. You may be amazed at the difference between what you've been paying and a new policy with another company.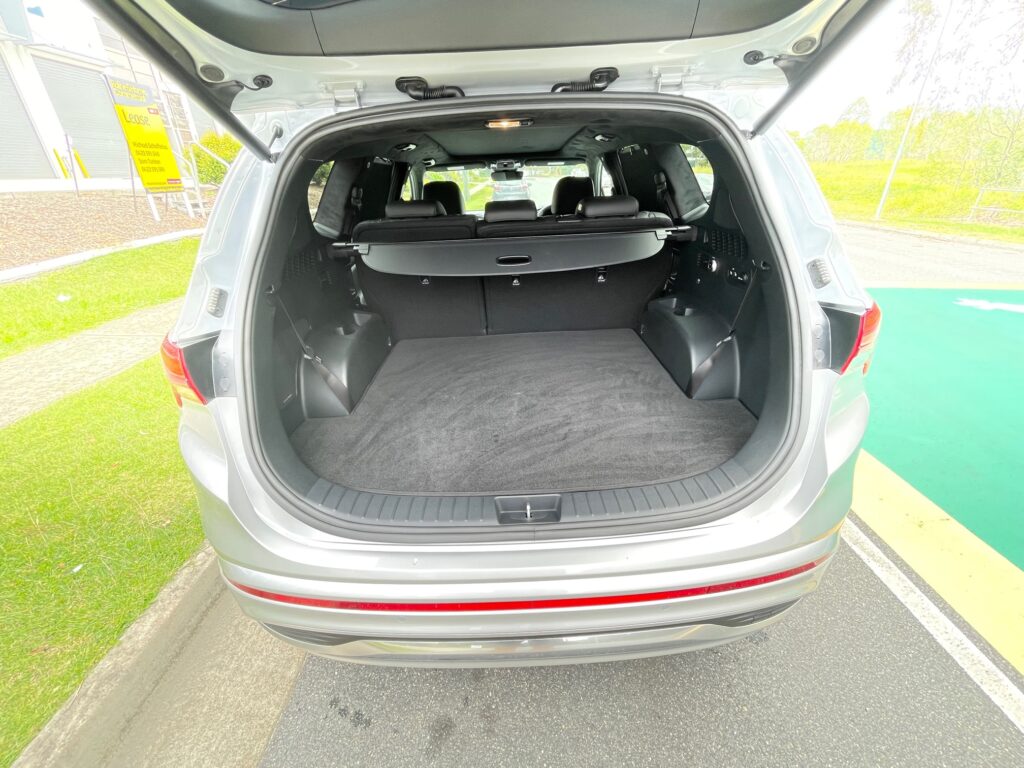 Service Costs
Hyundai offers a pre-paid service plan for up to 5 years. At a total cost of $2295 that equates to $459 per service. And when you service with a Hyundai dealer, you're also getting a roadside assistance plan for 6 years, and thats a saving of almost $600. Pay as you go servicing is currently the same price ($2,295) for 5 years, but if you purchase the pre-paid service plan, you're not taking risks with price increases.
Towing
Be careful if you're thinking about the towing capacity of the hybrid. A braked capacity of 1650kg, unbraked of 750kg and a ball download of 100kg is significantly less than the specs for a non-hybrid Sante Fe. So if you're considering it as a tow vehicle for a BIG boat or caravan, think again.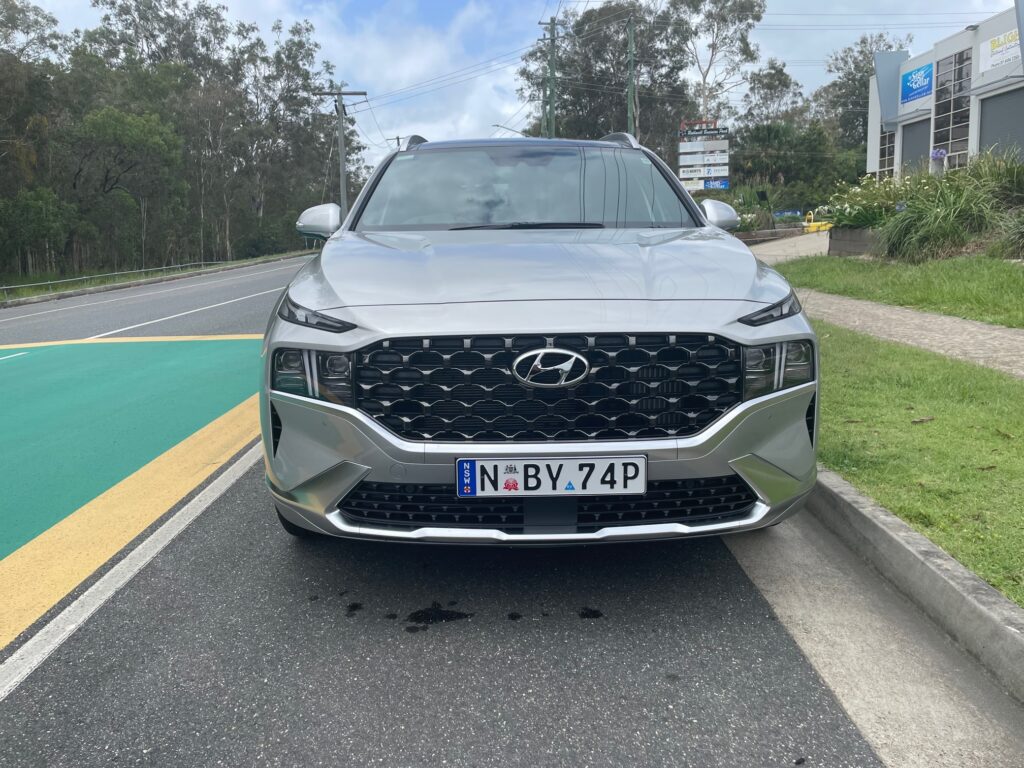 Summary / My Opinion
If I'm heading for a petrol/electric vehicle (HEV) this Hyundai Sante Fe is argubaly the best going around, at least amongst the vehicles I've driven over the last year. It's economical, comfy for a large family and has all tech wizardry (except a few things) that I'd be looking for in a car that I'd park in my driveway
If your budget can extend to the price of this hybrid, do yourself a favour and check it out.
-Advertisement-
Hello. I'm Bob Aldons, the owner and editor of The Car Guy. The Car Guy is an independently owned car review website. I'm currently
reviewing cars for Mazda, Nissan, Kia, Suzuki, Mitsubishi, Haval, MG, Hyundai, Genesis, Jeep, Alfa Romeo and GWM.
Through Mercedes AMG Petronas Motorsport I'll also be writing about the 2023 Formula 1 season. Keep an eye out.
I'm not paid by any car company for my opinion and my companies don't receive advertising revenue to say nice things about them. I call it as I see
it. 
However, I also own a new car broker company – Car Business. Being able to review new cars gives me an opportunity to provide accurate information
on these brands. If you're in the market for Any New Car Cheaper, contact me at Car Business and see how I go about saving you some serious
money. 
Perhaps you think that you can do the job of buying a new car yourself? If you're after any advice at all, give me a call and ask me any question that you
need to be answered. 
If you're an Aussie Veteran or serving in the military, I take particular pride in taking care of you. For every car that I source and deliver, I donate
part of my fee to Mates4Mates.