I haven't been an Electric or Hybrid advocate. Over the last 6 months or so, I've had the opportunity to test a few and I'm slowly coming around. This car, the Hyundai Ioniq Electric is another level.
There's no doubt that electric vehicles are starting to create waves. Elon Musk's Tesla really started this momentum, but arguably it's pitched at a higher level of demographic. The cheapest Tesla 3 costs around $80,000 and goes up to over $145,000 for the S – so there's that. Toyota has done well with its hybrid range and others are starting to introduce more affordable hybrids, such as Subaru and Mazda
. Hyundai Ioniq Electric steps in at a more affordable price and is a lot better-looking EV than most.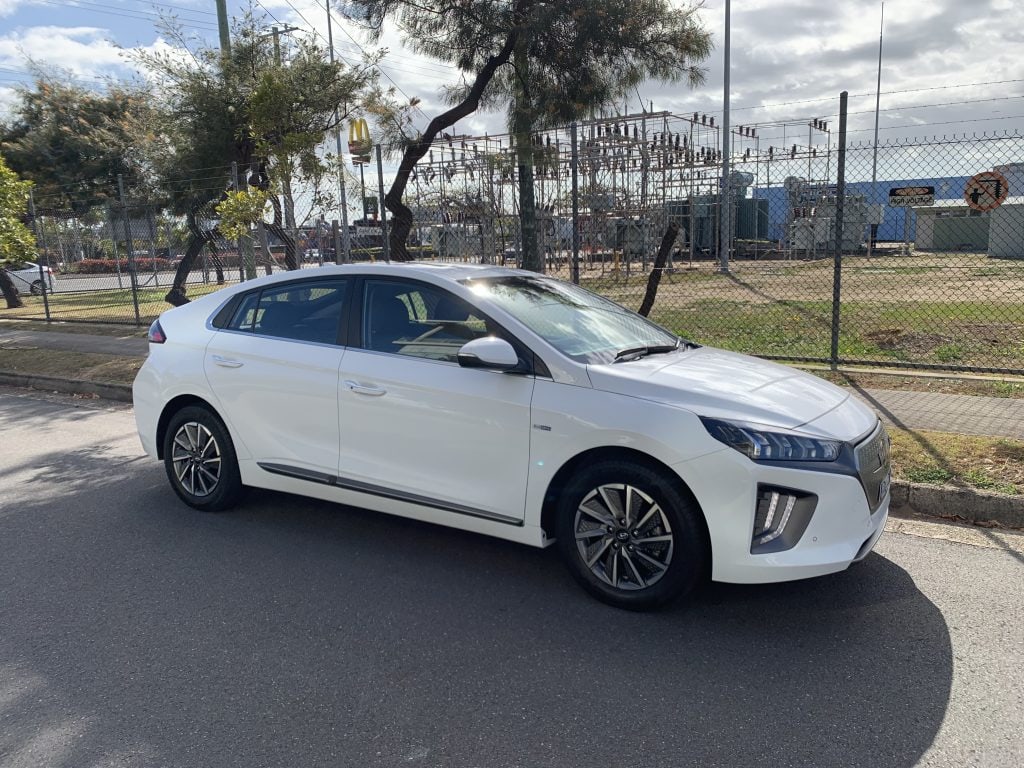 What does Hyundai have to say? As a pure electric vehicle, the new and improved IONIQ Electric is ready to re-energise your driving experience. Refined handling, whisper-quiet, packed with technology and with a range of up to 311km[R1] (WLTP), it's the ideal transition to zero-emission driving.
What is it? The Hyundai Ioniq EV is a compact five-door liftback manufactured in South Korea by Hyundai. The nameplate Ioniq is a combination of Ion and Unique.
Competiton? Well at this point in time, there isn't much competition at all. Arguably, Nissan's Leaf is closest but some will include Toyota Prius as a comparison. Remember though that Prius is a Hybrid, not an EV so really Hyundai Ioniq has to compete against Leaf and other vehicles in their own stable for the time being.
How Much? Hyundai Ioniq has two models – the Elite and the Premium that I'm driving. The Elite prices out at $52,712 drive away in Queensland while the Premium costs a bit more at $56,834. The Hyundai Ioniq Premium scores leather trim, panoramic sunroof, power-adjustable driver's seat, smartphone charging as well as alloy sports pedals, front parking sensors, as well as heated and ventilated from seats. Metallic Paint is an extra $505
My Opinion So apart from the price, why would you buy an electric vehicle? If I ignore the fact that it is electric, i'm looking at a fairly roomy, comfortable, hatch. Plenty of room for the rear passengers, very comfortable for the driver and front seat passenger.
The Hyundai Ioniq is quite different for the driver. Gone is the historical auto gearshifter and in its place are just three buttons. P for Park, R for Reverse and D for Drive. And that takes a bit of getting used to.
The dashboard and centre infotainment screens provide lots of information but for those of us who are range anxious, there are two readouts on the distance to empty. My driving style says that I'm using around 12kw of energy per 100 kilometres. And if I use my electricity bill as a guide, it's costing me about $3.06 per 100km.
Compare that to a Hyundai i30 petrol hatch. It gets 7.3 litres per 100km which at $1.40 per litre costs $10.22. So the Ioniq is a third of the price of the Hyundai i30 for fuel.
Over 5 years the Hyundai Ioniq travelling 18,000klm per year will save you $2,754 compared to the Hyundai i30, and even more if you have your own solar installation.
So you're not driving a performance vehicle even though the Hyundai Ioniq does produce 88kw of power and a 0-100km sprint of 9.9 seconds. Ok so it's not quick, but you're not using litres of fuel either.
Charging One of the significant features of the Hyundai Ioniq is it's charging capability. From empty to full in just over 6 hours. So you can set the charge to start at 8 pm (when electricity cost is cheaper and it will be fully charged when you're ready to drive in the morning.
Safety – The Hyundai Iopniq comes standard with a whole lot of technology. And that besides the electric motor. So I've listed what I consider to be the more significant features.
Smart Cruise Control with Stop & Go
Electronic Parking Brake (EPB) (with auto-hold function)
Integrated Memory System (IMS) – driver's seat
Rain sensing wipers
Smart key with push-button start
Anti-lock Braking System (ABS)
Brake Assist System (BAS)
Electronic Brakeforce Distribution (EBD)
Hill-start Assist Control (HAC)
Traction Control System (TCS)
Blind-Spot Collision Warning (BCW)
Driver Attention Warning (DAW)
Forward Collision-Avoidance Assist (FCA) – City/Urban/Interurban/Pedestrian
High Beam Assist (HBA)
Lane Following Assist (LFA)
Lane Keeping Assist – Line (LKA-L)
Rear Cross-Traffic Collision Warning (RCCW)
Parking Distance Warning – Front (PDW-F) – 4 sensors, with guidance display
Parking Distance Warning – Reverse (PDW-R) – 4 sensors, with guidance display
Rear View Monitor with Parking Guidance (RVM w/ PG)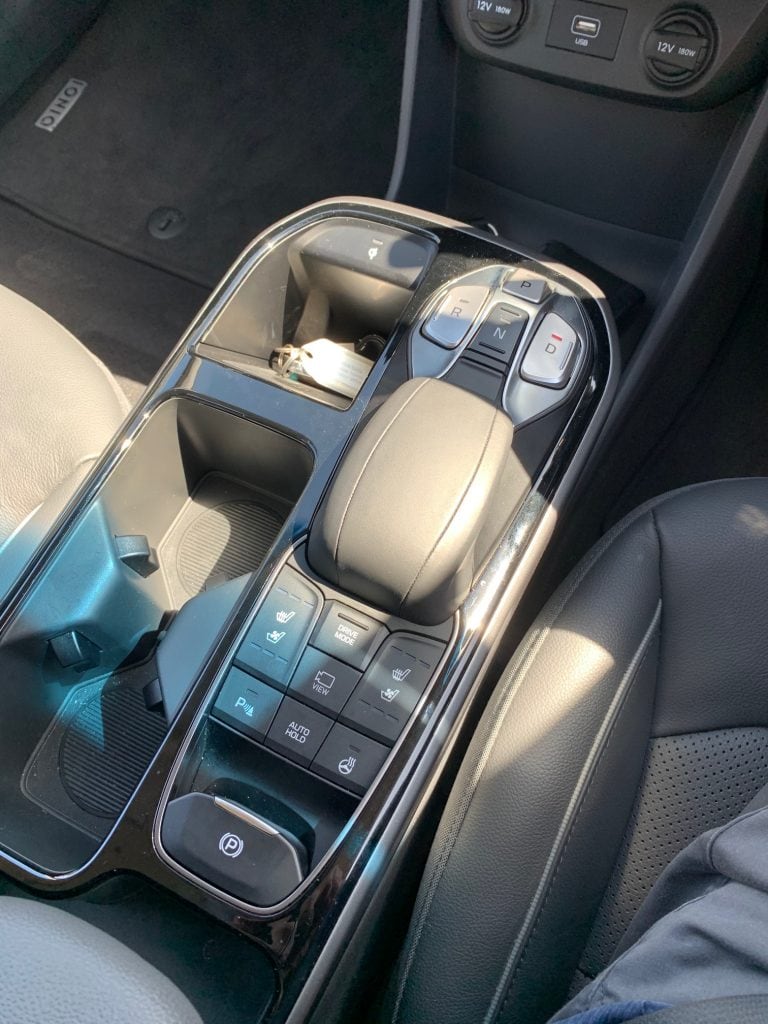 Gone is the typical transmission lever, replaced with 4 buttons, Park, Drive, Reverse and Neutral
Unfortunately, ANCAP hasn't tested a Hyundai Ioniq since 2016. At that time it scored 5-stars and I'm pretty sure that it would achieve the same level if tested in 2020.
Service and Warranty The Ioniq comes standard with a 5 year unlimited kilometre warranty and 8 years on the battery. Services for the first 5 years are just $160 each with the 6th service costsing $760. Just remember that aftermarket service centres don't have the technology to service an EV at present, so it's wise to return your Hyundai to a dealer
Insurance I get my quotes for comprehensive insurance through RACQ Online. I use myself as the guinea pig, so you'll need to submit your own information to get a price for yourself.
RACQ quotes $518.18 for the Hyundai Ioniq Premium EV
Where to buy? Smart new car buyers shop around to determine the best price for their new car. So where to start? I recommend that you start with a Google search and talk to the dealers in your area who have a 4-star rating or higher. For south-east Queensland here are the dealers I'd speak to.
| | | |
| --- | --- | --- |
| Northside | Grand Prix Hyundai | 4.7 Stars |
| Southside | Bartons Hyundai Wynnum | 4.8 Stars |
| Eastside | Bartons Hyundai Capalaba | 4.9 Stars |
| Westside | Morooka Hyundai | 4.3 Stars |
| Gold Coast | Gold Coast Hyundai | 4.6 Stars |
| Sunshine Coast | Noosa Hyundai | 4.5 Stars |
South East Queensland Hyundai dealers
-Advertisement-
Hello. I'm Bob Aldons, the owner and editor of The Car Guy.
The Car Guy is an independently owned car review website. I'm currently testing cars for Mazda, Nissan, Kia, Suzuki, Mitsubishi, Renault, Subaru, and Hyundai. Through Mercedes AMG Petronas Motorsport I'm also writing about the 2020 Formula 1 season
I'm not paid by any car company for my opinion and my companies don't receive advertising revenue to say nice things about them. I call it as I see it.
However, I also own a new car brokerage company – Car Business. Being able to review new cars gives me an opportunity to provide accurate information on these brands. If you're in the market for Any New Car Cheaper, contact me at Car Business and see how I go about saving you some serious money.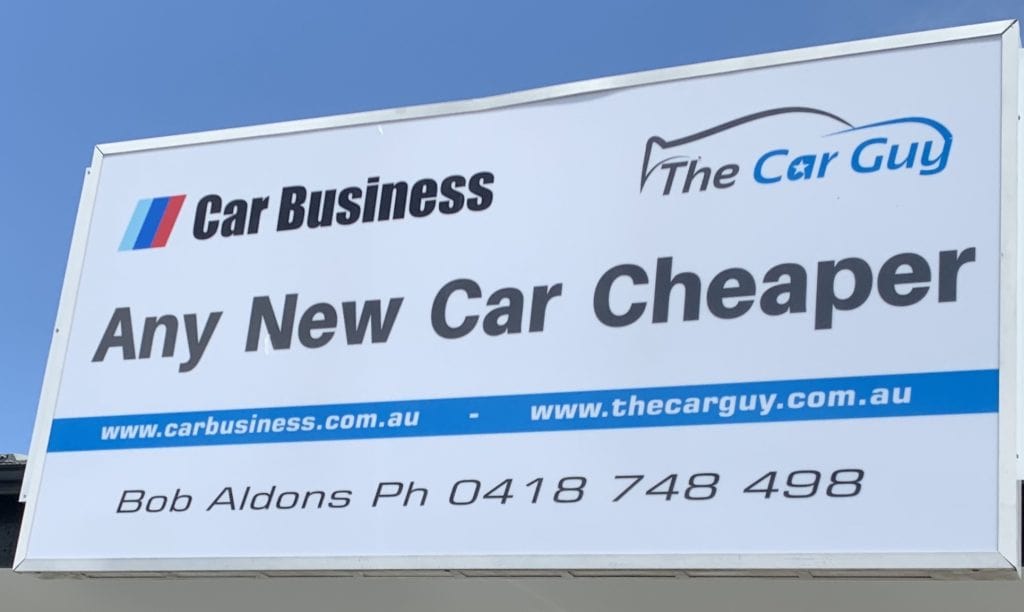 Perhaps you think that you can do the job of buying a new car yourself? If you're after any advice at all, give me a call and ask me any question that you need to be answered.
If you're an Aussie Veteran, I take particular pride in taking care of you. For every car that I source and deliver, I donate part of my fee to Mates4Mates or Brisbane Legacy.
Related Link: All-New Hyundai Tucson | Press Release