I'm Bob Aldons from Car Business and The Car Guy. The place where new car buyers can save serious money on the purchase of their next new car AND get honest opinions on the cars that I review. Get me on the website by clicking on the links.
Like most car owners I suspect, I try as best as I can to manage the purchase of fuel for my cars. What I don't like is the Fuel Rip Off being done to us by the two majors – Coles and Woolworths.
Suzi and I went for a drive up to Kilcoy last weekend with the fuel gauge showing half-full when we left. I thought we'd fill up sometime on the Sunday drive but didn't as the fuel price around Kilcoy was more expensive than Redcliffe, or so I thought.
So when we were nearly home, I'm looking around for that 113.9 cents per litre that I'd seen early in the day.
Surprise, surprise! On the way back to Redcliffe I found that Coles/Shell fuel at Deception Bay was priced at 151.9 for E10 Unleaded and at Redcliffe Woolworths/Caltex at 155.9 for the same. I'm driving a car that prefers to drink Premium 98 so that's a bit more expensive and I accept that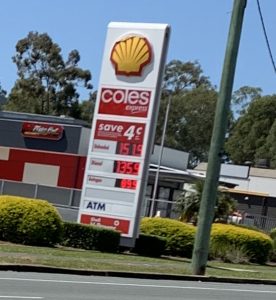 I ended up with Premium Unleaded (98) at 711 at Clontarf for 138.9
So Mr Simms, (ACCC) what's doing with this blatant fuel rip off of consumers.
I wrote to you a year ago about the same thing and your office said "retailers of all kinds are able to set their own prices' and 'that's not against the law'
Now, you're suggesting that you'll look at what's going on.
Simply put from a consumer's viewpoint, the supply of fuel for vehicles is an essential service and that major national and international fuel companies ARE ripping off consumers is just WRONG. Stop the Fuel Rip Off NOW
Let's get this sorted – State and Federal Governments need to take a stand on fuel prices.
Life Insurance Prices – Nothing to do with Cars
If you're in the market for a new car or even a late-model used car, give me a call on 0418 748 498. You'll be very glad that you did