I couldn't help but use the word, instead of the real one, Frankfurt. Whenever I see Frankfurt, the Rocky Horror Picture Show comes to mind.
So what's happening in Frankenfurter with e-cars?
Both Volkswagen and Honda have released the mass production vehicles pictured below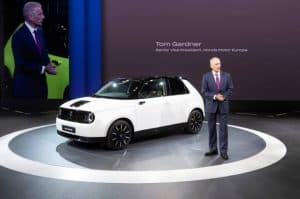 Whilst the VW looks to me like a version of the Polo or Golf, the Honda? Well it's very different.
But according to both companies, they'll enjoy an order book of over 30,000 first adopters. Here in Australia, well that's another story.
According to Stephen Collins the boss at Honda Australia:
"While we have no concrete plans yet we are looking into what is possible for Honda in Australia in this space, as the future technology available in the global Honda network is really exciting,"
"Electrification is a key part of our global plan and at Honda Australia, we have targeted 25% of our range being electrified (either Hybrid or BEV) by 2025. When the right product is available and the business case stacks up, we will be very excited to launch into the new era of electrification."
Using my Google translator program, what he really said is this.
I don't really know when or even if we'll get a pure Honda electric vehicle in Australia.
If I had to depend on a business case to Head Office, the numbers wouldn't work.
For the rest of the world who get government subsidies, they'll sell every EV they can make. So we might be waiting a while.
Ford has an Electric Ute in Design