Hi, Bob Aldons, The Car Guy, with yesterday's press release from Ford Motor Company announcing the return of the 2020 Ford Fiesta ST to Australia.
Now, first things first. I am NOT a fan of Ford's passenger range, even though that's where I started in the motor industry in 1978. Heck, I even have a Ford in my garage – a 2007 Ford Cobra GT R-spec, so I have some good history with the brand.  And I've got Alan Moffat and Dick Johnson memorabilia in my office, but that and the car were from another time.
And to the Ford Fiesta ST? I don't write for Ford but will attempt to get my backside into one near the launch to provide my own comments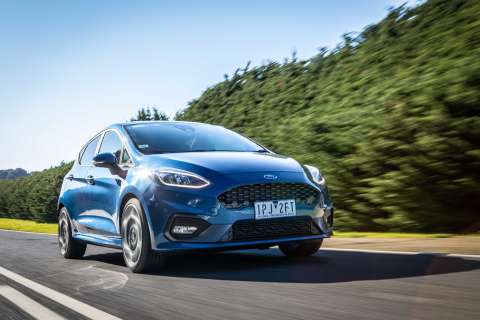 September 3 2019
Ford Fiesta ST Returns To Australian and New Zealand Showrooms In 2020 With New-Generation, Five-door Model With Highest Level Of Standard Equipment Ever Offered
Ford Performance Fiesta ST will debut in Australia and New Zealand in Q1 2020 with new-generation model, first five-door body style offered locally, more cabin space and increased equipment levels to expand the Ford Performance model line-up
Australian-market Fiesta ST includes 134kW/240Nm turbocharged powertrain, selectable Drive Modes, and Performance Pack with Limited-Slip Differential (LSD), Launch Control and Ford-patented force vectoring springs for sharper turn-in, responsiveness and engagement
SYNC 3 as standard brings Apple CarPlay and Android Auto smartphone compatibility, built-in sat-nav, B&O PLAY 10-speaker premium audio and full-colour reversing camera, with AEB with Pedestrian Detection, Lane Keeping Aid and Traffic Sign Recognition
Fiesta ST comes with a five-year/unlimited-kilometre factory warranty, as well as Ford Service Benefits, which includes Service Loan Car Program, Service Price Promise and SYNC 3 sat-nav mapping updates to eligible customers at participating dealerships
The new-generation Ford Fiesta ST will be on sale in Australian and New Zealand showrooms in Q1 2020 as the Ford Performance line-up continues to grow, offering more choice to customers. The new Fiesta ST brings a fully-fledged Ford Performance hot hatch to customers, loaded with the latest technology and performance innovation derived from Ford Performance's racing programs, which have seen the Fiesta claim multiple wins and drivers' World Rally Championships.
"The previous Fiesta ST was highly regarded, and we've had considerable interest from enthusiasts on the details of the new model's arrival," said Kay Hart, President and CEO of Ford Australia and New Zealand. "We're pleased to confirm the most comprehensively equipped, capable and technology-laden Fiesta ST as the latest model to add to our local Ford Performance portfolio – the first five-door for Australia and New Zealand."
Made in Germany, the Ford Performance Fiesta ST has been crowned the 2018 Top Gear UK Car of the Year, repeating the achievement of the previous generation, which claimed the award in 2013. The new model will be offered in showrooms in early 2020 with a five-year, unlimited-kilometre factory warranty with the support and reassurance of the Ford Service Benefits Program.
At participating Ford dealerships, the Ford Benefits Program is designed to keep the Fiesta ST performing at its best. With 15,000km/12-month service intervals, A and B logbook services for the first four years/60,000km are set at a maximum of $299 per service, bringing predictability and transparency to ownership costs.
Further adding to the ownership experience, Ford Service Benefits also brings Fiesta ST owners Auto Club Membership, Service Loan Car to keep owners on the road while their Fiesta ST is being serviced, as well as SYNC 3 sat-nav mapping updates when/where available.
Ford Fiesta ST: Ford Performance hot-hatch DNA
The new-generation Ford Fiesta ST is the most responsive, engaging and fun-to-drive Fiesta ST ever, featuring a range of innovative Sports Technologies that enhance power and performance; cornering and agility; and versatility for scenarios from the school run to the race track. The Fiesta ST will be offered in Australia and New Zealand in a single, highly equipped specification.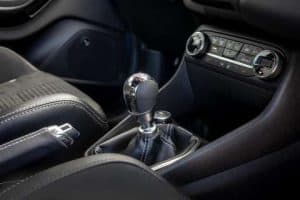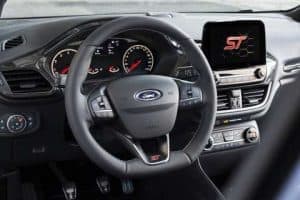 The Fiesta ST will be offered exclusively as a five-door hatch – the first time a five-door has been offered here –  with sporty ST exterior styling including LED headlights and standard 18-inch alloy wheels shod with 205/40 Michelin Pilot Super Sport tyres.
Exterior colours include Performance Blue, Frozen White, Magnetic, Moondust Silver, Race Red, Shadow Black and Silver Fox, and standard interior features include supportive Recaro leather-and-suede seating, ST gearknob, as well as a flat-bottomed steering wheel with stitching that is replicated on the leather handbrake lever and gear-lever.
Powered by a new-generation all-aluminium 134kW/240Nmvii three-cylinder turbocharged engine, the driver-focussed Fiesta ST will be sold with a dedicated six-speed manual gearbox, while technology includes AEB with Pedestrian Detectioniv, Launch Control, a Quaife Mechanical Limited-Slip Differential (LSD) and selectable Drive Modes as standard.
The patented suspension, Quaife Limited Slip Differential and 18-inch alloys will also be standard in Australia as part of the Fiesta ST's comprehensive equipment levels.
"Every performance function of this car has been enhanced with innovation," said Leo Roeks, Director, Ford Performance Europe. "Drivers need to look no further than the Fiesta ST to understand what Ford means when we explain that ST stands for Sports Technologies."
The Fiesta ST also delivers standard safety features including driver's and front passenger's airbags, front side airbags, and full-length curtain airbags that fully extend to the second-row occupants. The Ford Fiesta range has been awarded a five-star safety rating from Euro NCAP.
Fiesta ST: more doors, more drivability
Everyday practicality begins with the five-door body style, taking advantage of the Fiesta ST's optimized cabin space. The first time that a five-door Fiesta ST has been offered in Australia, the new generation's near-identical wheelbase (2493mm) yet 93mm increase in overall length (4068mm) have enabled greater interior space to deliver greater comfort and convenience. In addition, boot space has increased by 21 litres compared to the previous Fiesta ST to 311 litres of space, with a full-size spare wheel in addition to Ford Service Benefits.
Accessed by the convenience of keyless entry, the Fiesta ST's cabin also brings material, fit and finish enhancements throughout while maintaining a sports-oriented ethos. Drivers can exploit the Fiesta ST's technologies to their fullest from a driving position painstakingly developed by Ford Performance for optimal control and vehicle balance. The driver's well-bolstered Recaro seat offers a unique-to-segment combination of seat-back angle and seat-base tilt adjustment.
The flat-bottom ST steering wheel is finished in red-stitched perforated leather and hosts switches for cruise control, SYNC 3ii and audio operation, which sees Fiesta ST feature a premium B&O Play 10-speaker audio system, including a sub-woofer, as standard equipment.
In addition to a dash-mounted engine start button, the Ford Performance 4.2-inch instrumentation cluster includes a unique digital speedometer display with honeycomb background design – linking to the exterior's honeycomb front grille – while the chrome gear lever, handbrake and console feature red detailing and carbon embellishments below the 8.0-inch SYNC 3 touchscreen – the largest screen offered on Fiesta ST – that also functions as a full-colour reversing camera.

SYNC 3ii as standard on Fiesta ST also includes an updated graphical interface, with voice-activation for key commands including audio/DAB, built-in sat-nav and smartphone operation. Apple CarPlay and Android Auto, smartphone compatibility are standard, including voice activation via Siri. App compatibility includes Spotify as well as Waze, while SYNC 3ii also includes Emergency Assistance, a function that is designed to dial 000 emergency services in the event of a road traffic collision.
Fiesta ST: Ford Performance's technological pocket rocket
The Fiesta ST is powered by Ford's 1.5-litre EcoBoost petrol engine – the first three-cylinder engine ever to power a Ford Performance model – delivering 147kW@6000rpm with torque of 290Nm from 1600-4000rpm.
Employing an aluminium block and head construction, the three-cylinder architecture delivers naturally high torque at low rpm. Technology includes high-pressure injection, with a combination of port- and direct fuel injection technology to deliver power and responsiveness with fuel efficiency, as well as twin-independent variable cam timing and a new turbocharger. The turbocharger benefits from an optimised turbine design to build boost pressure faster, minimizing lag for a more responsive and fun driving experience.
The Fiesta ST's engine also features an integrated exhaust manifold that improves efficiency by helping the engine reach optimal temperatures faster, and delivers torque more rapidly by minimising the distance exhaust gasses travel between cylinders and the turbocharger. Active exhaust valve technology amplifies the uniquely exhilarating and naturally sporty three-cylinder engine sound to enhance the driving experience.
The most advanced, technology-laden Fiesta ST to-date
The 2020 Fiesta ST's innovation extends to include a comprehensive suite of Driver Assist Technology. In addition to selectable drive modes, Launch Control and switchable ESC (Electronic Stability Control), the Fiesta ST brings Driver Assist Technology that customers expect in a new-generation model.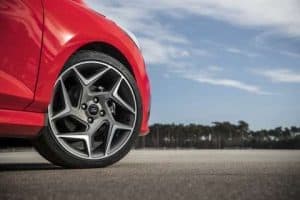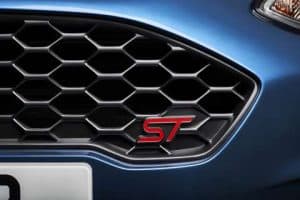 The Fiesta ST's Launch Control is designed to be simple to use. Drivers can select Launch Control using steering wheel controls, activating a dedicated graphical display. Holding the throttle fully open will instruct the system to build engine rpm and automatically hold at the rev limit – filling an on-screen gauge that indicates when the car is prepared for launch.
Releasing the clutch fully then enables an optimised standing start with ESC, traction control, Torque Vectoring Control and Torque Steer Compensation systems managing power and torque delivery.
In addition, the Fiesta ST for Australia and New Zealand is fitted with a Quaife mechanical limited-slip differential (LSD), helping to optimise front-end traction for enhanced cornering ability – in particular delivering more grip on the exit of corners.
The mechanical system works to limit distribution of engine torque to a wheel with reduced grip – for example, the inside wheel during a cornering manoeuvre – to reduce wheel spin, and improves distribution of engine torque to the wheel with more grip to fully exploit engine performance.
The new LSD option works alongside Ford's enhanced Torque Vectoring Control technology that improves road-holding and reduces understeer by applying brake force to the inside front wheel when cornering. The balance between the two features has been fine-tuned by Ford Performance engineers to deliver optimal grip.
"Performance car drivers will be familiar with the dreaded 'one-wheel peel', where a fast corner exit is hampered by an overload of torque to the inside wheel," said Leo Roeks. "We've tuned the Fiesta ST's mechanical LSD option to work seamlessly with enhanced Torque Vectoring Control to deliver the best possible natural traction without 'burning away' excess torque with brake interventions."
Fiesta ST: Jekyll and Hyde
Further developing the driving experience, selectable Drive Modes feature on the Fiesta ST for the first time, enabling engine, steering and stability controls to be configured to Normal, Sport and Track settings, shifting the vehicle's character from flexible everyday hatchback to track-focused sports car at the push of a button:
In Normal mode, engine mapping, traction control, ESC, active exhaust valve and electric power-assisted steering (EPAS) are configured to deliver natural responsiveness and a connected feel
In Sport mode, engine mapping and throttle pedal response are sharpened, and EPAS settings adjusted to deliver more feedback and finer control. The active noise control valve opens to intensify the sporty exhaust note
In Track mode, all vehicle dynamics features are tuned for the fastest possible lap times, traction control is disabled and ESC interventions are set to a wide-slip mode for hard circuit driving
Three-mode Electronic Stability Control (ESC) enables drivers to choose between full system intervention; wide-slip mode with limited intervention; and full system de-activation.
The Ford Performance model's sporty character is further enhanced using a bespoke steering knuckle design; unique EPAS calibration with 12:1 steering ratio – the fastest of any Ford Performance model and 14 per cent faster than the previous generation Fiesta ST200; and high-performance braking system with 278mm vented front and 253mm solid rear discs.
The Fiesta ST's standard Driver Assistance Technology includes:
Autonomous Emergency Braking (AEB) with Pedestrian Detectioniv
Lane Keeping Assist (LKA)
Blind Spot Information System (BLIS)
Cross-Traffic Alert
Emergency Assistance
Traffic Sign Recognition
Automatic headlights with LED Daytime Running Lights and automatic high-beam
Rain-sensing windscreen wipers
Launch Control
Switchable Drive Modes
Tyre Pressure Monitoring System
Spring into action
Developed by Ford engineers, Ford-patented force vectoring springs improve the stability, agility and responsiveness of the Fiesta ST's twist-beam rear suspension – delivering a more connected feel and contributing to an exceptional fun-to-drive experience.
The Fiesta ST is the first compact hot-hatchback to benefit from the technology that uses non-uniform, non-interchangeable, directionally-wound springs to apply vectoring forces to the rear suspension and enables cornering forces to travel directly into the spring, for increased lateral stiffness.
Advantages offered by the unique suspension configuration include:
Sharper turn-in and response to steering inputs and directional changes
A saving of 10kg compared with a Watt's linkage solution typically used to enhance stiffness
Compatibility with traditional suspension dampers
No compromise on comfort, ride quality or refinement
Ford's force vectoring springs are cold-formed for greater durability and strength, with the varying pitch and diameter properties throughout the spring uniquely developed for the Fiesta ST application.
In addition, the sophisticated suspension system features Tenneco twin-tube front and mono-tube rear dampers that use RC1 valve technology to deliver frequency-dependent damping – enabling enhanced body control while retaining high-speed driving refinement. Tenneco dampers were also used on the Ford Performance Focus RS. Rear twist-beam roll stiffness of 1,400 Nm/deg makes the Fiesta ST the firmest of any Ford Performance model.
"We went through three times the normal number of suspension iterations to find a set-up that delivered the exciting driving experience demanded of an ST model, but also comfort and refinement for everyday driving," Roeks said. "The car's sophisticated dampers self-adjust to tune out high-frequency road imperfections when there is limited demand for damping – like on the motorway, but adjust again to deliver optimised road-holding performance when driven hard."
MY2020 Ford Fiesta ST Pricing 
Recommended Manufacturer List Price (MLP) for Ford Fiesta ST and available options:
| | |
| --- | --- |
| Ford Performance Fiesta ST   | MLPvi |
| ST five-door hatch, 1.5L turbo, 6-speed Manual | $31,990 |
| | |
| --- | --- |
| Ford Performance Fiesta ST Options | MLPvi |
| Prestige Paint | $650 |
| Panoramic sunroof (fully opening) | $2500 |