It's all even going to Abu Dhabi
I'd like to repeat my comment from Qatar. "It's not over till it's over". The Saudi Arabian Grand Prix underlined that even more
In one of the craziest races this season, the 2021 Saudi Arabian Grand Prix proved that the top two cars were matched evenly. The driver overcame the racer to win in magnificent fashion.
Lewis secures a dramatic victory for the Mercedes-AMG Petronas F1 Team in the inaugural Saudi Arabian Grand Prix with Valtteri clinching a sensational P3 on the line
Lewis took victory in Jeddah, and put in the fastest lap of the race, to move level on points at the top of the Drivers' Championship heading into the season finale in Abu Dhabi next week.
On his 100th race for the Mercedes F1 Team, Valtteri finished in P3 after a hard-fought battle with OCO culminated in a dash for the finish line which the Finn won by 30m.
A series of safety cars, red flags and restarts dominated the race with a number of incidents being referred to the Race Director and Stewards.
Lewis is level with Max Verstappen (369.5 points) in the Drivers' Championship, with Valtteri claiming a definitive P3 for the season (218 points) here in Jeddah.
The Mercedes-AMG Petronas F1 Team (587.5 points) lead Red Bull (559.5 points) by 28 points in the Constructors' Championship.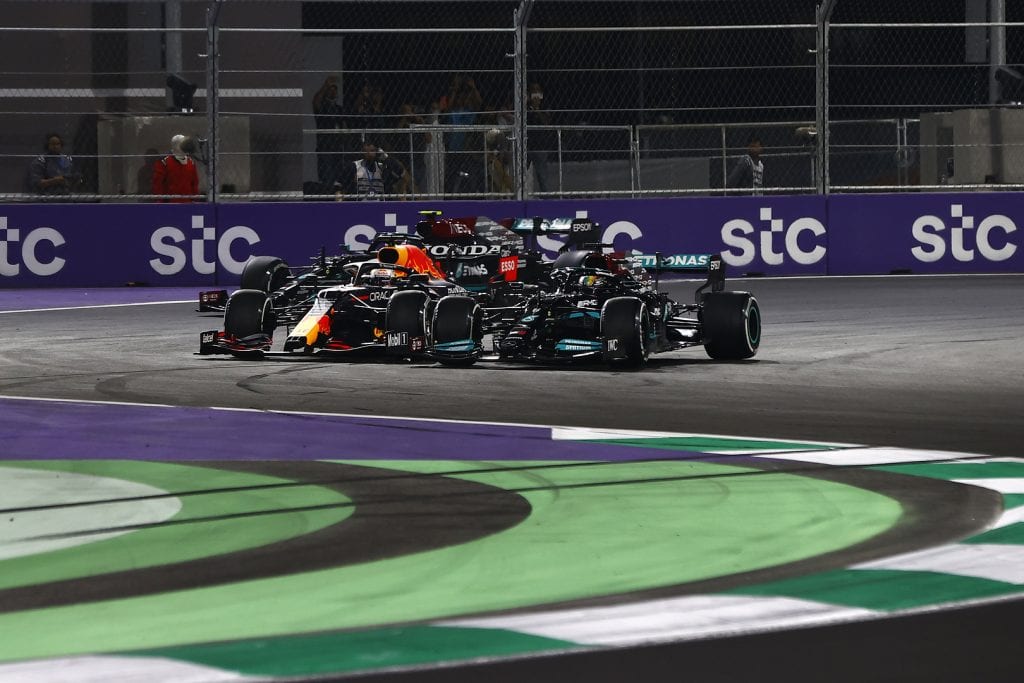 Lewis Hamilton
I've been racing a long time but that was incredibly tough.
I tried to be as sensible and as tough as I could be out there but also sensible with all my race experience over the years, just keeping the car on track and staying clean. It was difficult but we persevered as a Team. We've had all sorts of things thrown at us in the second half of this season so I'm just really proud of everyone. I'm really grateful for the crowd we've had this weekend – it's nice to be here.

We've done an amazing job with what we have this weekend, Valtteri did a great job today to get big points for the Team – this is for all the guys and girls back at the factory. It's been an amazing event!
I felt very welcome here, the people have been lovely and the track is phenomenal to drive, very difficult physically and mentally, but you wouldn't want it any other way. So, on to the next one!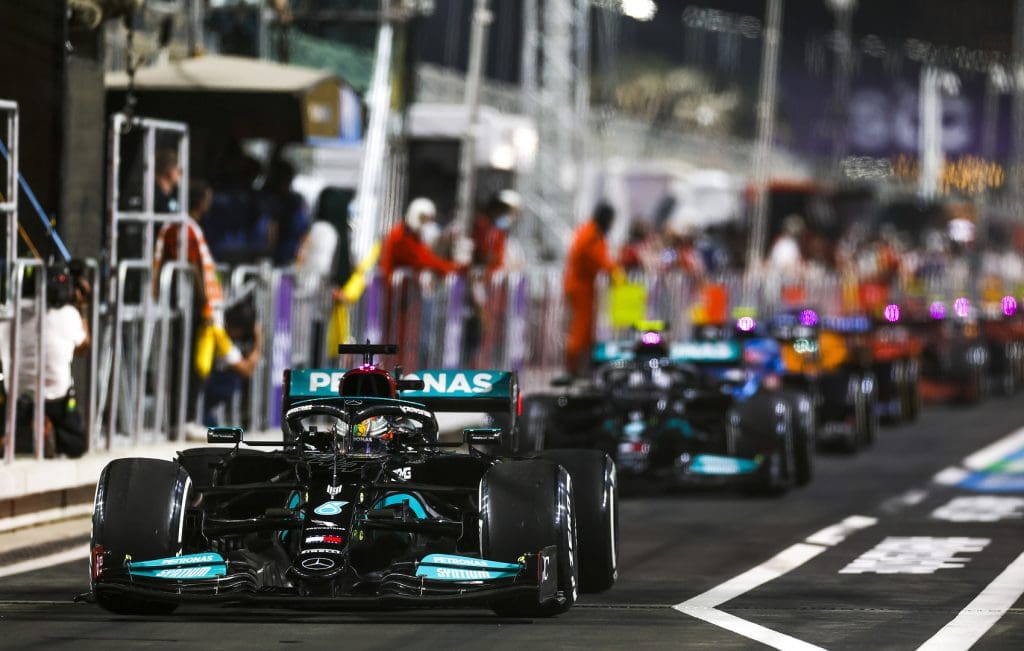 Valtteri Bottas
It wasn't an easy day, there were so many obstacles with the red flags and all the incidents, it made it a bit tricky.
I just kept pushing, it was tough to overtake today but I finally got to P3 on the final straight – it was such a nice feeling to get the podium that way. Esteban drove great today, he was difficult to pass but I hung in there for an exciting finish.
Good for team points today, and great that Lewis and Max are level on points, we have an incredible weekend ahead in Abu Dhabi!
Toto Wolff
Winning the race today, in such a dramatic way, I think Lewis deserved it.
We could have been out a few times with a broken front wing – it was a spectacular race, if not necessarily a good one. We obviously had frustration at the beginning with the red flag but today was a difficult race to manage for Race Control – when is a virtual safety car is called, when is a safety car called, when is a red flag? It's so tough, and I'll reserve judgement until I watch the race back tomorrow.

Both our drivers kept their cool heads, and kept pushing and pushing. Lewis drove so intelligently and with patience. Valtteri made a great comeback and to take P3 on his 100th race for Mercedes is just brilliant, a big haul of points for the team.
At the end it's all going down to the wire, that's how the sport should be and we love it!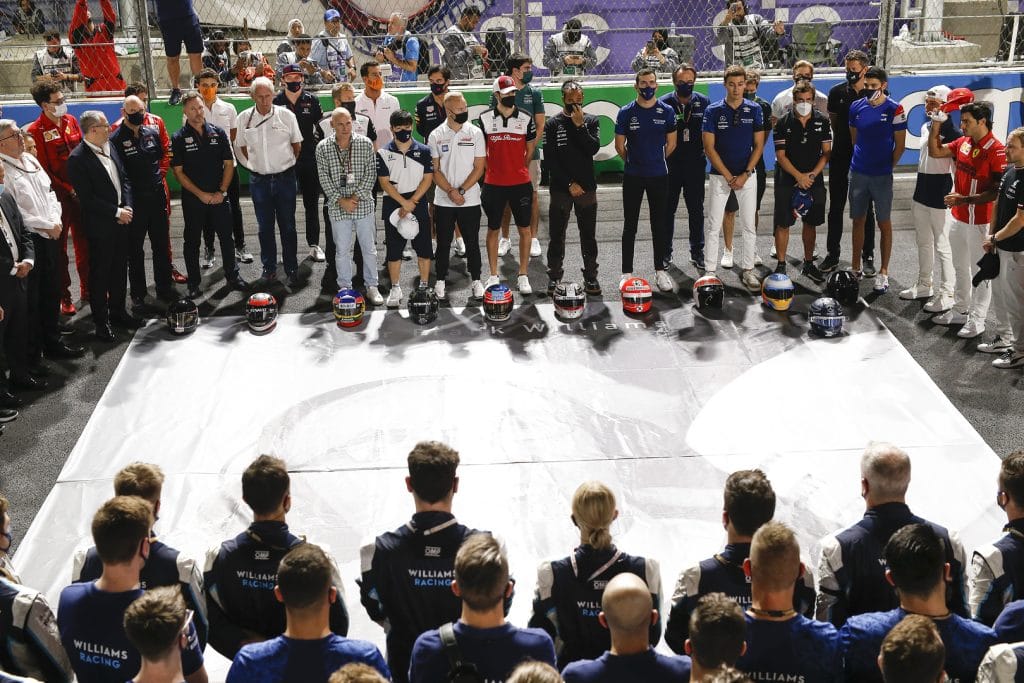 Advertisement
Hello. I'm Bob Aldons, the owner and editor of The Car Guy. The Car Guy is an independently owned car review website. I'm currently testing cars for Mazda, Nissan, Kia, Suzuki, Mitsubishi, Renault, Hyundai, Haval, Great Wall, and Genesis.
Through Mercedes AMG Petronas Motorsport I'm also writing about the 2021 Formula 1 season.
I'm not paid by any car company for my opinion and my companies don't receive advertising revenue to say nice things about them. I call it as I see it.
However, I also own a new car broker company – Car Business. Being able to review new cars gives me an opportunity to provide accurate information on these brands. If you're in the market for Any New Car Cheaper, contact me at Car Business and see how I go about saving you some serious money.
Perhaps you think that you can do the job of buying a new car yourself? If you're after any advice at all, give me a call and ask me any question that you need to be answered.
If you're an Aussie Veteran or serving in the military, I take particular pride in taking care of you. For every car that I source and deliver, I donate part of my fee to Mates4Mates.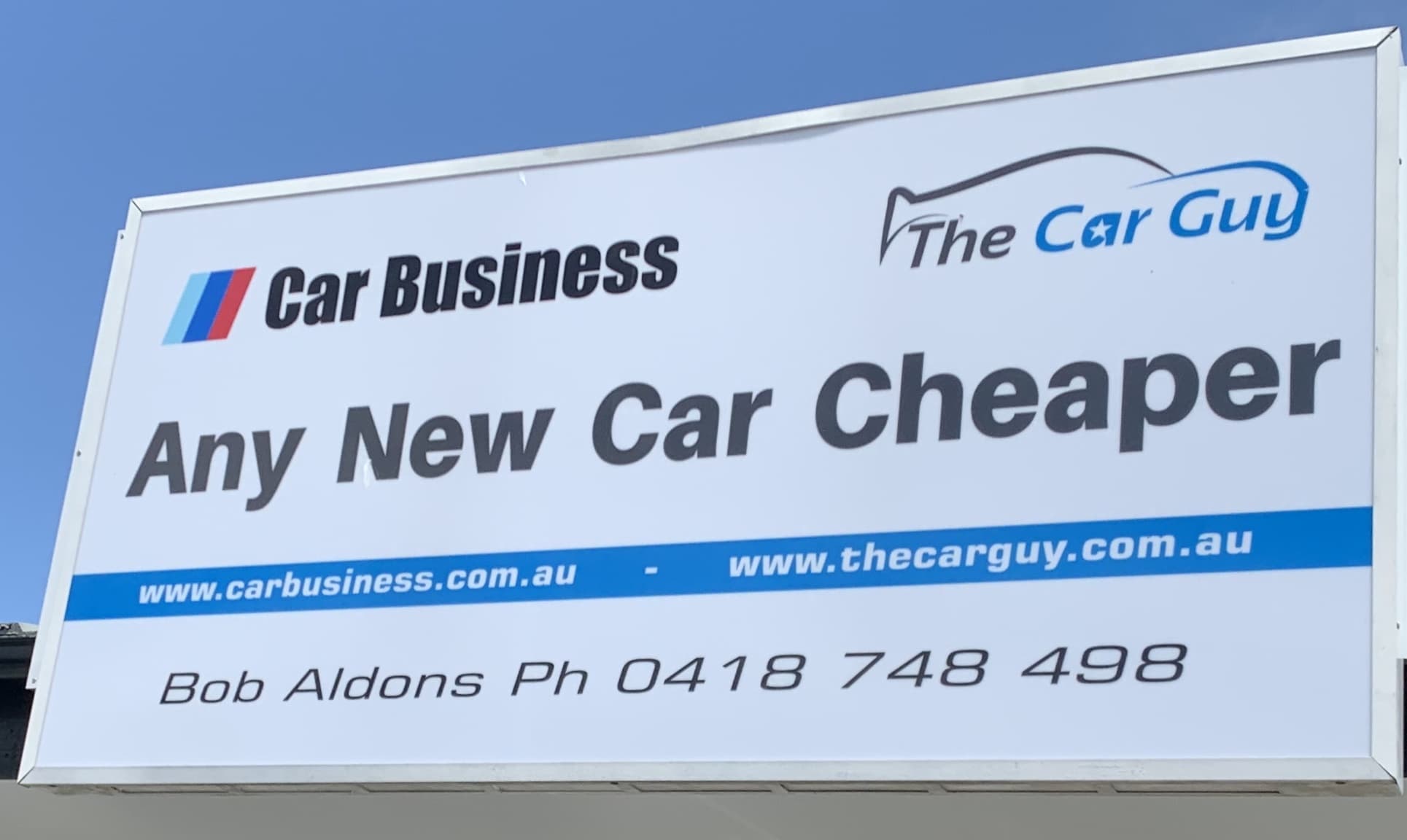 Recent Car Reviews Mitsubishi Eclipse Cross PHEV