Arguably the most 'modern' car design released onto the Australian market in 2021 is the Hyundai Ioniq 5
So perhaps you're thinking that I'm some sort of car expert?
Well, after 43 years in the auto industry as a salesman, manager and owner of dealerships, I think I am. The Car Guy and associated companies Car Business and Genuine Spares are the sites to find all sorts of information about the motor industry. Including but not limited to the best way to buy a new car, selling your existing car, car finance, car insurance, accessories, spare parts, repairs and just about anything else.
And if you can't find what you're looking for on these sites, send an email to [email protected]. I'll try to provide an answer for you.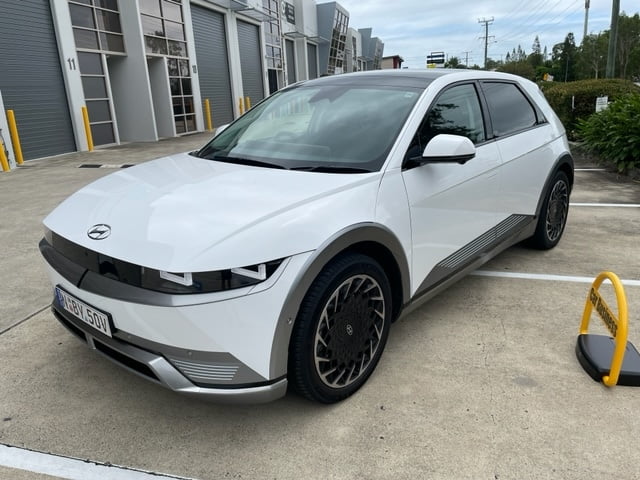 UPDATED One of my favourite overseas car websites is Throttle House. Thomas and James are argubaly two of the better commentators around. FYI, they're from Canada (so they drive on the right side of the road) but don't seem to have the off attitude of their US counterparts.
So, I received this review on the Hyundai Ioniq 5 into my inbox, so thought I'd share. About 20 minutes in length, so click, sit back and enjoy.
Over the Christmas break Hyundai lent me an Ioniq 5. What I didn't expect were the comments and questions that ensued. Parking at Pacific Fair on the Gold Coast took a fairly long time to leave the carpark – everyone wanted to know what I thought, but the seemingly most obvious question was how much it was.
The Hyundai Ioniq 5 is built around a dedicated and specialized platfrom using the E-GMP structure. Both Hyundai and Kia will utilize this platform for new genertion architecture – Kia's EV6 arrives in 2022, but don't expect to get an Ioniq 5 quickly. Join the waiting list – it's been that popular.
Competitors
In the real market place, there aren't many competitors as yet, but they're coming in 2022. For a pure EV right now, think Tesla 3 (but its a sedan not an SUV) , Kia Niro EV, Hyundai Ioniq (the original) and the Hyundai Kona EV.
What Hyundai Says
Electric design redefined.
Inspired by the future, past, and present. Confidently sporting clean, sharp lines throughout its electric SUV body. The all-new IONIQ 5 is undeniably distinct and modern.
Price
And that's a good question and one that I wasn't able to answer to anyone asking last week. The Ioniq 5 starts at $71,900 for the 2wd model and stretches up to $75,900 for the AWD version. And that's before on road costs, which differ from state to state. Some state governments have decided to 'incentivise' their citizens by reducing stamp duty (saving around $2,500 in NSW) but here in the Labor State of Queensland its been a matter of "let them eat cake". Hyundai let me know recently that the drive away price in Queensland is $79,560.65
I'm sure that pressure will be brought to bear on all State Governments and the Feds to introduce a more comprehensive assistance structure, but that should also happen with the manufacturers.
Presently, all EV manufacturers are making full margin on their non-ice vehicles, trying deperately to reduce their not inconsiderable R & D investment. But mark my words, EV's will go the way of Plasma and LED Television panels. In early 2003, a 40″ Plasma cost around $27,000 whereas 12 months later the investment had fallen to $20,000. And now? a 75″ LED screen can be had for under $2000, with some under $1000.
If EV's go the same way, by 2030, and thats only 8 years away, I'm thinking that the price of a $75,000 EV (in todays money) will drop to circa $40,000. And that makes an EV a completely different animal.
Accordingly, the on road price of the Ioniq 5 I'm driving will be circa $80,170, if I factor in a $2000 delivery and handling charge and the 'cheap' Qld rego
Interior
The benefit of the completely new design is evident when you get in. A flat floor, and loads of space.
The space between the front seats features a sliding centre console that can be moved forwards and backwards. You're also getting 'slimmer' front seats. Not that you'd really need floor space in the front, but if you're one of those people who has to have lots of space in the front, well with the Ioniq 5 you've got it
Have you heard of PET? The interior of the Ioniq 5 features headling, door trim, carpet and armrests manufactured using recycled PET bottles. Even the eco-leather trim is manufactured using non-chemical processes.
Until other lower spec models are designed, both Ioniq 5 models come standard with 12-way power front seats, two way powered rear seats and the Hyundai acclaimed 'zero gravity' mode. The wide infotainment and dash screens are pretty snazzy but could do with some more 'bling' in my opinion.
The 'transmission' selector is a stalk on the RHS of the steering wheel. I'd prefer a rotary dial or better a pushbutton on the centre console personally. I made to many errors selecting D for drive and R for reverse or at least having to think about it. And something else I found surprisingly missing or rather not included was that I needed a cord to connect my phone to Apple Car play. For an $85,000 car, I thought that was a significant ommission.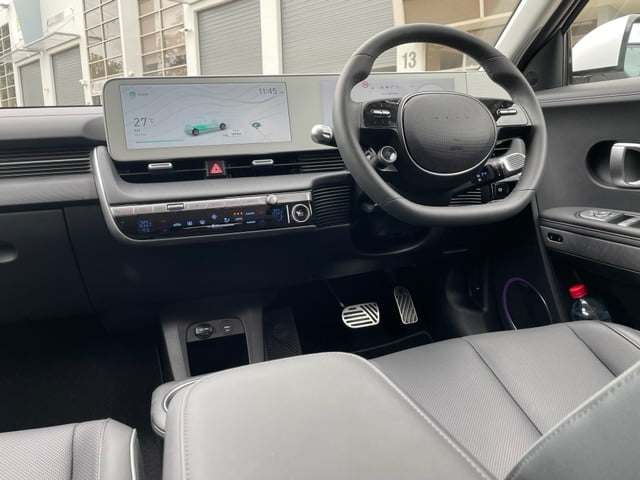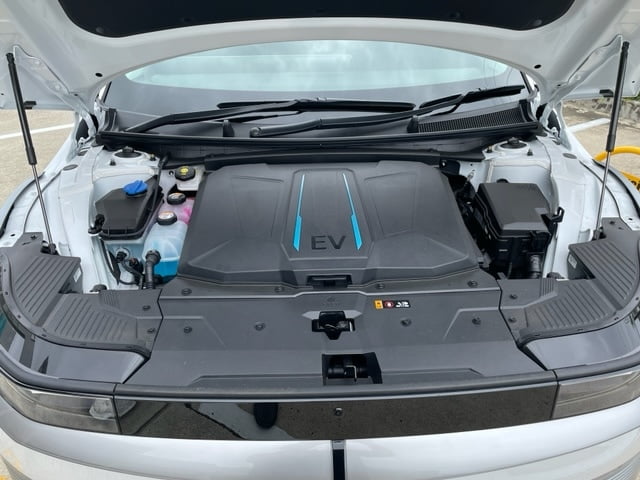 On The Road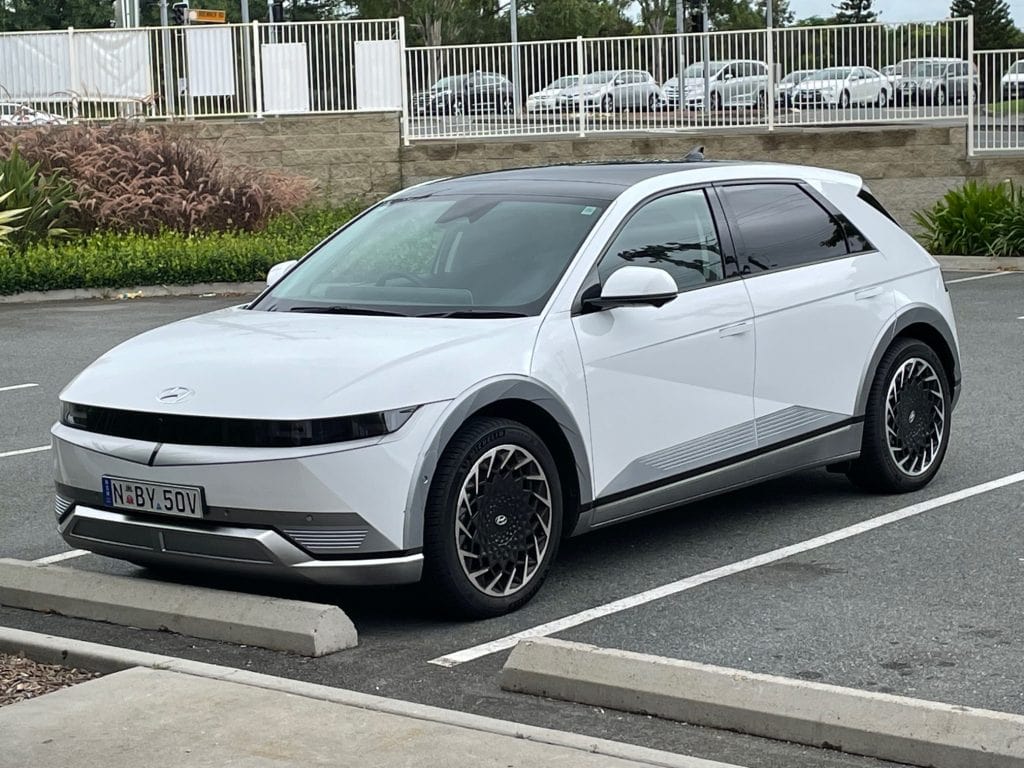 Push the Drive Mode button, select Sport and you'll soon realize the benefit of an electric motor. POWER with a capital P and probably more than the average bear could handle. A 0-100klm time of 5.2 seconds is pretty quick. My former V8 Twin Turbo Mercedes could do that in 4.2 seconds and 1 second more is really only the blink of your eye
However, if you're in Sport and using the loud pedal, your distance to empty will drop drammaticaly. Normal humans will be in ECO mode and from that according to the WLTP test, you'll get around 430klm. Charging it overnight on a 240V power point at home will add about 80klm to the range, so best to use your new Hyundai Ioniq 5 around the burbs.
However if you were a judicous planner, you may get get to somewhere like Bundaberg and back to Brisbane with one fast charge. But you'd be careful to top up whenever you could. Via the State Government planner, there are charging points at Gympie, Childers, Maryborough so enough if you wanted to travel some distance.
That range anxiety will change as more charging points come on line. if you'd like to check and route plan, visit the Qld Government Website
On the Gold Coast, I sneaked the Ioniq 5 onto the Mercure Hotel 240V in house power system – they do use that for charging their golf carts (nothing for electric cars officially) and we used it as we'd use a 'normal' petrol powered car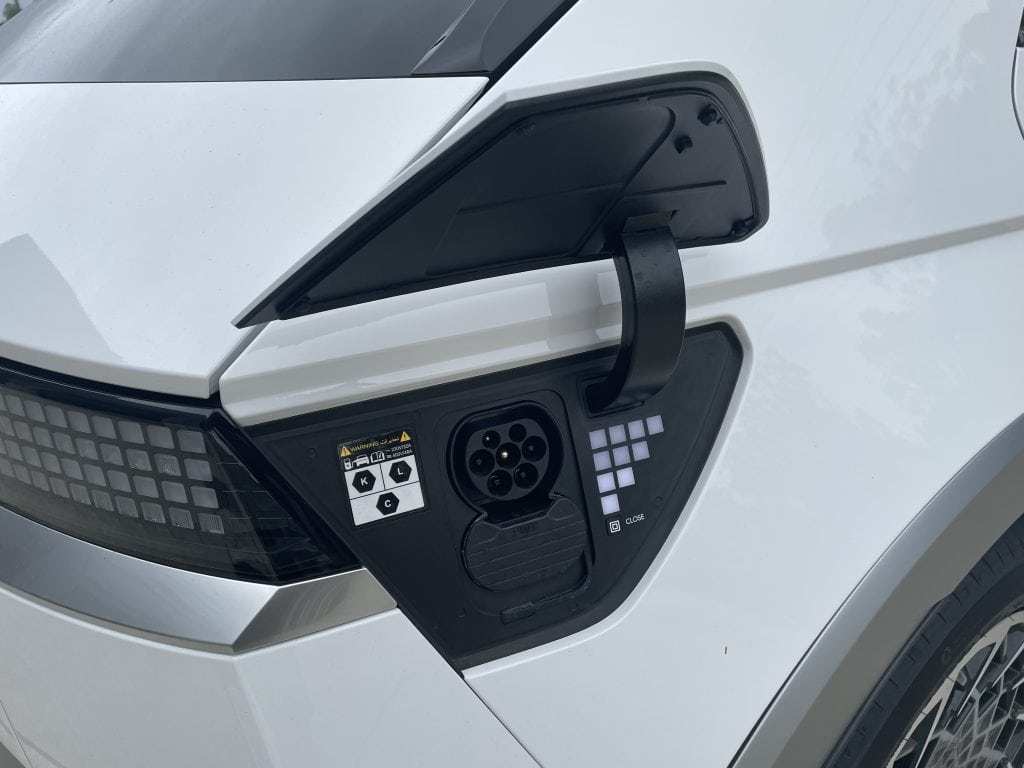 Hyundai Ioniq 5 Active & Passive Safety Features
Standard safety equipment includes:
Blind-spot assist
Blind-Spot View Monitor
Smart Cruise Control with stop/go.
Automatic high-beam
Intelligent speed limit assist
Lane-keep assist
Lane-following assist
Rear occupant alert
Parking Collision-Avoidance Assist
Rear cross-traffic assist
Safe exit assist
Front and rear parking sensors
360 Degree Surround-view camera
Driver attention warning
Leading vehicle departure alert
Seven SRS airbags, including a front-centre airbag
The autonomous emergency braking feature, which Hyundai calls Forward Collision-Avoidance Assist, includes the following functionality:
Car, pedestrian and cyclist detection
Junction turning and crossing assist
Lane-change oncoming and side assist
Evasive steering assist

MY VERDICT
At A Glance Wouldn't I like the Hyundai Ioniq 5 to be more affordable that it currently is. My estimate is that it would take somewhere between 10 and 15 years to break square v a similar sized traditional petrol engine car. I found the Ioniq to be everything that I'd want in a daily commuter vehicle in terms of space, performance and comfort.
Engine/Transmission The 2022 Hyundai Ioniq 5 is available with a single-motor rear-wheel drive powertrain producing 160kW of power and 350Nm of torque or a dual-motor all-wheel drive powertrain with 225kW and 605Nm.
Fuel Economy
The 2022 Hyundai Ioniq 5 has an electric range of 451km on the stricter WLTP standard in rear-wheel drive guise and 430km with all-wheel drive.
It uses 17.9kWh/100km in the rear-wheel drive variant and 19.0kWh/100km in the all-wheel drive model.
Warranty/Service
Hyundai covers its range with a five-year, unlimited-kilometre warranty. The Ioniq 5's battery is covered for eight years of 160,000km, whichever comes first.
Servicing is required every 12 months or 15,000km, whichever comes first. The first five services are capped at $220 for both variants, but for the fourth service costs $804, and I'm not sure why. Seems expensive for a vehicle that doesn't have a petrol engine
Towing
Insurance I generally use RACQ Online to obtain estimates for comprehensive insurance. I use my own details and history to get a quote. For the Hyundai Ioniq 5 AWD version, RACQ quote $1032.44 with a $750 excess. Of course your own details will likely change the estimates provide, but make sure that you shop around
Which Dealer?
If I'm looking for a dealer to speak to about a new car, I only choose dealers who have a minimum four star rating with Google. I'd search for Hyundai Dealers (and then my own city – Brisbane, Gold Coast, Sunshine Coast etc). From there you'll see a list offered. Choose as many as you'd like to discuss your needs with but my firmest advice is to only speak to dealers who have a minimum 4 star Google rating.
| | | |
| --- | --- | --- |
| Northside | Grand Prix Hyundai Caboolture | 4.8 Stars |
| Southside | Moorooka Hyundai | 4.3 Stars |
| Eastside | Bartons Capalaba Hyundai | 4.9 Stars |
| Westside | Llewellyn Hyundai | 4.6 Stars |
| Gold Coast | Gold Coast Hyundai | 4.7 Stars |
| Sunshine Coast | Noosa Hyundai | 4.5 Stars |

However, if you'd like an independent offer for your new Hyundai Ioniq 5, then reach out to me at Car Business. As an independent new car broker, I'll get you an offer that you'll be very satisfied with. And if I can't save you on the price you've been quoted somewhere else, I won't charge you any fee. Currently Hyundai Australia are handling all enquiries on the Ioniq 5 directly. Check out their web site to register your interest for the next batch of vehicle availabel to order – Register Your Interest for Ioniq 5

-Advertisement-
Hello. I'm Bob Aldons, the owner and editor of The Car Guy. The Car Guy is an independently owned car review website. I'm currently reviewing cars for Mazda, Nissan, Kia, Suzuki, Mitsubishi, Renault, Haval, Hyundai, Genesis and GWM.
Through Mercedes AMG Petronas Motorsport I've also writen about the 2021 Formula 1 season and look forward doing the same in 2022.
I'm not paid by any car company for my opinion and my companies don't receive advertising revenue to say nice things about them. I call it as I see it.
However, I also own a new car broker company – Car Business. Being able to review new cars gives me an opportunity to provide accurate information on these brands. If you're in the market for Any New Car Cheaper, contact me at Car Business and see how I go about saving you some serious money.
Perhaps you think that you can do the job of buying a new car yourself? If you're after any advice at all, give me a call and ask me any question that you need to be answered.
If you're an Aussie Veteran or serving in the military, I take particular pride in taking care of you. For every car that I source and deliver, I donate part of my fee to Mates4Mates.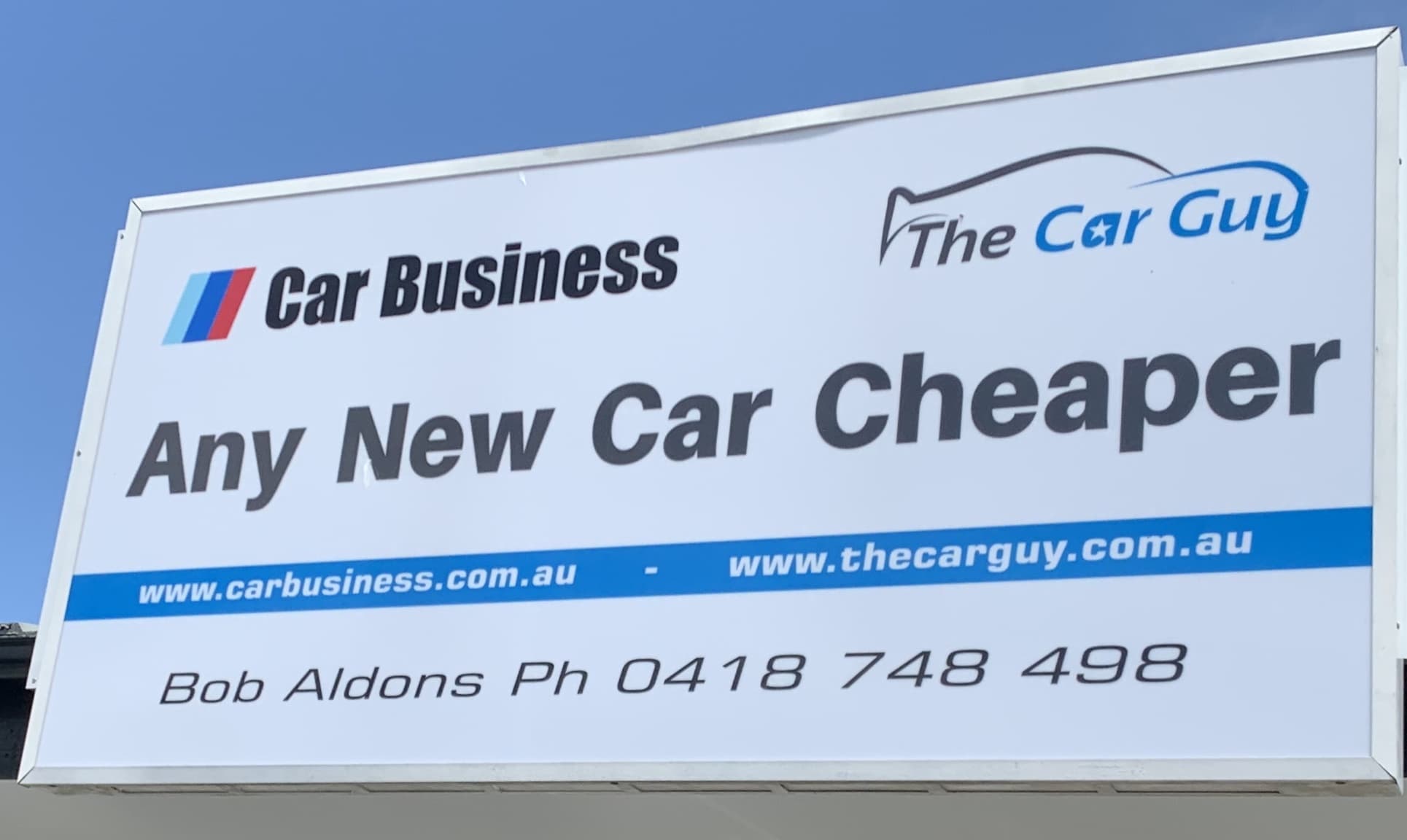 Recent Car Reviews – GWM Cannon L